Nov 15 2016 Tuesday, 9:00 am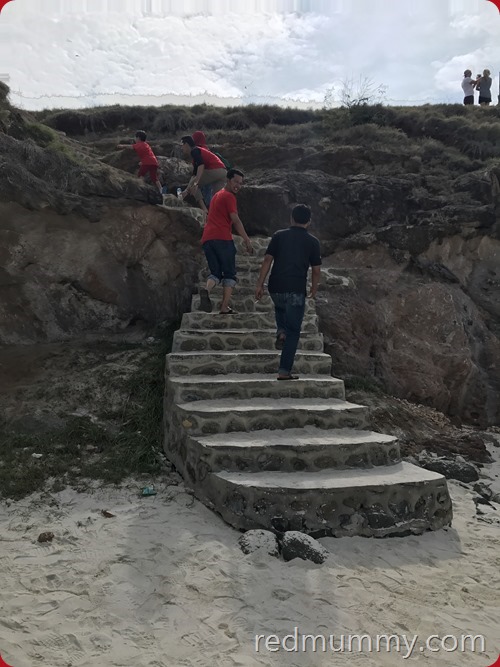 panjatlah korang, idok le mak nak join sekaki….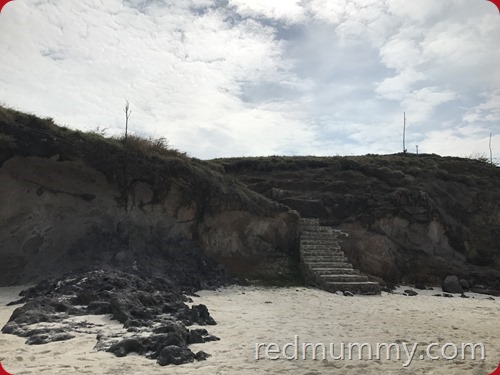 ini Tanjung Aan, dia pantai tapi dia ada jugak macam bukit2 kat tepi beach tuh, so if rajin naiklah.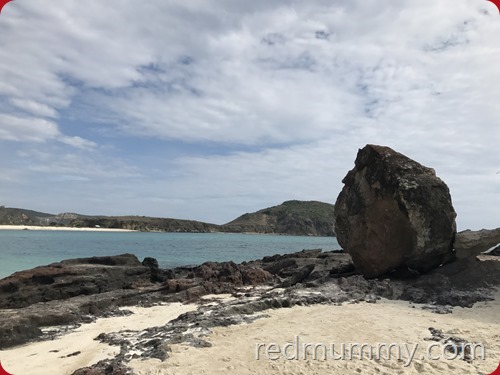 so while depa naik bukit tuh, aku explored sorang2 kat beach nih….panas berdenting kau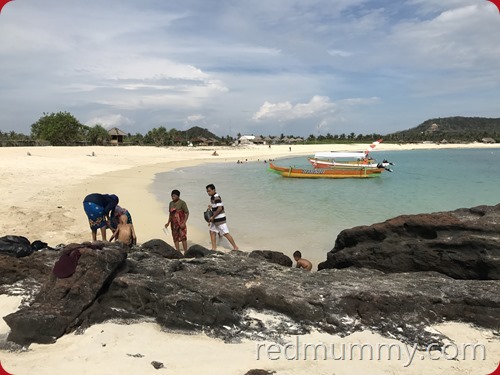 dok carik tempat redut tu ada orang tua ni dimandikan dek familynya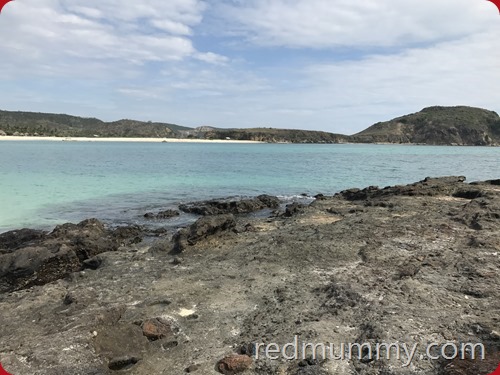 so jalan2 le aku sorang2 kat sini….cadang nak duduk le kejap coz nak merasa air laut tuh, tapi banyak le pulak anak2 ketam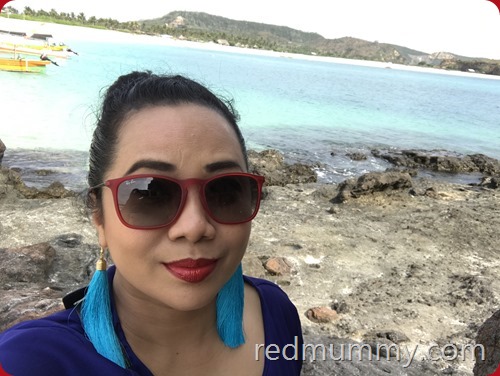 my beautiful background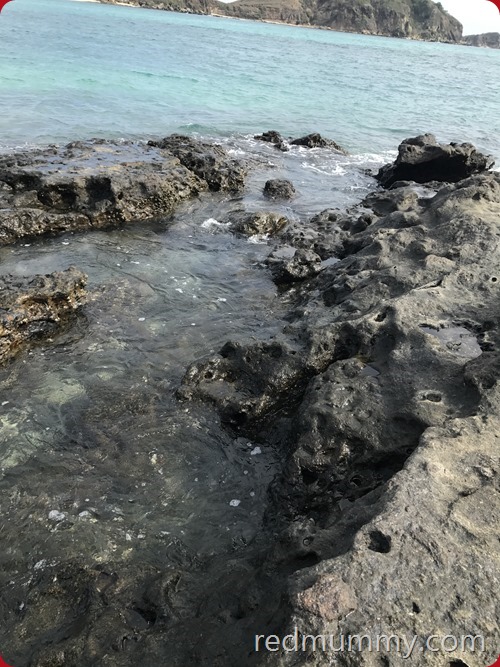 ha nampak batu2 pantai ni macam berlubang2 tuh, tu port2 si ketam duduk le. kalau tengah sikit ada lubang2 kecik, ada gak ketam2 keciknya, kang tu yang kalau aku duduk buatnya dia tibai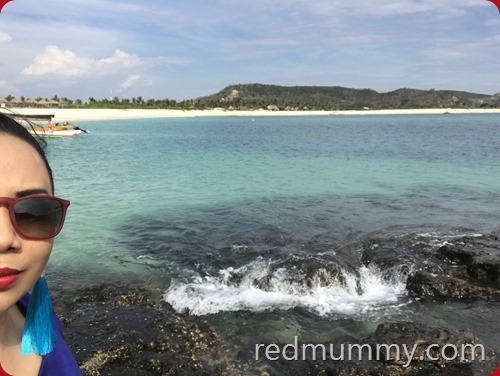 waa cantiknya….wpun aku tak suka mandi laut but pemandangan begini memang bukan sekali datang pun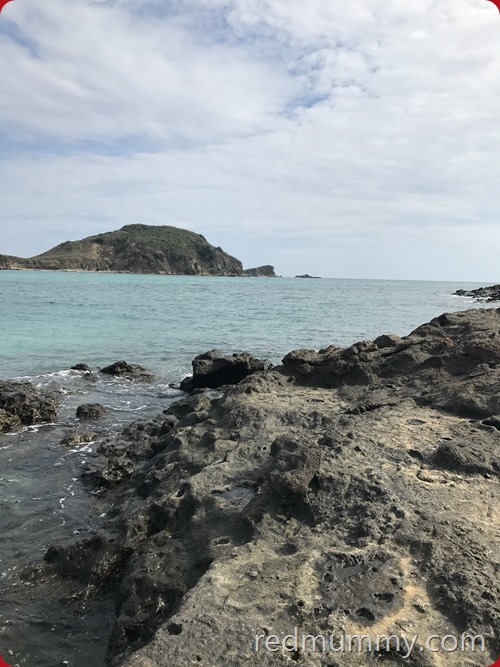 coz sini biasanya tempat tourists datang menyinggah (melainkan omputih2 yang dok sini leh le memandi sini) but mos t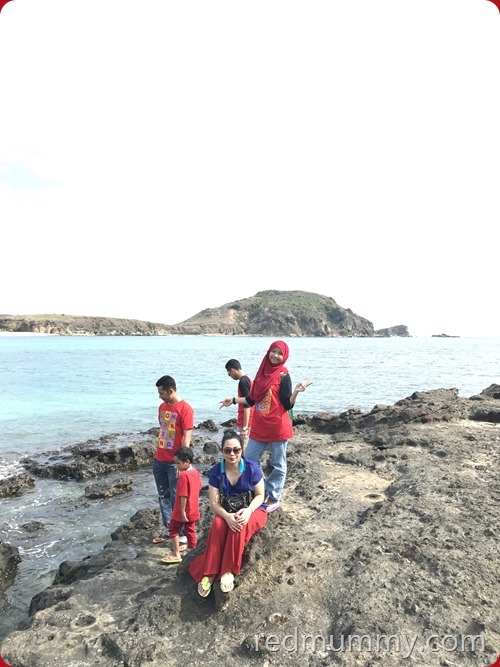 askar dah bersatu kembali….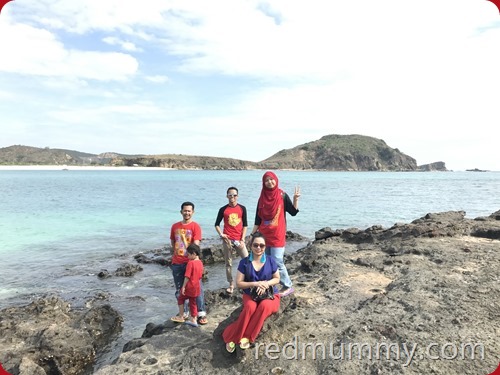 hazab nak dapatkan shot yang Zeeshan pandang camera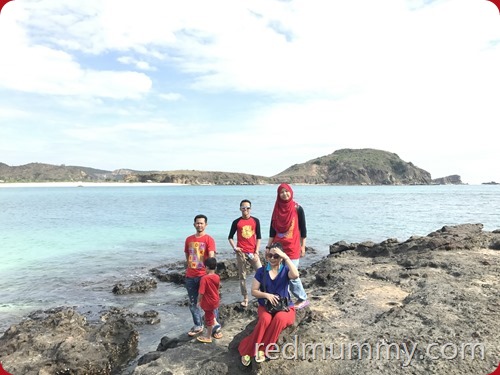 lighting cantik, walaupun aku takut gak dok situ buatnya kuor si anak ketam 😛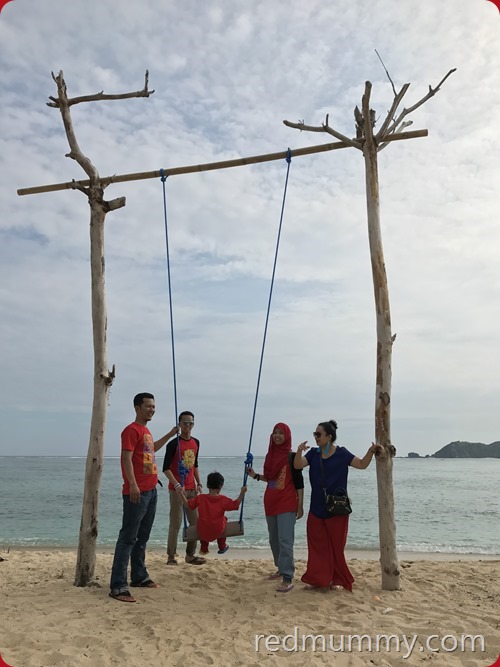 pastuh kita blah, ada gak jualan tapi tak beli apa. So singgah lagi depannya untuk buaian nih. Ya Allah drama betul buaian ni coz semua orang tak boleh naik tak boleh coz si kecik cakap no no cannot. Bila dia dah abis naik pun kita nak naik tak dibaginya!!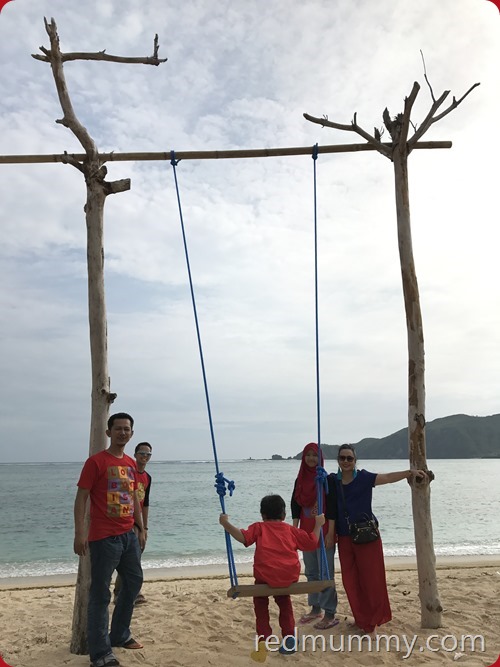 dah tuh kita je yang pandang camera, tu lah aku cakap kitorg 4 ni kalah ngan budak kecik nih…skang ko kekecik lagi ye Shan, hang tunggu hang besar sok…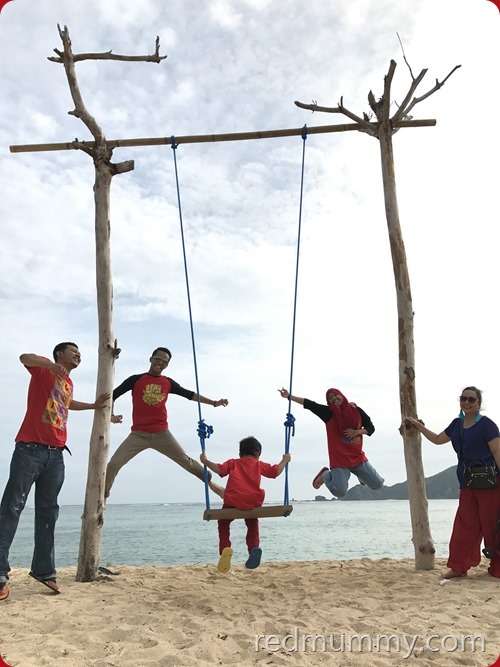 nice jump!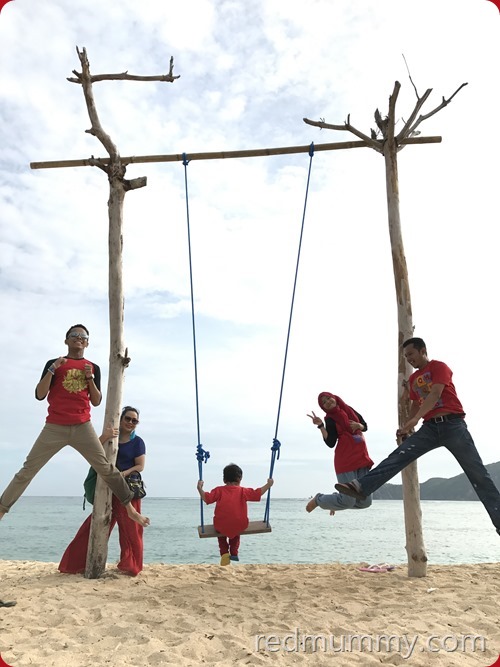 this one is perfect, pandai Azan amik gambar. 3 orang tu ringan sedap ler jumping kan, aku ngan 2 bags lagik ngan melayan moody Zeeshan tu hah….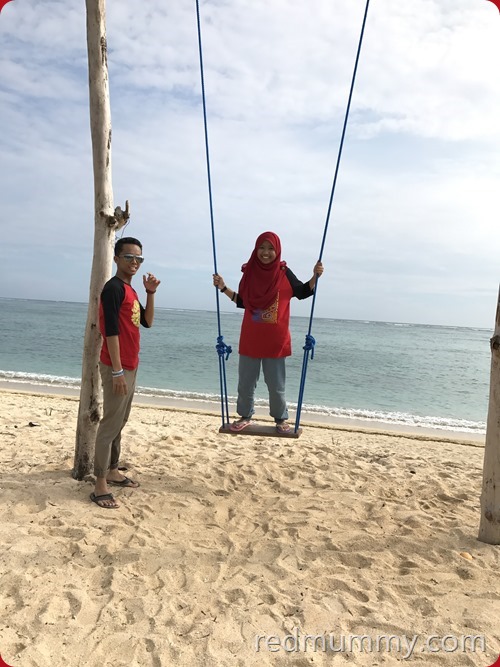 seluar2 kakak semua dari tinggalan maknya….untunglah mung. Imagine jeans, punya banyak aku ada….semua dia dah tereban pakai…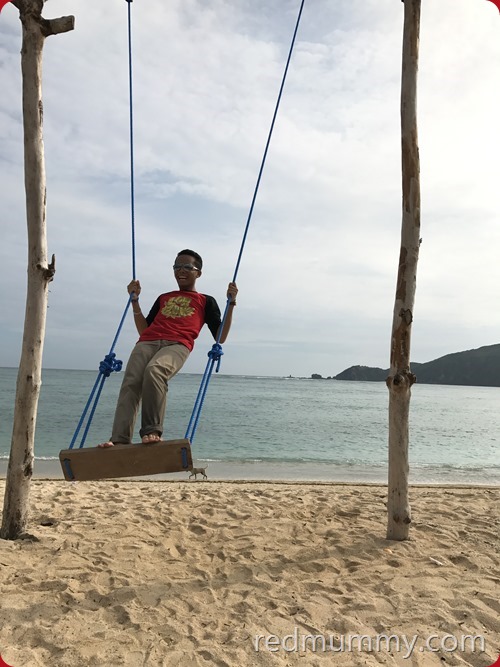 yang ni lelaju nak berbuaian, gambar pun senget coz adiknya bengang, kan dia tak bagi kitorg main boyan nih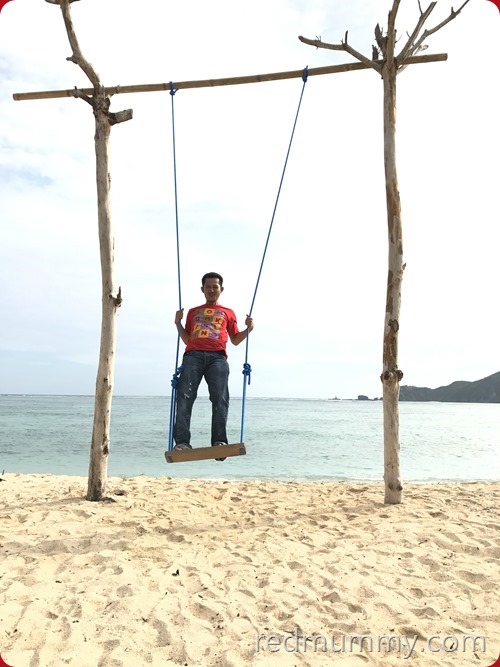 bapak pun nak gak merasa naik gakk…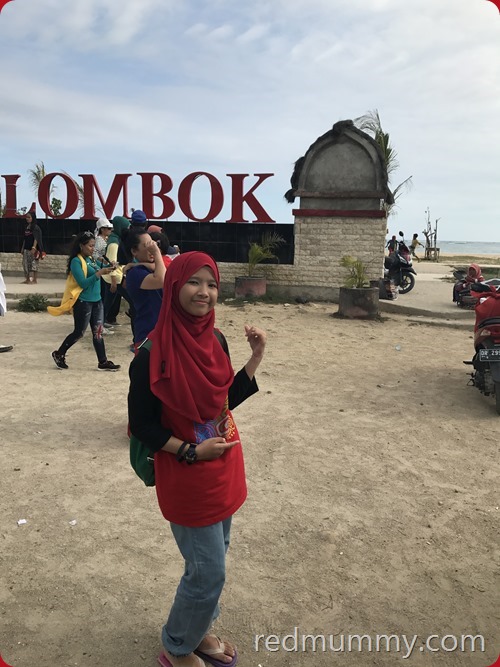 hang nampak belakang kami tu ada LOMBOK besar tu kan, nak amik gambar kat situ hazabnya. Coz memanjang besar so ko tak nak orang lalu lalang…heheheheh but me being mak…made it happen.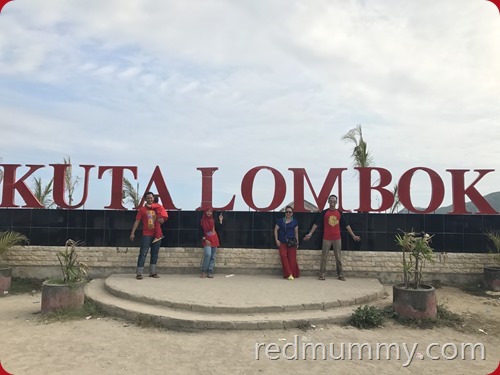 see…dapat gak. walaupun behind the scene susahnya nak dpt shot nih coz orang dok sibuk nak bergambar sama. tapi kena kebal ler hati tu mintak orang kerjasama sikit kita nak posing sini…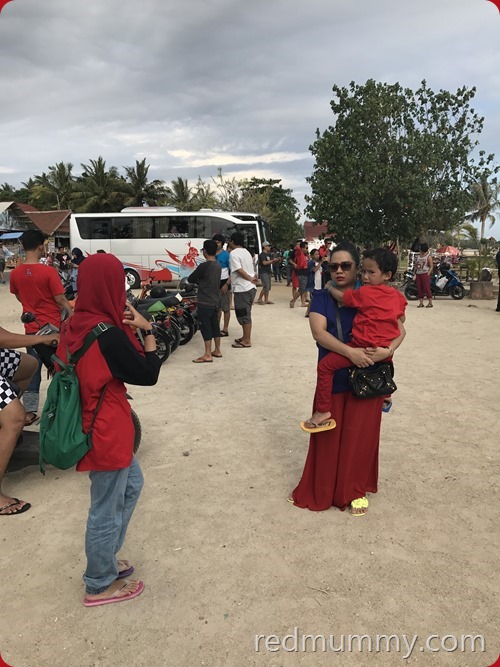 ni mood tak nak berjalan dah, ngado btol anak bongsu sorang nih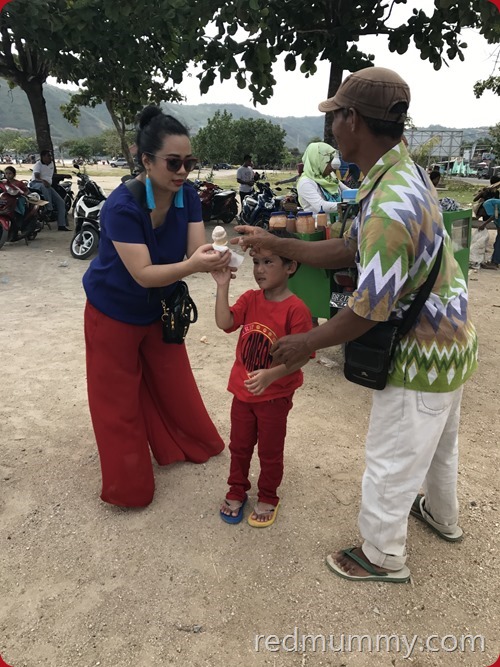 umpan icecream for them…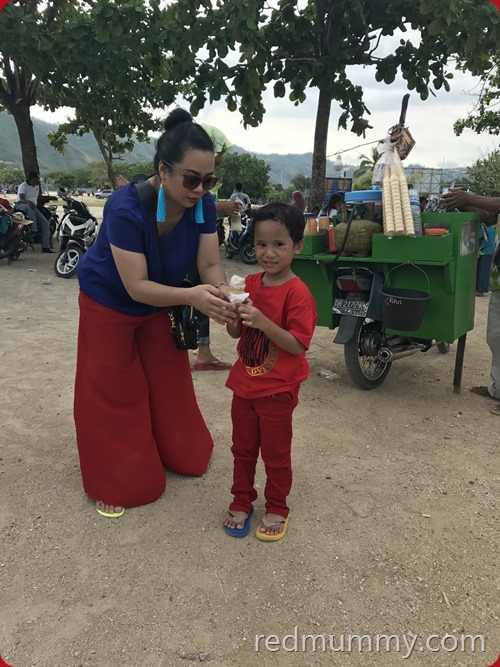 pakcik icecream tu baik, dia nya tu tak keras sangat, dah melt sket icecreamnya kan so waktu aku ngah bagi2 Zeeshan tu dia datang tambah lagi satu scoop atasnya….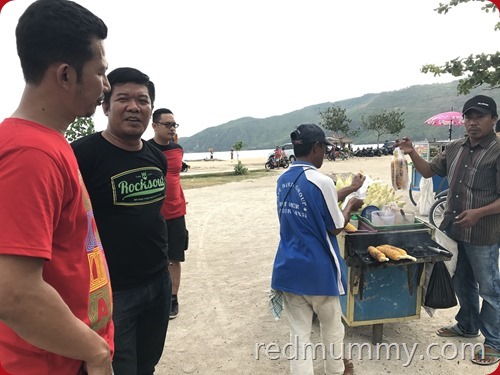 bungkus jagung bakar Lombok. Orang sebelah RD tu dia tak kenal pun but borak macam mesra kenal giler padahal bape min je pun lepak sini coz tunggu jagung tu siap dibakar. Siap dia tanya wah di KL takde jagung bakar sedap ke? ha ah takde, kat Lombok, Tokyo, Europe eh banyak lagi lah negara yang aku berjalan makan jagung bakar, overseas nya gak sedap. hehehe….kitorg siap bawak makan sampai ke rumah tuh, reheat pastuh.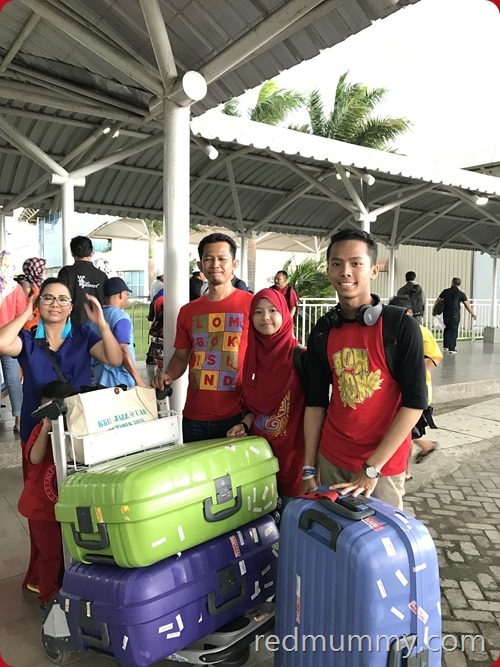 hoh dah sampai airport. 3 luggages, 2 hand carries, 2 bagpacks. Nothing much, camtu datang camtu lah baliknya.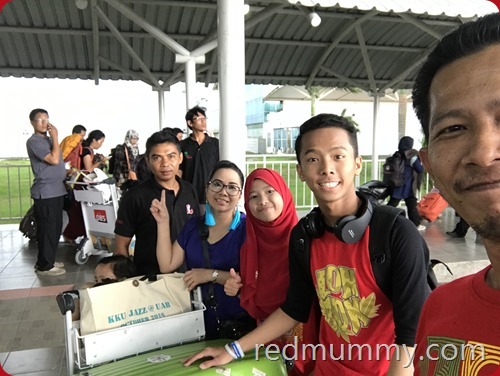 special one for Azan. he s the supir yang dok layan kita, jaga kita bagailah. Memula pendiam sangat pastuh dah lepas sehari tu baru tunjuk belang, dok berlawak2 pulak. If you nak pakai dia boleh doh, nanti contact akak, akak bagi  number Azan nih. Dia selain supir jadi tourist guide gak lah. Ini supir, sangat highly recommended. Thanks Azan for the hospitality.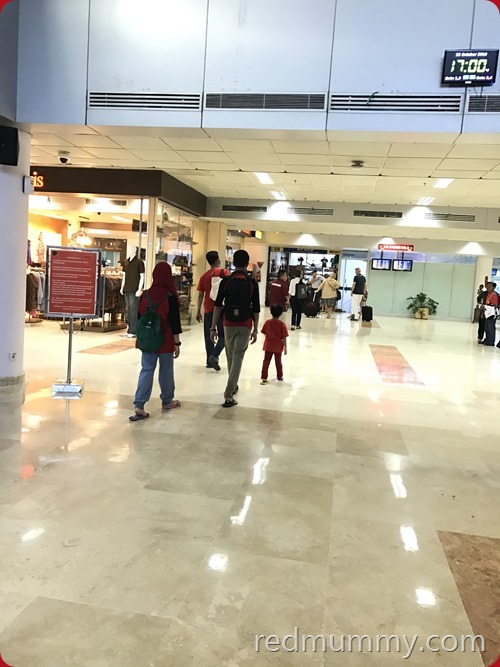 kecik je airport LOmbok nih….pepusing pun tak sampai 10min dah abis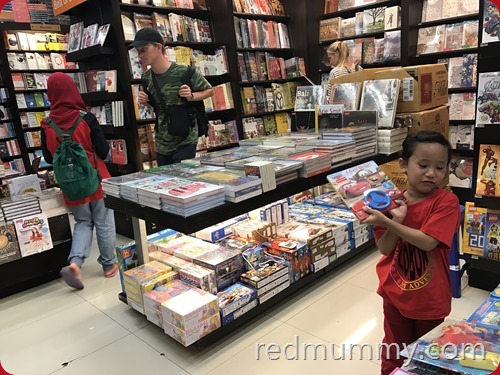 ada pun shot muka ko dik, walaupun ko nakkan toys hapa benda tuh, apaknya tak bagik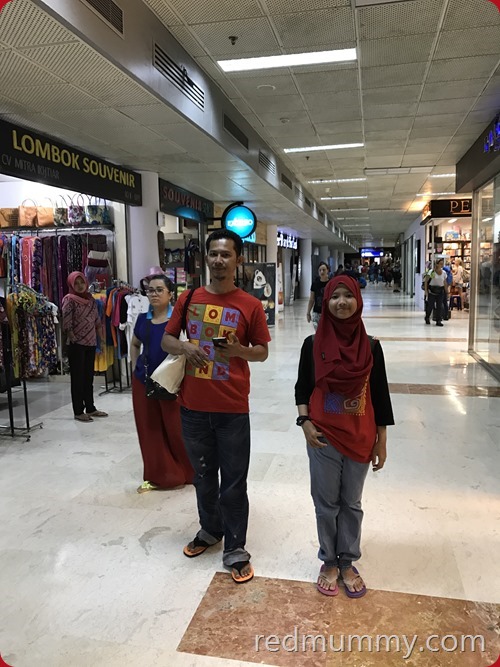 see, pepusing dah abis, takde benda dibeli pun dalam airport, in fact dalam flight pun aku tak shopping gak, nothing yang best2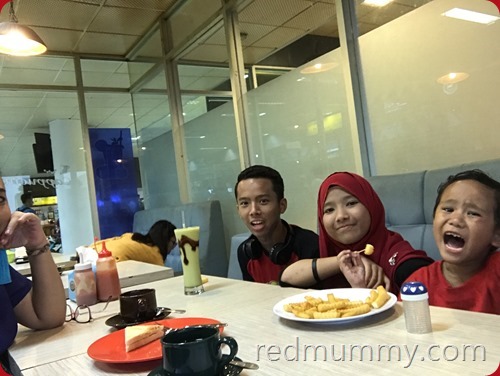 kita dok lepak sini, makan fries lah, roti bakar, soto. Soto tu aku patut share ngan kakak (tak banyak pun portion dia) but Zeeshan rasa sekali 2 terus dia perabihkan….hiks…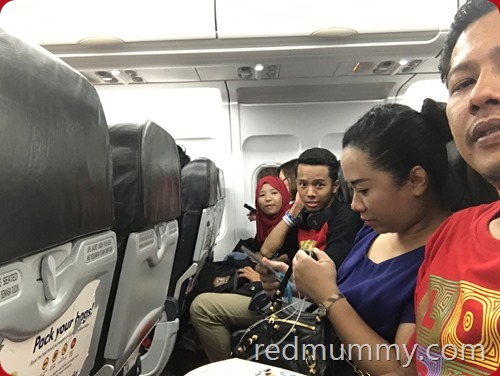 flight was full, laju je abang kakak mintak parentsnya dok ngan adiknya…yelah memasing nak layan movies lah games ke hapa, kang adik dok sebelah banyak songeh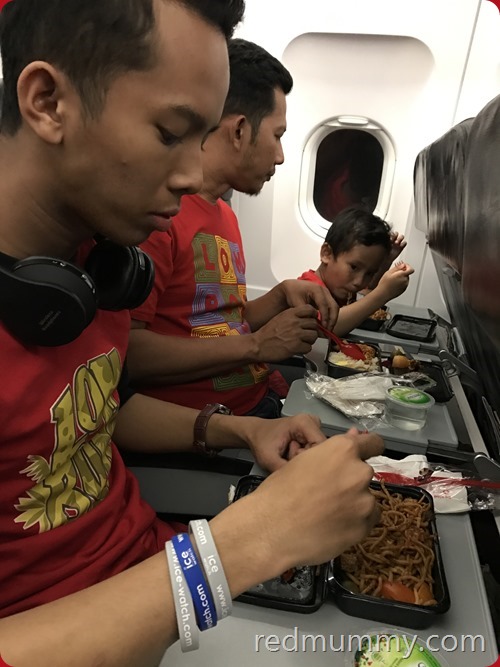 pastuh aku pi toilet, abang tukar tempat amik tempat aku coz dia nak dok ngan apaknya pulak. heh banyak hal anak2 ni heh…ni food yang aku dah prebooked. Memang melapau semua…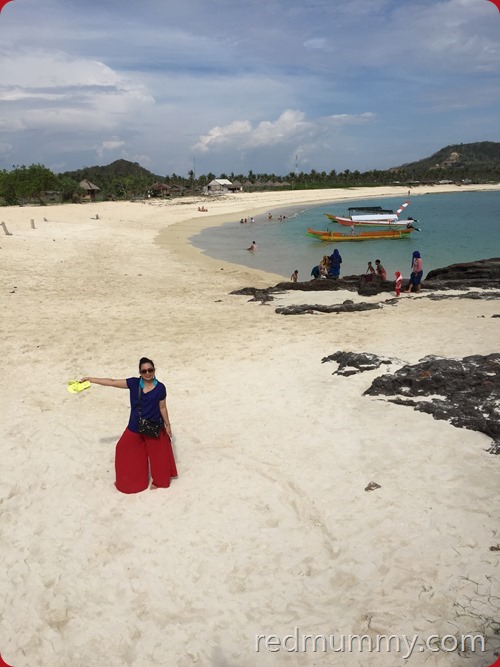 eh eh ni ada gambar lagi di Tanjung Aan, shot ni dari depa atas bukit tuh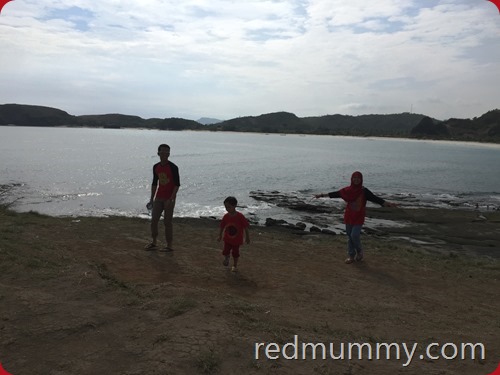 atas bukit gak…macam sebelah pulak air pantai tuh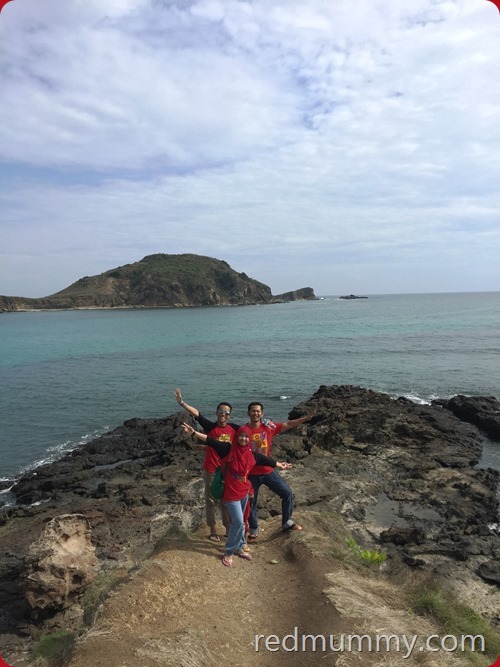 berempat tapi sorang lagi ada balik kakaknya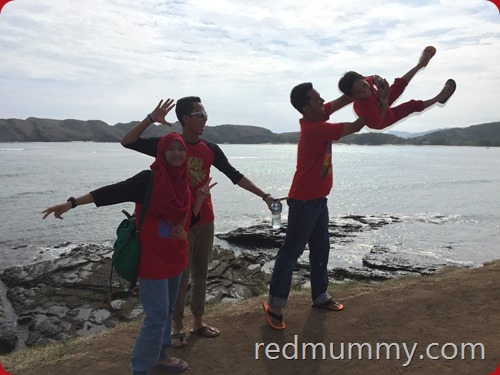 comel…kalau jumping pun cantik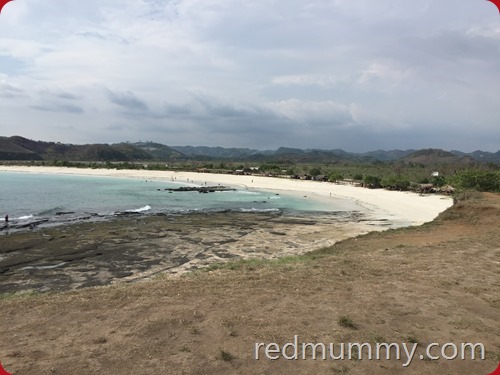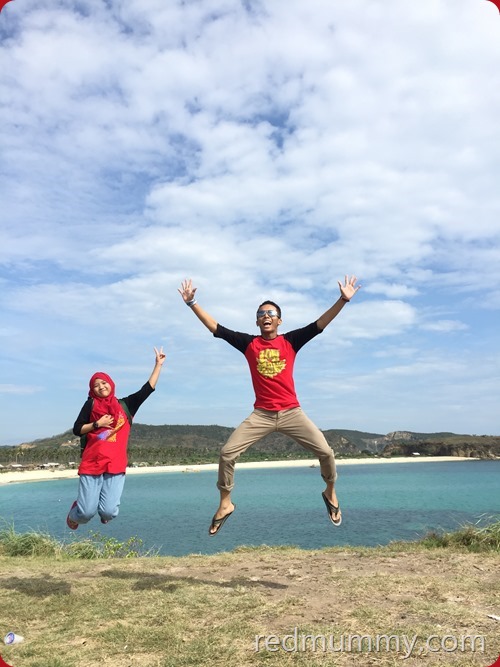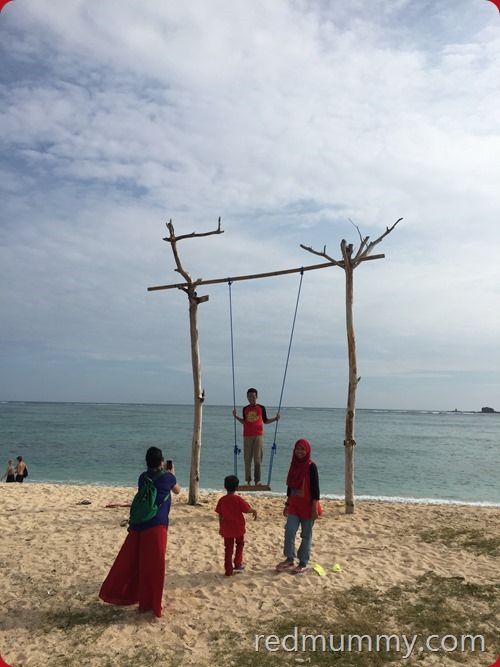 so that s all, our Lombok, Finally abis dah entry on Lombok.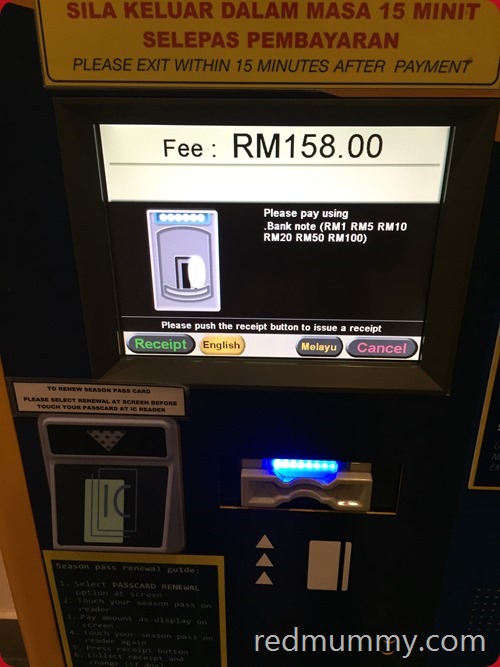 balik sampai almost midnite gak, so total parking fees for 4 days ialah RM158 nih.  Memang laki aku tak nak naik mpv ke hapa coz biasa pun kalau trip macam ni biasa kita bawak keter. Lainlah pergi sampai berminggu tu kan, lebih 5,6 hari maybe pakai Uber ke Taxi Limo ke bagai. So anyway untuk perbelanjaan di Lombok:
I tak amik sebijik2 coz I terus amik package (perlu diingat ini last min punya plan, takde beria plan langsung bagai). Even food dalam flight tu pun, aku suh agent aku pilih sendiri ikut dia coz aku takde masa betul nak tengok menu apa yang ada kat lam AA tuh.
So for resort – private pool villa (termasuk breakfast), transportation, entrance fees untuk semua tempat, private boat, snorkeling + gears, makan minum (lunch dinner), kira ground semualah yeah. all in RM4,000. But tak masuk flight, itu coz last minute punya plan (lain ler aku beli tix tu setaun sebelum ke or few months earlier), so mahal gak lah, kena RM3,500 for 5 of us (60kgs baggage tapi pakainya max 48kg jer), and inflight meals. Kita tukar RM2,000 but ada balance lagi enam or 7 ratus ringgit. apa ke benda yang aku beli bayau sampai pakai 1300 lagi tuh hahaha….malas pikir. Ole2 pun ada sikit beli but for family je and close gangs jer. Dia kalau pi Jakarta, hah RM5k confirm tak cukup, tapi ngan Lombok, RM500 pun cukuplah aku rasa, tak yah nak shopping beria pun.  Then RM500 for ground di KL – parking kat KLIA2, food untuk odw ke KLIA2 and while we were there and also duit hotel Chanel dok 5 hari. Dan jugak esok2nya aku kena buat mee goreng untuk my jiran yang baik hati tolong bagikan makan si Porche, Sharifah and Kathy (ada je food nya tapi ada 2 lagi kucing luar pun makan sama so hari ketiga dah abis), hish…all in abis RM10k gak lah for 4 days holiday in Lombok.
The end 🙂 .
Comment:
6