Nov 9 2016 Wednesday, 8:00 am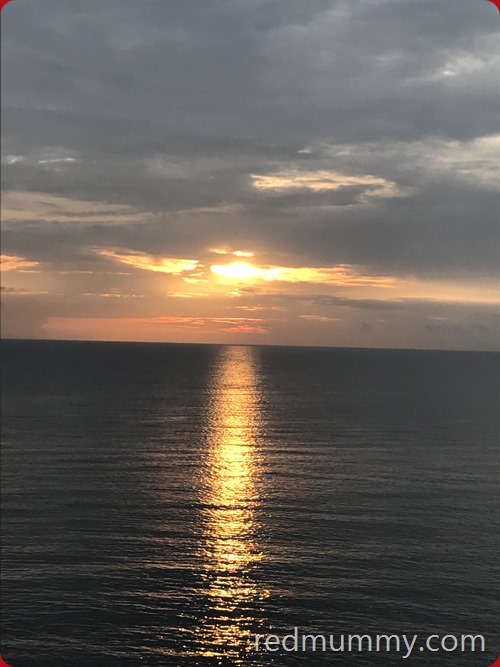 cantik wor sunset….dedapat ngan camera iPhone 7 …hiksss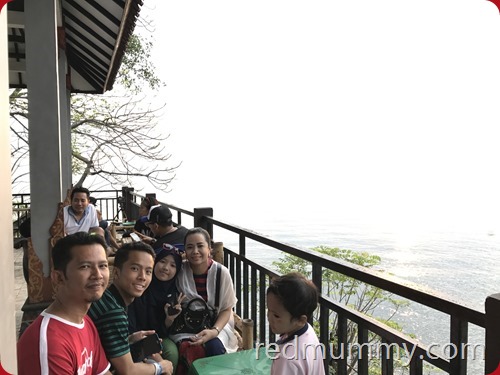 Masih di Batu Layar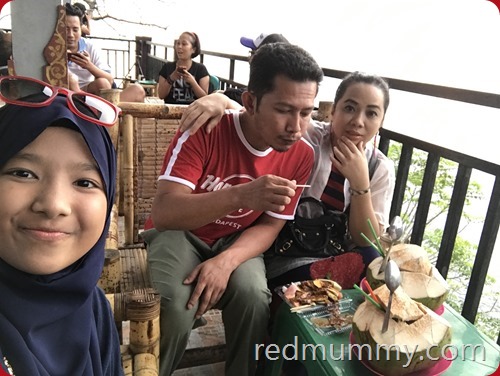 mana ke mananan sume dah abis boliau. itu rojak kot yang RD makan but dia makan sorang coz kitorg lelain nih tak geti makan…even maknya pun tak minat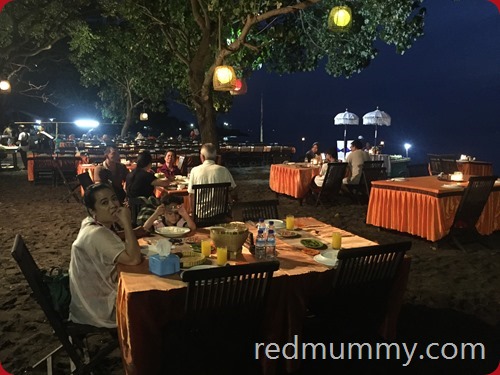 lepas tu kat sejam gak lah baru sampai ke pantai untuk dinner, coz ada majlis2 apa tah di jalanan jadi jem a bit. jarang ler heh Lombok ni nak jem pun, tak macam Jakarta/Bandung.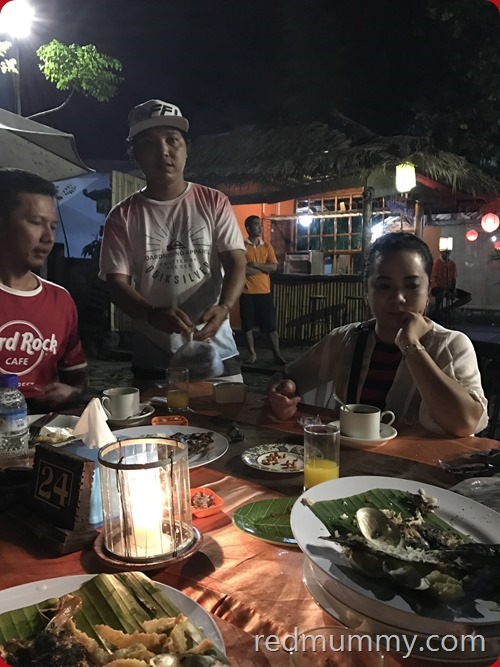 we had our final dinner kat Purnama Seafood. so not highly recommended. Masakannya tak berapa berkasih sayang (coz we had the blast a day before tu yang buat comparison), apapun syukur alhamdulillah. Orang lain nak makan pun susah. ye dok. Itu guy sebelah us tuh dia dok jualan. so kat dia jerlah aku beli the fridge magnets. Kasi cincai,tolong2 dia,and dia pun menyenangkan kerjaaku gak, yang tak eager sangat nak nyopping kat sini.
but sini jual mahal, kan brooches yang aku beli kat pantai mandi perigi kan, sana lagi murah. Bukan dari seller ni lah, ada kat belakang kita makan tu,ramai penjual2 coz banyak tourists kan makan kat sini.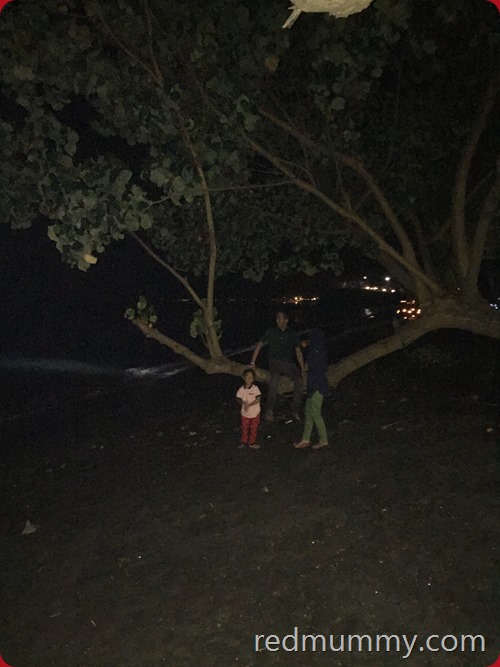 dah abis makan diorang 3 beradik pi main kat pokok ni, sebelah jengan air laut, pastuh sume kaki2 basah ngan suor sikit,hishh…dah kena bersalin lagi suor adik korang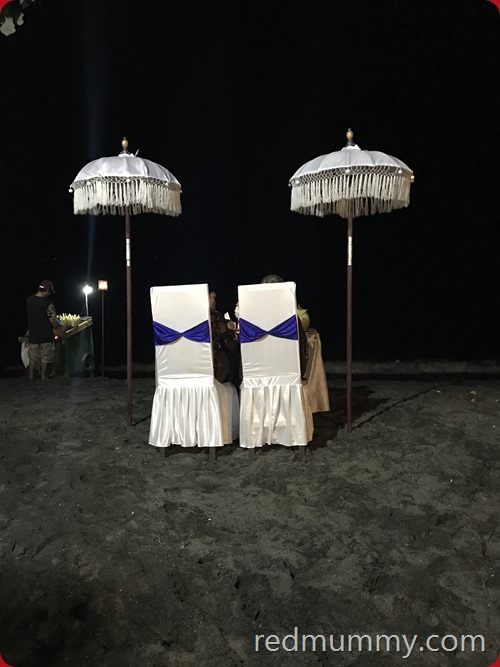 at our restaurant makan tuh, ada meja honeymoon nih, memang ada orang makan tuh. Couple baru kahwin 🙂 . Makan le ko ngadap laut gelap tuh, yang jual jagung tu pun tak hagak2, banyak tempat ko nak niaga, depan pengantin ni jugak ko parking. Masa couple ni takde,dia takde,bila couple ni duduk makan, dia pun datang parked situ. Haihs….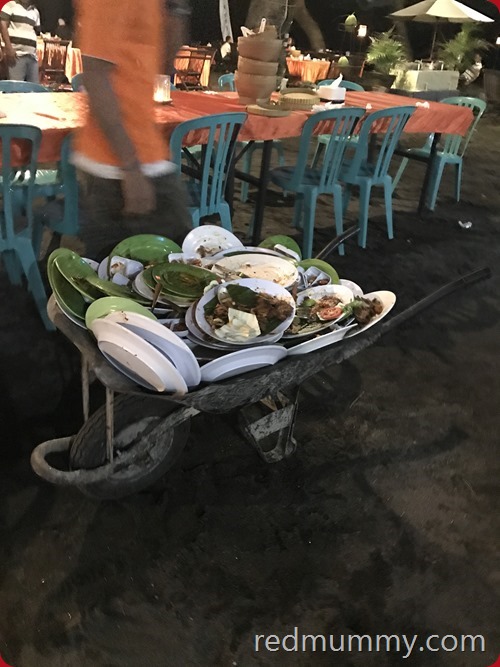 so macam ni caranya dia angkut pinggan mangkuk….lalu kat pasir pantai, lagi pantas kerja gini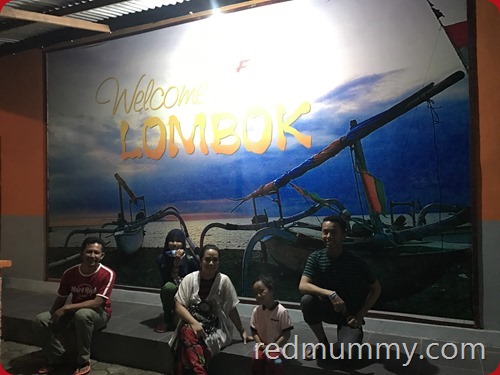 perut memang dah kenyang tapi kaki masih lagi sakit, coz remember kami pun baru panjat turun naik waterfall siangnya. Jadi specially mak kau, so kita nak carik spa. Malam masih awal lagi di Lombok.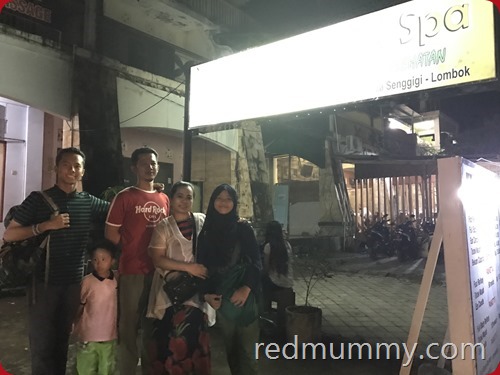 ini je gambar yang sesuai untuk ditayang berspa. During massage session memang takdak gambar langsung. Kami amik package yang 45minit, for 4 of us, Zeeshan dok dendiam masuk kuor 4 bilik yang ngah massage. For boys ada ler tukang massage lelaki, and for girls too pompuan le yang massage. Pertama kali pengalaman untuk abang and kakak, sesakit badan depa, sebenarnya pun sedap. You know my ankle ada satu ketulan, macam salah urat. pompuan tu lelembut massage urut memang terus ilang. Perkh sedap betullah…
Untuk yang baya Zeeshan if nak massage pun boleh but aku tak bagi lah, tak perlu, he s way too young for all this thing. Malas nak ingat bape kami bayar, but dalam RM100 kot for all 4 of us, or paling mahal pun dalam RM150, tak ingatlah, tu bahananya bila lambat2 update blog, nak korek details pun tak kuasa.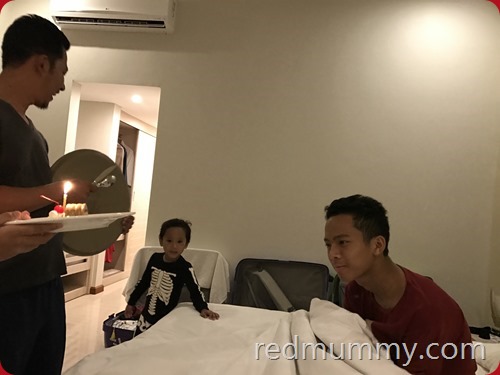 n taraaaa balik hotel, dah nak membuta awal2 tuh (kita sampai hotel before 830pm) kan aku cakap malam terakhir tokek tu 'check in' awal at 830pm gak, so tu yang ai ingat sesangat. Diorang berendam dalam pool tak sesuah sambung pastuh, dah nak dekat midnite laki aku bawak kek yang dia beli dari inhouse hotel punya cafe. A night of Abang's birthday.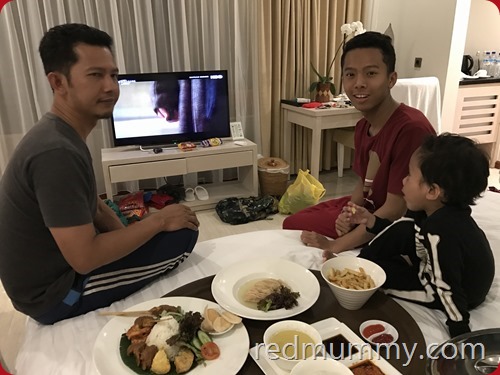 dah tuh laki aku siap order lagik memacam food, banyak betul. last2 tak habis. Yelah sapa ler nak makan sangat pun, dah jadi supper, orang dah nak tidur…buat gegatah jer. Fries tu je yang habis.
After all, malam terakhir tu agak tenang, balik pun awal, coz major trip hari tu cuma light shopping and jugak the waterfall. But bahanya kaki sakit specially kaki aku ler, memang jarang turun naik tangga tinggi macam tuh. in fact sakitnya sampai 2,3 hari kemudiannya. hiks….
i hope the Lombok stories could finish by this week coz next week kita nak bercerita ngan benda lain pulak, and korang pun sabar je lah jugak bila ler nak abis cite Lombok akak nih, surely you nak tau berapa damage for all these kan, and korang pun nak gak pakai si Azan our supir aka t/guide tu, insyallah kita settle nih kasi cepat.
Comment:
3