Feb 6 2017 Monday, 8:00 am
This is a very long overdue post. To be exact, on the last final 10 days of December, ai was kerja, no cecuti at all. But husband pi pusing merata tempat with the kids. So, aku combine semua places and projects depa, here u go:
Bermulanya cecuti depa dengan pergi tengok wayang, macam biasa la kalau movies ni, aku ngan Zeeshan tak pergi. So depa melayan Star Wars – aku memang tak minat sangat cite2 cam Star Wars tuh. Pastu abis pun almost midnite but depa tak terus balik pun, menyambung pulak ke pameran buku  Big Bad Wolf. Siap bawak small luggage. yearly visit, dah 3 kali kot depa pergi, aku memang tak gi lah gak. So dah kol 2,3 pagi gak lah baru depa balik.
The next weeknya pulak, lepas Prince Court visit, depa mai lunch with me  but pastuh aku sambung kerja and depa pi pulak the Petrosains. Ini memang setiap tahun depa wont miss.
Some of the photos: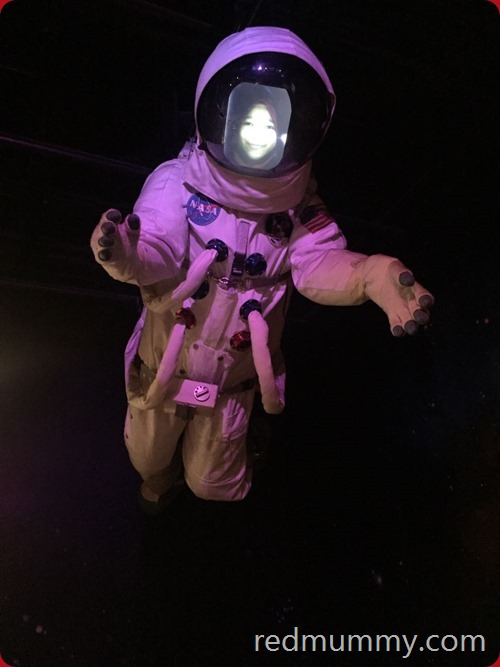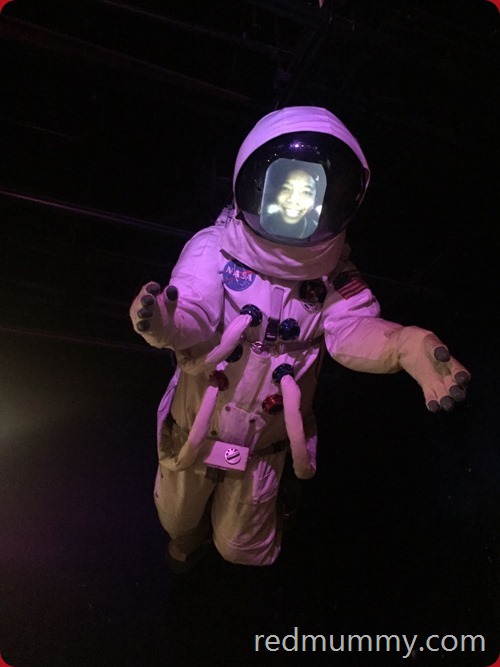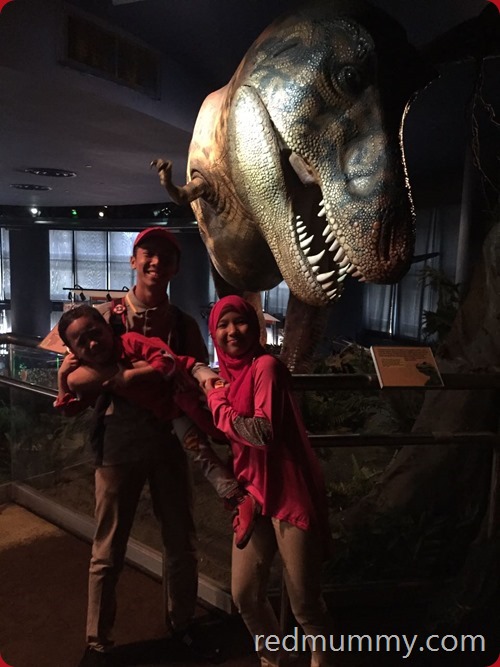 adik punya adore ngan dinosaurs but bila tengok dedepan, takut bakpiang hahahaha….katanya ini trex. trex jahat, suka makan animals lain, even can eat other dinosaurs gak. Dia kan terer tang2 binatang gini…tu pasal dia takut ngan replica ni…sedap ler abang kakak menyakat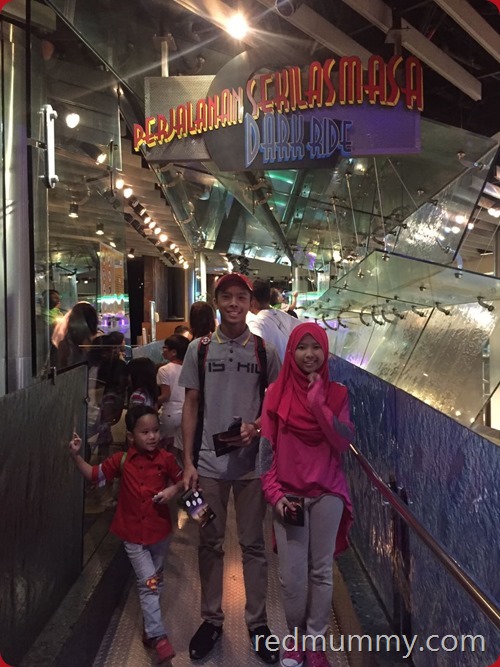 hok nih, sampai malam depa melepak….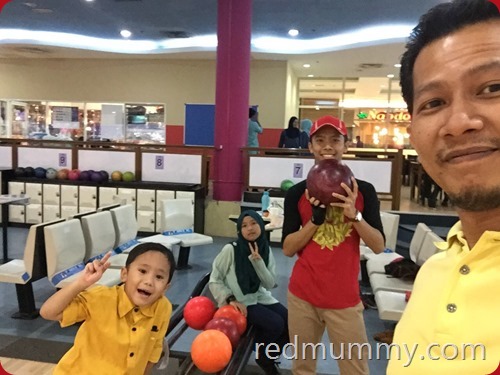 esok2nya, depa pi bowling pulak…kat alamanda.
pun aku takdak yah….as i said, i was at work.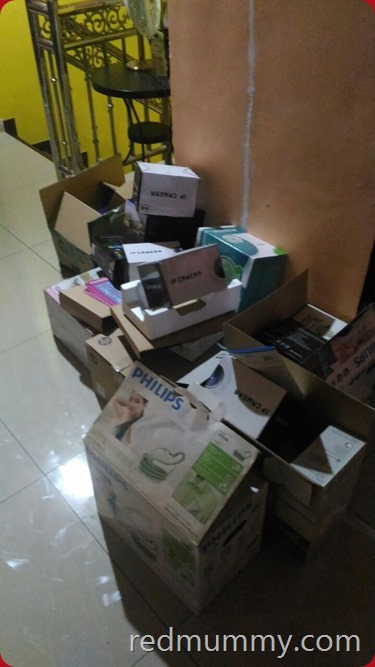 di hari yang depa tak kuor, one of the days tu RD pasang chandelier (together ngan abanglah). Itu memang dekat lebih 6,7 bulan baru nak berpasang. Tinggi kat ceiling tangga tuh…memang sehari depa spent buat keje tuh. Aku ingat lagik aku balik kerja tengok rumah omanghaih…berkapaunya!
Diorang ada jugak buat project kemas attic, loteng atas rumah. Segala mala kekotak yang simpan, isinya memang berpakai, tp kita buang kotaknya.  baru aku pasan, kotak philips iron ijau tu depa buang ker…ler hai, aku nak jual iron ijau tuh. Since dah ada iron magic philips biru purple tuh. Pakai pun kejap sangat the iron ijau tuh. Sapa nak beli? akak nak jual timbang kati heh…
Also, pun bapaknya team up ngan anak2 pasang balik the red frames kat our private wall. Letak gegambar baru too.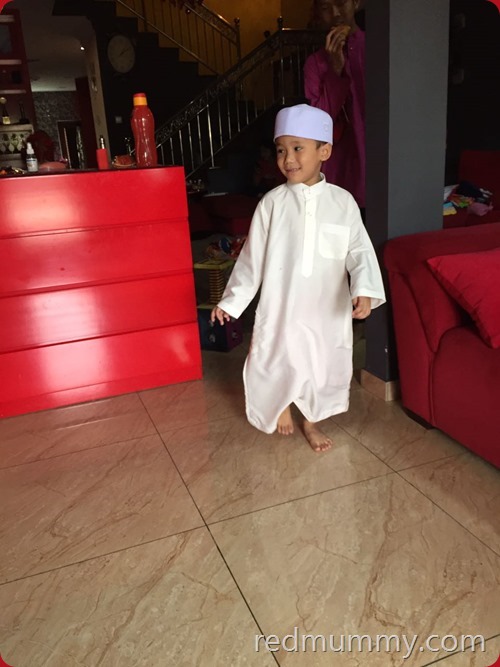 heh comel ler ustaz kecik nih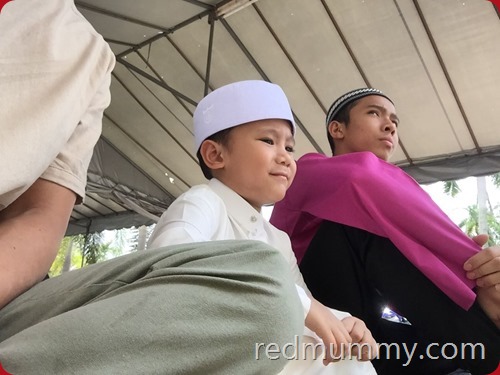 masa dengan khutbah jumaat ni, ke ngah nak solat bagai, aku pun lupa…boleh pulak dia nak kencing hahaha…..ini bapaknya le cite, ko masa ni ler nak membeseh dik oiiii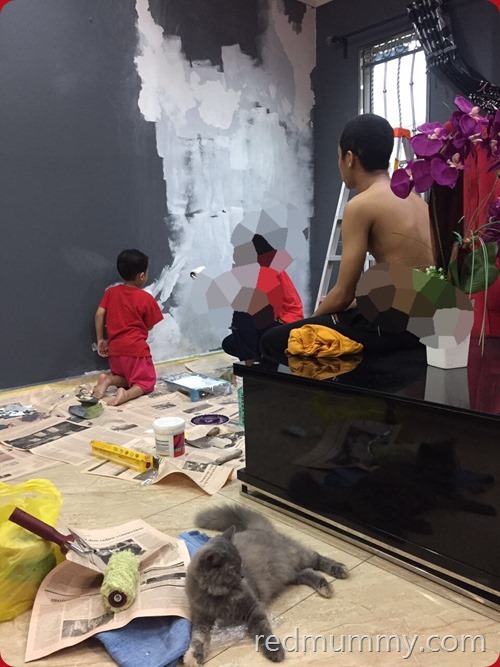 they did the cat rumah gak. Sibuk pulak si Chanel tu pun nak melanding tengah2 sesak sepah nuh. Ini ada satu section yang laki aku buat hapa tah, so kena repaint balik. Jadi, pun kerja project depa berempat. Bersambung2 2 hari gak buat nih….
cuma dia utang aku, kat atas dia tak paint lagik, coz ada kemudian2 tuh kita panggil orang tetambah lagi plug socket dinding tuh, jadi abis le cat pun ditarah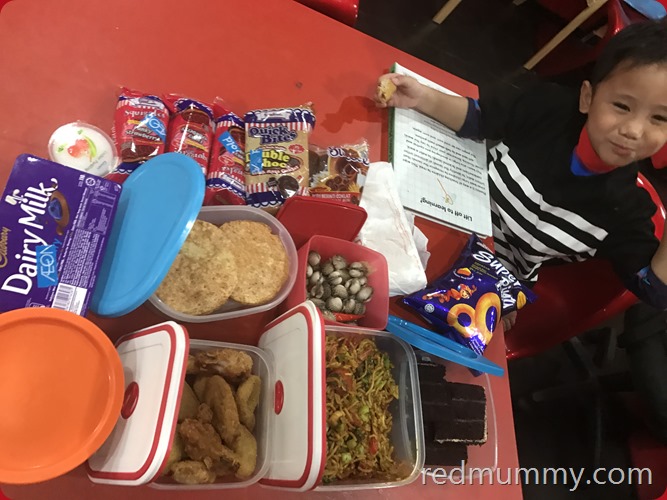 ini aku prepared sendiri sorang2….hari tu depa and the cousins nak pi mandi sungai, also dibawak dek laki aku gak (pun his yearly's duty). Jadi dengan bantuan kuali periuk belanga speacially the air fryer Philips tuh…semua bersiap. Aku buat mee goreng, ada kek dari Zeeshan's birthday, kerang rebus, fried nuggets, burgers, sosej, ayam2…dan jejanjans bagai ….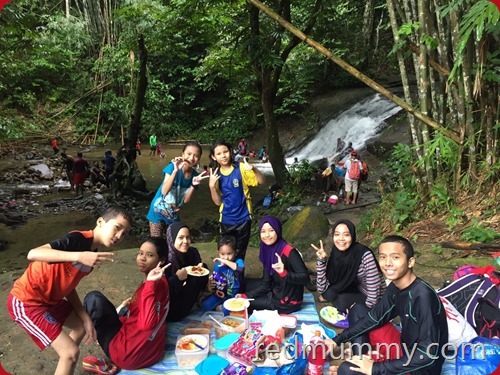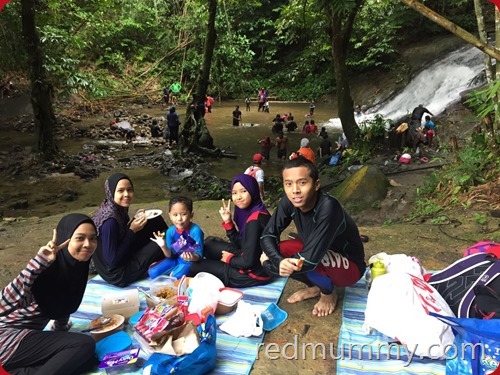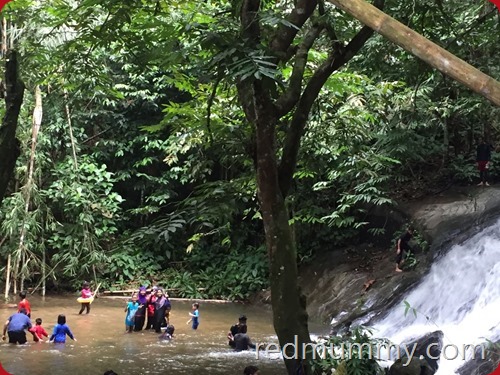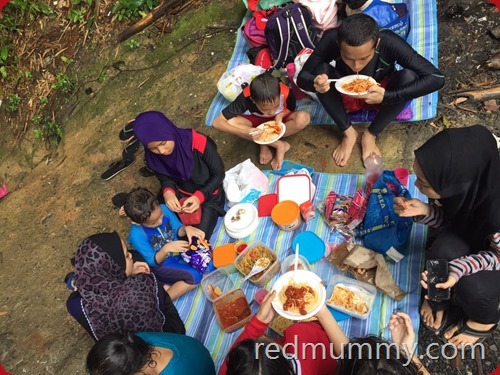 diorang pi mandi kat Sungai Gabai. Bahagian atas tuh. Elok ler depa pergi pun, aku ingat lagi, untuk hari yang depa pi mandi sungai nih, rumah aku musim takde air, so seharian aku mandi lambat, nak maghrib baru ada air baru mandi. hish….Memakan tu semua, selain dari aku bawak bekalkan, ada gak dari my adik badik ipar lain too.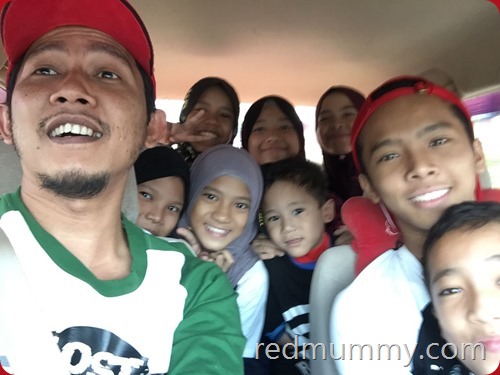 Can u believe that my husband bawak all anak2 and anak2 buah sumbat dalam satu  kereta. Kira le bape ramai bebudak dalam nih. Aku tang air laut, air sungai, ke air pool memang tak gemor ler. renyah ler….nak bersalin2 hish…tak per ler. Dok umah mengemas, main chess lagi best.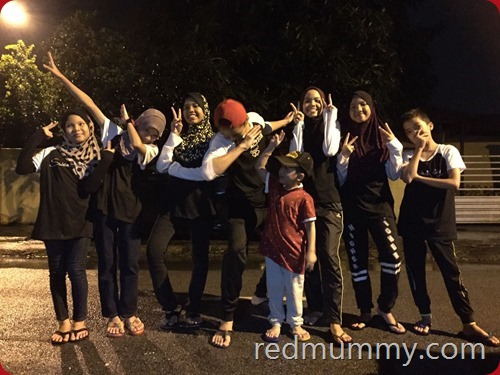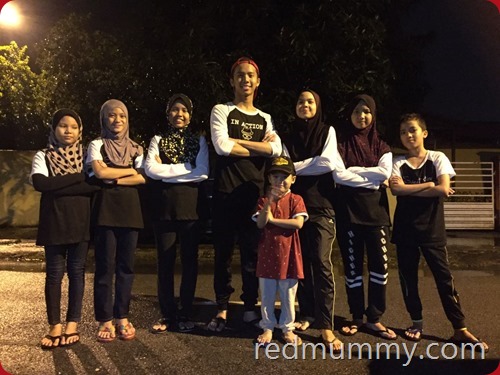 notice tak depa sume pakai baju yang sama? (except Zeeshan, but masa awal pergi dia dah sarung black and white shirt gak), ni dah malam baru depa nak posing sesama pakai nih. Laki aku pun melayan jerr lah…siap ngan river river ke hapa hipster punya posing. ….Baju ni depa sendiri beli bayau tau…awal2 cuti tu depa reramai pi skating, selai RM10 ke RM20. ke main memasing.
The esoknya pulak, abang kakak and 2,3 orang cousins yang bebesau,  ikut Kak Ngah pi naik panjat Bukit Broga. Kol 5 pagi kot dah gerak dari rumah mak aku….kol 10 pagi balik rumah semula, memasing bantai tidur till petang. Huh…sib baik le korang tidur umah nenek, if tidur umah mammi, memang dah kena high pitch.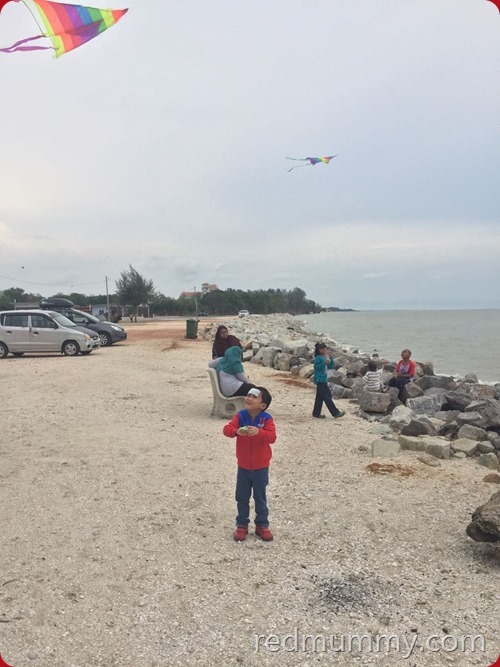 macam nak demam Zeeshan nih…tu pasal ada cool fever kat palanya.
this was like few days after mandi sungai, bapaknya bawak pi visit nenek Kapar, but pastuh terus ke Bukit Melawati.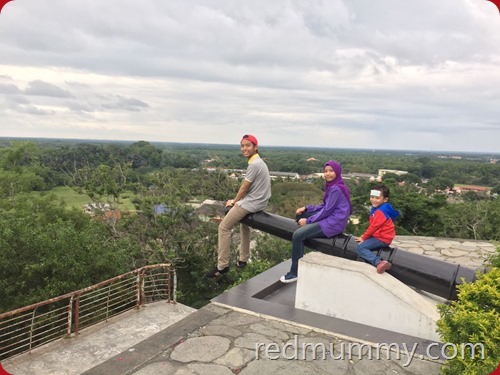 aku sendiri tak pernah sampai sini (mbe pernah masa kekecik dulu kot)….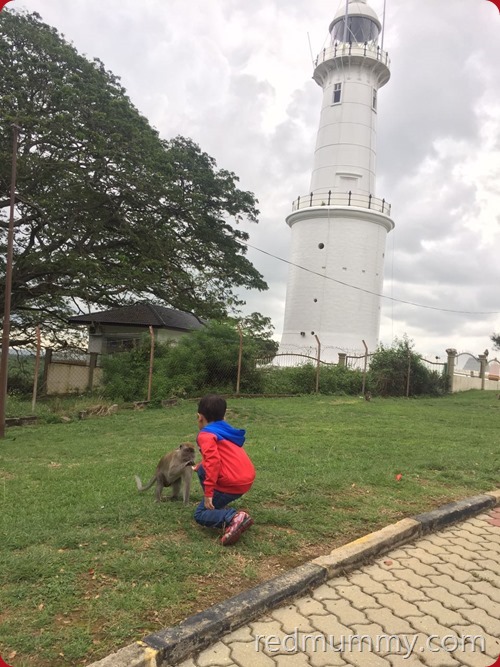 jejauh carik monyet kat Lombok, kat sini pun ada ye dik 😛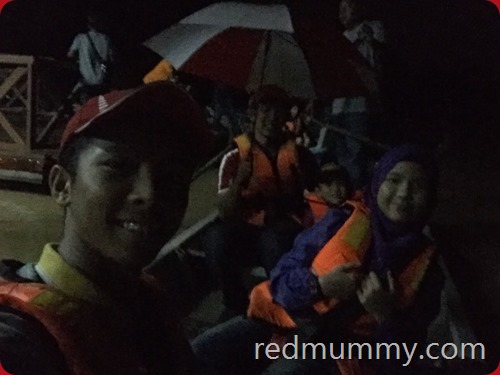 yang ni nak pi tengok the kekelip2. memang tu lah aku cakap, laki aku memang rajin berjalan tempat sejarah2 nih, bagi anak2 kenal. Mak nya tak kuasa hehhehehe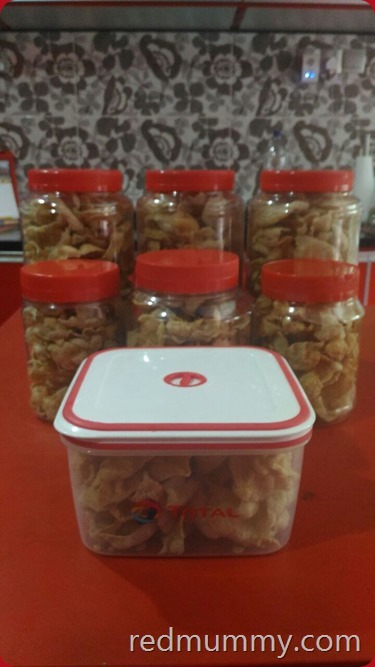 abang kalau goreng keropok, memang tangan dia menjadi lerr. sedap pulak tu sangat. Ini semua 7 balang dia yang buat sendiri, in less than an hour. Dah jadi routine, selang 2 minggu abang akan tolong gorengkan, coz mulut rumah aku ni memang mengunyah le sangat kerjanya…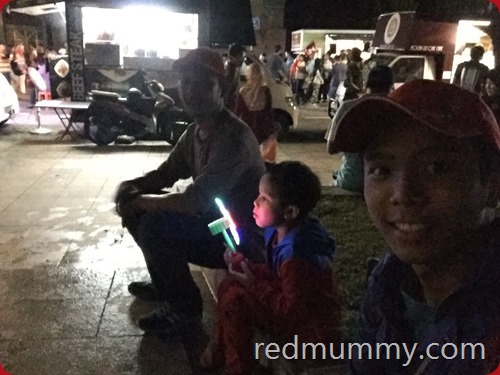 esok2nya…pergi pulak ke festival LAMPU Putrajaya. Pun aku memang tak minat gemor lerr nak ikut, coz earlier sebelum tu kitorang pergi berjalan ke Jusco bagai. ini kang past midnite bagai baru balik, eh tak rajin heh…semua anak ada sama dalam nih, kakaknya pi beli air kejap masa lam photo nih.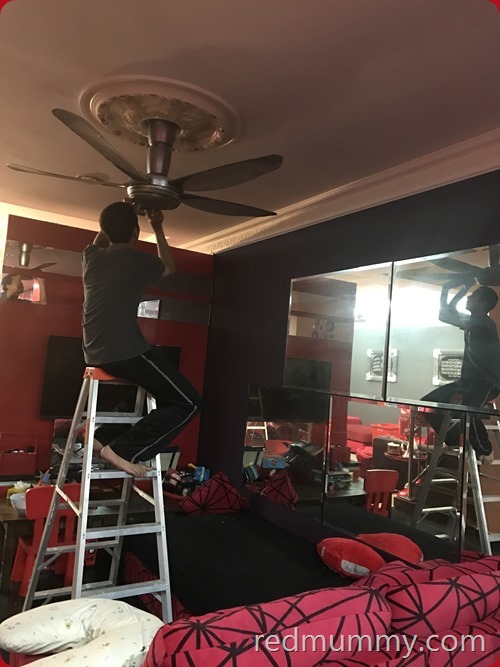 Berjalan2 merata jugak, but kerja rumah kena settled sama gak lah. So ini antara kerja rumah yang abang buat, kakak pun ada jobs dia gak. I thankful anak2 dah tau buat kerja memasing, tak menyesallah dari  kecik aku ajar depa pandai buat kerja rumah walaupun kita ada maids (dan of cos keputusan untuk hapuskan maids dari our family, adalah sangat tepat).  Even now pun Zeeshan yang 5 taun pun tau apa kerjanya, at least dia kena either pasang tali curtains or tutup  tali curtains. Lepas makan wipe the table and vacuum the floor if ada nasi tumpah. itu sangat dia dah hafalan. kalau bagi job basuh pinggan, halahai, abang kakaknya yang kena redo balik kerja si adik, tak bersih, mana ngan air bancau sampai ke tiles. or isi air to the bottles minum, hah bolehlah bagi Zeeshan, asal botol tu yang jenis kecik reringan.
Tang berjalan2 pulak, coz aku kerja, anak2 lagi sonok maknya takde hahahaa, coz kalau tidak kang, maknya asyik nak balik cepatttttttttttttttt jerr. Frankly speaking, aku memang malas ler nak kuor bagai, i love staying home.
Lagi satu bestnya kalau kuor  ngan bapaknya, if pergi mamak (their fav), depa leh order maggi soup. Kalau ngan maknya, memang aku cantas sketlah (eh mami buat maggi ads, melambak maggi kat rumah tu, so order something else). kompem jadi gitu. Dengan bapaknya leh tiau sket…adik pun dapat minum air sejuk gulp gulp gitu. hah pastu malam batuk kong2…
This was year end of 2016…end 2017 if tak holiday gak, berpusing macam ni gak. Aku tak berapa gemar ler pi holiday year end nih, selain dari mahal menggila, sesaknya toksah cakaplah.  Anyway, thank you  RD for being the 'so called single father' waktu berjalan ngan bebudak ni. This year kalau pi lagi Petrosains or tetempat yang setiap tahun depa pergi, kompem staff sana ingat betul ler kot bapaknya nih single dad hahahaha….ceh..bininya ado hah,  maleh nak kuor rumah, ai is puteri lilin 😛
Comment:
8