Apr 6 2017 Thursday, 8:00 pm
Ini special entry yang direquested oleh Yana aka Ediyana.
Camne ke haku memblend sampai 3 bulan boleh bertahan kan. The methods  ni senang jer. aku belajar dari mak ajah. but mak buat tak sampai 3 bulan dah abis, mak aku tu lain ler, dulu dia memasak lagi banyak 'sampah sarap' dalam masakan also banyak dishes so lagi cepat habis lauk pauk. Udahlah tu masak banyak untuk 2 rumah, one for mine one for hers gak. So memang cepat abis lah. But sejak setahun lebih dah, mak ajah dah tak datang rumah aku masak, so tu yang aku sendiri take over. Pastuh mak nak datang balik but aku cakap tak yah lah….ai can manage. Dia risau aku bz bagai, tapi alhamdulillah aku boleh survived. Setiap hari aku masak…hari pergi wedding jer baru aku tak masak hiks…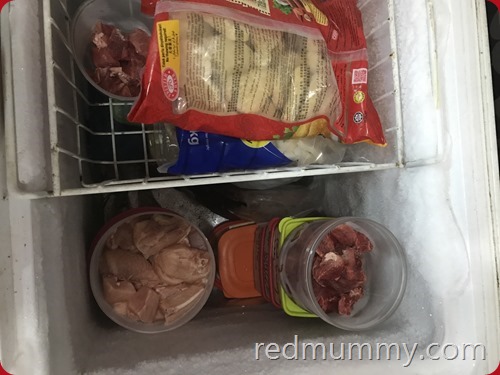 untuk makluman, akak ada chest freezer. So tu pasal all the bahan2 blending leh tahan berbulan2 coz dok dalam chest freezer nih.  Kalau harapkan fridge biasa tu jer, mana ler muat and tahan coz asyik bukak katup je the freezer tuh kan.
Bahan basah macam ikan ayam daging udang sotong tu:
1. aku siang awal2 and pack it lam bekas kekecik and siap asingkan
2. ayam yang ko tengok atas tuh, semuanya hok isi, untuk diperap dan digoreng
3. for breasts or drumstick pulak, aku dah asingkan dalam 3pcs dalam setiap bekas, meaning setiap  kali masak, kuorkan sebekas, memang masak pun 3 ketul ayam jer. Coz yang makan sehari sekali tu abang apaknya and adiknya. Bebekas ayam ni akan jadi dalam 6,7 bekaslah, bergantung pada bape ekor ayam yang laki aku beli over the weekend.
4. daging tu pun aku asingkan 3 bekas. satu dah buat asam pedas daging tetel tu kan, satu lagi nanti maybe buat soup, satu lagi tu nanti buat kari daging ke. tengok mazhab aritu nanti masak apa hahahha
5. same goes to the ikan, semua berlainan bekas dan jenis. Nak masak je, hah capai le kuorkan. cencaru sebekas, kembung sebekas, tenggiri sebekas. listnya gitu. Ikan dimasak biasanya 2 ketul (macam contoh ikan tenggiri masak lomai), so seketui besar akan buat makan by apak and anak bujang, seketui lagi untuk Zeeshan bawak pi sekolah.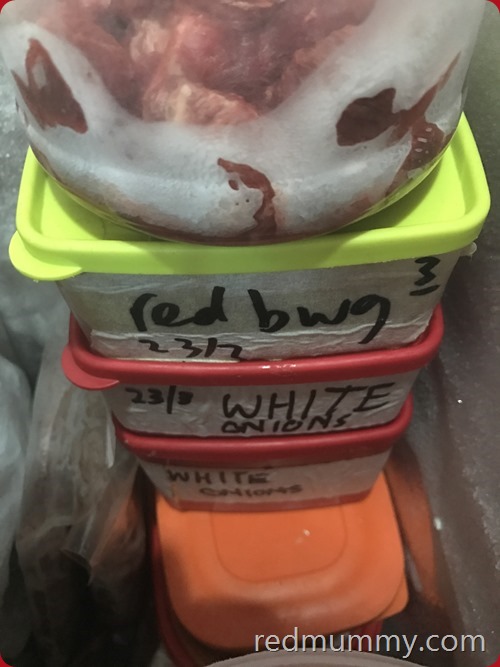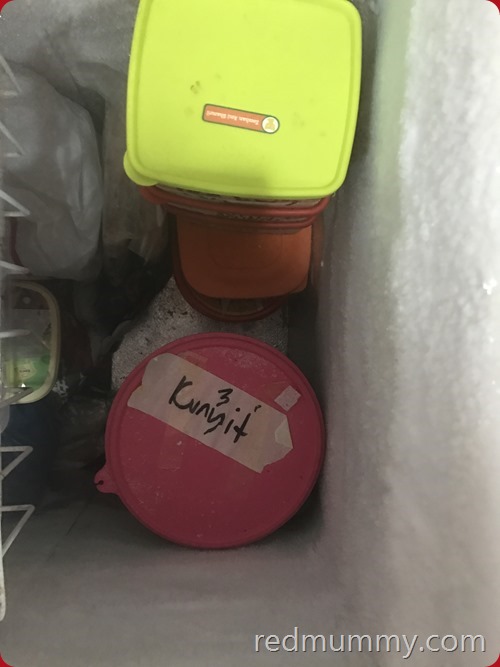 akak malas betul nak kuorkan semua yang dah blended dari freezer nih, so ini yang boleh disnap. Kids will blend asing semua nih. Kerja abang akan blend:
1. Kunyit
2. Halia
3. Bawang merah
4. Bawang putih
Kakak pulak akan pipih cili kering, rendam and blend
5. buat cili boh
all 5 ni aku panggil, the 5 sisters. My language kat rumah, sebelum aku sampai rumah, lagi 5-10min abang akan kuorkan the '5 sisters' nih. termasuk serai dah siap tumbuk. 6 sisterslah.
pahe?
Semua blended ni, masuk lam bebekas yang korang nampak tuh. and datekan, and simpan lam chest freezer. Bertahan 3,4 bulan. Untuk dipakai harian pulak, ada sebekas each for all 5 sisters dok dalam fridge. Agak2 lagi sehari 2 any of the 5 sisters akan habis, aku akan kuorkan sebekas from the chest freezer letak lam fridge, pindahkan ke situlah. Coz dia ngah bapak beku, jadi kenalah makan hari gak untuk didefrostkan. Melainkan darurat, tak gak ko melembut, aku defrostlah kat microwave (kan ada button for defrost kat microwave tuh).
Jadi camtu la caranya akak blend. Campur air le coz mana boleh keras mengejang lam blender bila nak blend. Tapi ai need to invest to good blender lah, walaupun 3 bulan sekali je pakai, 2 blenders untuk buat ni semua, tak power lah. Anak2 komplen je lagik for blend tak sedap, aku akan melompat terus beli yang baru lagi gah power hehehehe….ai thank my kidslah, coz depa memang terer buat blend ni semua. u can recommend gak apa blenders yang good the best the boom to buy?
Untuk hehari biasa if need to blend, macam contoh, biji buah keras. tu tak yah blend ler, setakat nak pakai 3,4 bijik sekali masak, akak pakai batu lesung je lah.  So means for blending nih, abang akan buat 4 kali blend, kunyit ngan halia tu tak yah hiris kulitnya bila blend, masukkan je sekali arung lam blender. Bawang putih, beli terus yang dah siap kupas kulitnya, for bawang merah, pun abang akan kupas kulitnya. Jadi tu pasal keje 4 sisters tu abang buat coz untuk cili boh, kena ada masa bertenang pipih cili kering and rendam ngan air panas bagai, tu mmg job kakak.
Me…monitor dan mendidik anak2 aku menjadi manusia yang tau 'jalan ke dapur' hehehehe…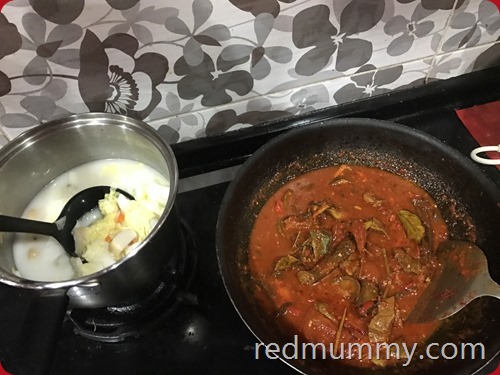 i memang jarang letak bebenda yang aku masak dalam nih, remeh ler. Masak je pun. But i did updated semua dishes yang aku masak kat Instagram, the IG Stories. Sesila ler tengok situ. Beribu orang tengok dari situ pun. Ini aritu nya cooking, asam pedas daging tetel and kobis masak lomak putih. Weekdays ai tak masak banyaklah, setakat my 3 boys tu je yang makan (i dont eat gak coz carbs oil santan ni semua memang my pantang, fatty marrrr).
Hari yang kakak balik, special, 4,5 jenis lauk, termasuk hari yang pi visit dia, upon apa yang dia request mintak menu apa. Hari2 lain, ikut abang nya menu, apaknya telan jer, janji kena ada pedas. tu aku  dah back up sebekas sambal ikan bilis pedas gak. Abang is wajib ada ayam, manjanggggggggggg je ayam, tu yang aku asyik buat kari ayam lah, ayam masak lemak, ayam masak kurma, ayam masak merah, ayam perap, u name it lah, semua jenis ayam abang nak.
Weekdays gak since 3 orang tu je yang makan, and depa hanya makan sekali sehari je cos (kena ulang balik citer nih).
1. anak sulong aku balik sekolah dah petang, so dia makan late petang tu as his early dinner
2. laki aku pi keje kol 2-3 petang, so dia makan sebelum pergi kerja tu ler, sekali jer. Malam dia balik lambat ler, kol 2-3 pagi (again, Germany hours).
3. Zeeshan pun makan sekali je, petang balik sekolahnya, early dinner ngan abangnya. but lam seminggu tu 2,3 kali aku akan packkan yellow soup (masak pindang), or chicken soup or fish soup untuk dia bawak ke sekolah. Leh makan ngan kenkawan gak.
4. Aku masak setiap petang, balik dari kerja. Kitchen tutup before Maghrib.  Sejuk je semua lauk pauk yang dimasak, aku simpan lam fridge.
5. Esok siang sebelum laki aku pergi kerja, dia akan kuorkan lelauk pauk ni and panaskan, and ngap.
watamat. semoga tips blending menyelamatkan kamu jugak.
Inilah cerita, the 5 sisters.
Comment:
6