Apr 10 2017 Monday, 8:00 am
Hangpa pernah jumpa pompuan yang gila phobia dengan dentist, kalau lebih 10 tahun tak nak jumpa tu biasa le kan, lelaki pun ada. Ini kena datang jumpa dentist, 8 hari berturut2! Just for scaling and filing….sampai boss aku pun cakap, aku ada scandal hapa ngan dentist. Too bad the dentist is a lady lah boss, ai is not a lesbiano 🙂
Dulu aku tekad, no way lah for me nak gi lagi jumpa dentist, rasanya tu lah more than 10 yearssssssssssssss ago. Aku ingat lagi drama tragedi tuh, nak scaling yang siksa, dia terpaksa letak something untuk tak nak bagi aku rasa langsung the 'gerudi' pun walaupun mulut kebas, masih lagi ada dengar bunyik gerudi (that time mano le ada handphone nak dengo lagu bagai, tak terpikir kot).
So since aku dah tak tahan dengan gusi gigi aku yang very the sensitive benau. nak kunyah pun sakit, kalau minum air sejuk ke lagi le macam melecur dalam mulut tuh. Makanya ai have no choice, buang sumpah dulu and tadah mulut kat dentist yang kemudiannya jadi fren2 ngan aku (haterrrrrrrrrrrrrrrrrrrrrrrrrnya sampai 8 hari berturut2 ko kan jadi patient).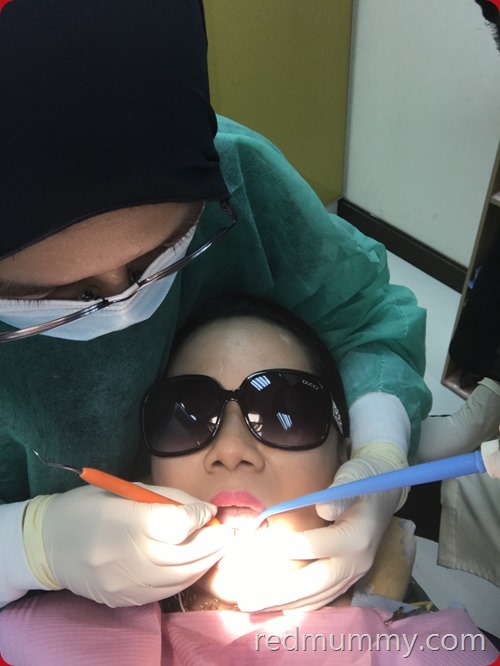 The black shades tu memang provided by the dentist, kena pakai loh. So i told dentist and her assistant:
1. korang tak boleh rodok mulut akak macam tu jer, kena bagi akak something yang akak tak merasa at all, bius ke ubat kebas mulut ke
2. apa saja benda yang masuk mulut akak, kalau benda 20min akan jadi 1jam 20min if korang tak bagi akak that ubat, coz berpuluh kali le aku akan muntah belahak (macam sounds of muntah but kuor air je pun)
Memula depa tak caya, tapi baru first godok dah memang terjadi seperti yang di atas, terus depa bagi aku ubat kebas mulut tuh. Hah kau….tu belum boleh start lagi scaling tau.
first round is the checking dulu maknek bagai…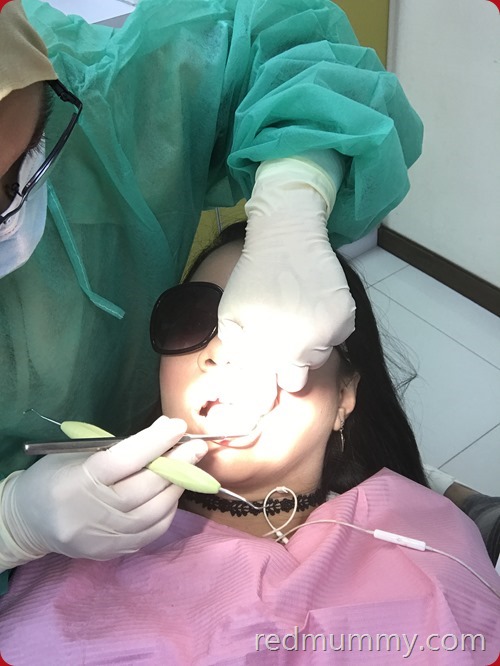 So depa buat scaling 3 hari berturut2. Satu hari for depan bawah, esoknya bawah belakang. Lusanya atas depan belakang. Semua kena bius lah, yang bagi kebas mulut tu lah, but the gerudi thingy masih lagi takde instrument yang boleh tak bagi dengo, so memang aku maximum kan earphone yang memang aku bawak khas. Pun begitu, ada le dengo sesayup gak….terbayang2 aku ngilunya. I hate the sounds i hate it soooooooooooo much. Eii….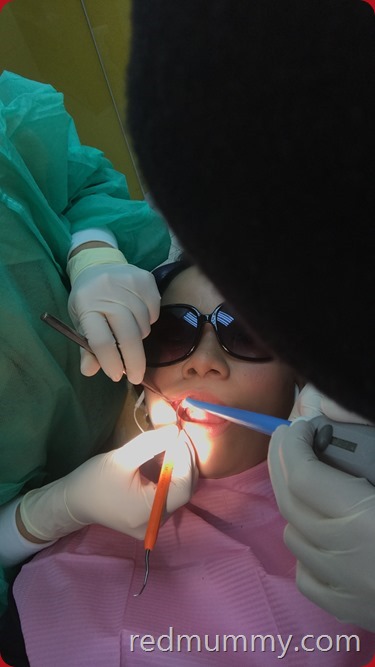 Minggu berikutnya, bermula untuk tampal. Ada 15 lubang hokey nak kena tampal. 6 paling critical. Ni hasil lebih 10 tahun takut jumpa dentist. hamik kau.
so first day of tampal, memang kena cucuk jarumlah, 2 batang ko jarum dia cucuk untuk biuskan kebas. Sakit cucuk jarum depa cakap macam gigit semut api jer. nooooooooooooot at all! sakit kau. arghhh…..
tapi sebab aku nak baik nak sihat, tak sanggup dah facing the sakit gigi ngilu. so memang dok mind set 'beranak lagi sakit beranak lagi sakit dari cucuk gigi nih'.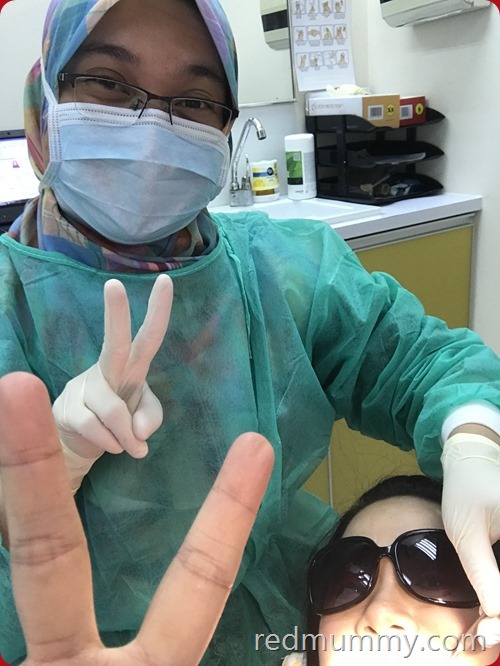 beria ler peace, padahal dok aaa sakit sakit. so for 4 days gak aku berturut2 ulang alik lagi untuk tampal and polish on the last day. Ini bukanlah pengakhiran, akan ada sambungannya lagi sebulan.
Actually dentist offered buat semua ni sekali rap dalam sehari, tapi kena pi spitallah. Kena dok OT, memang tu tak sedor at all. Semua digerudinya. But aku tak nak. Yang ni pun ai took more than 10 years to do, apa tah lagi y ang masuk OT kan.  Mau lagi seram hoh.
So tu pasal berulang alik sampai 8 hari.
The tampal pun, hari pertama buat 6 lubang, hari kedua 4, hari ketiga plak habiskan 5 bijik terus and hari keenam polish and checking back semuanya.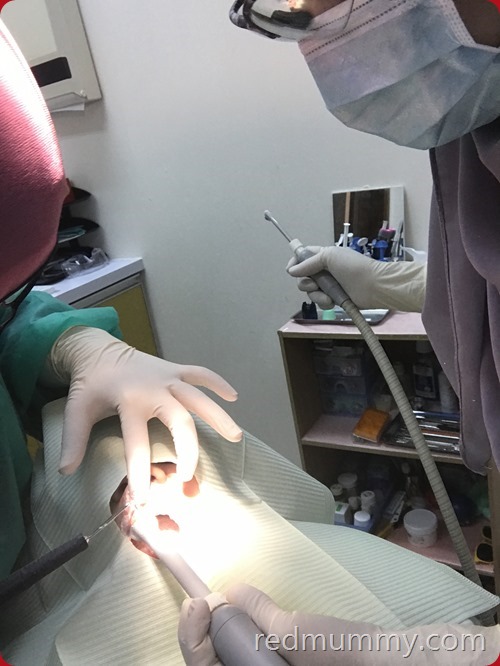 ini spray bagai coz jap aku pikir, apa yek. but rasanya the final part of 'inang gerudi' gak lah.  Ini paling 'siksa' coz depa nak pakai spray apa tah yang kaler putih hapa tuh. so semua kena covered lah. Huh….pastu penutupnya habis dia spray bersihkan muka aku coz ada serbuk2 putih tu terkena gak kat muka kat baju.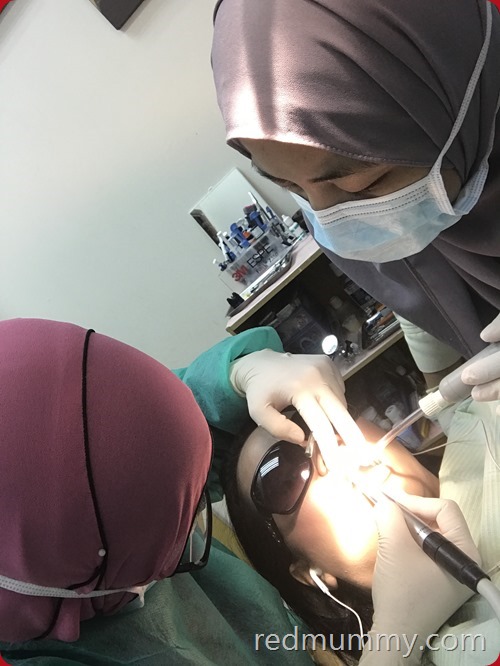 Pastuh, immediately aku kena tukak berus gigi. Noon tu gak aku pi beli the extra soft berus gigi, coz of my gigi yang sangatttttttttttttttttttttlah sensitive. Kena jugak beli the letrik Oral B toothbrush tu gak. Itu aku invested lam RM150 kau, pas aku pakai tu kan, memang betullah. dentist cakap sangat perubahan sangat, bersih and molek. But tu lah aku kena main gusi sangat. Ini sebulan lagi nih, pastuh kena tadah balik gusi gigi ni.
There you go, my 8 days pengalaman berulang alik dengan dentist.
Disebabkan itulah, aku terus set appointment for all of my kids (depa pi dentist bila nak cabut gigi jer), also for husband untuk godek gigi memasing gak. Bebudak ok ler kot, depa tak takut sangat scaling, kot? hahahaha….but aku memang sangat phobiaaaaaaaaaaaaa, terpaksa lepaskan phobia tu coz dah tak tahan sakit sangat.
Alhamdulillah ai made it. Supermak brutal tapi penakut ngan dentist hiks….
Comment:
7