Apr 12 2017 Wednesday, 8:00 am
Ini cite best. one of my fav things to do sangat.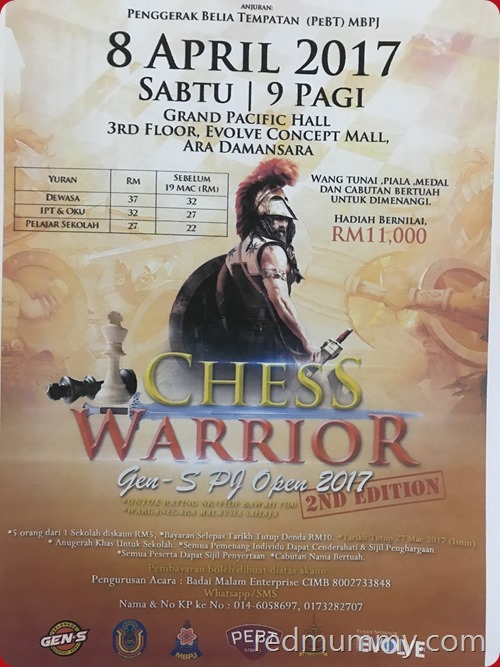 The subject is Chess Warrior cos the tournament is called sama pun. Chess Warrior.  Venuenya ni kat Evolve Concept Mall. my first time datang situ. mall baru nih. ada lagi shops yang belum operate, parking dalam mall pun masih lagi percuma. Ada snookball dalam mall nih  gak. amende tuh? hah pi google, macam main snooker, tapi dia pakai kaki.  Coz snookball ni is at the same floor with our tournament hall, jadi aku ada le pi tengok menebeng depa main snookball tuh.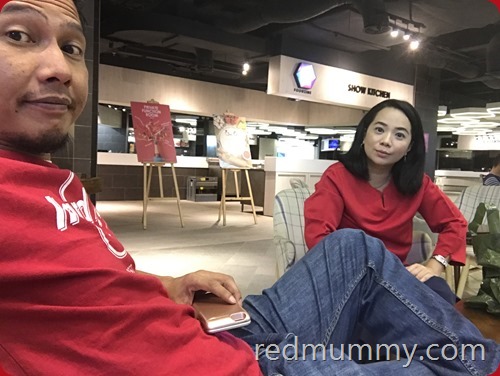 muka hakak pun muka pagiiiiiiiiiii la sangat kan. Kali ni dedua masuk but coz game ni sehari jer so takde hallah.  Laki aku problemo sket kalau 2 hari. Kat bawah tournament tu je ada food court, so kat sini le all chess players bersidai. Even parents yang tunggu anak2 lawan atas tu pun, dok melepak sehari kat sini.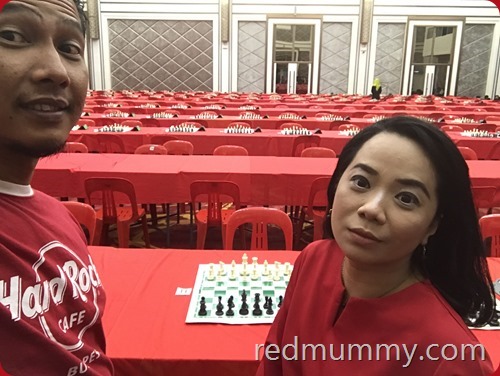 belakang memang le nampak kosong. coz game belum start. semua masih lagi di luar dewan. Ada 121 players for Open Category. Numbers of Under 12 and Under 17 idok le pulak akak checking, but depa asingkan mejalah. 4 long meja tu untuk anak2 kita, 3 lagi meja pulak for Open Category (rasanya ada sorang budak umur 14taun main category nih)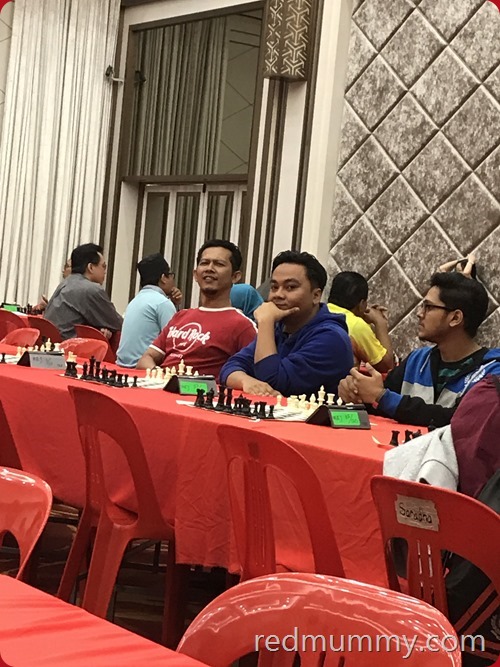 Chess Coach anak2 aku (yang jacket biru tu) pun sama main, sebelah ngan laki aku lawannya. Ni first round. Pairing semua is done by organizer lah ikut chess-result.com nya software tuh.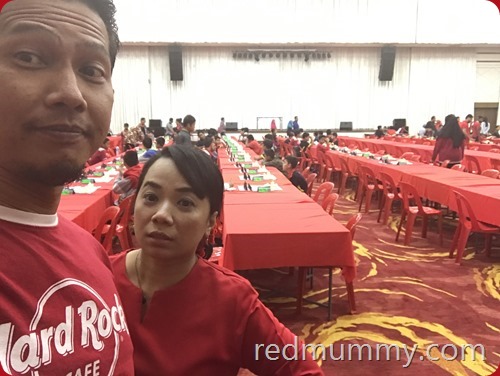 First game akak menang, lawan ngan a boy UIA student,  umur 22 taun.  Laki aku pulak kalah first round tuh.
Round 2 laki bini kalah. Aku kalah coz dia dah nak amik queen baru, so aku resigned lah.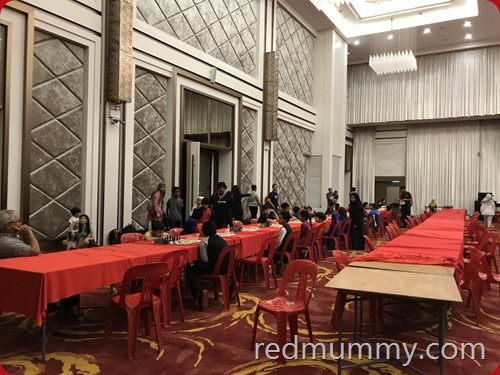 ini antara Under 12 yang sedang bertanding…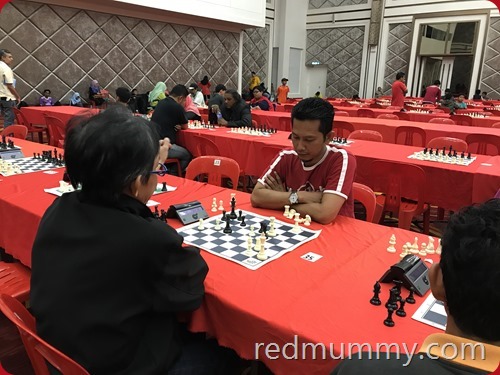 Yang ni laki aku main ngan uncle hebat, he was a Malaysian player before. So kalah gak lah laki aku 🙂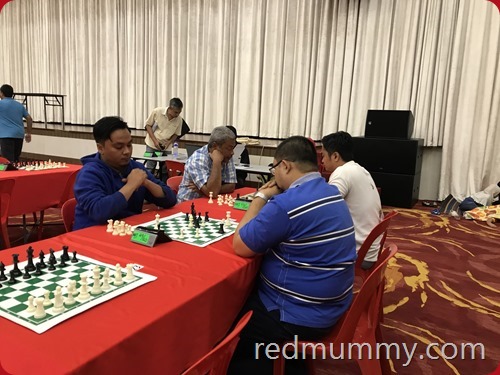 My kid's chess coach, overall after event dapat number 7. He s veryyyyyyyyyyy handal bakpiang (i penah lawan sesaja ngan dia, 2 kali, dia bagi akak menang mudah, coz kalau tak, memang aku bungkus kot by him)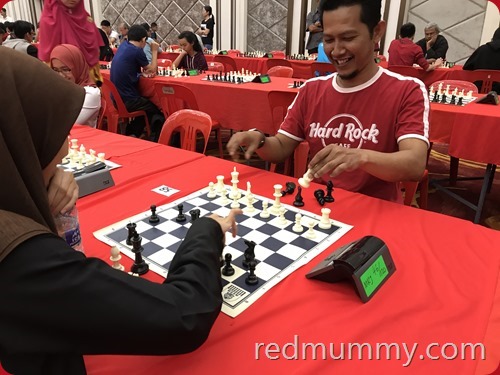 selepas laki aku dapat 2 telur ayam, dia berjaya pecahkan telur ayamnya bila main ngan adik UIA nih…ini dalam Round 3
For me, round 3 menang, dapat checkmate. So i already have 2 points, and husband 1 point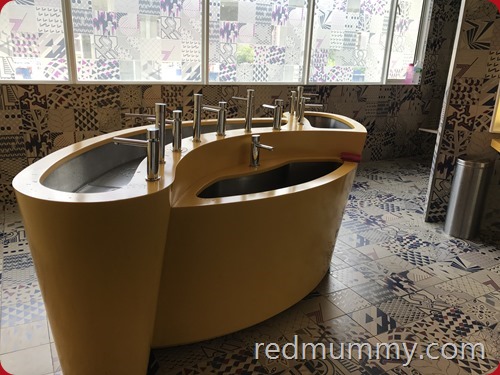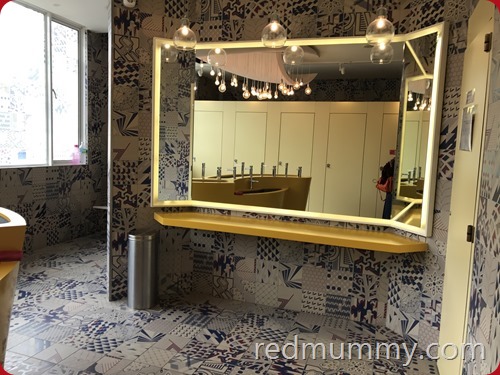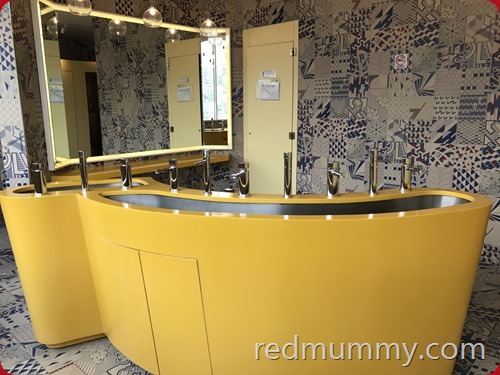 in between ada break kekejap tu aku melilau lah (coz ada game yang husband lambat benau habisnya), eh semua 7 games tu aku habis awal pun, dia memang kalau main pikir lama. so aku meronda sorang2, tengok apa ada kat mall baru nih. toiletnya ni lawa lah.  paip airnya belah tengah tu, ada yang tak nampak lam gambar, rendah sikit for bebudak (refer photo pertama untuk kekuning nih). Cermin pun besar puas nak menebeng. Eh lawa lah. corak2 lantai dinding pun aku berkenan. Imagine kalau depa buat in merah pulak, fuiyooooooooooooo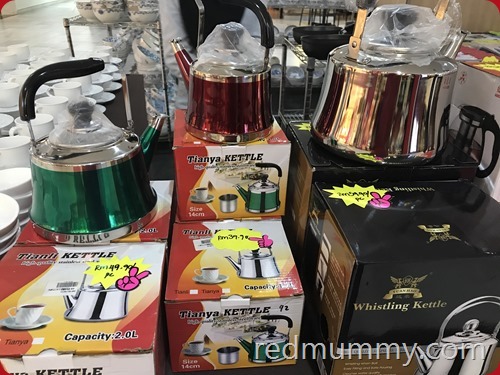 aku pergi floor bawah sikit, ada kettle merah ni jugak. Haih, kettle ni aku jarang pakai, ada la satu kat umah itupun adiah dari wedding dulu. But this is red. hish….gelodak jiwa betul tengok memerah nih.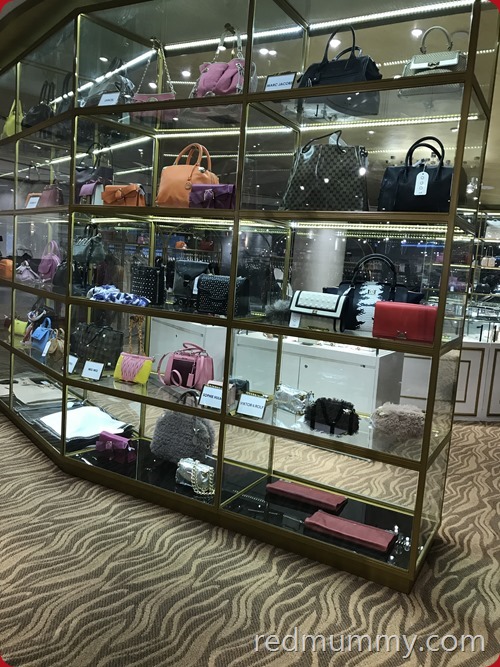 then kat situ gak, ada satu kedai besarrrrrrrrrrrrrrr, ko bayangkan Harrods, macam concept store kan, hah dalam ni pun ada. Kalau tak silap nama kedainya LOGO. Semua designer brandssssssssssssssss ado. 2 tingkat, men atas, ladies and kids kat bawah. Besar weih dalamnya. Tu ko leh tengok banyaklah Miu Miu, Prada segala bagai.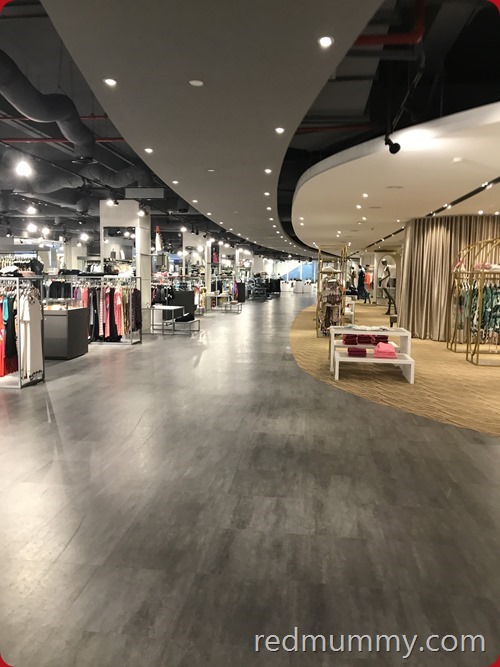 ni not even half of the shop. kasut baju handbags, dari memacam jenis designers ado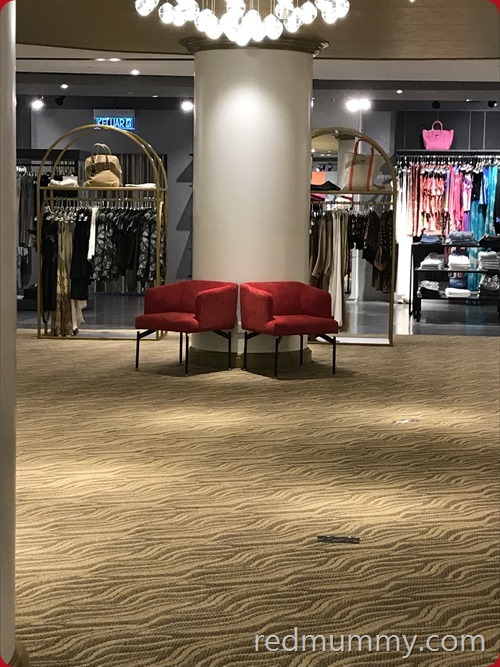 kerusi merah di pillar. nice…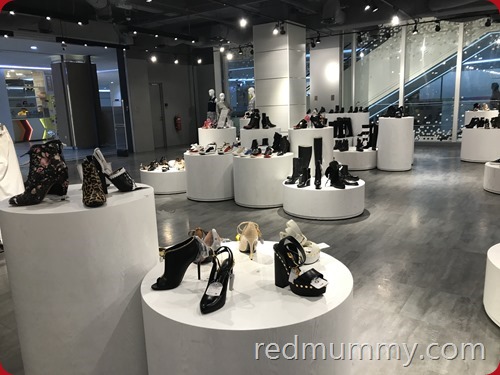 kasut leletop ye….semuanya branded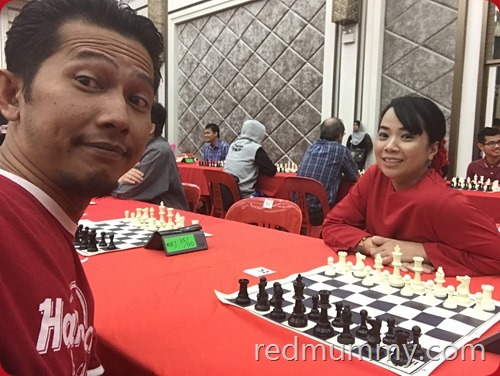 Round 4, akak menang lagi. This time main ngan young boy gak, budak university dari Terengganu. He orang Perlis and belajar kat Ganu, naik bas baru sampai pagi tournament tu semata2 untuk gain experience dan jugak balik malamnya ke Ganu semula by bus. Terkesima dia tengok mak orang ni checkmatekan dia. I dah biasalah orang pandang rendah ngan ai.
Laki aku menang gak round 4. apparently masa round 4, dia jumpa opponent yang aku met at round 1. So that UIA student bolehlah buat record, laki bini tu checkmatekan aku. 😛
So far dalam tournament aku tak penah lagi jumpa lawan ngan laki aku, tak nak kot hahahha…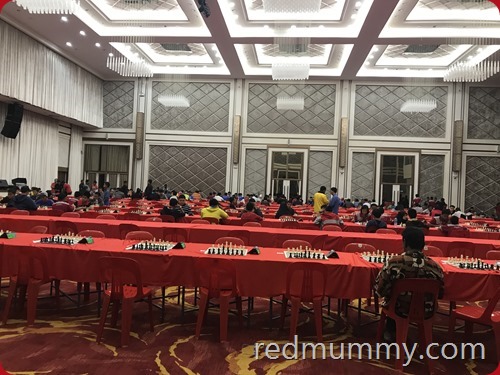 Round 5 akak kalah mengejut. Kalah illegal moves. Tak pernah2 dalam sejarah ye akak kalah camnih. He was checking me but akak tak perasan, dia pun tak sebut. Aku pulak terus move my queen to check him. Tekan clock. and tetiba pakcik tu cakap 'illegal moves, awak kalah'. Terkejut mak merah. hahhaha….
yelah dah dia ngah check, mana le aku tau tak perasan betul (ai is main laju mar..tak suka pikir lelama). Oh setiap game is set for 25minutes.
My husband untuk round 5 kalah gak.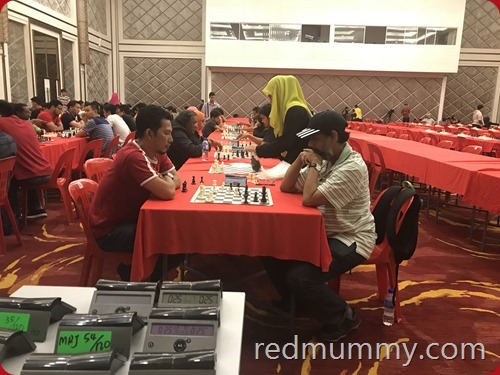 Round 6 akak menang (my opponent pulak buat illegal moves),  round 7 pun akak menang lagi with checkmate. Total menang akak skang is 5 and kalah 2. Total points laki aku pulak, 2  menang, 1 draw and 4 kalah. Haiyoooo suami..apakah? awat corot benau. For someone macam dia yang lagi terer than akak, coz ai selalu kena 'beat kalah' ngan dia, aku sangatlah sayur to him, so agak pelik bila dia menjunam betul performance.  But remember, sampai jannah akan disebut, akak pernah menang ngan dia waktu pertama kali kita bertembung main chess. hehehhe…..masa tu la dia tau yang aku boleh main chess gak hahaha…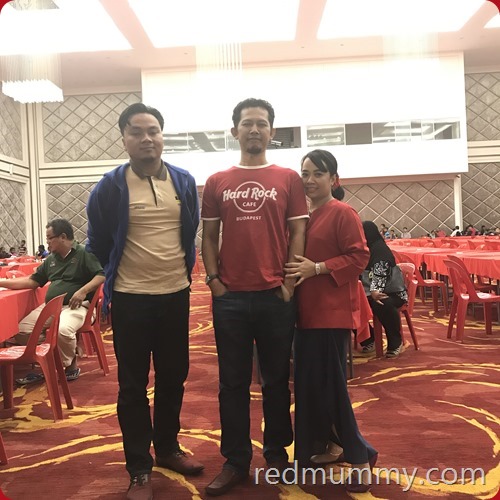 with our kid's Coach – congrats Din number 7 out of 121 players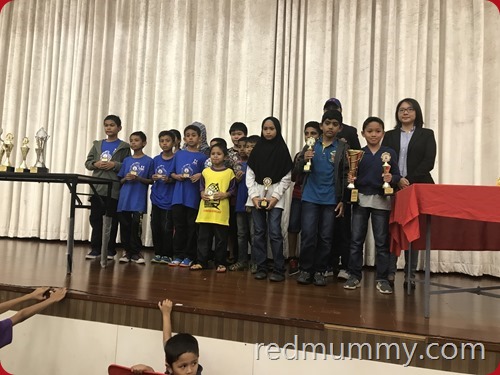 antara pemenang2 dari Under 12, tahniah anak2…insyallah Zeeshan will be on this stage as well.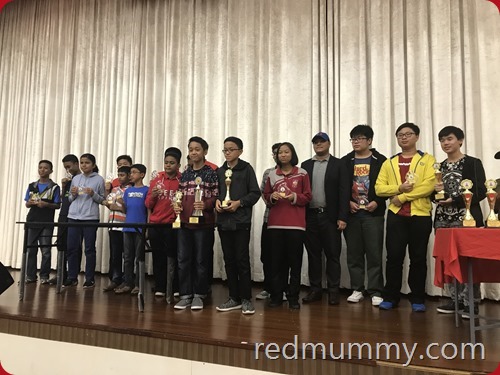 the winners for under 17 pulak. Pun one day heharap tak terlambat abang kakak untuk be on the stage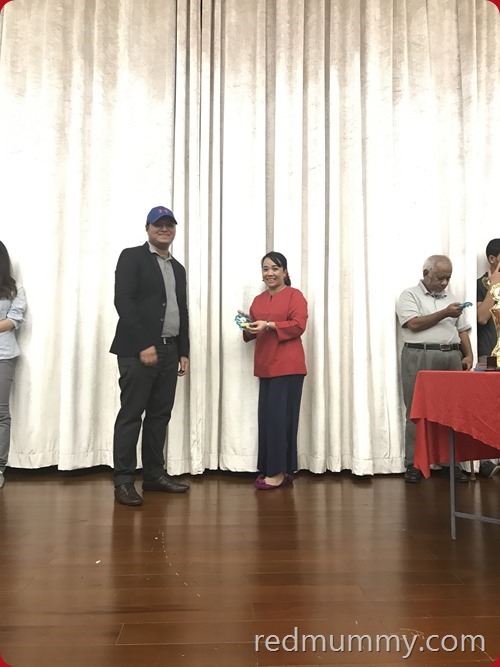 dan tekejutnya hakak pun dapat plaque! The best NonRated Player. Wallahwei!! …. ai was actually aiming for the best female tapi tak dapat, walaupun akak sama points gak ngan best female sorang lagi (ada la calculationnya). but alhamdulillah. for someone yang baru joint 3 external tournaments this year, kira proud sket lah. Coz ai belum lagi ada FIDE and National rated (sedang collecting ke arah itu, Coach Din bila akak nak ada nih?). Jadi tu pasal aku dalam category NonRated walaupun gitu masih berlawan ngan sume rated players too.
But ok gak lah, between 37 rated players, tetiba ada ai yang nonrated, number 15. jadik pulak the best nonrated player. Hiks…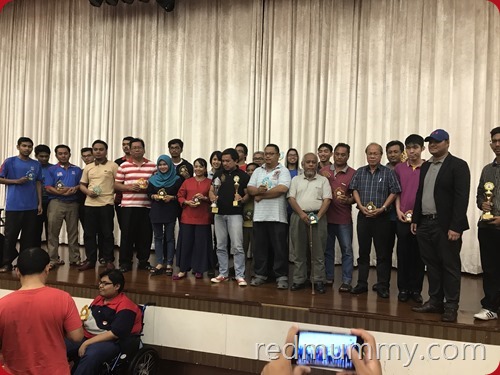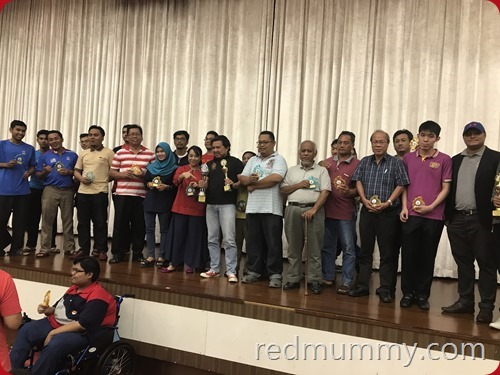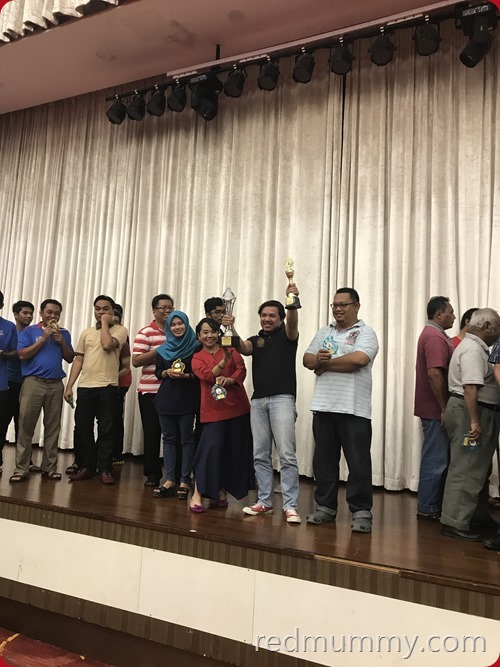 with all winners. Champ goes to Abang Max, the rest as u can see lah. yang bawah tu adalah pemenang OKU. Ini untuk pelbagai jenis category. Most of them ni memang sentiasa jer boleh nampak muka memasing dalam tournaments, sok sok tournaments lain pun, depa akan ada jugak. Begitulah putaran dunia chess, akan ada muka yang sama gak. I am considered as muka baru dalam tournaments.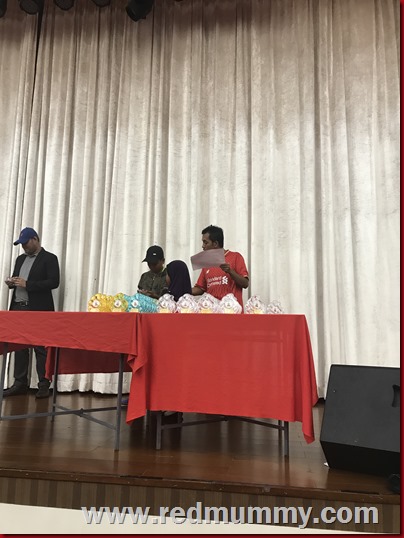 abang ni jadi emcee, kelakar bak hang. Pastu 2 anak2nya tu jadi his assistant untuk passing the hadiah2 kepada VIP untuk diserahkan pada winners. Dengan jegil2 mata lagi dia kat anak2nya if depa terbagi salah plaque hahahahah. Bang ko kelakau lah bang walaupun  muka ko ganas ya hamat. Tapi anak2nya dah well trained untuk help him out, memasing dah tau apa yang nak kena buat. Pepusing, chess family macam tu lah.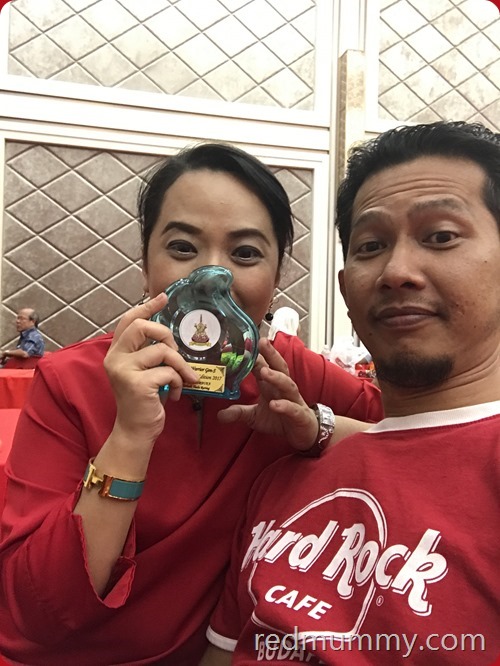 someone is happy dapat something, yet someone tu pulak masih dengan kejutan result unexpected 🙂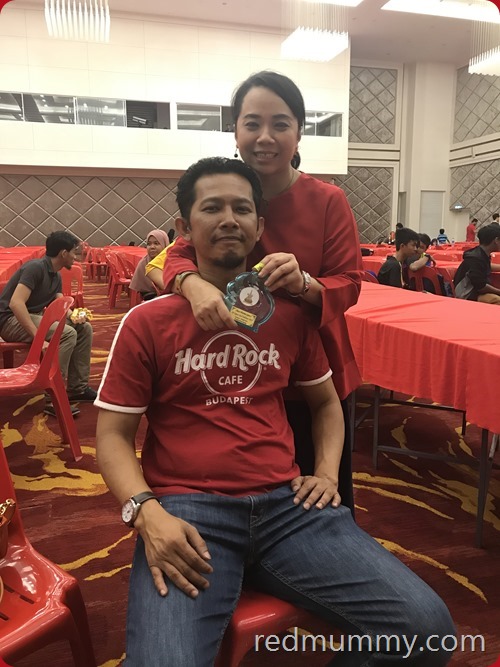 tq abang zamri amikkan gambar ni, biasa kita kena suruh orang amikkan,  ni abang zamri ngan baik hati tolong snapkan….
they called us the red couples that play chess. Belum ada lagi kot couples laki bini kertu camnih pi tournament hahahaha….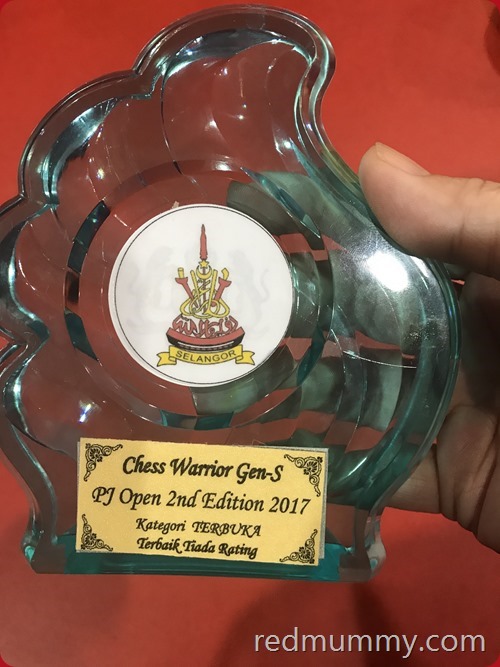 selain plaque, dapat jugak adiah RM50…terus aku suh laki aku belikan dinner red family. kasik belanja terus…ater sehari suntuk kami bertangga kat sini, sampai habis lah 2 bakul baju kakak ironkan.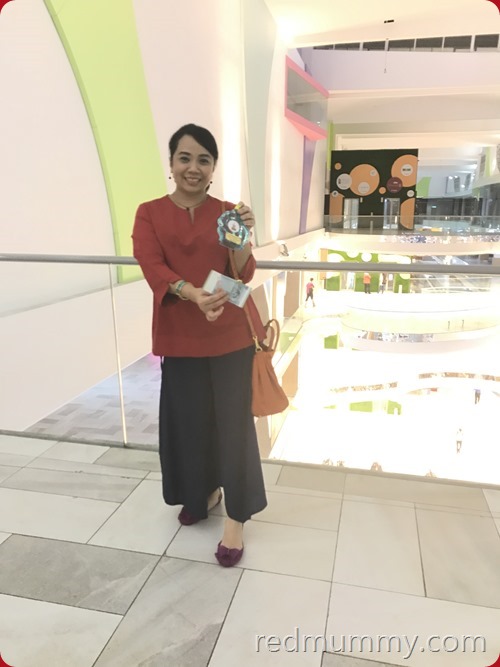 I started the external tournaments sangat lambat, i should have joined the tournaments since 20-30 years ago (i did played tournaments kat sekolah, wakil wilayah gak, champs for ITM for every semesters, also 10 years champ kat opis) but not outside. One of the reasons dedulu coz masa muda belia, tak de transport nak pi join club2 chess ni, internet or communication payah no handphone. Selain dari tu, zaman muda, apa barang kot main chess hahahah..pastuh bila dah kawin pun sibuk ngan family, some more husband selalu terbang, so aku one man show for the kids. But bila Malaysia mula start ada internet, waktu tu zaman pakai Telekom dial up 1511, aku start main Yahoo Chess Games, itu memang record berpuluh ribu main. Bila kita dah minat chess, walaupun tak dapat main on board, kita mainlah online.
Bila dah jadi blogger, 13 years busy bee ngan blogging life. Events travelling blogjobs are like killing my time betul, sangat padat.
Sebab tu lah tahun nih, aku tekad nak start balik masuk tournaments, i remembered masa first tourney aku masuk, ada ramai yang suspicious tengok aku. That time husband pulak tak join. Tournaments kedua pun masih lagi dapat the same pandangan from the other players. Masuk ketiganya tournaments ni alhamdulillah ada dah orang kenal, some more ada yang kenal Redmummy, so up sket lah hahahaha…
But dengan tournaments it actually helps the skills sangat. Dan sebab tu lah jugak aku encouraged tetiga anak aku belajar gak chess. It s good for the brain too. I may not good in Maths or other stuff but i know my brain is good in chess (plus in blog too kot, proven dah kot hiks). I tak boleh nak ajar the kids on chess, husband too coz specially me aku tak belajar chess from the book or ada cikgu yang mengajar. I learnt dulu from the eyes. I tengok my abang and his frens main main Alam Shah dulu (my jejiranlah), bila suh alang aku ajarkan dia ngerus jer…so aku belajar sendiri. Aku tengok and aku manjang je lah kalah of cos. But 5 years later aku terus jadi wakil sekolah. Hanya dengan belajar dari eyes ears and simpan dalam kepala. Practice semedang.
I target at least to join the tournaments sebulan sekali, but kalau ada tournament yang rated with no time increment (either blitz or rapid), insyallah aku akan masuk gak. Mesti heret laki aku sama gak lah, coz we both share the same hobby, chess addict. I cannot play classical, yang berjam2 main tuh, so not me. aku bukan jenis yang boleh pikir 15 min for every moves, koserrrrrrrrrrrrr.
Chess Warrior result nih, my ranking was number 15, out of 121 players, dapat gak The Best NonRated Player. For husband, ranking dia menjunam hahhaah…cant reveal, tak baik, dosa…kena cover ass suami. muahahah….
Comment:
9