Apr 14 2017 Friday, 8:00 am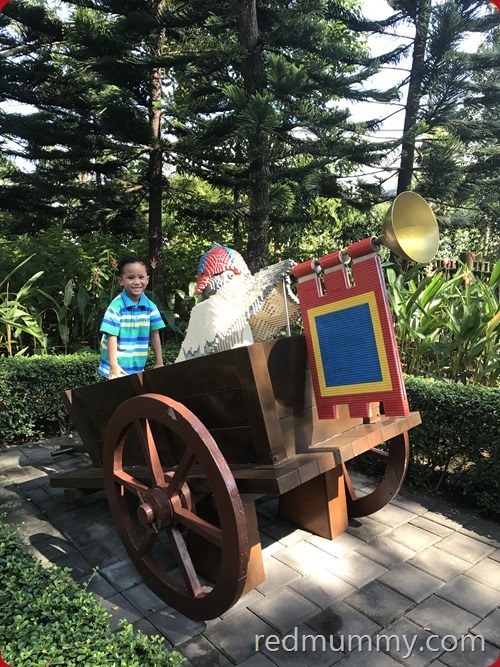 Ini kisah kehilangan Zeeshan di Legoland, about 30min minus plus. Kita dah spent lebih setengah hari gak lah kat situ, means dah nak pepetang camtuh.
Kisahnya bermula dengan depa berempat jalan melaju, meninggalkan aku yang kedek2 jalan. so bila sampai kat Kingdom tuh, aku masuk dalam, tengok tak nampak bayang depa berempat pun. Aku pun dok le kat bench, ada jual2 icecream bagai, aku beli seketul and dok makan. Oh lagipun aku memang ada pegang berbagai jenis bag,  mak mak ni memang mostlynya keje gitu kena buat. Pastuh laki aku wassap gambar diorg dalam Kingdom ke camtu lah.
Aku pun wassap ke laki aku gambar aku makan icecream.
Pahtuh…tak sampai 2,3 min, dia terjojol sebelah aku, passing lagi barang bebudak and seround 2 amik icecream aku. Dia masa ni datang sorang jer. Katanya bebudak ngah kat dalam lagik. Pastuh dia pergi balik ke dalam.
Tak lama lagi kemudian tu, about 5min after, laki aku kuor balik, dengan ucapan dan muka cuak – Zeeshan takde!!
But aku takde le melompat bintang ke hapa, coz mak mak feeling ni macam, hemm, aku tak terasa benda heavy kot jadi coz yelah once again the mother's instinct tu kan.  But aku bangunlah, carik gak, thing is aku tak tau apa susur galur cerita depa nih.
So pastuh, we gathered, or over the phone bincang ngan laki aku. Kita split mencarik. Abang kakak pun sama mencarik gak…ada dalam discussion tu last depa tengok adik depa waktu kuor dari Kingdom.
Kisahnya depa dah abis main ke bagai dalam tuh, so hujan pulak. Jadi Kakak tak perasan adik ada sama, abang tau tapi lupa. So depa berdua ni telah lari memecut, konon sapa paling laju, sampai lupakan adiknya. dan of cos dalam luar tuh, bukan jalan lurus yang boleh nampak, ada kena belok kiri kanan membukit bagai. So kelajuan depa telah meninggalkan adik bongsu depa. Tercicir jauh and adiknya pun dah tak tau nak pergi kanan kiri ke depan bagai.
Itulah bermulanya kehilangan Zeeshan.
So dalam hujan, berenti, hujan, berenti tu, 4 of us pusing mencarik. Takde gak hasilnya. Aku tanya security, kena pi depan gak buat report. if cakap kat depa pun tak boleh buat apa, yelah coz security depan nak initiate the searching. So dah berpuluh minit mencarik, laki aku dah ke depan to report the missing of our little boy.
Aku pulak kena tunggu kat tempat yang Zeeshan disyaki hilang, abang kakak pun masih lagi dalam process pencarian.  Legoland tak bagi lah dedua makpak dok sama kat bahagian report coz kang anak masih melilau kat Kingdom tu kan. Yet dah luar dari kingdom tu pun kita mencarik.
The moment jer laki aku habis buat report, pun depa tak bagi laki aku ke mana, kena tunggu gak kat office Legoland tuh. coz kang securities depa jumpa pulak Zeeshan kan. But diorang memang pantaslah buat kerja, salute to Legoland.
Tak sampai berapa minit laki aku buat report, matanya masih melilau merata tengok anak, tetiba dia nampak Zeeshan, nunnnnnnnnnnnnnnnnnn dekat EXIT/ENTRANCE of Legoland!!
Berlarian dia mendapatkan anaknya, terus dia facetime aku, syukur Ya Allah. Masa minit2 terakhir sebelum jumpa tu, barulah aku rasa macam sebak sikit, but I still tak rasa 'anything happen' yang jadi kat anak aku tu, once again, mother's instinct kan.
So terus kita berkumpul suma berlima kat tempat icecream depan kingdom. Bermulalah penyiasatan demi siasatan…
seperti yang dijangka, Zeeshan kata abang kakak lari so fast fast, Zeeshan couldnt find abang kakak, so Zeeshan walk lah. Zeeshan saw the hotel, so Zeeshan nak balik hotel.
Dia menyangkakan makpak abang kakaknya ada di hotel. oh kemonman, budak umur 5 taun lebih kan, apalah yang dia tau sangat. Masalahnya dari Kingdom yang dia hilang tu hingga ke Exit (belum sempat pun dia keluar and Legoland staff wont allow him to keluar gak nanti), adalah sangattttttttttttttttttttttttttt jauh.
Sian anak aku. sorang2 jalan…dalam hujan panas hujan panas, landmark dia hanyalah bangunan hotel Legoland yang warnawarni yang dia cam sangat. He knows kat situ dia asalnya datang, tidur situ.
Jadi, someone kena dapat the blame, goes to abang…coz abang tau adiknya ada di belakang tapi dia tinggalkan coz dok leka nak memecut ngan kakak. Hish abang abang. But abang seperti biasa coverina, mami….Zeeshan yang patut dipersalahkan coz dia lembab sangat lari kenapa.
hahaha…korang nih.
but apaknya pun dapat sama tempiaslah, bebel2lah gak aku.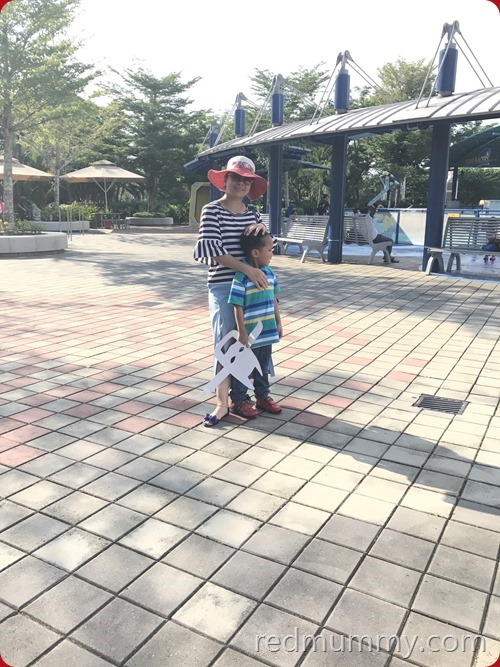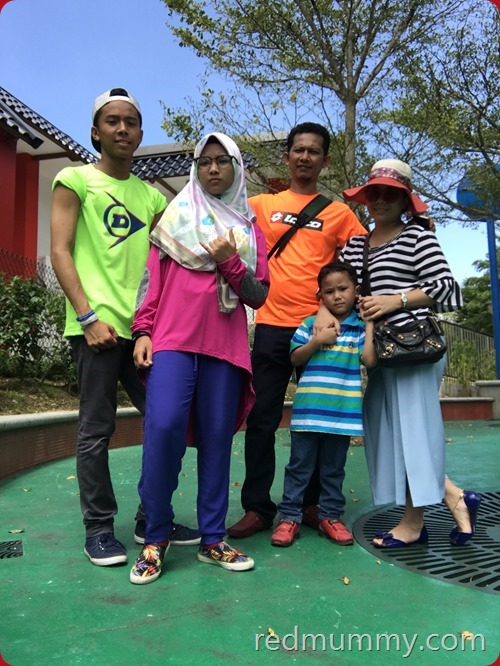 Tapi sejak kejadian tuh, dia pun dah tak berani nak berjauhan dari depa semua terutama dari mak nya ni lah coz dia tau maknya sangat jaga protectivekan dia.  He knows pasnih kena sentiasa main, di sekitar mata mak apaknya, kena always hold mami daddy's hands. Dan abang kakak pun sama gak dapat ceramah…semua have to be extra careful with our little boy yang sangat supermanjaaaaaaaaaaaaaaaa nih.
Itulah yang aku takut sangat, pada anak2 kita, anak2 korang gak. Jagalah anak sesangat. By the way, the reason aku pakaikan laki and abang tshirt striking masa kat Legoland nih supaya senang mata aku nak cam kenal depa waktu jarak jejauh but apparently i need to pakaikan Zeeshan gak kaler2 striking cam abang and bapaknya too, sebatu boleh nampak.
Ini dah kali ketiga Zeeshan hilang yer. Satu di KLCC park, satu di Perak dan ini Legoland. Ketiga2 kejadian berlaku sewaktu aku tiada di tempat kejadian bersama depa. Siap yang 2 previous incidents tu, 3 beranak tu rahsiakan dari aku berjam2 hokey, if depa tak cakap memang aku tak tau langsung pun. Zeeshan memang tak mengabaulah, dia apa nak tau citer sume nih. Apapun, pengajaran sekali lagi…kena sentiasaaaaaaaaaaaaaaaa alert tolonglah suami, abang and kakak.
Comment:
16