May 16 2017 Tuesday, 9:00 am
.
.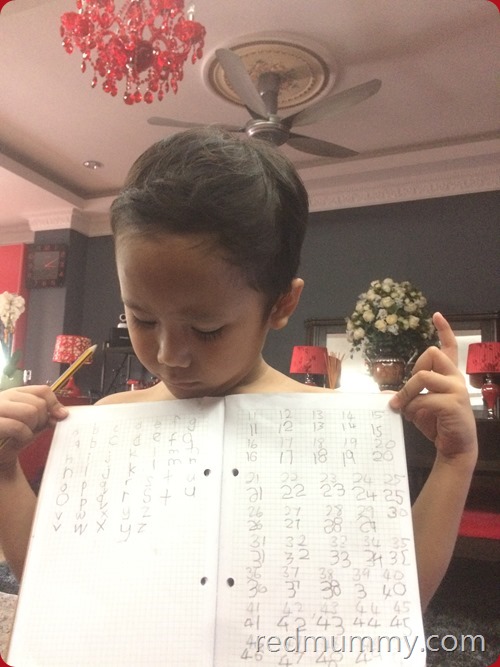 Akak always wonder samada still nak bagi Zeeshan minum susu lagi ataupun tidak… Macam berbelah bagi, kadang-kadang rasa tak perlu susu la, dia dah besar. Tapi kadang-kadang rasa wajib bagi pulak!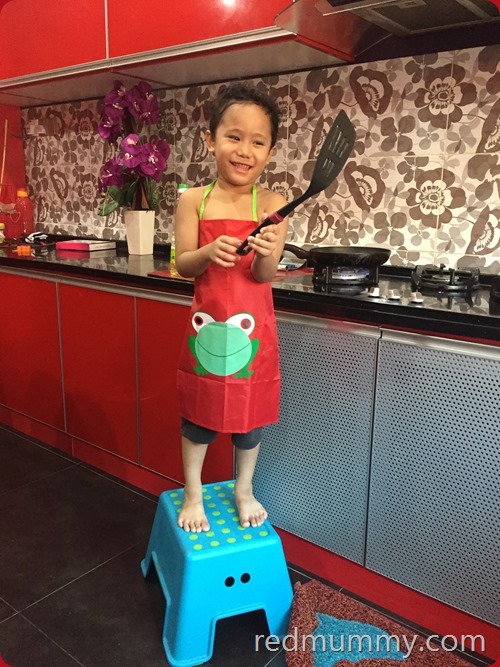 So first  mestilah kena carik further info pasal susu. So browsing lah Akak to all the milk brands sites, baca sana-sini so banyaklah info dan tips yang Akak dapat. Walaupun anak dah ada 3 orang, tapi penting kena cari ilmu-ilmu parenting dan child's development ni.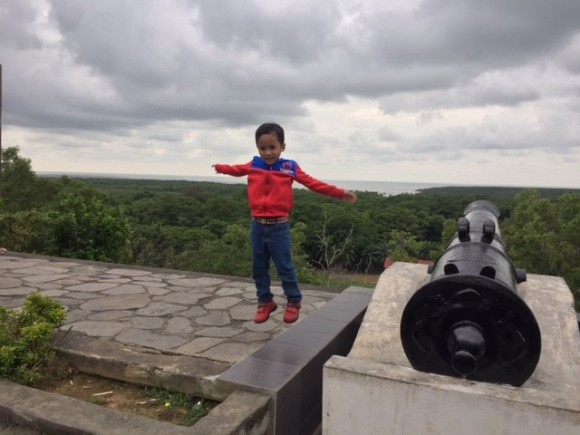 Time flies, he's now nak masuk 6 years old and very active little boy 🙂
Seperti yang ibu-bapa semua maklum, biasanya anak-anak kecil begini memang mudah dijangkiti pelbagai penyakit seperti batuk, flu, diarrhea dan macam-macam lagi kan…
So how do we choose formula milk for our children? What are the criteria we are looking at?
For me biasanya Akak pentingkan benefits of the products, nutritional facts, ingredients dan macam-macam lagi.
So Akak never really paid attention to my child's digestive health because there are so many other aspects in a child's development yang kita sebagai ibu kena jaga. Tapi recently Akak discovered that digestion is the key to a child's stronger inside! Itulah gunanya bila kita rajin mencari ilmu, akan jumpa a lot of new tips and facts about child's development.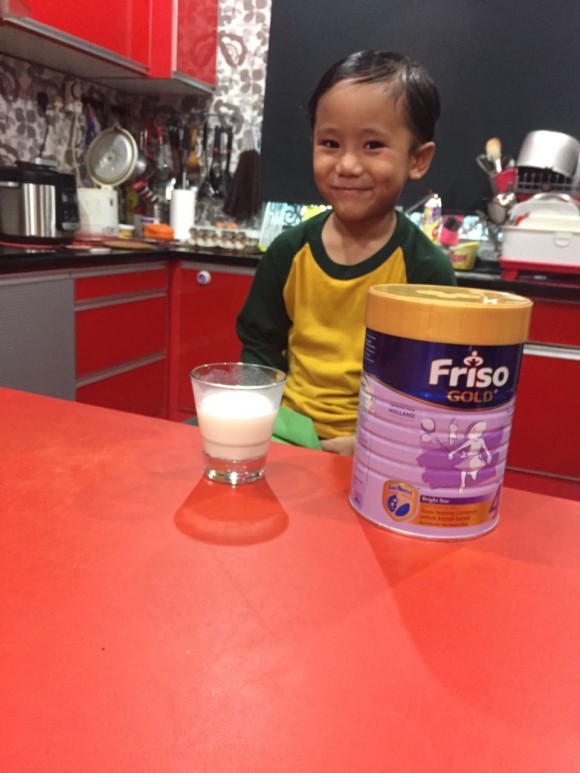 Bila anak-anak mempunyai good digestion, secara tak langsung menjadi stronger inside, dan ini membuatkan mereka lebih ceria dan aktif to explore their surroundings. Sampai naik atas bumbung budak tu!
Sistem pencernaan manusia terdiri daripada satu siri organ yang membantu untuk menukar dan membahagikan makanan kepada nutrien penting untuk diserap sambil mengurangkan bahan buangan dari badan.
Oleh sebab itu, fungsi sistem pencernaan yang sihat dan normal adalah sangat penting untuk kesejahteraan dan kesihatan tubuh badan kita, and poor digestion memberi kesan yang negatif terhadap penyerapan nutrien dan metabolisme, sekaligus menjejaskan pengurusan khasiat dan and waste management functions.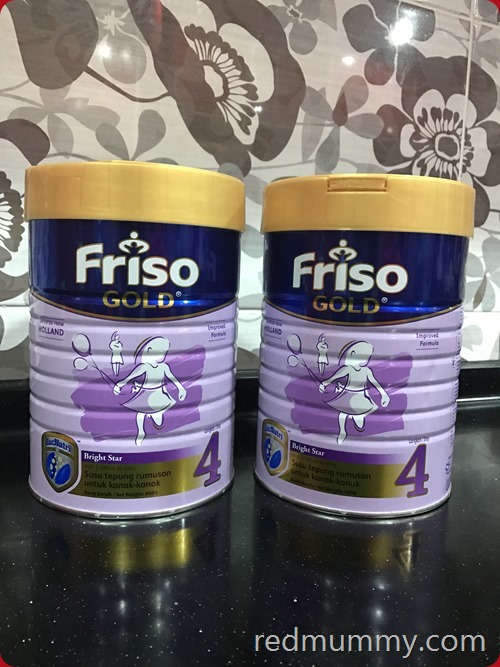 Perbezaan ketara yang dirasai oleh Zeeshan bila mengambil Friso Gold ni ialah tiada lagi najis yang keras, ataupun sembelit. Selera makan pun bertambah-tambah sekarang.
Ditambah pula sekarang ni Friso Gold is even better dengan teknologi LocNutri™  baru mereka. This newly improved Friso Gold dengan teknologi LocNutri™ mengekalkan nutrien untuk penghadaman dan membantu anak-anak kita untuk menjadi lebih kuat dari dalam.
Antara kepentingan LocNutri™
i. Makanan yang sering diproses dengan haba yang tinggi menjadikan struktur protein semula jadi rosak dan tidak boleh diserap dengan mudah dan ini boleh menyebabkan anak-anak mengalami masalah pencernaan protein dan ketidakselesaan perut.
ii. LocNutri™ Teknologi yang menggunakan rawatan haba yang sederhana semasa proses pengeluaran susu formula, ini supaya protein dapat dipelihara dengan struktur asal mereka. Nutrien yang kemudiannya boleh diserap oleh badan secara berkesan. Protein memainkan peranan yang penting dalam otot, kulit dan tulang. Ia membantu dalam membina tisu dan pertumbuhan dan merupakan komponen dalam sel darah merah. Membina asas yang kukuh ini membolehkan anak-anak kita selamat dari dalam.
Boleh tengok bagaimana Friso Gold LocNutri™ Technology dalam video ini: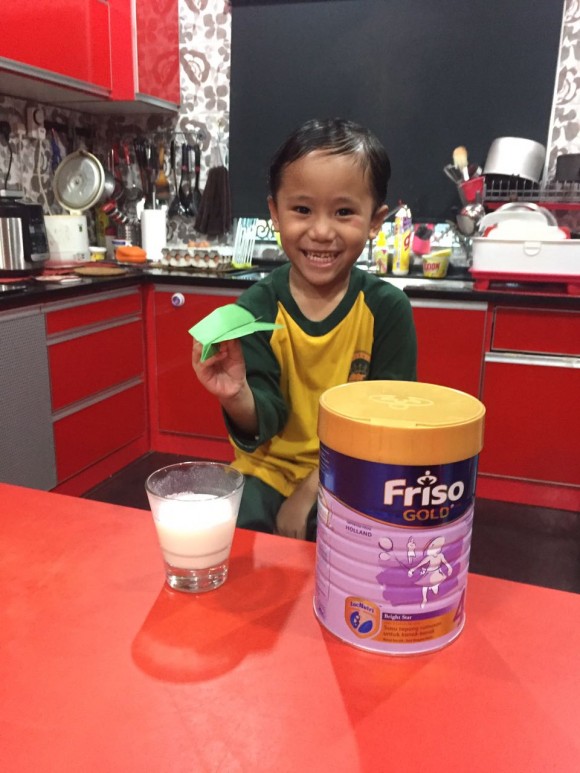 Happy kids happy parents 🙂
Bila anak-anak kita mempunyai sistem penghadaman yang baik, mereka dengan mudah menyerap semua nutrien yang mereka ambil, dan ini menjadikan mereka lebih kuat dari dalam.
Anak-anak yang kurang jatuh sakit semestinya akan menjadi lebih ceria 🙂
So mak-mak semua, ingat penghadaman sangat penting untuk anak-anak kita.
Bila anak-anak mempunyai sistem penghadaman yang baik, beberapa kesan positif yang boleh dilihat pada anak kita:
i. Fungsi sistem pencernaan yang normal
ii. Mempunyai selera makan yang baik
iii. Tiada tanda-tanda muntah-muntah, cirit-birit, sembelit, kembung perut atau kecerewetan (fussiness)
By the way, Friso Gold diimport terus dari Holland. Susu Friso Gold datang dari ladang mereka sendiri dan terdapat lebih 19,000 ladang dan lebih 140 tahun pakar tenusu digunakan untuk menghasilkan persekitaran berkhasiat yang sesuai untuk menghasilkan susu berkualiti tinggi ini. Dan selama bertahun-tahun, para saintis mereka telah mencipta satu proses khas yang merawat susu melalui penjagaan yang teratur pada setiap proses yang terlibat, dan hasil yang baik ini disimpan menjadi susu formula.
So belum cuba belum tahu, personally Akak encourage korang to give it a try. Boleh request FREE sample of Friso Gold dari http://www.frisogold.com.my/try-friso-gold
Comment:
2