May 31 2017 Wednesday, 8:00 am
Huk aloh, lamanya blog ni berpuasa.
Sebab dah puasa, kita sembang cite puasa sket lah.  Dah tune up puasa kita baru kita cite hal lain pulak.  Aku ni bila puasa timing kedaung betullah. Dan  mengantuk adalah upacara paling tertekan saat2 puasa nih.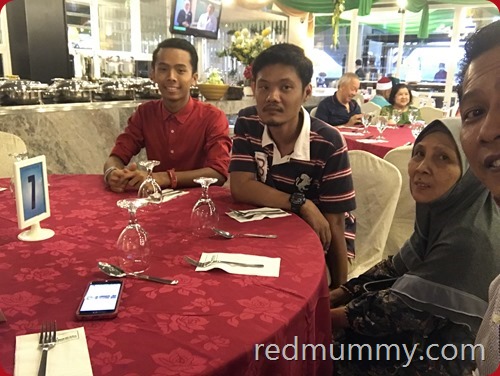 So this was 2nd Ramadhan. My bukak puasa dengan parents and mak mertua (sorang adik ipar ikut sama).  Kita mulakan ngan berbukak kat Tropicana Golf Resort. Terima kasih sekali lagi to Tropicana for having us, the big Red Family. Ini jugak kali kedua for my 3 parents berbukak di sini. The reason kita pilih sini for parents coz dekat sikit laki aku nak jemput mak mertua aku. Kami ni kan 9 orang, ramai wor, so pakai 2 keter lah. Laki aku ngan Zeeshan balik Kapar amik mak mertua and bil.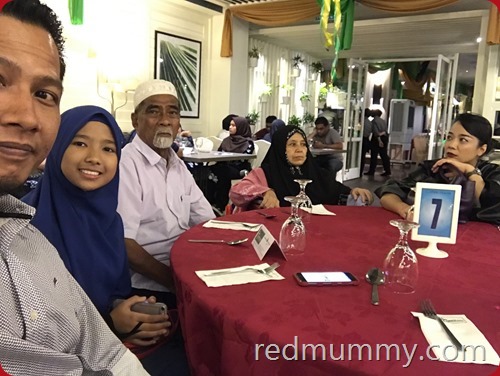 aku pulak ngan abang kakak balik rumah mak aku, siapkan Mak Ajah (remember she cant move at all, so kena siapkan dia, kena pakaikan dia jubah baju tudung segala, angkatkan badan dia, all kena done by us), and bawak abah sama lah. Laki aku yang kuor dulu ke Kapar, dah sampai dulu ke Tropicana, coz aku kan banyak perancangannya, Mana dengan hujan lebatnya. 2 anak2 buah tolong angkat mak from the wheelchair to my car. Tetengah hujan hiks…dugaan, but aku tetap gak tega and gigih nak bawak mak aku. dont care one. She kept saying yang dia menyusahkan kitorang, susah nak bawak dia, but lantaklah, mak makan je mak, kitorang yang angkat mak. Jangan nak jadi issue heh. Walaupun mak sangat berat yelah coz kaki dia dah tak boleh gerak yang kiri tu so badan dia totally on heavy sangat, kudrat aku ni kalau tengok memang tak mampu nak tampung mak aku but entahlah, kadang2 kita jadi kuat coz of them. Boleh mengah wor…kadang2 kat toilet pun ngan Mak, kena ada orang lain sama tolong, takut kita yang tampung pegang badan mak ni pun boleh tumbang sama.
Anyway, sampai Tropicana, laki aku ngan abang tolong uruskan angkat mak aku ke wheelchair etcs.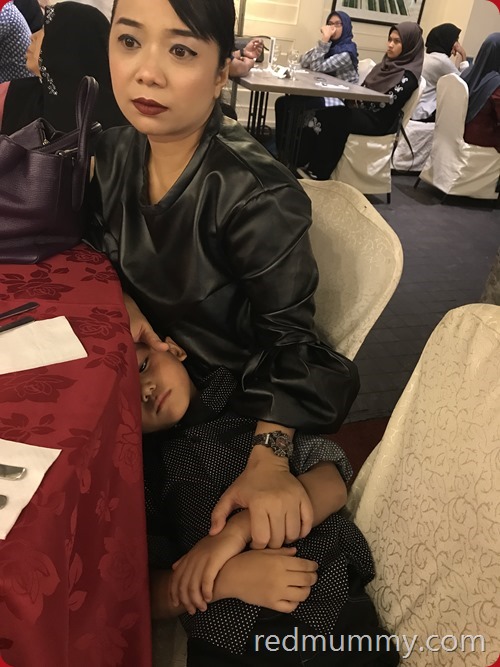 this little boy is like 'drama nak pengsan sangat ni mami' hah macam tu lah. His first day puasa full was on the 2nd Ramadhan. Hari pertama dia puasa yang yang yuk. Bangun sahur but kol 9 pagi dia terus makan coco crunch, lupa yang dia puasa.  Oklah takper, pastuh petang kekejap mintak air, ngan aku bertahan but bapaknya kesian, bagi dia sedut gak air suam. Pastuh pi bazar first ramadhan tu, dah lemah gemalai.
You know laki aku hilang kunci keter dia kat bazar ramadhan, aku ngah masak dengan berapron nih kena pi amik depa kat bazar, antau spare key keter dia. Haigh….
Pun pi bazar tu Zeeshan dok berzikir lam keter, im thirsty im thirsty. bagi lagi air. Balik rumah pun thirsty, bagi lagi air. So tu yang puasa yang yang yuk.
But hari kedua dan ketiga and keempat, full star!! puasa penuh full day. Walaupun banyak 'zikirnya' but kena tahankan telinga dan keep on pujuking dia lah.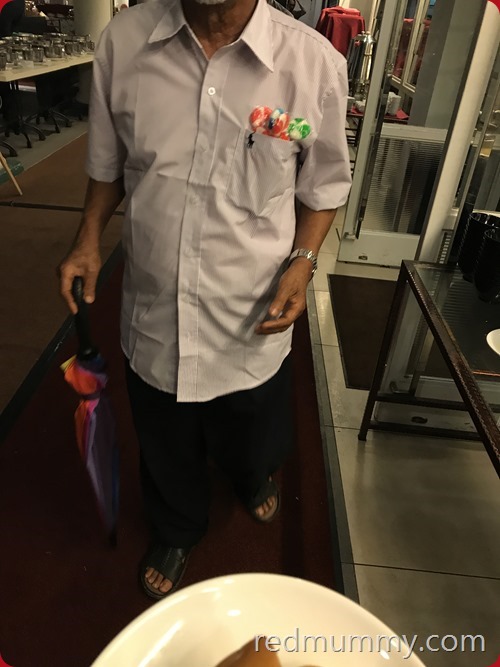 My dad forgot his tongkat, so he guna the umbrella ganti tongkatnya…pun boleh kan Bah. At first round cucu2 amikkan food for atuk nenek, but pastuh aku ajak abah ronda jalan pusing Tropicana, hah baru dia wah sana sini macam2 ada….terus naik sket lagi nafsu makannya. Abah nampak sihat sikit tapi tu lah, mak pulak yang sakit, so tetiba abah jadi kuat demi isterinya sama gak.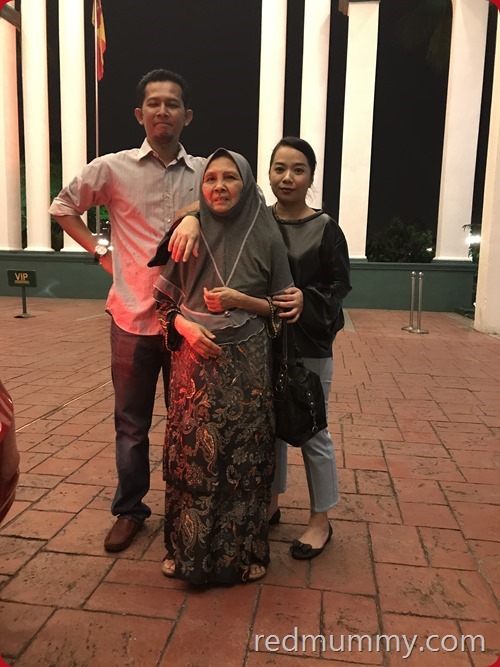 My mak mertua, tudung ni last year kot aku belikan ke 2 tahun lepas, ini gak lah yang dia pakai, bukan takde tudung lain tapi dia suka benau hok nih…but for raya ada gak aku belikan satu lagi tudung khimar yang melecun. Tak tau ler dia kenan ke idak coz ada ngelip2 ujung tudung tuh, she jenis low profile abis yang tak suka over2, so heharap dia pakai gak lah hiks…
lagi satu kita nak bawak balik mak mertua tidur at the Red House, malangnya, jiran sebelah kiri aku tengah buat heavy renovation, baru mula a week sebelum Ramadhan and expected to finish pun lam 5 ke 6 months. Haigh. Ini pecah habis, so ko bayangkanlah pagi2 tu keletung keletang, sehari suntuk.
Dahlah kita nya first day Ramadhan baru nak tidur lama sikit pas sahur subuh tu, tetiba kol 9 pagi dia dah berdentum. Aku memang sakit pala betullah tak leh nak tidur dah. Esoknya Ahad ok lah depa tak kacau, takde bertukang. But from Monday to Saturday, memang full day bingit. Macamana ler laki  ngan anak bujang aku leh tidur melena.
One of the reasons aku malas nak cuti masa Ramadhan nih (was planning too) coz of this renovation lah. Kang serupa gak kena berjaga coz tak leh nak membuta. Bingit hoih…dia punya drilling tu, satu taman bley dengo kot.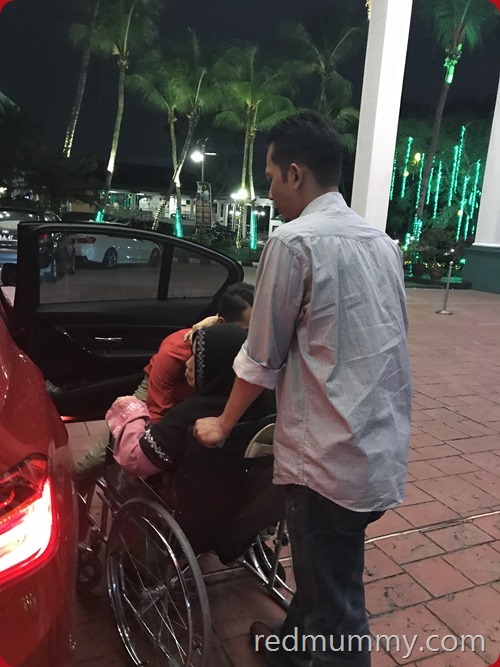 beginilah bila situation nak angkat mak, ini ada the 2 boys yang gagah perkasa but at one time depa tak tau cara nak dokong the right way gak, aku kena turun padang sama. Macam kat rumah mak tuh, naik turun letak kat w/chair pun bukan abang (if anak2 buah aku takdak), aku gak yang buat sorang2. coz salah cara dokong pegang tampung tu, akan menyakitkan badan mak. Sian mak.

aku pulak time ramadhan ni memang tukar habis schedule tidur. I m now reporting to work, pagi awal giler. Coz aku tak nak meet up ngan traffic jam at all. So on first day, right after abis Sahur Subuh tu, kol 6 pagi aku dah gerak pi kerja, the 3rd Ramadhan tu, I was the first person at work!! Aku jadi tukang bukak lampu,  I reached at 630am and sampai my workstation at 640am kau. But on d second day, aku kuor lambat sikit, pun sampai opis at 7am and kat Jalan Tun Razak at 645am dah berderet keter jam. Haih.
Petang habis kerja, macam biasa lari pi bazar ramadhan coz itu wajib ada for depa nya moreh untuk lepas Tarawikh. Pastu amik Zeeshan and pastuh terus balik masak kelentang kelentung. I cannot go tarawikh coz of ada Zeeshan, masa bapaknya ada jer on first day Ramadhan tu depa pi berempat (that time aku period pulak). Weekdays memang bapaknya takde nak berbuka ngan kami nih coz bapaknya kan kerja odd hours sket. Dia sendiri berbuka kat opis.  Abang kakak jer pergi tarawikh, but kalau hujan malam, abang tak bagi kakak tarawikh kat masjid, so she buat kat rumah jer, abang pi solo.
Routine is tunggang terbalik betul masa Ramadhan nih, mbe lagi few days baru ok sket kot, but tuning tidur aku memang lari kedaung habislah….apapun, terima kasih Tropicana, once again for having the Red Family and our parents di sini. Insyallah datang lagi kami. Tropicana Golf Resort
Comment:
10