Jun 7 2017 Wednesday, 8:00 am
ini pun entry riak takbur.
shoh shoh if this will hurt your eyes, your mind and your heart.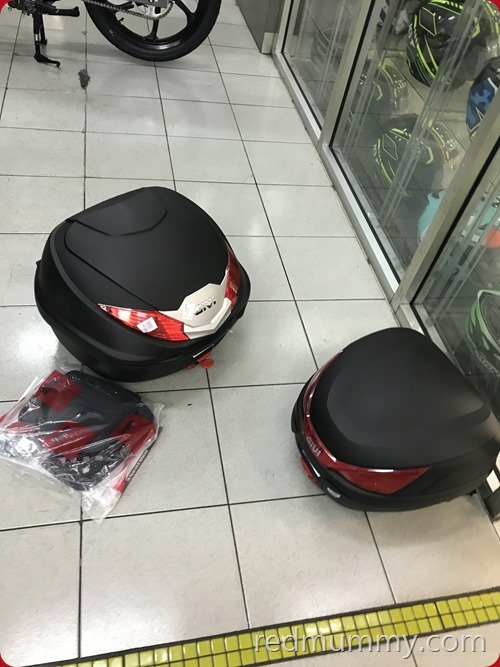 ini namanya box's bike. I do not know ler pulak ada sizes. Now I know dah lah.
the right one kecik, the left one tu bagak besau, baru lah gerekkkkkkkkk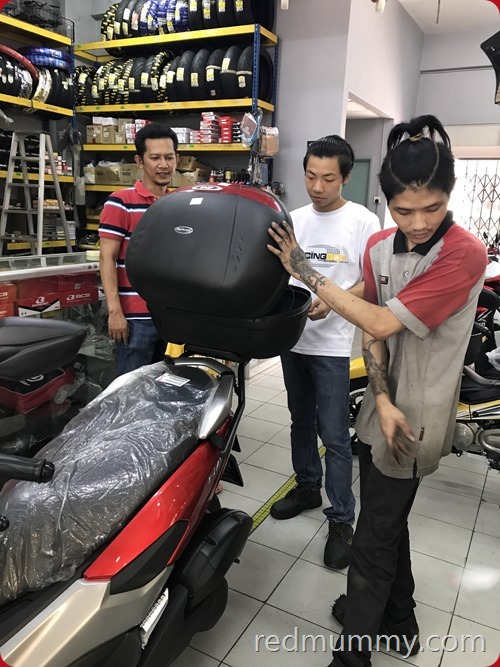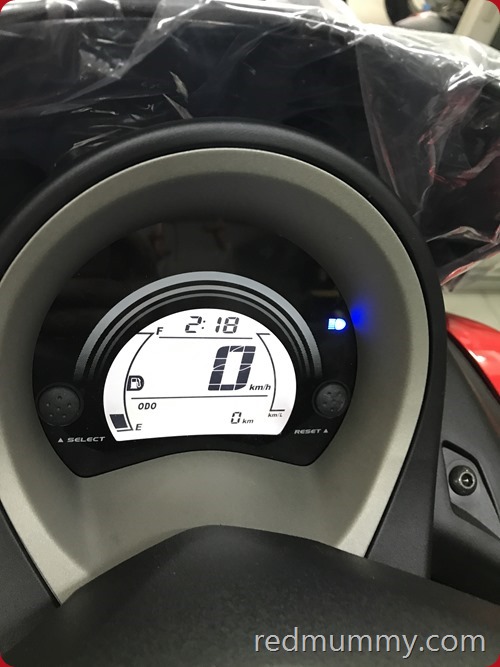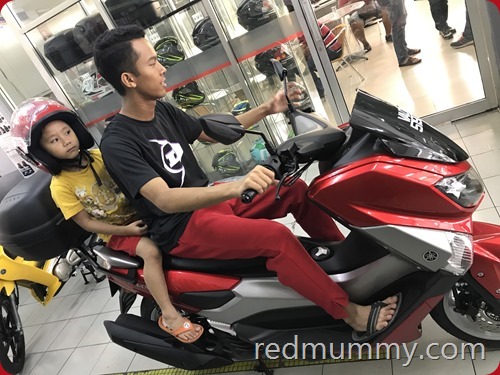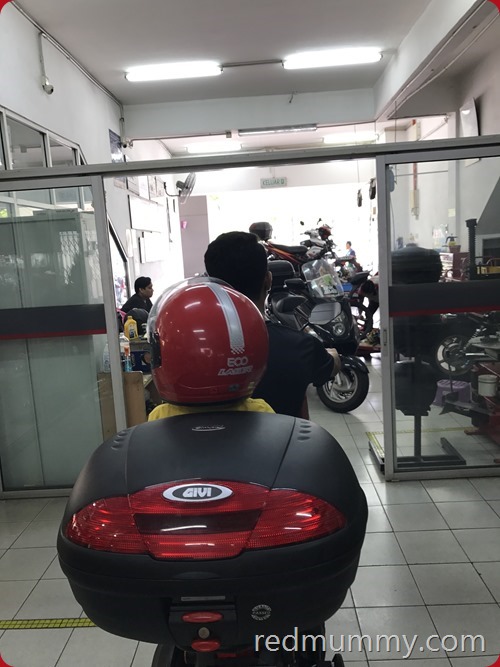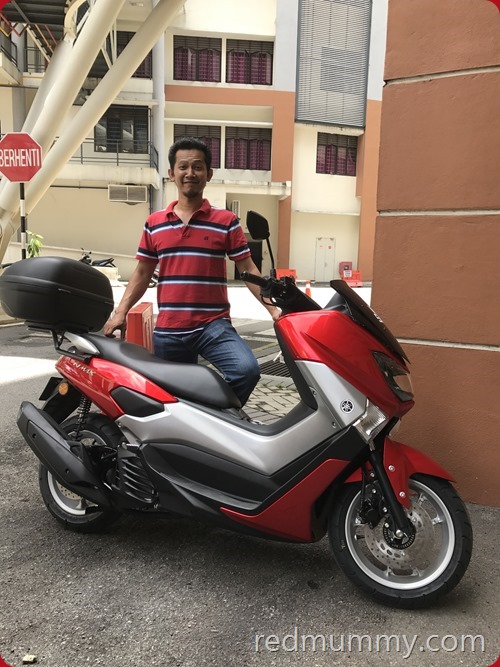 This is a new motorbike for the husband. I think the 4th one kot under his name (1 when he was young lom kawin, 1 after our kawin but tak relevant pakai coz he s been travelling manjang and he jual kati, 3rd he bought for my dad so ada kat my abah lah and yey, this is finally for him him him).
I wanted to buy a vespa, but harganya bih baik aku beli keter kecik kot hahahha…specially yang kaler merah. So since I donno much about motorbike, dia listkan a few lah. pun aku tak heran ngan list dia bagi tuh, coz i told him. I will sponsor for 7k jer, if lebih than that, he will have to top up.
Ini on top from the 10k cash yang dia dapat from me the other day, so ini jugak hadiah anniversary lah, birthday lah, apa2 saja for this year next year gak kot hiks…17k tuuuuuuu 🙂
but the price of this is about RM10k cash, termasuk ngan godang nya box tuh.So 3k tu laki aku top up kan lah coz dah teterang budget aku 7k jer kan….7 sempena my July birthday month, sesuka ati aku je kan.
Speaking of the box, laki aku asalnya amik yang small one. Aku datang the next day ke kedai terus suh tukar yang besau gajah. Ater….kang handbag mak tak muat acaner. Kecik tu, muat bag kekecik je kot. Manalah tau kan aku nak kena naik motor tu nak simpan hbag, so kena la pikir long term, ai kan mak mak suka pikir masa depan hahahaha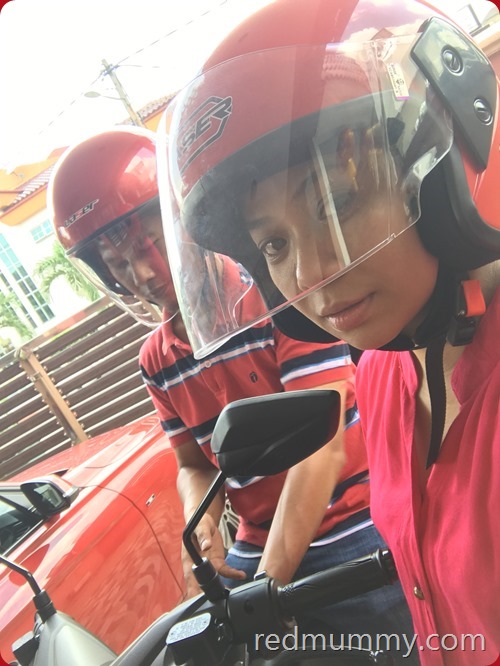 Helmet, kat kedai motor tu takde yang merah canggih, so jalan je lah ngan helmets nih, satu dapat free, satu lagi beli situ. Ok je kot helmet gini. I naik motor ni, hari pertama dapat motor, laki aku bwk pi makan doyan, pi beli goreng pisang, pusing2 BSP. pastuh sampai la ni aku tak nenaik dah hiks…but but, I have a mission to belajar bawak motor gak. Ok tolong jangan gelak. Kaki macam sampai tak sampai, but we ll see. Till this entry is posted pun aku tak belajar lagi, skang Ramadhan  memang tak dan ler nak belajar, maybe pas puasa kot kita tengok camner. After Oct, abang will amik his lesen motor BUTTTTTTTTTTTTTTTTTTTT WITH OUR SUPERVISION JER DIA BOLEH BAWAK MOTOR NI. Skang dia dok kenen2, memang takkan harap ler dapat. pi tarawikh, ko naik ler basikal bang. Ko bedek camna pun, mak ko yang strict tu takkan bagi ko bawak motor nih, biarlah mak2 lain biarkan anak2 depa bawak takde lesen bagai, dedekat rumah pun, not me lah.
So kita tengok lah bebulan akan datang, adakah aku mampu bawak motor ni (sampai tak sampai kaki nih), dan if dah sampai, mampukah aku amik lesen motor muahhahahahhaha…ini ramai yang membahankan hakak sangat. Jangan gelak yek, kang mana tau aku dah leh bawak, aku merempit pi KLCC. hai hai bai bai.
Oh the name of this bike is Yamaha NMax.
Comment:
13