Jun 13 2017 Tuesday, 3:00 pm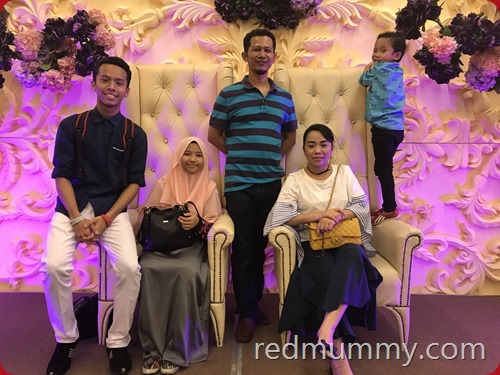 2 weeks kids cuti sekolah, kita pulun weekends jer berbuka di luar. Nak kejarkan kakak yang sementara ada sama, if not kang dia balik hostel sian dia tak dpt nak berbuka kat tetempat hebat nih.  So first weekend cuti tu, kita mulakan dengan berbuka di Bangi Golf Resort. Tapi Ya Allah anak2 aku yang 2 orang besau tu kalau makan buffet, memang lamaaaaaaaaaaaaaaaa, selagi tak 9 lebih selagi tu tak abis. Aku dah berzikir2 cepat la cepat lah depa masih dok menyuap. Perut kecik tapi makan macam membelaaaaaaaaaaa.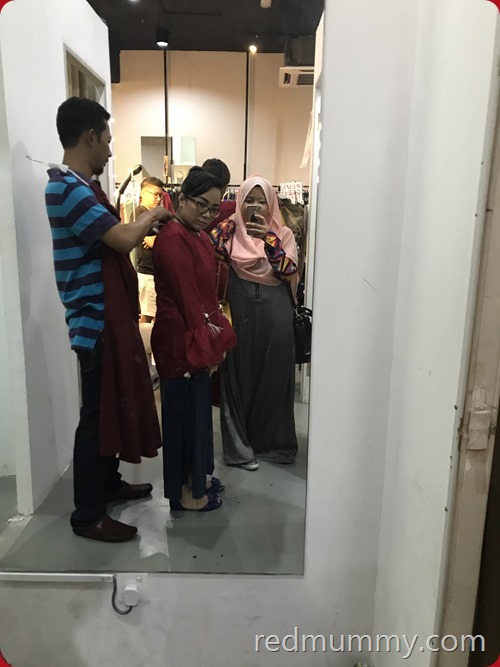 Dah alang2 kita kat Bangi, terus serbu Bangi Sentral. Happening betul ye tempat nih, first time kami datang sini. Punya giler nak menyoping, sampai aku tertinggal hp aku kat lam keter, even dah kuor masuk kedai kuor masuk kedai pun aku tak sedar aku tak de hp (rupanya laki aku dah amik simpankan).
Dia cakap, kalau mak korang nak kejar shopping, sampai lupa laki sampai lupa hp!
hiks…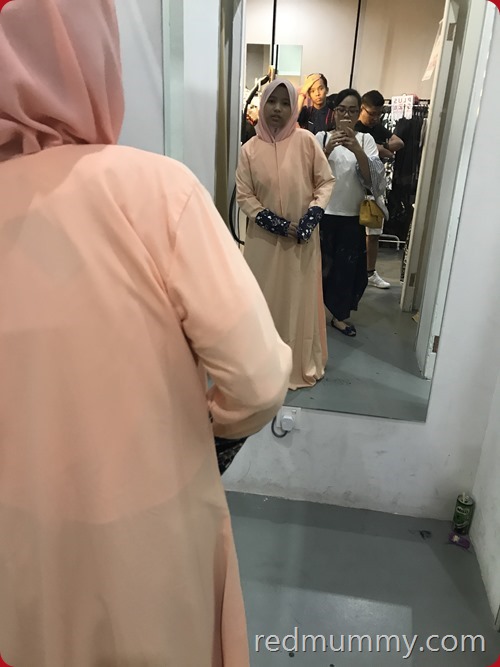 so kat Bangi Sentral punya butik2 ya melambak tu, kita kuor masuk kour masuklah…Majorly untuk beli for Kakak coz nak settledkan her baju raya before she balik hostel.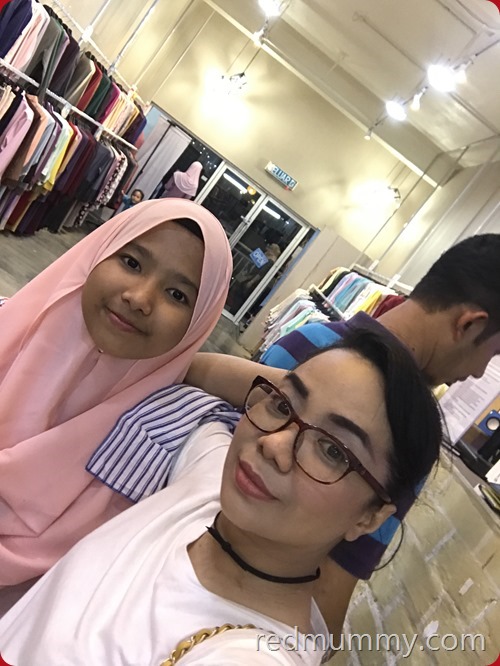 borong punya borong…she dapat 8 + 3 pcs of baju raya (all are dress + jubah).
3 pcs tu lagik aku beli kat tempat lain, online, downtown and jugak Jalan Tar.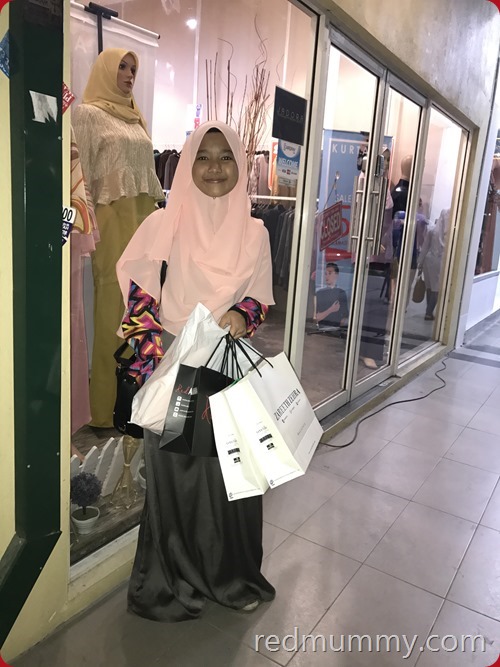 so untuk kat sini jer, 8 helai dress kau dia mendapat, ikut dia nak selai 2 jer, anak aku ni kan jenis humble tak kisah langsung. But mak nya being mak kaki shopping, eh ni lawa tu lawa…hah sebat…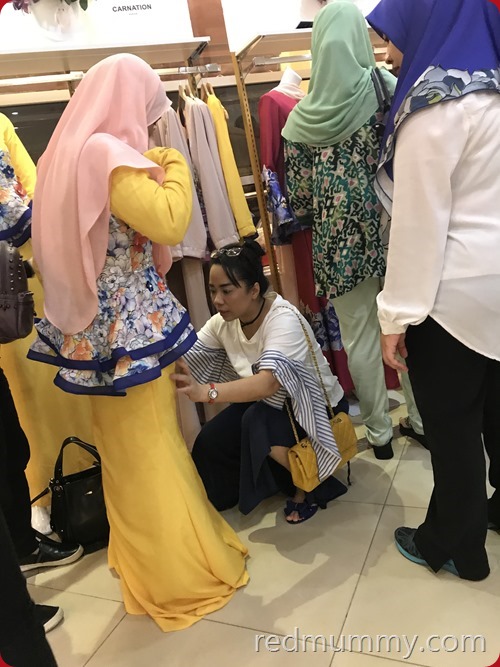 terutama kat Minaz nih. ada lekuk sket, peplum kan. I m so in love, but aku tak nak pakai nih coz i m not a fan of dress bagai. so ai really want her to have this. Inilah her most expensive baju raya, sebab ni ada figures bagai, hanya akan dipakai pada hari raya pertama…kot.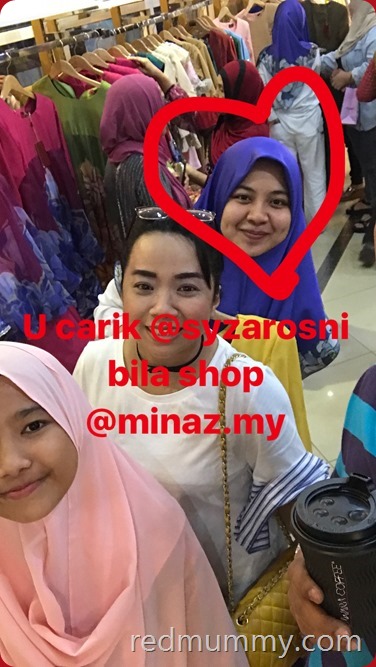 this lady is the one helping me, alhamdulillah dapat staff price sket lah for Minaz. Harga asal was RM300 lebih kot yang pair tuh. If korang pi Minaz Bangi, sesila carik Syzarosni nih…very helpful. Try le mintak harga macam Kak Red dapat, manalah tau rezeki korang kan….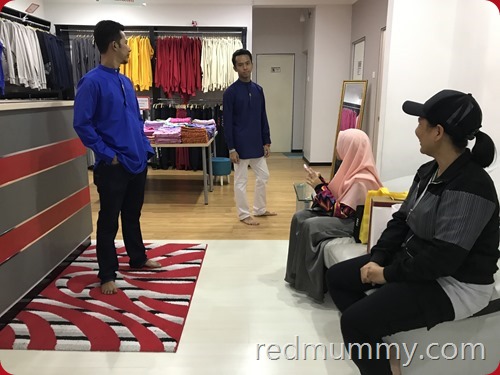 langsung ke Butik Penmerah pulak.  Depa amik kurta nih, abang dapat 2 lai, bapaknya selai. my dad dapat 2 lai. Good price gak Anne bagik. So tak yah nak gaduh pi carik kat Mood Republic nya booth nanti, dah settled gak kat sini.
So semua orang dapat, nothing for Zeeshan, but i got one pair too kat one of the boutiques, entah ler brand apa, Red Aurara rasanya. Grey colour. Paling lebar senyum was kakak lah, 8 pasang kau for tonite ni jer.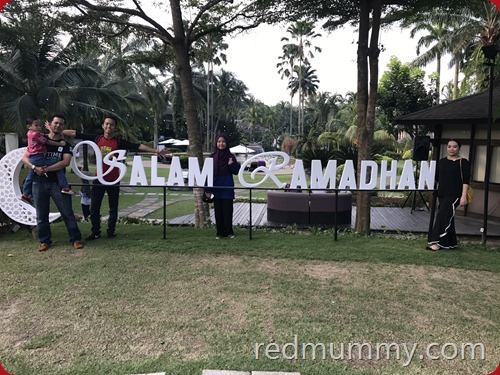 The next day kita berbuka pulak kat Cyberview Resort & Spa. Kat sini aku cakap korang leh makan lelama coz kat Cyber takde tempat happening untuk mak ko menyopping 😛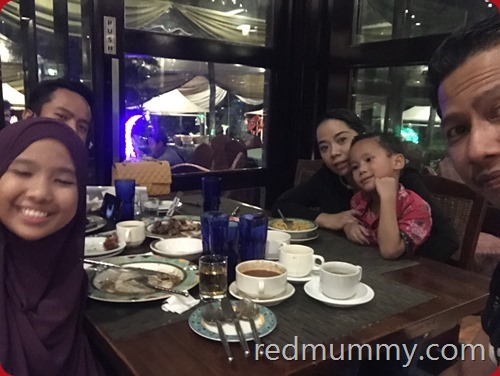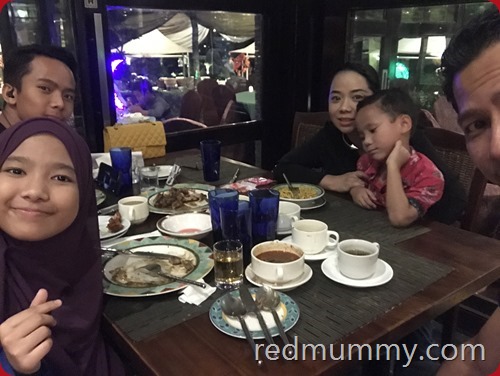 Ini sebelum nak buka, Zeeshan punya zikir. But skang dah lebih 2 weeks Ramadhan, dia punya zikir lapar dahaga tu dah kuranglah. Sangat berkurangan. Dia dah boleh tahan berpuasa.
So far memang sepanjang Ramadhan ni, tu lah hanya first ramadhan jer yang dia tergelincir, lain hari alhamdulillah. At the age of 5 setengah tahun, kira cemerlang lah puasanya.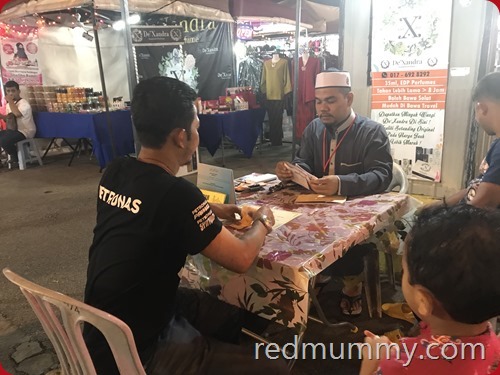 After Cyberview, kita menyinggah gak ke downtown Cheras, yang sebelah Maybank. Aku beli baju sepasang for work/casual. Kakak dapat selai jubah itam untuk pakai kat hostelnya, abang dapat gaji RM50 terus spent RM10 kat sini gak. Zakat pun laki aku bayaukan kat sini gak dah kebetulan takde orang, sekali jalannnnnnnnnnnnnn. Eh Shan pun dapat pau kapal terobang, 30hinggit ke 40hinggit, tak sampai 24 jam aku dah tak nampak bayang toys nya tuh.
Bersambung lagi weekends lain punya bukak puasa gak. But the weekdays depannya aku ada pulak bukak kat luar 2,3 kali for events so bapaknya took charge 1 of the days by working from home, apa lagik lauk tunjuk2 ler. Jangan berangan le nak tengok laki aku masak. Anak bujang anak dara aku pun boleh masak pun, still tak koser nak masak bila the queen takder, depa lagi suka spend kat bazar ramadhan.
My routine masih sama, siang balik kerja terus singgah bazar, amik Zeeshan, masak bagai. Pagi, 630am aku dah kuor rumah, before 7am dah terpacak kat KLCC hokey!!
tu pasal bila wekend or public holidays, ko jangan kacau tidur aku, coz pas sahur subuh tu jer lah aku leh melena lama sikit. Bila rumah sebelah punya staff contractors buat kejer gedegung gedegang keletung keletang on SUNDAY and during PUBLIC HOLIDAY, agak2 ko aku ghaser apa?????
hah pi tengok kat my instagram lah. Hamukan kak kaftan terus.
Comment:
6