May 26 2017 Friday, 8:00 am
Few weeks ago was a Mother's Day celebration. Few days before the event, aku cam biasa, aku dah sesiap  hantar bunga to my both mothers.
kali ni, aku antau bunga2 yang artificial, tak mau dah beli bunga hidup, pastu kering melayu. At least artificial boleh gak buat decoration.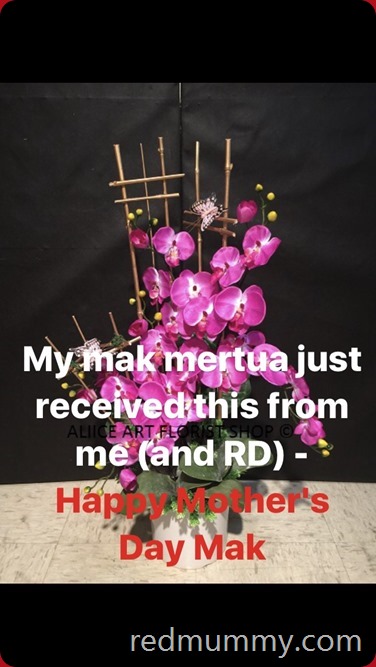 ada bracket tang RD tu coz aku rasa laki aku pun tak tau kot aku antau nih hahahaha…tetiba mak dia tq kat dia. mak mertua aku tau bukan laki aku yang handle bebenda gini, biasa le anaknya tuh, tu aku lom citer hok aku nya bunga mother's day lagik kan…sat aa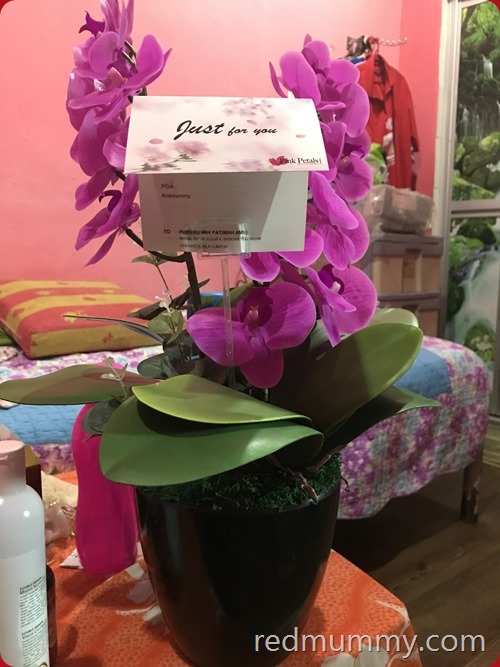 Ini pun artificial orchids, sent to my mak gak. But i didnt get any acknowledgement from my mak (sudah dijangka), coz usually she will always whatsapp or call me bila dapat apa2 from me. Understand the situation. Mak is not well.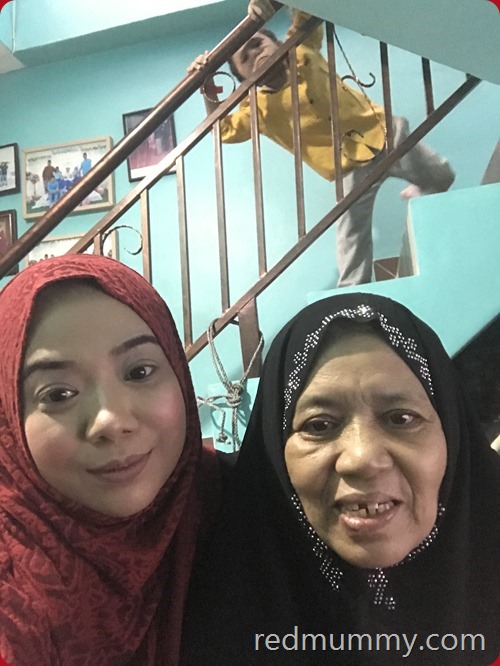 Mak is smiling but deep inside, she s sick. She s totally on her bed skang nih, dah pakai pampers coz she cannot move, kaki kirinya tak boleh bergerak, so kami adik beradik cucu2nya yang menjaganya, bawak dia pergi mandi bagi makan, pakaikan pampers. I didnt jaga her that much, but tidaklah bermaksud tiada langsung. While my adikbadik lain pi berjalan overseas baru ni pun, aku datang hehari jaga kekejap mak aku nih. Mandikan dia, pakaikan her pampers, buat apa yang terdaya. Tu tudung yang aku belikan for her, mother's day. Dalam keadaan uzur macam ni, solat mak tak pernah tinggal, haruslah bercuci2 segala.
Sedihnya jugak, dia kejap2 panggil tepon msg aku suh datang jenguk dia. Dok kata takda orang kat rumah padahal ada je ramai orang kat rumah, bak kata anak2 buah aku, nenek ni saja nakkan attention acik. Acik tu aku  ler, nama panggil anak2 buah to me. There s one night, aku sangatlah superrrrrrrrrrrrrrrrrrrrrrrr pancit, yang memang penat hazab. but bila mak tepon, terus sarung kaftan, pap dah ada depan mak. Dalam stage nih, memang tiap kali mak aku call ke message aku memang terus aku melompatlah, I wont be able to jaga her 24/7 but terima kasih to adik badik lain yang of cos take turn sentiasa berjaga sama mak kami nih. Doakan mak ajah.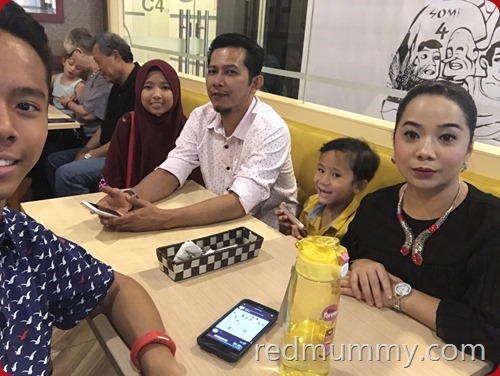 pagi mother's day tu macam tetaun lepas gak, aku dapat special treatment. Bermula dengan breakfast on the bed…hiks. That day RD ngan anak bujangnya keluar pi beli McD Breakfast, hantar letak lam tray terus to my bed. Best betul jadik Queen once a while hahahaha….
Pastuh kami bersiap kuor coz aku ada event at noon so kena rush la sume program.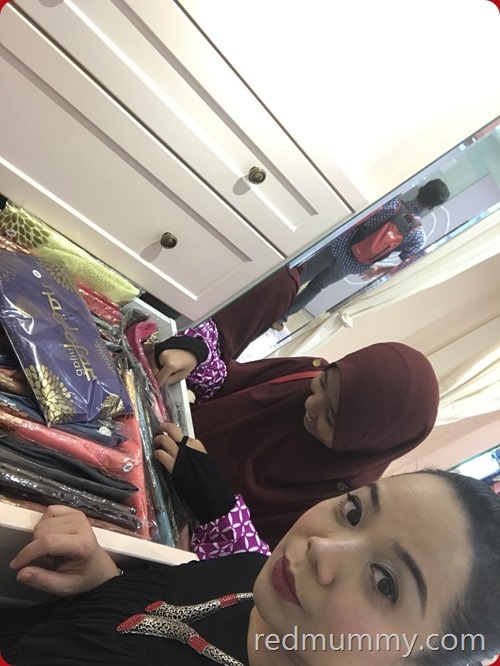 at Publika's Naelofar – kakak dapat lagi 2 pcs of khimar. She s now into khimar, itu pilihan dia sendiri, so untuk collection khimar Naelofar tu dia dah ada dalam 6 pcs gak kot. I heard khimar Vie Shanti pun the best but tak de kesempatan lagik nak belikan for her. Do they sell online> takkan? kena pi kedainya tu yang halahai.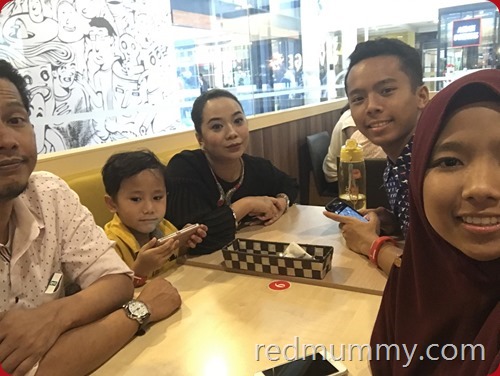 kita mulakan makan desserts dulu, kat Chocolate apa tah nun lam Publika tuh…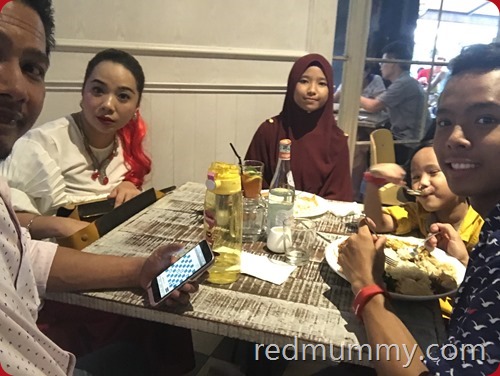 Pastuh aku lari bertukar baju and depa menyambung makan kat lam Ben's kot nih, lupa dah heh. But aku terus masuk Black Box FV, for the fashion show, laki aku antau sampai depan seats lagik, He was then left ngan kids naik uber hahahaha…coz memang kami datang sesama but aku kang nak balik camnakan…dia yelah lelaki and askar can be with him naik uber. Suka betul diorang naik uber, specially for my 3 kids, ini first time depa pakai that kind of service.  Cuma hari tu kakak tak dapat nak bekal memacam jenis lauk pauk or even mee goreng coz aku ada event.  Sekali tu je lah yang aku bz and tak dapat nak sediakan apa2, aku suh apaknya belikan la nasi ayam ke tapau bagai kan, or pizza ke,  nan hadoooooooo…depa dah mencicit mengejar masa kat rumah tuh. Biasa ler, kalau dah keje aku yang manage semua, bila aku takde, habis kedaung bagai.
Let s jump into the cards. Not about the gift…yet.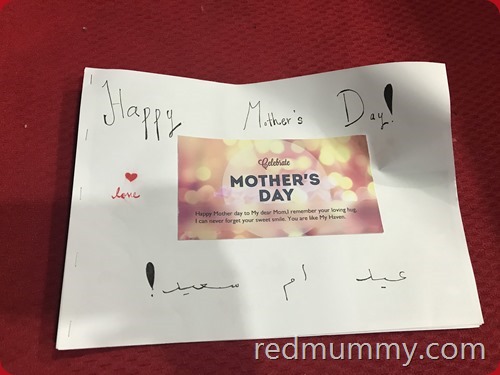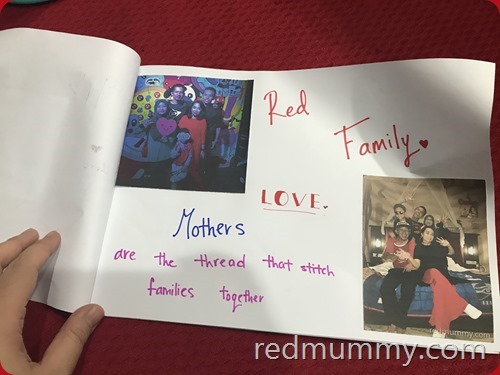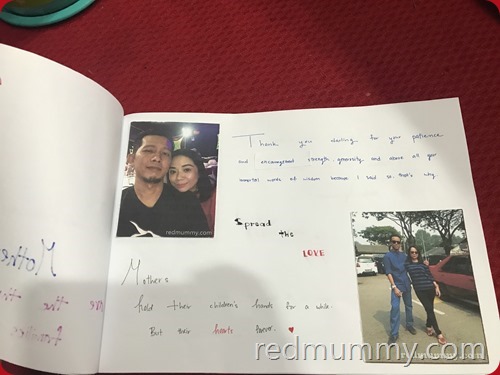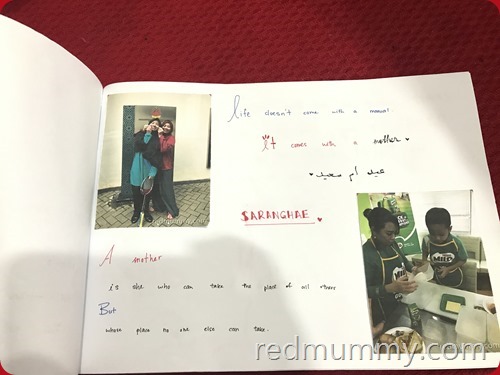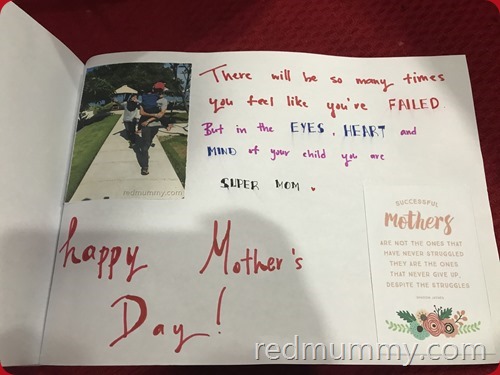 ini macam buku, the idea ni was done by Kakak, from the trio. But Abang dengan honestnya mengaku yang dia tak dapat nak joint buat nih coz he sangatttttttttttttttttt super bz bz bz, yelah dia ngah exams pun that 2 weeks.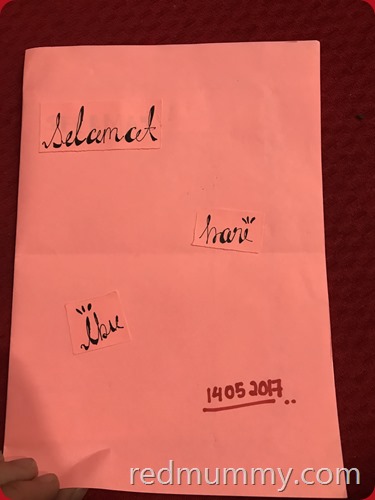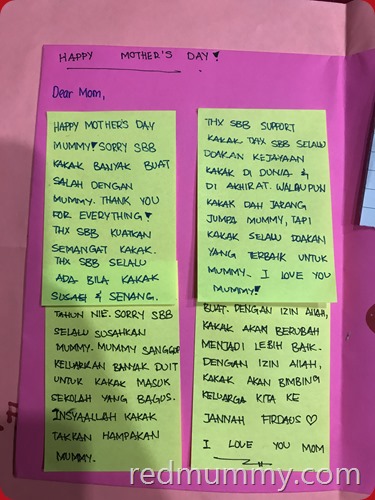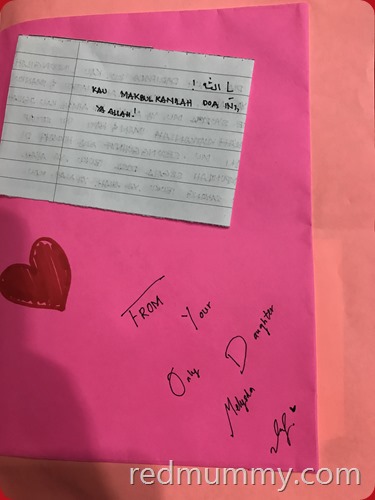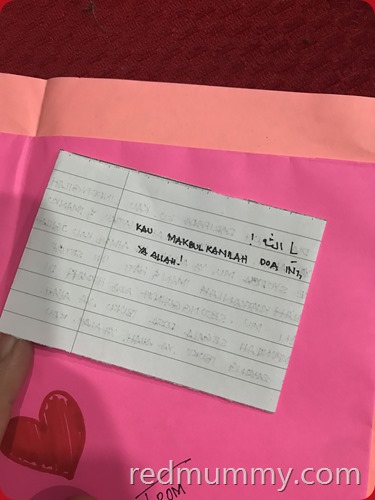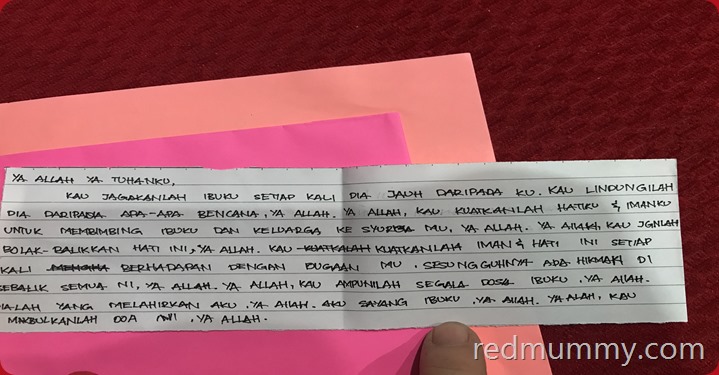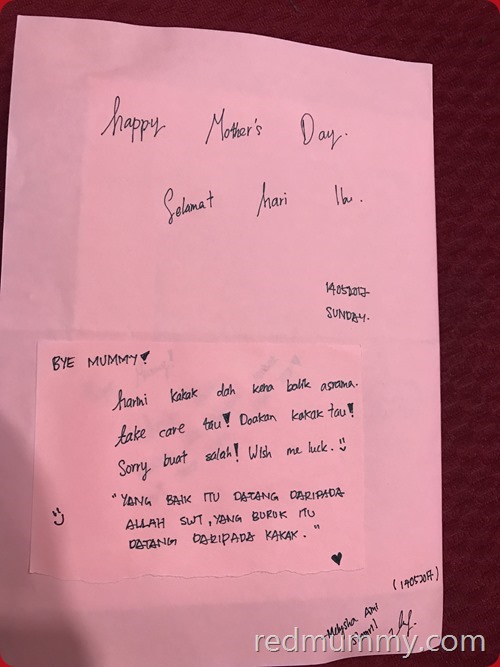 but this pink card, was from Kakak. She wrote it masa kat hostel. I love reading her notes, penuh dari hati tulus ikhlasnya, takde copy paste from the internet, not via google bagai. I know my kids mendoakan ibunya supaya bertudung tutup aurat, they never give up on me. This is the first year for Kakak being away from us, wpun kami jumpa dia setiap weekend but having her around, lengkap hidup aku, bila takdak, dah kurang sorang anak jauh dari ketiak ni kan. Her  card sangat lovely, sebak membacanya.
So gitulah, very simple celebration of our Mother's Day.
Malam tu jugak, dan esoknya, aku terus demam! Bahang panas sejuk panas specially, tu yang melepek dapat demam, some more dengan back to back events. Tu sib baik aku dah cancel my Jakarta trip, else lagi ler……..
About the gift..hem. Baru aku teringat, i didnt get anything. Ooooo suami oi.
But for this year's anniversary, father's day and also his coming birthday, aku dah bagi a cash of RM10k and a bike (harga bike tu RM10k but aku top up RM7k, lagi 3k dia cover lah). So..ye lah, apa yek bini aka mak pada anak2nya ni dapat?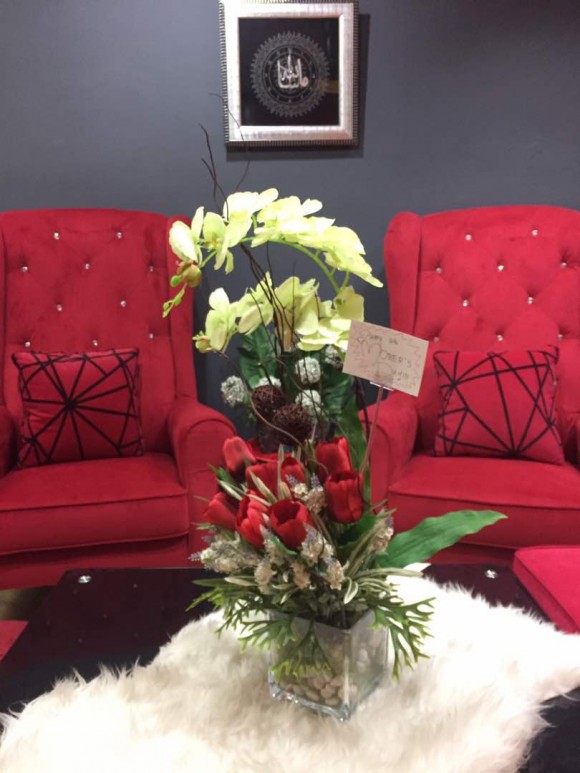 oh ada lah dapat bunga ni, itupun aku yang pilih coz aku tau sangat if not laki aku akan belikan bunga hidup dalam kertas bagai tuh. Suh beli yang dalam vase pun dia sokmo buat dek jerr….so while scrolling belikan bunga for my 2 mothers tuh, aku print screen few options of artificial flowers, dan dah sampai. Bunganya sampai awal, depa pi sorokkan dalam lemari baju abang hahahaha….pastu bangun pagi ahad tu dah ada kat meja. Hah kan budget tuh, tak yah nak beli bunga masa raya2 nanti, dah ada for decoration kan….
Salam Ramadhan semua 🙂
Comment:
4