Jun 22 2017 Thursday, 8:00 am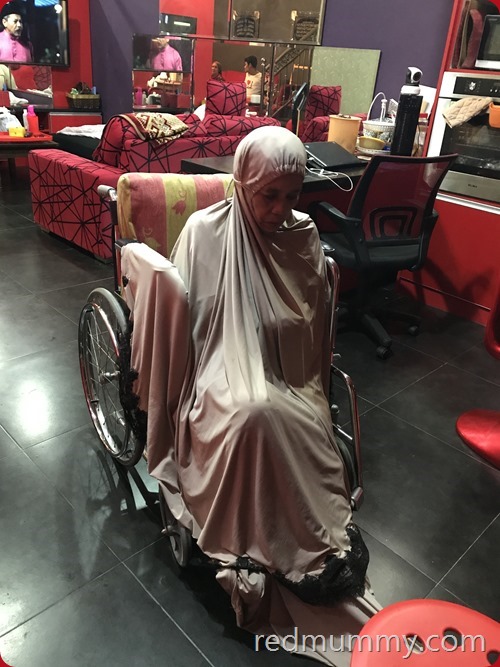 0
Ramadhan is leaving us 🙁
Mak masih lagi belum sihat lagik. This photo was taken masa aku jaga mak kat rumah aku, few days aku amik dia stayed with me, i took leave as well to jaga her. If you tengok closely, kat reflection mirror belakang mak tu, ada my mak mertua gak. Sama lah, aku suh dia datang rumah aku masa aku ngah cecuti arituh, boleh aku tengok2 mak aku and melayan mak mertua sama.
Semuanya untuk mak perlu diuruskan anak2, alhamdulillah my brothers menjaga mak unconditionally. Kita tau kan anak2 lelaki tanggungjawab depa adalah menjaga ayahbonda lebih kuat dari anak2 pompuan nih. Dari mandikan mak, usap sapu sabun shampoo mandikan mak, macamana aku buat, camtu la gak brothers buat gak. Pakaikan mak baju, pampers, sikat bedakkan mak, telekungkan dia, angkat badannya, tidurkan dia, tegakkan badannya. Suapkan makannya, perlu dibantu. Sometimes jer mak akan makan sendiri, but abah mesti temankan mak sama gak, Susah hati abah dengan keadaan bininya, kelakaunya abah tak pandai pakaikan mak tudung, hahahaha…aku siap igs kan lagik. So sweet je laki bini 2 nih.
Ai think, ini entry terakhir sebelum Raya menjelang, mungkin aku post satu entry sempena Syawal (tak janji but datanglah jenguk RM nih apa2pun).
Salam Syawal and Maaf Zahir & Batin.
.
Comment:
8