Jul 24 2017 Monday, 8:00 am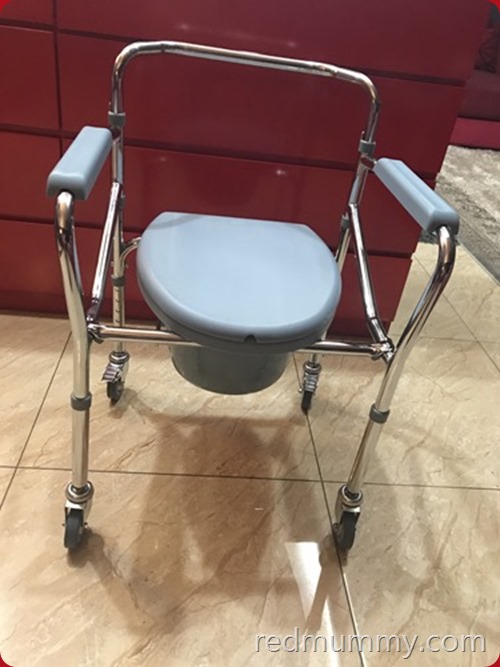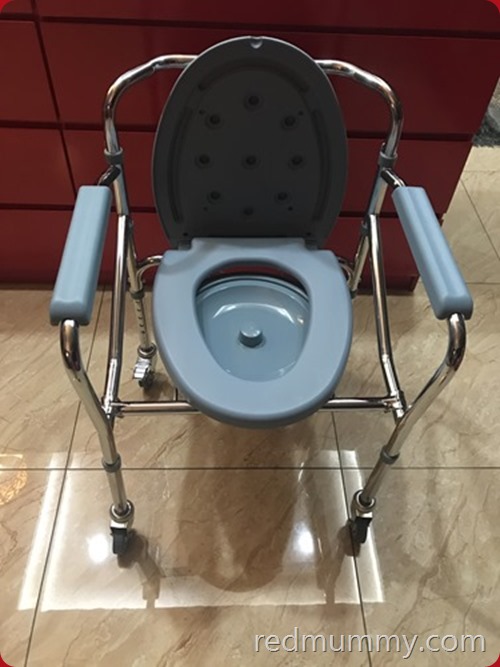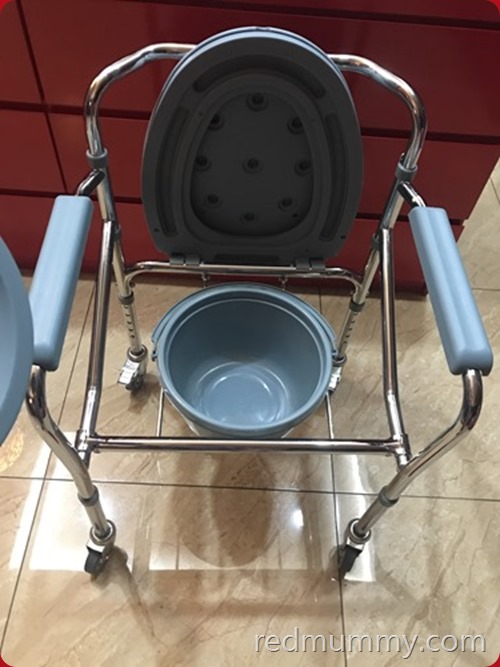 Special entry for my mak ajah yang still not well. So at least in the future, for reference ke hapa bolehlah jadi selak menyelak di sini. Riak takbur nih…yelah, nak show off benda nih. Ada orang kan panas je bila aku show off, tak pikir ke sume benda kita tunjuk beli menyenangkan kerja orang lain, nak carik info dah ada depan mata. but i dah been there done that, no matter how lah haters menyampah pun, akak pedulik hapa kan? lagi aku up up up pun.
So this is a movable toilet for mak ajah. I got it at a price of RM275. AQ Medicare Mobile Commode Chair CMC2015 
Memandangkan mak kadang2 dok rumah anak ni anak tu, even my house so much easier to have this. Specially part mandikan, mudah pakai nih. Cuma the bahagian bawah takde tempat letak kaki, so kalau nak tolak dari kerusi sofa jauh ke tak molek coz mak nya kaki kena letak atas stand, macam stand wheelchair but tu boleh move her around ngan wheelchair, at least for mandi toilet purposes this thing is very helpful.
For pampers pulak, the best brand yang ai belikan is this one: Certainty Daypants Disposable Adult Pants Regular Pack XL. Kat Tesco paling murah pun per pack is dalam RM20.45 but kat L online tuh ai beli in bulk terus, so per pack jadi RM16.25 jer. Ini jenis pants senang sarung. Dulu adik2 aku pi beli yang jenis tampal kiri kanan, fuhhhhhhhhhhhh nak nangis masa pakaikan coz sangat susah. Terus aku tukarkan to this type, everyone happy. If takde lelaki to help pegang badan mak pun, aku boleh pakai sesorang (tapi dengan penuh segala tenaga gak lah coz sambil berdirikan mak, pegang badan dia nak menyarungkan ni to her kaki bagai) but ok jer…
Now ai ngah tetengok lagik wheelchair coz nak upgrade lagi wheelchair mak ajah tuh…you all pun boleh recommend sini, then akak boleh siasat compare2 bagai.
Thanks all.
Comment:
8