Nov 29 2017 Wednesday, 8:00 am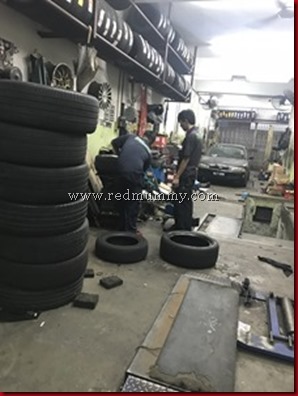 Record untuk kenangan akan datang. Walaupun pernah terjadi, but itu tahun lain dan lagi worst kot sebelum2 nih coz aku drive ngan tayar pancit ahaks…tak sedau tak tau tak bother, dont care bagailah feeling tuh. Aku bukan jenis check tayar pung….but ni kes lain. I was rushing balik, langsung tak live IG Stories pun, cos nak kena kejarkan the 2 boys for their classes.
Sampai kat satu simpang, berpuluh tahun pun ikut simpang tu but aku ter'makan' dalam sangat, ada lekuk kat divider tuh, aku langgar dalam keadaan keter yang laju, bunyik ke main kuat kau, rasa cam nak terbalik keter, habis barang2 atas dashboard ke hp yang kat stand phone, tercampak pelanting. Naik darah gemuruh aku, laju jantung berdegup kau.
i didnt stop pun, nak dekat smpai rumah. got home jer, terus kuor check, omeng….tayar kiri ada satu pecah yang kuor angin. apa tuh namanya, run flat tire ada so takde le dia pancit terus. Tapi memang kuor le angin dari tyre tu, so aku amik abang, before pi amik Zeeshan, pi lu kat workshop biasa laki aku pi but depa tak buat tyre pulak, he said boleh lagi drive tu for 2,3 days lah sort of.
Coz aku nak settlekan kids first, amik pulak Zeeshan and dropped both of them kat tuition. Aku dok melaung kat lam keter for sejam lebih kat parking Tesco tunggu depa abis class. Dah malam gelap, abis je depa classes, ngan depa sekali aku bawak pi kat workshop yang biasa aku laki bini deal hal tyre.
Bear in mind, my laki bukan jenis dengo isteri emergency nak melompat pi give hands, he s not like that. selagi bini boleh manage selagi tu lah dia wont be in the picture. Ngah  keje pun dia heh (waktu kerja dia tak cam kita normal hours, dia ikut germany hours). So aku dah tau yang dia wont help me much, kalau dia tolong pun mbe after sok sok nya, yet aku nak settlekan malam tu gak. Sib baik kedai tyre bukak lagik.
Depa terus tukar tyre yang pecah tu, but at the same time tyre kanan pun nak kena tukar but tu cciter sok sok hari yang penting yg pecah ni kasi tukar luh. So settle, waktu depa dok tukar tyre tu, my boys pi makan kat mamak sebelah. Tak kuasa aku nak masak malam tuh, penat ngan hassle tyre.
Sok paginya pi balik kedai tyre tu and tukar pulak the kiri bila stock tyre dah sampai. Haigh….
Yey, sekali lagi dalam sejarah aku berjaya gak settledkan sendiri hal tyre nih without laki's helping hands. Apek tu siap isikan angin for tyre2 belakang bagailah.
Kenapa Kak Red tak nak belajar pasal tyre, boleh beli ni dulu buat back up sblm pi workshop, or amik la tau isi angin tyre Kak Red or blablablayadayayda….
Hallop, kalau aku kena amik tau hal keter hal tyre gak, lagi  la laki aku cuci tangan, kita being bini isteri supermak ni tak yah nak tunjuk terer pandai sangatlah heh…biar bodoh tak tau berpada2 gak, kasi sket laki kita man up untuk kerja2 keter nih, hokey???
Comment:
7