Nov 22 2017 Wednesday, 8:00 am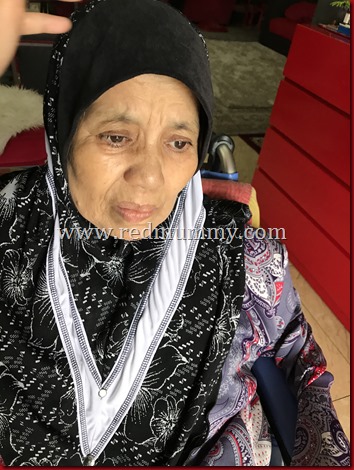 22 November. Mak is turning 72 years old today. Mak Ajah, ramai orang kenal my mom, sampai ke Mekahpun ada readers yang kenal Mak Ajah kat sana. But sejak awal tahun nih, untuk tahun pertama kalinya gak Mak tak dapat ke Mekah coz of her kesihatan yang semakin merosot. I takde latest terbaru gambar ngan mak (ada but only for my collection coz tak bertudung), so ini je photo yang ada bertudung waktu I took her to stay with me for a while.
Mak kena stroke (since months ago tu lah), but satu lagi her ingatan pun dah makin berkurangan, setiap hari setiap minggu it s dropping. Dementia.  Bebaru ni ada gak admitted lagi kat hospital. Macam in out in out lah jugak hospital skang nih.
Mak, semoga kesihatan mak kembali baik sedia kala.  Setiap kali jumpa visit mak, dia tak lepas berulang cakap, Mak dah ampunkan korang tau, mak dah ampunkan anak2 mak, jangan risau tau. Tak sempat la kita mintak mahap pun dia tetap cakap tu….haih sedih.
Walaupun dementia, anak2 masih dia kenal lagi, cuma tu lah, tak lah 100% molek ingatannya tu, ada tang benda lain gak dia tak berapa ingat/kenal. Apapun, dedoakan sama for my Mak Ajah.
Comment:
5