Nov 15 2018 Thursday, 4:00 pm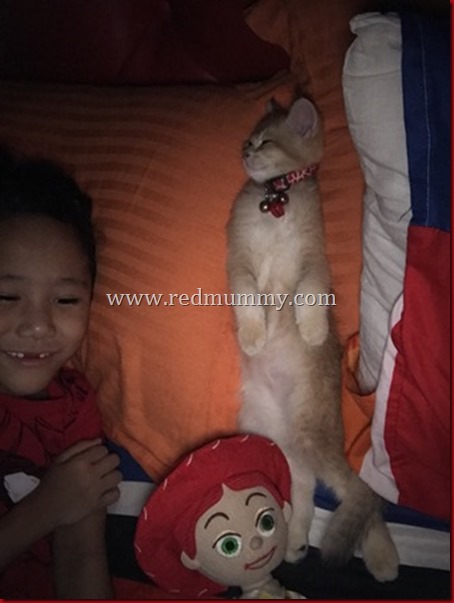 Balenciaga at the age of 3 months. Sumpahlah comel. Bel dah Red House's frenly, Satu rumah dia dah explored, of cos 1-2 weeks toilet trained jer dah passed. Aku sampai tidur bawah lah coz dok jaga dia, yelah masa dapat dia dulu pun dia baru sebulan. Now as of Nov dah 3 bulan. Kadang2 tidur sama atas ngan Zeeshan, cam dalam gambo nih, memang dia tidur tuh, Shan tepuk2 dia sket terus dia melena.
Apapun Bel is like my 2nd magnet too (after Zeeshan).
N speaking of magnets, my magnets pun dah bertambah baruuuuuuuu!!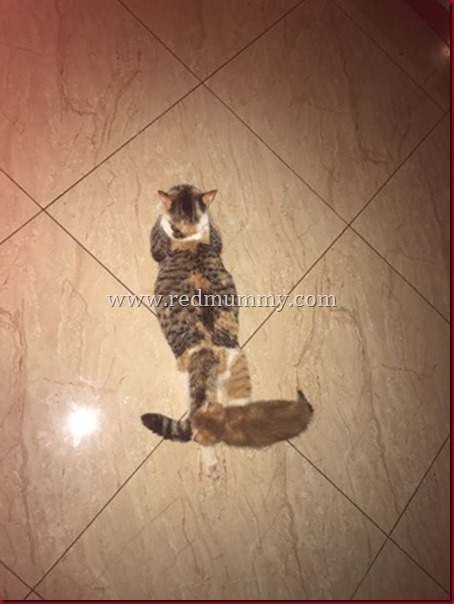 Ferragamo (eh hujung kaki dia tu ada Bel). Got back from mengawan rumah Anne PenMerah, terus merundum, monyok, asyik tidur tidur jer, tidur pun kat bawah sofa godfather (jarang jumpa dia kat tempat lain). So btw, sepanjang Bel dok baru adopted sini, LV tak suka dia (macam biasalah, LV tu takes 2 months baru nak gang2 ngan kucing baru. Chanel pulak, balik later but pastuh dok meresah menjantan setiap hari. Bila dah dapat jantan dah dapat main pun masih gak blom ada rezeki isinya.
Tapi Ferra sekali jalan hah dah bunting, begitulah ye Chanel, ko kena sabar dulu turn ko nak pregnant belum lagi (lebih setaun setengah gak dia menerai). So my cat's groomer confirmed that Ferra is pregnant.
Later pashtuh aku bawak Ferra pi vet (clinic takleh buat xray, so buat yearly cucuk for LV and Chanel), but the next month tuh baru buat 1st vacci for Bel coz this time around dia under weight lagi. Ferra tak boleh lah vacci coz dia pregnant.
Untuk xray kat Hospital Haiwan Taman Segar tu, RM150 kau. tapi ya allah melompat bahagia aku kat Vet tuh coz katanya she probably have 6 +1 babies (1 lagi tu mbe overlapping). So aku pun menghitung hari……………….sonok sangat! bertambah lagi la kitties mak merah.
Btw, Ferra's laki was Meon (golden BSH), and Ferra pulak scottish fold.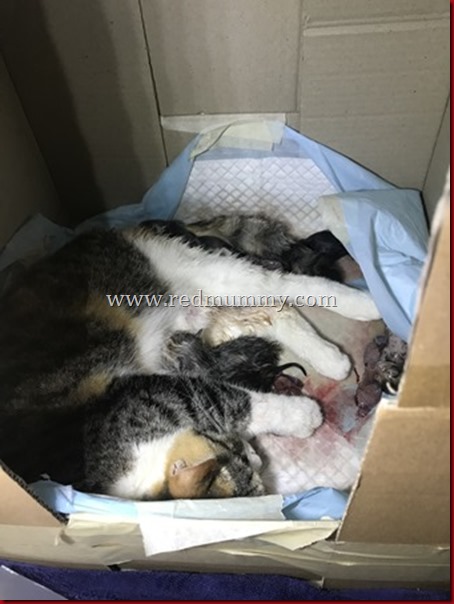 Alhamdulillah, a day after abang's birthday on 24th Oct Wed, around 7ish pm, Ferra selamat melahirkan anak pertamanya. Ceritanya I was at the office, tapi aku nampak la kat CCTV Ferra macam kulu kilir. So aku nampak abang attended her, my mother's feeling pun agak dah, mesti Ferra dah time time sangat nih, rupanya betul. dia kuor air ketuban, ada light darah sket, and rushed abang bawak dia to the 'labour room'. which aku dah 2minggu gak lah siapkan, kotak rumah berpantang pun aku dah buat 2 bijik, pelapik untuk tukar setiap hari pun dah settled too.
So aku pun balik, masak bagai, siap berlive segala, tetengah LIVE, abang jerit mami, dah kuor sekoq anaknya.  Bersama rakyat jelata RM kat instagram, kita pun tengok Ferra memberanakkan diri, tapi kejap je lah coz masa tu baru kuor sekoq.
Elok sangatlah dia beranak hari nih, coz esok pagi butanya aku dah kena admit hospital for my procedures.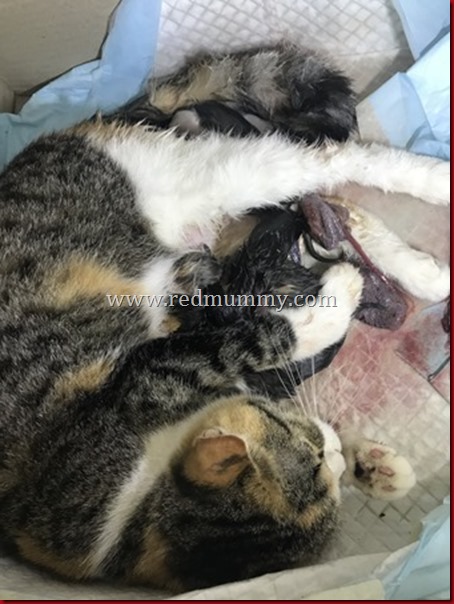 Selepas 2-3jam, aku turun and tengok semua anaknya dah selamat dilahirkan. Total ada 6 sahaja. 2 mati sewaktu dilahirkan, sekoq pulak mati 3 hari selepas berhidupan. Kesian (tapi yang last mati tu pun memang macam weak sket dari first day lahirnya). Funnynya masa Ferra dok memberanakkan diri, Chanel, LV and Bel sama bersidai tunggu luar pintu. So bawangs! Even ai did live gak masa nih, ramah meriah tengok and bagi tips on kucing beranak.
I pun dah banyak kali sangat membidankan kucing, so no issues lah.
then sejak itulah, bermulalah hidup Ferra sebagai seorang ibu tunggal.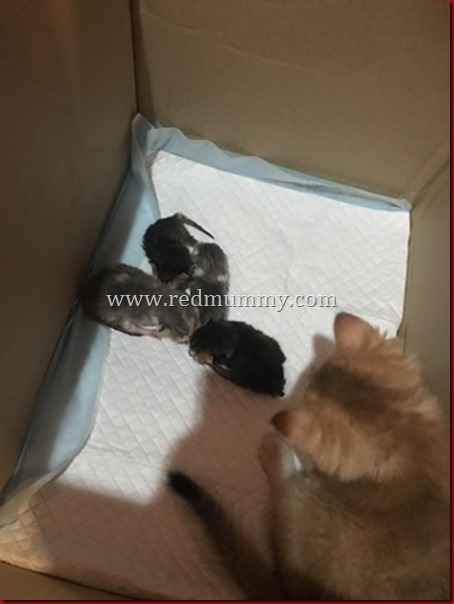 Memula Bel tengok bebudak 4 ekor tu macam, omg, kenit2 menda nih, toys ke! (masa ni the 4th one masih hidup)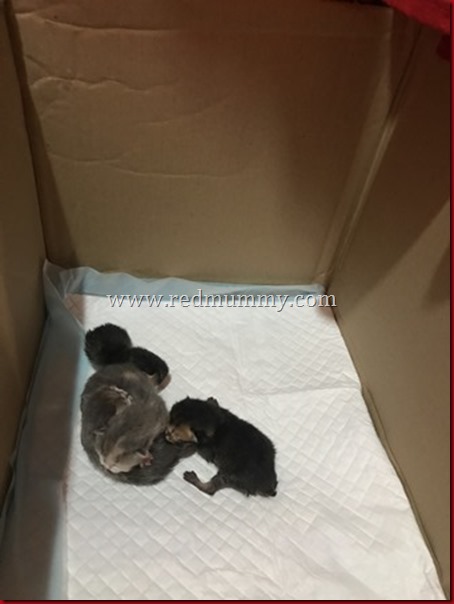 anak bongsu si Black gold tu died selepas 3 days. kalau dia ada, it will be double twins look alike, 2 blacks and 2 greys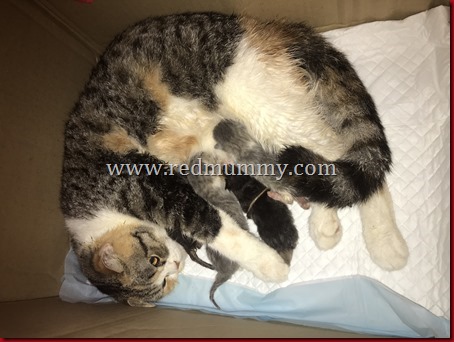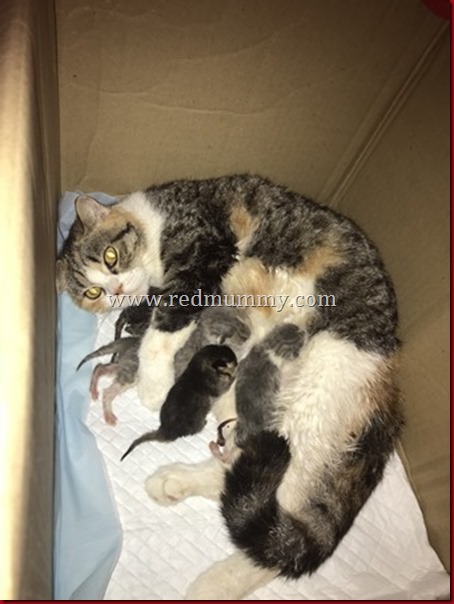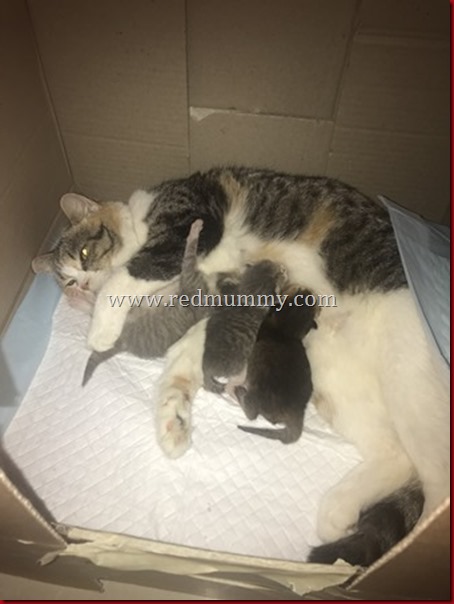 as days goes by, dari 1 box, tetiap ari tukar lapik and box nya pun tukar gak (backup mmg ada 2).  For the first 1 week memang aku tutup abis bilik berpantang ni (coz Bel asyik masuk mengacau membawangs and ajak Fera main, orang tu baru pas beranak kot). Food air sume dah mmg aku sediakan lam nih, litter gak. Iron room, totally bertukar jadi bilik berpantang Ferra and kids.
Since I pun tidur bawah (at sofa) sejak babysit Bel, now bersambung lagi tidur bawah coz memjaga pantang Ferra.
Some macam – kucing beranak pun ko dah camni jaga kak red oit, kakak  bila dia dalam pantang nanti camna la pulak kan…well 🙂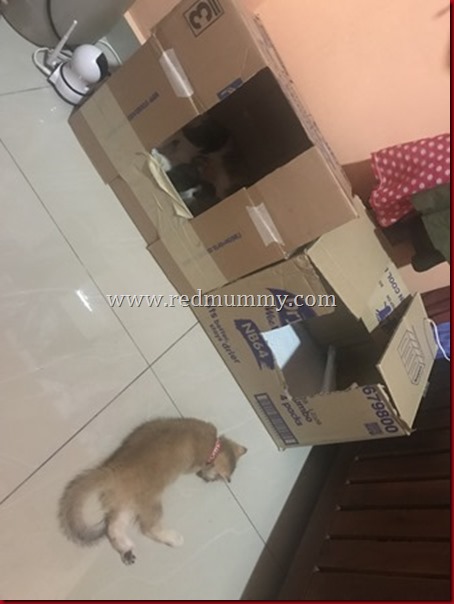 not just that, aku sediakan 1 cctv khas dalam bilik pantang gak, easy aku tengok depa buat apa bagai. Coz bilik after 2nd week dah tak bertutup abis, just rapat memuat bagi Ferra lalu jer. Sebab sian kat Bel, he s so lonely. Dia pun nak jadi pak guard gak for anak2 Ferra.
as you can see. dia tidur closer to the kitties. Skang dah nak sebulan, lagi lah dia ke main buat bebudak tu toys dia. Bila Ferra dah kuat sikit, dilunyaikan Ferra ajak main kekejar satu rumah.
Thing is Chanel tak nak main, just nak jejilat badan dia macam mak mak nya perangai sangat Chanel tuh. LV pulak masih lagi dalam stage 'sibuk lah korang nih, semak pala aku' hah gitu.  So Ferra je yang nak melayan dia. But not on the first week lah, Ferra kan sibuk ngan babies dia.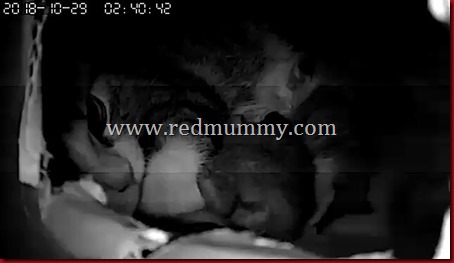 It s good to see Ferra with her kids, pandai dia jaga anak dia. She s not like mak yang eh jgn la usik sangat anak aku wei. No. Boleh usik pegang, but with her eyes nya supervisionlah. N she only trust me je yang pegang anak2 dia, abang ke Zeeshan or even Kakak dia akan hemm hemm..cuak jer.  This is CCTV captured at nite.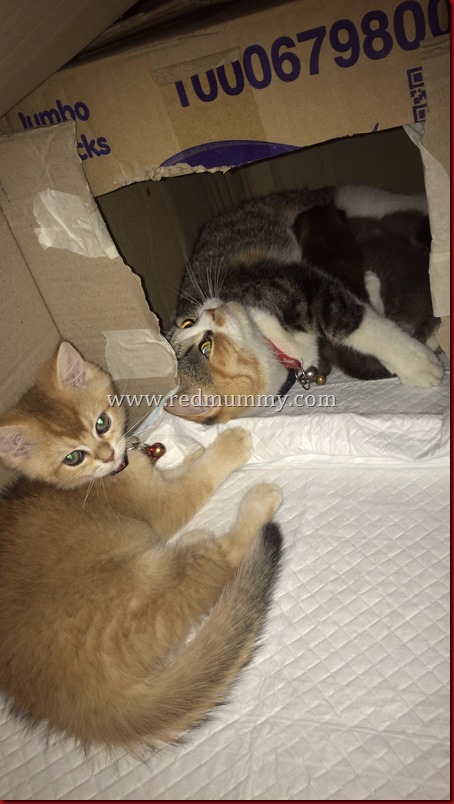 Pak Guard setia…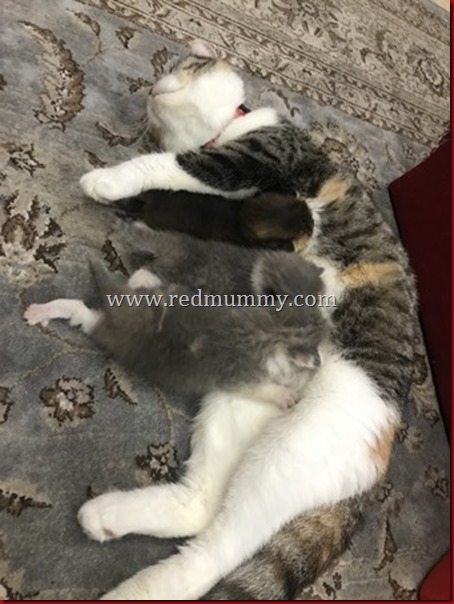 satu perangai abang, suka buat benda yg opposite. Orang dah kata jangan alihkan anak2 dia, he buat jugak. Ni dia saja bikin Ferra panas, angkut anak2 ke luar. Malam tu gak, Ferra moved her kids to under pangkin  (masih lagi dalam bilik pantang). Tu yang aku letak carrier lama yang dah tak pakai dalam bilik tu so she wont move the kids sangat. Dia kan tak suka orang ngamik2 anak dia…
Speaking of budget, memang naik betullah budget ngan 7 kitties, takpe, ada rezeki lebih jaga kucing nih.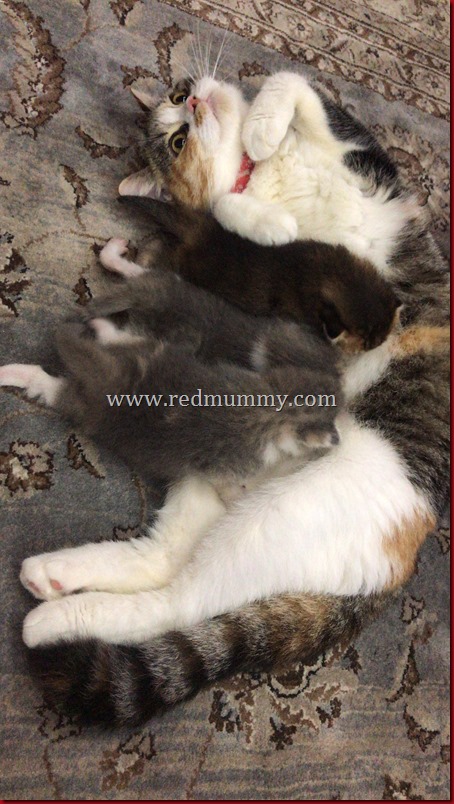 Now as this entry is up, dah 3 week. Next week the 24th Nov, depa akan genap 1 month. and means depa kena start belajar litter.  FYI, anak2 kucing yg baru dilahirkan, takde kencing berak (ada tu ada but maknya kena jilatkan kat tempat cing berak tu, macam bagi ransangan, masa tu lah mak dia kemaskan). So tu pasal sepanjang 1 month, takde kesan cing or taik bagai. Depa pun totally menetek.
but once depa turn 1 month and depa dah mula pandai makan, tu yang depa kena belajar pakai litter gak.  Takpe, insyallah pempelan. Aku dah banyak kali bela kucing and dah expert gak lah on ngajar litter bagai nih. Macam Bel, about 1 week je dah terer, yet masa tu dia baru 1 month sangat.
oh speaking of Bel, he s so beautiful lah. Sangat lah my magnet.
In total skang ni I have 7 cats. Dulu kalau hidup semua 6 ekor memanglah plan tak nak jaga semua but now dah tinggal 3 je anak Ferra, jadi i ll keep them all. N insyallah lepas habis putus susu, i ll send Ferra for spay. Cukuplah kot dia dah beranak seround.   Nama anak2 Ferra:
1. Fendi – ni anak sulung, male jantan, black and gold
2. Anya Hindmarch – oi yg ni sangat gemuk dempol sodap betul badan female, grey + white
3. Bottega Veneta –  twin sister to Anya, sama size and kaler, grey + white, female
Ferra has gold white and black colour and she s a scottish fold, bapak bebudak ni pulak Meon, gold british short hair. Mana datang gold black Fendi, dari maknyalah sikit. but the greys for the girls hahahaha…terima lah seadanya. Cantik tau kaler tuh, wpun takde kaler mak pak depa.
Everythings about my cats, boleh tengok kat 1 instagram yang i record almost every days:  Chanel, LV, Dior (he s no longer with us, adopted by my fan), Ferragamo, Balenciaga and the kitties: Fendi, Anya and Bottega
Comment:
9