Feb 4 2009 Wednesday, 10:00 am
pertama kalinya dilancarkan gegirl beruniform skirt (kes ni lah pertama kali aku dpt anto gegirl with her new uniform) bapaknya selama ni anto tak kuasa nak snap gambo. kannnnnnnnnnnnnnnnnnnn sirman kan 🙂
gegirl adalah sangat happy sampai sekolah awal gila, mintak rambut tocang dua, hairband pun kaler biru coz nak sedondon ngan baju. rela kan je lah.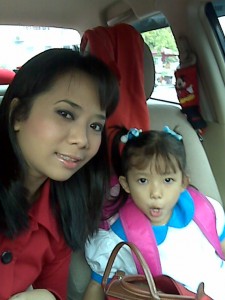 saya adalah kemaruk mau ber eyeshadow ke opis skang nih, tapi bukan sampai pakai 2 tones bagai tuh, pakai one darker tone, ni sbb aku pi tengok sorang salesnyah tuh pakai. dia pakai satu tone jer, tp sangatlah malatop2 mata mukanya. so aku pun gigih gak, ke sebab eyeshadow aku nih kan dah lebih 2 taun usianya so ahahahahahhaha very the aku tenyeh2 tak menjadik gak. nak kena carik satu yang baru gak nih.
so sambil aku jalan2 kat isetan:
1. renew isetan kad, korang nya dah renew?
2. carik adiah for anak kecil member aku
3. abihkan sedikit lagi voucher preeeeeeeeeeeee.
abih sudah, aku riki2 tengok segala bagai jenis kaler untuk mata. memacam brand jenis mahal murah ado. aku tried a few brand yang tak nak lah aku jaja brand nya kat sini sbb aku terai jer bukan aku beliiiiiii. satu keping yang aku try tu tiap satu dari harga RM50 to RM70. sekeping je tuh. kalo aku amik berkeping2 iskk..
tp aku nak 2 keping je pung.
2 keping tu pun pusing serata alam. nanti nak sambung lagik mencari kaler warna mata ehhehehehe….mood nak mengaler katanya kan.
dulu lagi gila, dulu yang masa ngandungkan abang. asik nak make uppppppppp jer. nak tido pun aku make up sekati 3,4 warna kat mana tau, udahlah muka kembang naik 30kilog! bangun tidur pun bukan nak mandi dulu tp makee uppppppppppp jugak aku capai. gila kan….lawanya idak jugak. tp itu adalah penangan makyong namanya.
ha aku nak bilang, 2,3 ari lepas mak aku sound aku
abang, gegirl, korang kalo nak kidnap khyre jer, korang suruh mak korang beranak lagik, kuorkan lagi baby.
wuiiiiiii….
sakit tinger ai tau mak.
Comment:
48