Mar 13 2017 Monday, 8:00 am
Since Chanel is still at matting place with her boyfren Jackie (thanks Anita and your mom), so aku sunyi kat rumah takde kitty. Sharifah and Kathy yang street cats yang dok kat porch jarang masuk rumah and jarang gak nampak bayang. Depa pusing setaman. But Sharifah pun dah 3 hari tak balik, mana ler perginya.
So I need a new one. I let go Prada on Sunday, on Mon Tues aku dah start googled carik the replacee.  Dah agak2 jumpa online yang berkenan bagai. on Wed  nite, lepas je Zeeshan habis his reading class, malam tu gak aku bawak abang and Zeeshan pergi the petshop yang kat downtown Cheras baru tuh.
This time around, aku kena pegang tengok, either manja benar idok the new kitty nih. Paling wajibnya nak tengok jantinanya bebetul.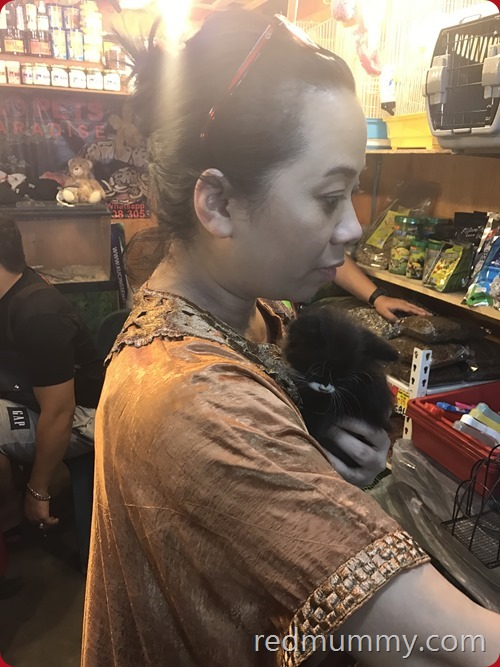 So dia suka dipegang, tu best. But kaler dia black! hahahaha
i is never like one with the black cat. Takut kot. But dia ada special white socks, empat2 tapak kaki dia ada putih. This is cute. Gerakan hati aku kuat untuk amik gak dia, terus adopt dia. I paid for RM450 for this black persian, less than 15min punya purchase. Lelaju bawak balik coz kids dah past bedtime.
so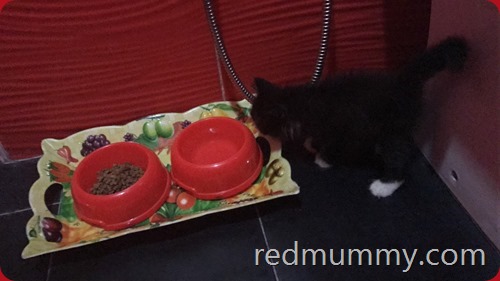 sedang moleklah dia ni aku amik awal so dia boleh toilet train while Chanel takde nih. Kang if Chanel ada, nak tunggu Chanel tu habis merengus sentap ada kucing baru, mau amik masa gak, nak kena asing2 litter box. Skang dah passed alhamdulillah, the toilet train lah.
Oh ai namakan dia LV. hiks… so she is LV the cat

Tray tu aku cabut coz dia ni kecik kemetot benau, susah dia nak makan minum dalam bowl merah tuh. Nanti bila Chanel balik kena pakai baliklah tray tuh and the food air have to put outside back. Ni sementara je coz dia masih lagi in toilet train week.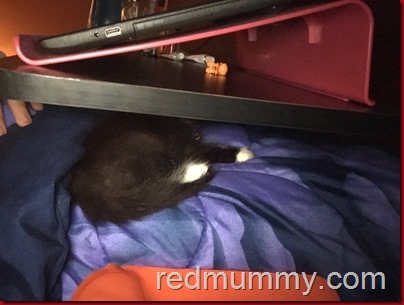 3 hari dia belajar explore rumah bahagian bawah
sehari dia dok naik atas but tetakut
la nih, hah kau, dia ngah tidur atas perut aku tuh, bawah my meja laptop, sejam hoih dia tidur situ. aku kena angkat dia untuk aku sendiri nak gi toilet….bila aku baring balik, dia sambung naik atas perut peha semula.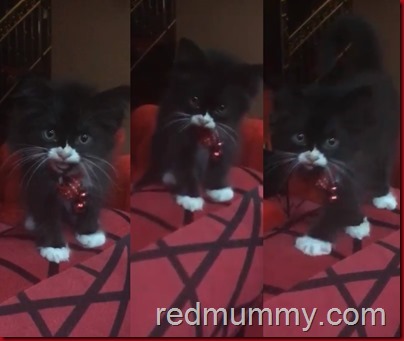 LV's birthday on 8th January 2017, masa aku amik dia baru 2 bulan. aku bagi je susu tapi dia tak minum sangat lah.  Malam pertama dapat dia, aku godek telinga dia dulu, rasanya dari beranak telinga dia tak berkemas. Dah bawak pi vacci but vet pulak tutup bila aku sampai depan pintu klinik! grrr….so nak kena carik masa lainlah untuk bawak vacci lagik. Not sure leh lepas vacci ke idak nih for first round coz ringan sangat budak nih.  Abang dah mandikan dia gak, so sedap je lah gegemol.
So far dia memang melekat dengan aku, tiap kali aku kat kitchen masak bagai, dia akan duduk kat kaki aku ye, setia. kat mana aku pergi pun dia akan mengekor. Sonok ai. Pasnih moga dia boleh pandai naik atas sendiri (just like Chanel yang akan kejut kita bangun pagi).  Dah ok je nanti, baru aku akan seret dia tidur ngan aku hehhehe….ai love cats yang suka melekat n gan tuannya.
Welcome to the red house, Miss LV.
Comment:
2