Jun 27 2016 Monday, 8:00 am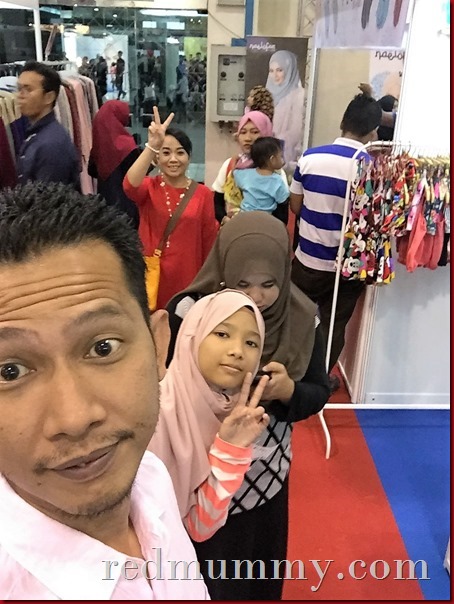 Siapa ada pergi the Vendeur Festival kat Matrade arituh? sorry ler dah abis, 2 hari jer, itu pun sampai kol 2 pagi depa bukak. Akak pergi yang on Saturday, asal cadang nak pergi right after Zuhur but banyak hal ler pulak kat rumah. Some more nak tunggu abang balik dari visit Sejarah dia (he chose the Muzium Negara, anak korang pilih mana?), tu yang lagi lambat keluar rumah.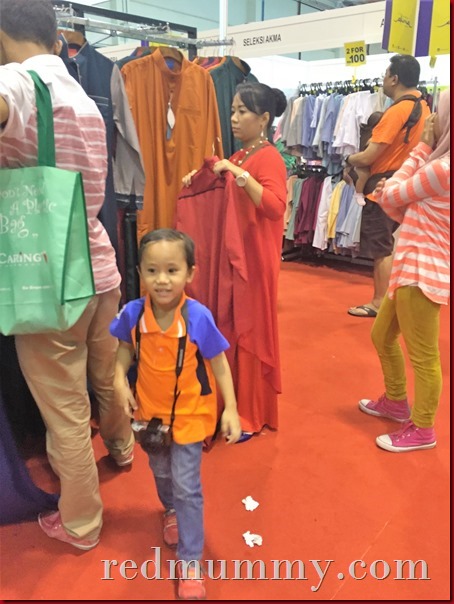 abang bawak the camera for his project but adiknya terus sebat tak nak bagi tinggalkan, jadi kulu kilir ler dia membawak camera tu hah, banyak giler dia amik gambar yang bembukan. Lambat abangnya tidur malam tu dok delete gambar yang adiknya amik, abis tu takkan  nak transfer semuanya ke PC pulak….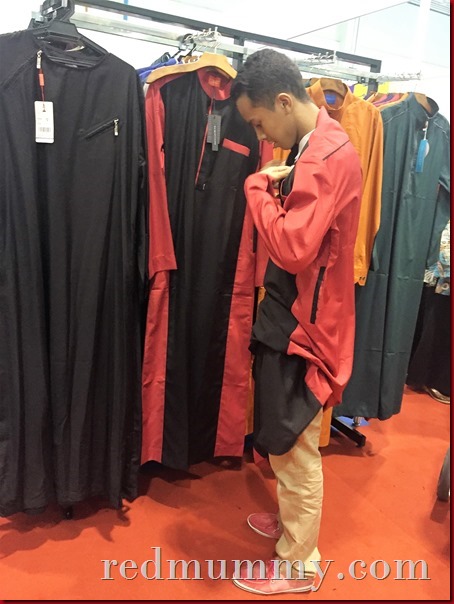 Basically shopping raya kali ni untuk abang, dan sikit untuk aku. Itu perancangan asal ler. Yang benornya, aku punya lagi banyakkkkkkkkkkkkkkkkk dapat hahahahaa. Abang nakkan jubah, his baju melayu ada jerr but he tak nak pakai baju melayu, first day nakkan jubah. Of cos have to go for red colour. First booth ni je dia dah tertawan but RD and I tak setuju. Selain harganya yang terlampau mahal (for the quality we can get better price), warnanya dan design macam biasa sangat merata ada.
So kita KIV dulu booth nih, if dah bertawaf pun tak jumpa baru kita amik ni lah.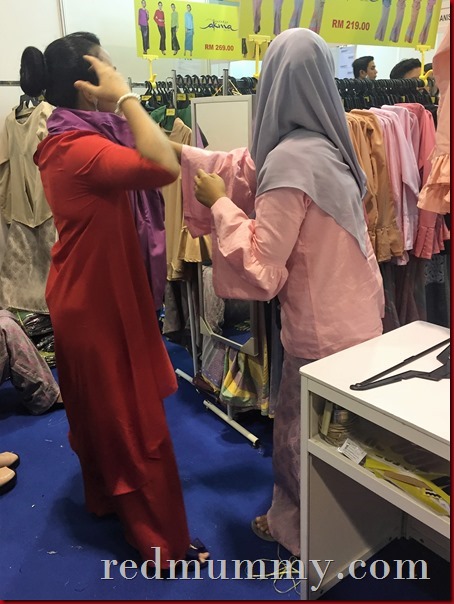 dont think aku amik something from this booth, Seleksi Akma brand rasanya but aku ada banyak tops baju dari depa, bought from Zalora. jadi tak dapat ni pun tak kisah jer…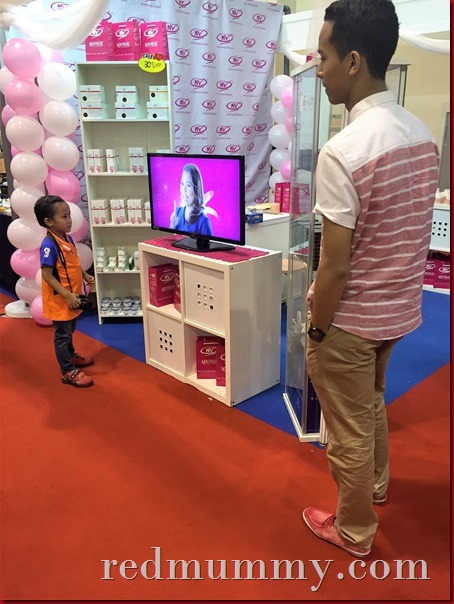 Terpegun Zeeshan tengok tv tu punya iklan hahahahaa….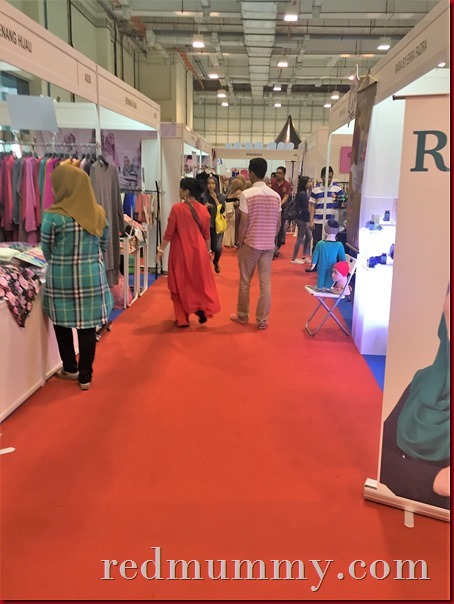 I kan tak pergi Jakarta tahun nih, by right dah nak siap terbang pun hari tuh, sekali tengok passport aku kojol dah rupanya hikss…aku lagi rela pergi Jakarta dari pergi beratur renew passport so batal trip Jakarta. jadi tak dapat le menyopping kain baju raya di sana.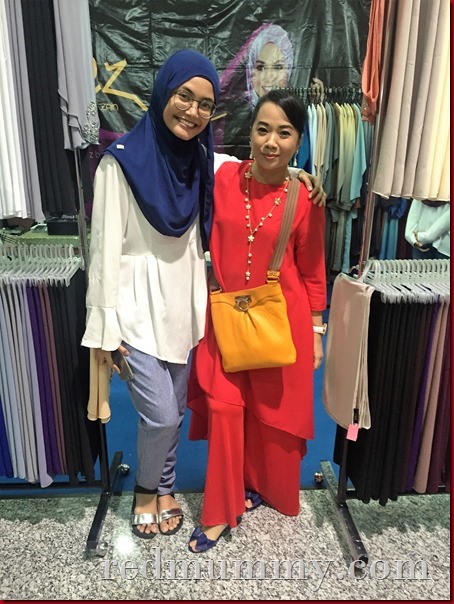 Got to meet Nisa Kay at one of the booth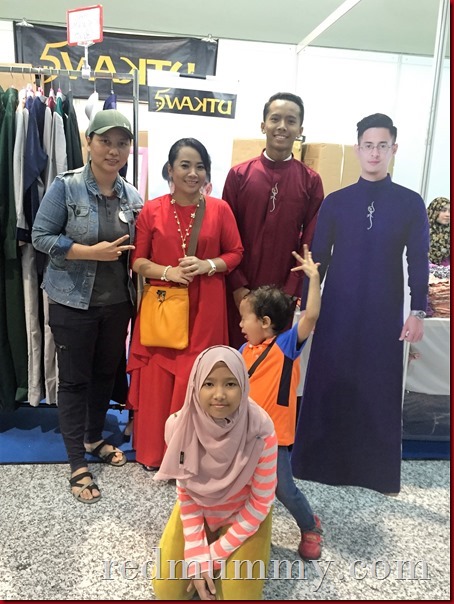 Sebelum kita jumpa PenMerah's booth, abang dah nampak replika patung Chazynash tuh kat luar and he s so excited sangat. Yelah dia ni fan to Chazynash tu sangat. So terus kita mencarik boothnya. Cikta pun ada gak kat one of the booths (ash annas, aku tak beli dah situ, dulu2 dah penah beli).
So jumpa je booth Penmerah, terus carik ownernya yang also my blogger fren, my dik angkat too. I hv known her for so longggggggggggggggggggggggggggg.
Abang terus tried ler the Jubah Lima Waktu, he would like to get 2 pcs, the red and the blue. Wrapped it up and Anne Raihan bermurah hati to sponsor the 2 pcs of jubah lima waktu for Abang. Rezeki ko lah sangat bang, walaupun sponsor, harganya logik gak lah better dari booth yang sebelum2 tu abang dok nakkan. Punyalah abang peluk cium jubahnya, suka betul dia dapat jubah idamannya dari booth and his fav celebrity pulak tu.
Malam tu kat rumah dia dok menerai2 lagi, betul2 gembira dia dapat the jubah lima waktu nih. Thanks Anne for the sponsorship.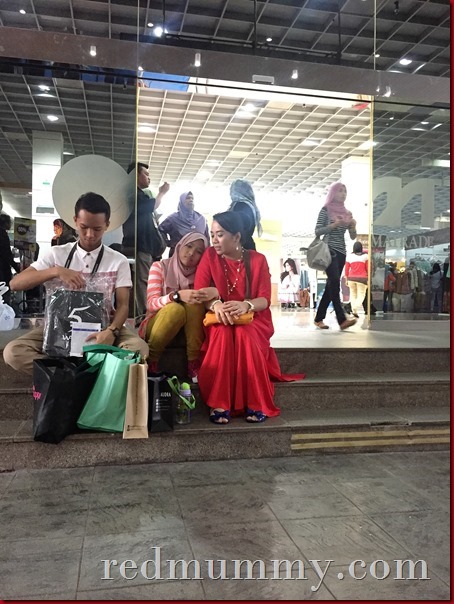 dalam banyak2 barang kita shopping, abang hanya pegang his paperbags of jubah lima waktu jer ahhahaha…lelain bapaknya yang pegangkan.
Rasanya tak sampai 2 jam pun kita shopping kat sini coz kita dah nak gerak berbuka puasa di Cyberview Resort & Spa. But walaupun sekejap aku dapat gak sebat 13pcs of baju raya for me hahahahaha….Maybe 10setslah yang lagi 3 tu lah is the pairnya. Pantas tak pantas?? hiks…
Ada jugak yang kenal Kak Red so i dapat sponsor give away from the booth owner jam jam masa tu jugak, I will definitely instagramkan each of them for sure. But baju2 akak tu, tak semua pun for raya, ada jugak for events and also for office/casual wear. Bahaya ler pergi festival raya macam nih, never balik dengan tangan kosong!
Untuk kakak pun dapat 2 pasang jubah dress too, yang satu tu common sangat berdokoh2 gak but dah dia nak sangat, boleh ler tu kak…
Nothing for abahnya or adiknya, dedua dah settled awal2.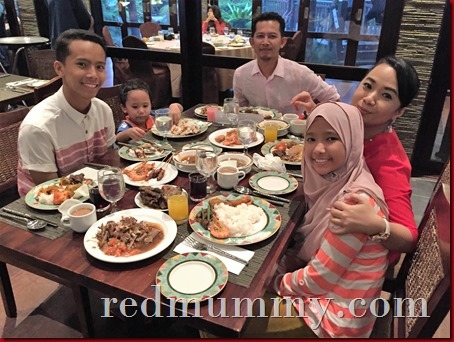 So kita berbuka di Cyberview, as a courtesy from the hotel for our relationship. Sedap sangat!!!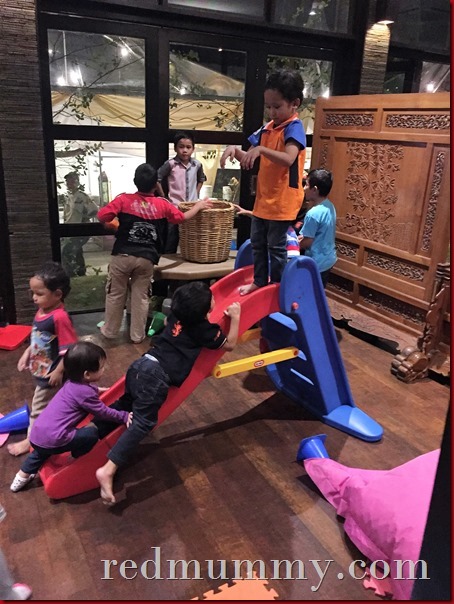 dan as mentioned berbuka puasa di Cyberview ada kids corner, disinilah Zeeshan melepak lepas dia dah kenyang makan (he ate first sebelum azan).
Masa kat Matrade sebelum tuh, tengah aku sibuk pilih baju, tetiba dia hilang dari pandangan. Kitorang split berempat mencarik dia, rupanya dia dah keluar dari building to the center area (sebelum to the next building) main kat situ. Luruh jantung aku heh. Lepas tu sekali lagi dia hilang pun dia pergi tempat yang sama. Situ memang le ramai bebapak yang lepak ngan anak2 kecik dok main situ yelah jenis yang tak nak ikut bini pi menyopping kat dalam kan, tu yang Zeeshan join situ ada gang2 dia anak sesapa tah dok buat main. Hish budak kecik nih.
Dah jumpa yang 2nd round tu aku tinggalkan depa and terus lari masuk dalam sambung amik kain baju yang aku baru nak beli sebelum tu tak jadi2 dek anak hilang kejap dari pandangan.
I love this Vendeur Festival, dah 2 kali aku pergi (last year tak pergi), 2 years ago lagi ramai orang. Masa this time aku pergi tak de le ramai sangat, mungkin coz baru first day, but if depa buat lagi taun depan insyallah aku nak pergi lagi jugak. Ada aircond, tak sesak, parking pun smooth ada RELA jaga, kira i ll come back lah. Dah takde dah benda nak shopping, skang aku ngah shopping kuih2 raya pulak, dok tunjuk2 sana sini heheheh….This week depa ada buat kat Kota Damansara but aku lagi suka pergi yang kat Matrade.
Comment:
1