May 6 2018 Sunday, 11:07 am
.
.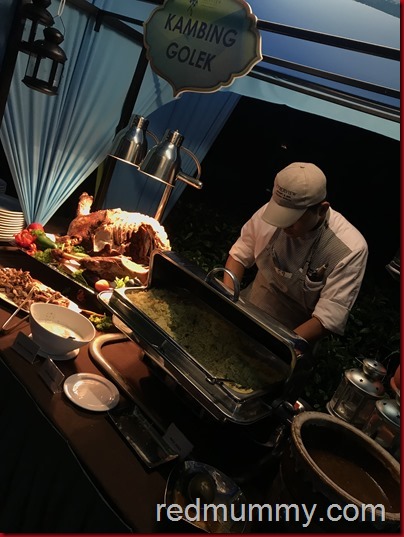 Buffet Ramadhan 2018 di Cyberview Resort and Spa untuk tahun ni special sket sebab sempena meraikan Iftar yang ke 20! So sempena itu, Cyberview Resort and Spa menawarkan sehingga 40% diskaun kepada kita semua supaya dapat menikmati santapan berbuka puasa yang lazat dari 26 stalls mereka yang menghidangkan masakan dari pelbagai budaya seperti Chinese, Japanese, Korean, Italian, Spanish, Mexican dan sudah semestinya masakan tempatan 🙂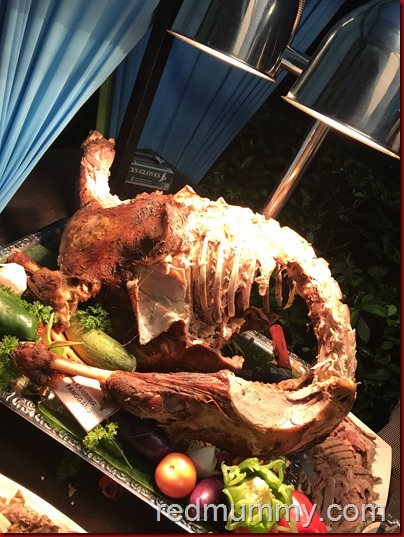 Kambing golek sudah semestinya ada. Memang idaman Akak makan dengan nasi arab dia yang sangatlah sedap rasanya. And korang mesti cuba kombinasi nasi arab+kambing golek dia ni, kalo korang tak repeat memang sajer jer 🙂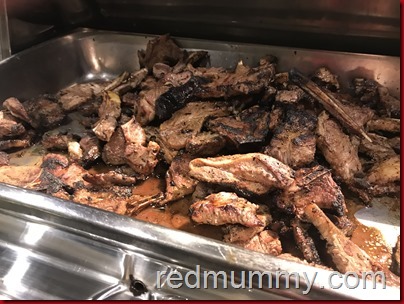 Kalau dari BBQ stall pulak, siap tersedia smoked marinated chicken wings, minute steak and lamb shoulder, sausages, fresh salmon cutlets, saba fish dan juga terubuk bakar. Dengan sos yang disediakan pulak perbagai pilihan iaitu BBQ sos, mushroom sos, peri-peri dan sudah semestinya black pepper sos.
Since Akak dalam diet plan, memang bakar-bakar ni la jadi pujaanku 🙂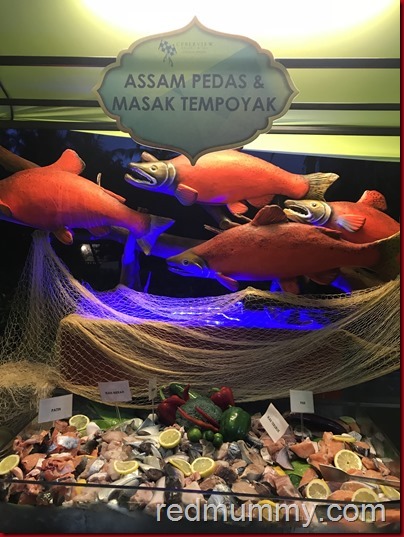 Asam pedas dan masak tempoyak boleh pilih dari bermacam-macam ikan segar seperti patin, tilapia, salmon, lampam jawa, ikan susu, pari, tenggiri, tongkol, kembung dan ikan merah.
RD sangatlah suka dengan patin masak tempoyak dia, dia kata memang terbaik, tak payah pergi Temerloh jauh-jauh nun. Sini pun sama sedap dia 🙂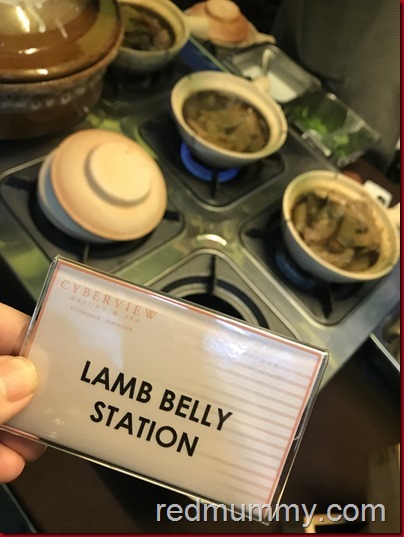 Kepada peminat-peminat sup, sebut jer apa sup nak. Semua ada, sup tulang rawan, sup kaki kambing, sup ayam, sup tulang merah, sup keting lembu. Roti pun ada sama boleh untuk cicah.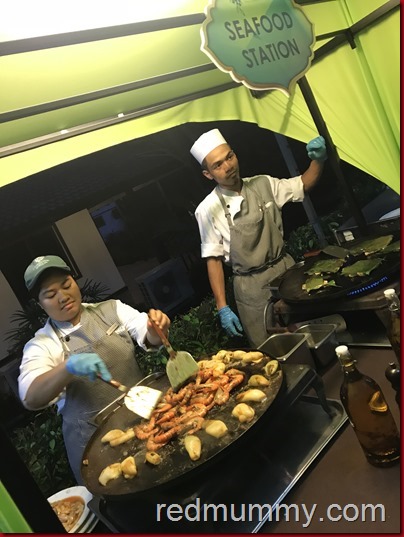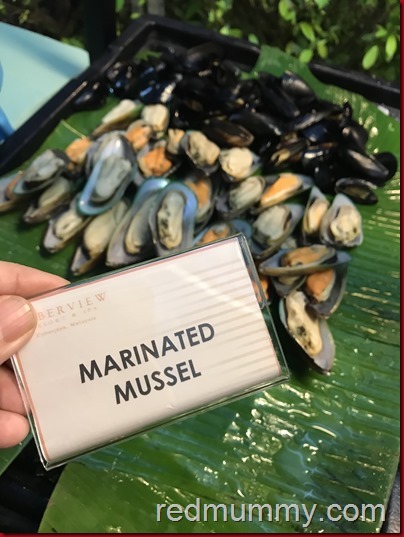 Seafood stall pun mengancam selera jugak. Mussel, prawn, squid fish fillet semua boleh rasa. Korang order depa bakar dan-dan tu jugak.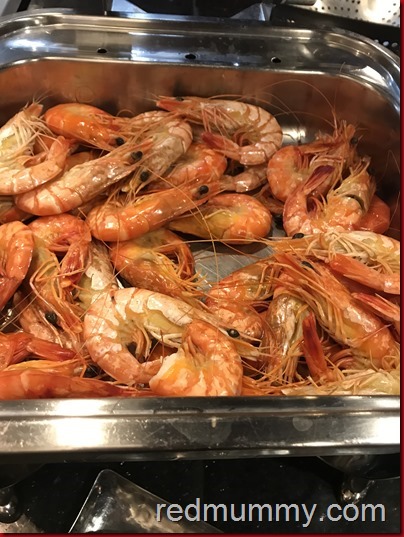 Butter prawn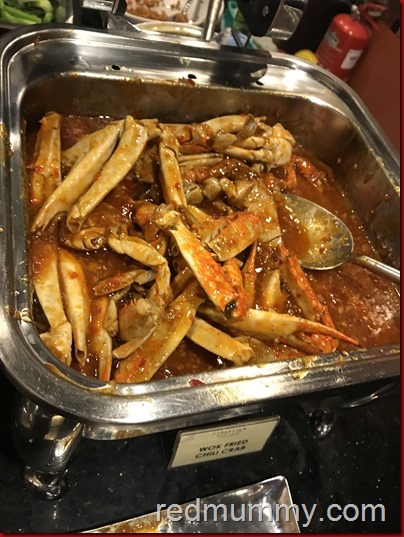 Chili crab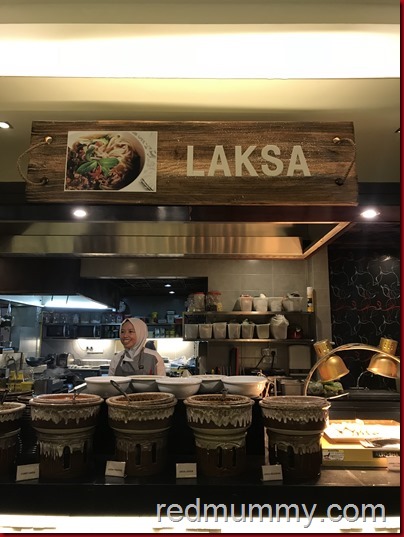 Laksa dari semua negeri ada hiks – Laksa Sarawak, Laksa Penang, Laksa Johor, Laksa Kelantan dan Curry Laksa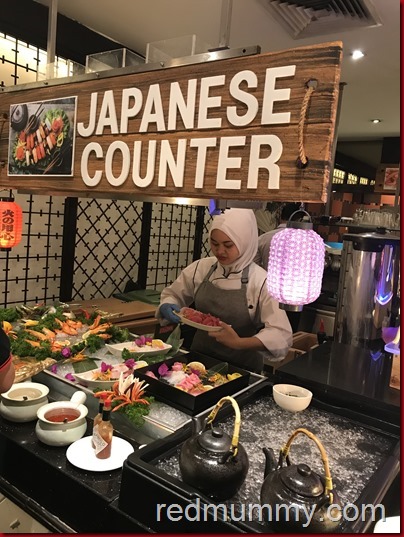 Untuk peminat makanan Jepun memang tak dilupakan. Even Korean dishes pun ada sama ya.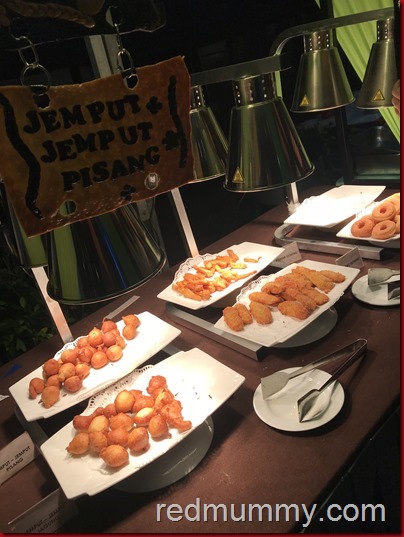 Jemput-jemput, pisang goreng untuk kudapan senaman perut lepas dah santak makan semua kat atas tadi hehehhee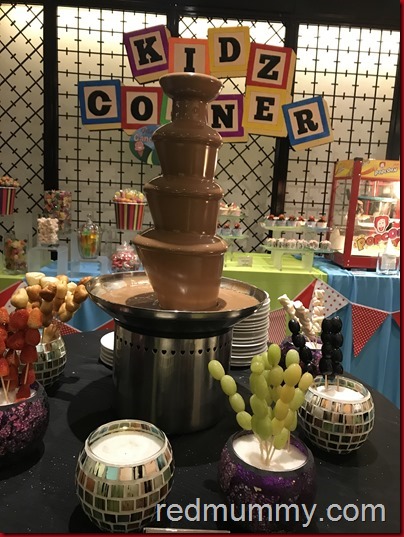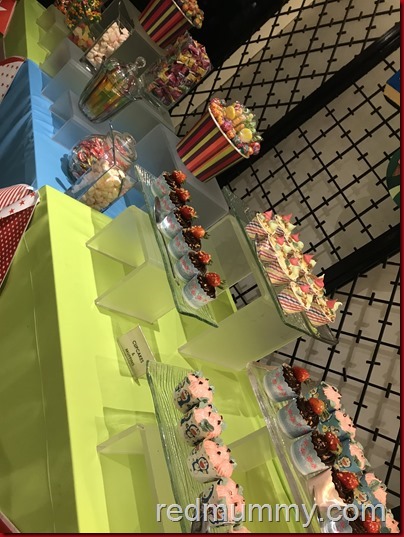 Untuk anak-anak, memang menjadi idaman diorang lah Kidz Corner ni – Chocolate fountain ada, ice cream ada, jellies and candies ada, pop corn ada, cup cake and muffins pun ada.
Banyak lagi menu yang disediakan, tak larat Akak nak taip semua. Mau 4-5 pages dengan menu jer. So korang kena la check out sendiri.
All in all, Buffet Ramadhan 2018 di Cyberview Resort and Spa memang caters untuk semua lapisan masyarakat, tak kira tua dan muda, janji kuat makan hiks 🙂 dan dijamin berbaloi.
By the way, lupa nak cakap pasal 40% diskaun tadi. Ok actually normal price untuk buffet ramadhan ni ialah Dewasa RM149 dan Kanak-kanak RM75.
Tapi kalau kita cepat-cepat booking which is early bird kita akan dapat harga lebih murah iaitu Dewasa RM120 dan Kanak-kanak RM60 sahaja, kemudian on top of that kalau bayar menggunakan credit cards akan dapat lagi 20% diskaun. Applicable untuk semua banks credit card ya. Dah jimat di situ 🙂

Untuk tempahan bolehlah hubungi Tel: 603-8312 7042/ 7041 and its full address untuk those yang tak tau kat mana pulak Cyberview Resort and Spa ni.
Comment:
8