May 17 2016 Tuesday, 8:00 am
Setiap kali ramadhan, ramai antara kita suka berbuka di luar, specially di hotel2 besar. Aku pun sama gak lah, but not lah everyday, once or twice a week is fine jugaklah, jadi untuk review Ramadhan buffet taun nih, akak accepted from tempat baru pulak, Cyberview Resort and Spa. Kind of new to me, very the 2minutes to my husband's office hahahaa, itu paling bestnyalah kan.

Sedar tak sedar, pejam celik pejam celik dah tak lama lagi nak masuk bulan puasa! Ha korang hutang puasa dah bayar ke belum tu?
Dah kalau bulan puasa memang tak sah lah kalau takde Buffet Ramadhan kan. So baru-baru ni aku sempat pergi menjamah dan menjamu selera dengan menu berbuka puasa Buffet Ramadhan @ Cyberview Resort & Spa.
Don't know la about you all kan, but this is the very first time Akak nampak menu Buffet Ramadhan yang menyediakan fresh live prawn and fish stall! Korang boleh tangkap sendiri (which i tak buatlah, i suh Chef ler tangkapkan hahahahaha) dan suruh the chef masak ikut menu yang disediakan. Memang hebat betul sajian kat sini. Akak bagi 5 bintang untuk stall ni 🙂
Spread menu yang bermacam-macam dan panjang, dari hujung ke pangkal. Dari A to Z semua ada kat sini, korang cakap lah nak apa, for sure ada.
Salah satu spread menunya sudah tentu the authenthic Malaysian food. Rusa masak hitam, telur itik masak lemak cili padi, ikan keli masak lemak tempoyak, paru berlada, daging masak kurma, perut masak lemak cili padi dan rebung, pajeri nenas dan banyak lagiiiiii. Akak menaip ni pun telan air liur membayangkan all these dishes! Memang masakan melayu sedap dan lazat. Habis diet aku! Taper lepas raya kita diet balik 🙂
eh apa diet tuh? hahahhaa alah rileks lah, i m being paid to get fat, of cos i m being paid to get slim back kan. hiks..
Gulai ayamnya tu, wallahhhhhhhhhh, akak repeat 2 plates hoih!
Spread deserts dia pulak pun pelbagai Malay kuih muih, segala jenis kek, sweet delicacies, macam-macamp udings even segala jenis bubur pun ada dihidangkan. My favourite of cos bubur pulut hitam dan pengat pisang. Yummehhhh. Aku memang pantang le bubur oi, sangat le my dunia bubur2 nih.
Teh tarik of cos la ada! Berserta minuman panas dan sejuk lain antaranya hot chocolate, kopi, nescafe tarik, bandung, tebu, barli, cincau, soya bean, teh bunga dan longan.

Lagi satu yang bestnya, ada Kid's Corner kat sini. I'm sure your kids gonna love this section!
Dari chocolate fountain, ice cream, jellies, candies, pop corn, cupcakes, muffin dan cookies semua ada kat sini. Our kids will go crazy here 🙂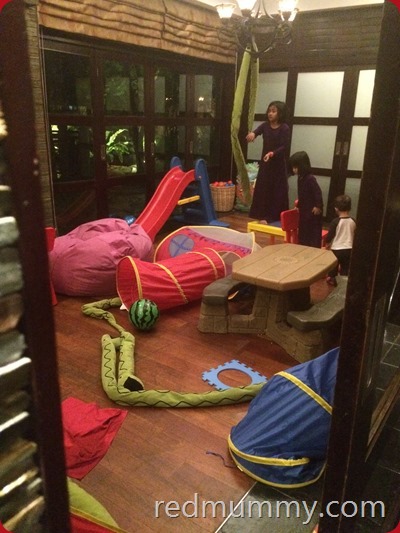 Tapi the most important thing, also this is first time Akak nampak, Cyberview Resort & Spa ada meyediakan kids room! Memang understanding betul depa ni 🙂
So parents semua boleh makan dengan aman tanpa gangguan anak-anak dan dapat menikmati semua hidangan yang sememangnya lazat kat sini yey! Biar anak-anak main kat sini 🙂 . Akak dah bayangkan ler nanti pasnih kita bukak puasa sini, Zeeshan akan pusing satu dunia, instead kita letak dia dalam kids room ni jer, sebelah je pun ngan buffet ramadhan, makpak nak monitor anak pun senang.
Surau, restrooms pun dekat, ample parking too. Apa lagik mau ada for this kind of place, very the family oriented untuk kita berbuka. Not to mention, kalau tak de family pun hasil yang sama gak hehehe…come come jemputlah berbuka sama di sini.
Tidak dilupa buah-buahan segar sebagai pencuci mulut.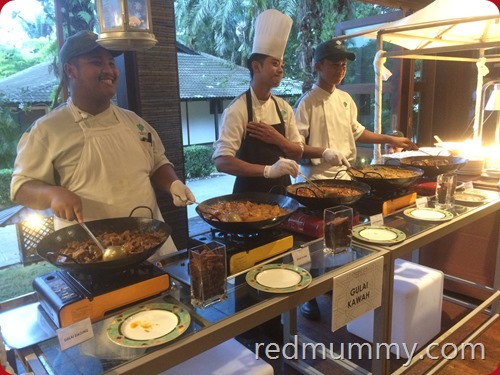 Tapi ada lagi yang paling best di Buffet Ramadhan Cyberview Resort & Spa ni, iaitu the Live Station Counter di mana kesemua lauk-lauk ni akan dimasak dan dan tu jugak. Atas tu bermacam gulai kawah
Salah satunya kambing golek berserta nasi arab yang sangatlah sedap haiii…
you know akak tried nasi arab tu, lemaknya macam penuh sangat, macam nasi tu berlemak, but actually it s not. Rupanya rahsianya ialah cara masak nasi tu, hah, i know already, i korek from the Chef.
Dim sum yang panas-panas
Ni yang Akak cakap atas tadi, fresh live fish and prawn stall! Memang segar dan mengiurkan
Setelah kenyang perut, Akak pun suka hati. Sebagai penutup layan bubur yang manis dan enak untuk pencuci mulut 🙂
Personally memang puas hati berbuka puasa di Cyberview Resort & Spa ni. Menu yang jarang kita jumpa dapat kita rasai di sini. Hidangannya pula fresh dan rasanya pula memanglah sedap dan ikut selera kita. Ambient ataupun suasananya juga selesa dan tenang, begitu jugs susun atur kerusi meja makan pun quite selesa dan a bit loose. All in all memang berbaloi.
Untuk tempahan bolehlah hubungi Tel: (603) 8312 7000 also full address.
Buffet Ramadhan 2016 di Cyberview Resort & Spa ni berharga RM138 nett untuk orang dewasa. Dan kanak-kanak pula berharga RM69nett (age 4 – 12yo).
Tapi kalau tempah awal-awal sebelum akhir bulan May nih, boleh dapat harga lagi murah iaitu RM95nett dan applicable during 1st and 4th week of Ramadhan and RM108 nett for the whole month of Ramadhan.. So tu kalau untuk early bird voucherslah yek. They have more than 200 menu buffet yang dari western to local, dari Kokdiang to JB.
Ada jugak diadakan cabutan bertuah setiap minggu di mana 2 pemenang akan dapat menaiki Hot Air Balloon.  Jadi sambil makan,  ada untung nama naik, dapat ler naik balloon 🙂
Comment:
4