Jan 3 2017 Tuesday, 9:00 am
.
.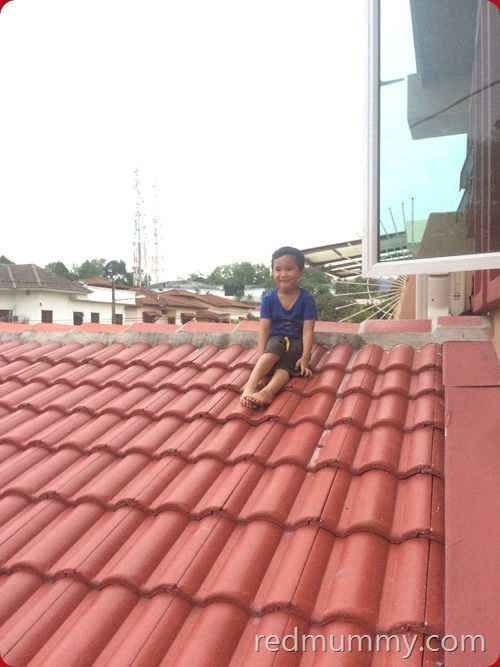 Tengok betapa beraninya budak kecik ni, dia pergi ikut daddy dia keluar ikut tingkap duduk atas roof tu! Naik luruh jantung Akak bila tengok gambar ni! Ini semua sebabnya dia perhati, belajar dan praktikkan apa yang daddy dia buat. Tapi ayah dia trust him, so he just let him climb atas roof tu. Kalau Akak memanglah tak kasi la dia naik atas tu. Korang camna? Percaya tak anak-anak korang buat benda-benda macam ni?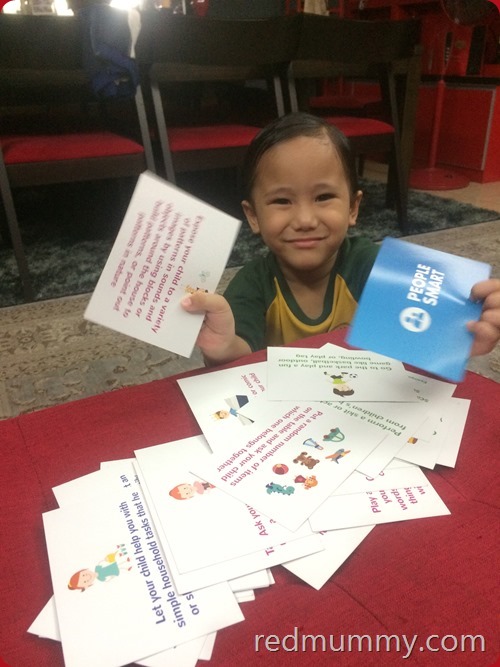 So ingat lagi kempen #LetThemLearn oleh Wyeth Nutrition yang Akak postkan dulu? Kempen yang bertujuan untuk menunjukkan kepada ibubapa tentang keseronokkan dan keindahan dalam membiarkan anak-anak kita learn to do things by themselves dan dalam masa yang sama membiarkan mereka to develop their Multiple Intelligence (Brain Smart, Body Smart & People Smart) and become all-rounded individuals.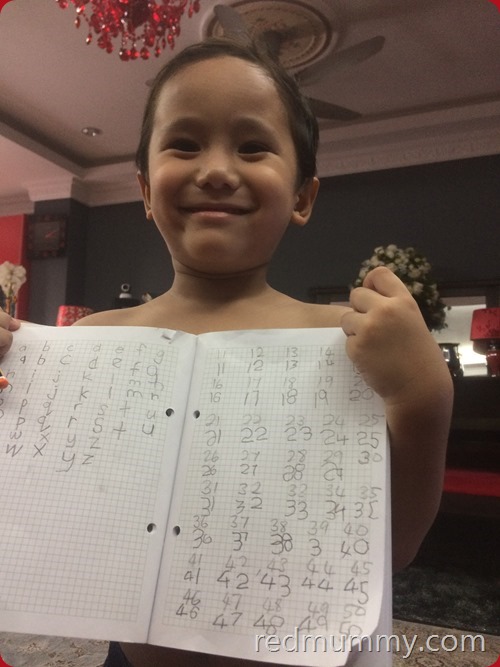 Selepas 2 bulan buat aktiviti-aktiviti flashcards dari #WyethNutritionMY bersama-sama si bongsu, Akak boleh katakan Zeeshan lebih menjurus ke arah Body Smart & People Smart, dan ada tambahan Brain Smart.
Apa taknya, dia lebih suka buat aktiviti-aktiviti dari Body dan People Smart flashcarsds seperti keluar bermain di taman samada indoor or outdoor playground, main bola or just main kejar-kejar dengan budak-budak sebaya yang lain. He also loves to play with building blocks, playdough and clay, tapi lebih-lebih lagi suka main dengan abang dia melompat between sofa, panjat, merangkak dan balance himself. He is also quite a peramah, maybe ikut mummy dia 🙂 cepat dia bermesra dan berkawan dengan budak-budak sebaya dia. Ha, satu lagi, dia pun rajin buat kerja-kerja rumah hiks. Satu pagi tu, Akak pun belum bangun lagi, dia siap vakum kat dapur hahaha.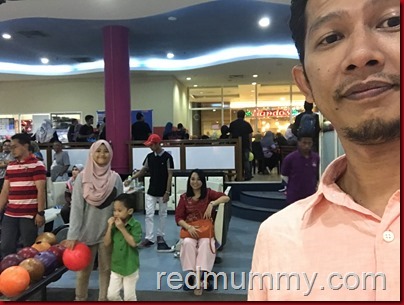 Belum lagi 5 tahun budak ni, dan Akak rasa perkembangan dia quite normal sama dengan yang lain, cuma dia lebih cepat independent and almost all things yang setara untuk umur dia, dia nak buat sendiri. Salah satu sebab mungkin Abang dan Kakak dia dah besar dan dia pun nak ikut Abang dan Kakak buat sendiri 🙂 Selain tu Akak dan husband memang galakkan dia belajar to do things on own his own. Memang at first dia akan minta tolong kita on certain things, tapi lama kelamaan dia akan cuba dulu sebelum minta tolong kita 🙂
Baru-baru ini sempat Akak sekeluarga spend some quality time sama-sama main boling. It's a new game for Zeeshan actually but he loves it very much. Sekarang ni tiap-tiap hari dia berzikir ajak pergi main boling lagi hiks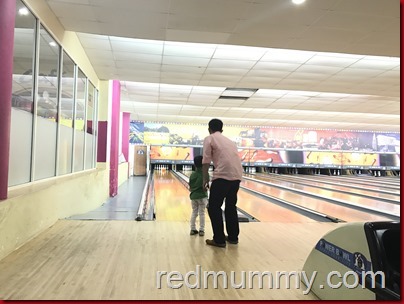 Bayangkan bola boling tu lagi besar dari kepala dia, terhuyung-hayang dia mengangkat bola tu. So ayah dia pun tolonglah angkat sama. At first jer dia kasi ayah dia tolong, lepas tu, "No daddy, shan buat, shan boleh angkat ball ni" 😀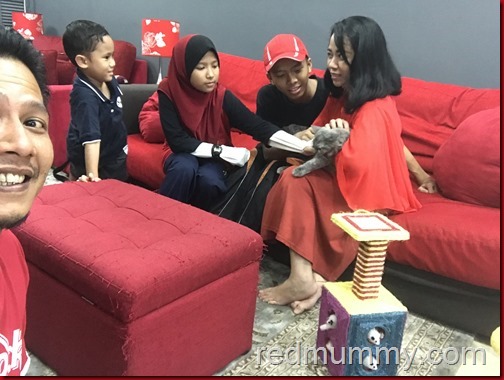 Dan lagi satu yang paling penting dan sangat Akak tekankan ialah spending quality time with them. Bukan sahaja mewujudkan strong bonding between us tetapi juga to learn from each other, to listen from each other dan ini mewujudkan suasana ceria dalam famili kita. Kalau dah ceria dah tentu bahagia, betul tak? Dengan ini secara tak langsung anak-anak saling menghormati sesama sendiri dan sesambil itu kita sebagai ibubapa talk to them, bagi nasihat apa yang patut. At least diorang boleh belajar sesuatu bila sama-sama berkumpul sepending time macam ni.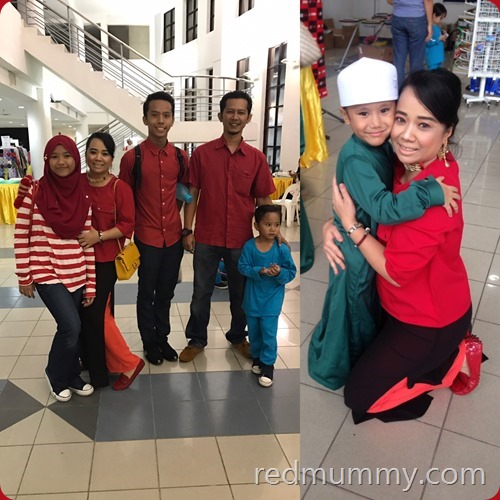 Akhir sekali, Akak juga sangat tekankan pemakanan yang seimbang. Ini memainkan peranan yang sangat penting untuk perkembangan anak-anak kita untuk pelbagai kecerdasan mereka ataupun their Multiple Intelligence. Itu sebab Akak prefer them to have home cooked meals. Taper la penat sikit balik kerja masak, asal yang penting air tangan sendiri untuk anak-anak kita dan kita tahu apa yang berkhasiat untuk anak-anak kita.
Tambahan untuk Zeeshan pula ialah 2 gelas S-26® Gold Promise (atau S-26® Gold Progress untuk anak-anak umur 1 hingga 3) setiap hari yang kaya dengan kalsium dan protein yang sekaligus menyokong pertumbuhan fizikal yang sihat, secara tak langsung dia akan mudah belajar pelbagai perkara untuk membantu meningkatkan kemahiran harian dia. Anak korang pun boleh juga 🙂 Perkembangan otak pula dengan pengambilan makanan yang mengandungi DHA, Choline dan Lutein.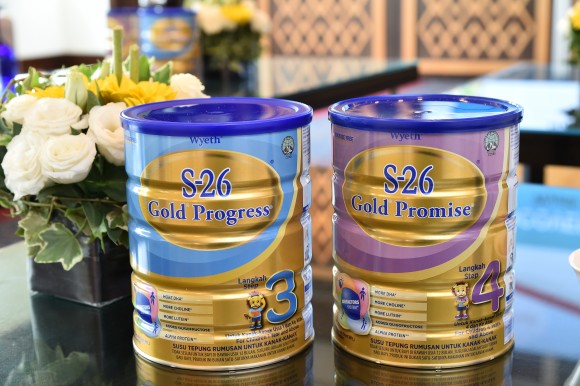 Secara kesimpulannya, Akak percaya untuk mengekalkan kesihatan yang baik serta imuniti yang kuat ialah dengan pengambilan makanan yang baik yang datangnya dari makanan dan susu yang mengandungi vitamin, pre & probiotik seperti Oligofruktosa dan Nukleotida 🙂
Hendak tahu maklumat lanjut tentang Wyeth Nutrition, Multiple Intelligence dan juga parenting tips? Jom lawati laman:
WeChat ID: WyethNutritionMY

Hashtags: #LetThemLearn #WyethNutritionMY
Comment:
2