Feb 5 2009 Thursday, 1:00 pm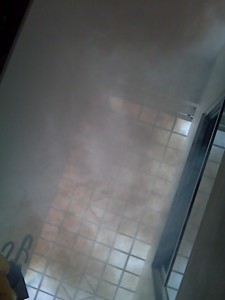 pagi itu aku dengo jer fogging tu berkeliaran kat VA, cecepat aku ajak gegirl berambus, tp apakan daya, rupanya fogging tu dah redah floor aku dulu. ha kau, ni depan umah aku. penuh umah berasap.
pastu masuk je lam keter alamak, dengo lagi fogging tu berkeliaran, kitorg katup je pintu ha disemburnya pulak. tu gambo atas tu aku lam keter tau ngan gegirl kitorg dok nunggu clear sket asap tuh nak blah. ada lak kang kalo aku redah tetiba keter mari kiri kanan mau berdentum.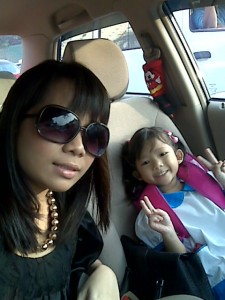 skang nih aku anto gegirl seii..awal pagi tol gegirl kena kuor, abangnya sirman lak anto kan. amik turn. coz kalo aku anto abang mesti sampai waktu beratur, sungguhlah tidak molek attitude begitu. kekdahnya aku bersiap lambat. so kena switch anak. lgipun gegirl sangat suka mak nye anto x yah dia catwalk jejauh pi kat keter bapaknya.
agak lawak pagi smlm bila bebangun celik mata…
mommy, nak ikat tocang 2 lagi
lam seminggu sekali dia ada kelas mewarna, extra class untuk sapa yang berminat, tambah RM50 p/m, so since dia pun sangatlah champion mewarna, kami enrolled lah dia. the first day tuh aku lupa the extra class tuh, so bekal makan dia ngam2 utk makan pagi je lah when the loushi tepon
Puan, you want us to provide gegirl's lunch?
oh no thanks, ai will arrange her lunch, her grandpa will send the lunch
jarak umah mak aku ngan kindy gegirl adalah tersangat dekat, so mak ajah aku suh lak pak aji antokan bekal nasi cucunya. bila dianto pass kat tangan cikgu. atuknya balik.
sampai umah petang tu aku tanya ler…tadi lunch makan apa?
gegirl x makan, loushi bagi nasi, mana boleh makan, mommy cakap jangan makan kalau loushi kasi
alahai, itukan atuk nenek yang bagik, yang ko tak makan napa
tapi loushi tak cakap pun atuk nenek yang kasi
from the back aku dengo….nenek yang buatkan lunch ko, napa le ko tak makan…….
sanggup dia berlapar tak makan. wpun dia kata tak lapar sebab dok galid ngan colouring kan…
pasnih aku kena remind dia banyak kali, nasi yang loushi bagi tu is bekalan dari tokneknya.
Comment:
32