May 19 2009 Tuesday, 10:30 am
Venue: One Utama, Old wing Concourse Floor
Date: 17 May 2009, Sunday / Time: 10am
Event: Maybelline – Mega Makeover Fest for Malaysian Book of Records.
in conjuction with the recent Mother's Day on 10 may, Watsons together with partners Clara International and Maybelline conducted an event to forever solidify the status of Women in the annals of the Malaysian record books through a unique record attempt enttitled "The Biggest prticipation in a Beauty Make-Up Event"
Irene from Maybelline, she s hot!!! so pagi ahad tuh saya datang dengan muka macam baru bangun tidur jer. no make up at all yer. aku hanya letak moisturizer and foundation yer. sebab nak pi make up kan, motif nak kena pakai make up dari rumah.
huh 165! lucky number.
there u go, ai had to wait for a while sampai ada make up artist yang available. lgpun kita ada pakai numbering system. actually Irene expected my turn to be like 1 hour plus, sib baik ler aku x pergi mengular, ai waited like 15min or so jer…very laju pantas kilat lah depa punya make up.
aisay ai forgot her name lah, one of the big name in Maybelline, treated me so well….she s tall or aku je yang petite? baju dia cantik, if they have red colour ….
mesti lagi nampak gempal kalo aku pakai gitu…
emm, dap nya make up2 nih…rasa nak makan jer kan. sonok tengok kalau ko suka make up. kalo ko x suka make up, mesti ko macam rasa x bernapsu je ngan all the sets.
alright, move on, korang pun tau saya ada promote the Maybelline mega makeover Fest for Malaysian Book of Records kan…depa cuba nak attempt to have at least 1600 make over!
ai got my spot…very quick one. the make up artist sapu the bedak sikit jer..since ai have tepek my own foundation from home.
she asked apa colours aku nak pakai, not only to me, but to everyone lah yang dok menepek mukor.
btw waktu nih, yang sampai aku dok number 165 tuh pasalnya depa ada jugak bagi jemputan openly to Persatuan Ibu Tunggal Belaian Kasih Kuala Lumpur
make up lagik
touch up lagik
ye mascara wajib ada,katanya jual info on Maybelline Volum' Express Hypercurl Cat Eyes Mascara kan….gilo lah kalo x pakai menda nih.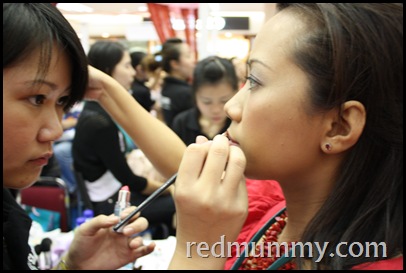 i m done! very light make up….told ya, it  s not even 15min!
for the quick make up, what they need to apply – powder, blusher, eyeshadow, eyeliner, mascara,eyebrows and lipstick.
emm nice shot, crowd boleh nampak. sila spot me 🙂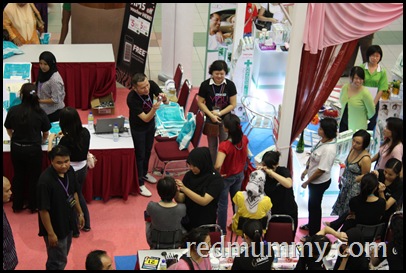 you gotta q to collect your cert
dasyat tak manager aku, abih berapa floors dia memanjat nak buat kerojer amik gambo, no increment ye cik sirman 🙂
Certificate of Participation for redmummy.com – now i have like few certs from blog event sahaja, for this year yang aku lom gantung frame kan at all. aisay, bilo nak buat nih..
some of the door gifts yang kamu dapat. for me, apart of getting the doorgifts, me pun dapek gak itu blogger's door gift coz aku datang kan utk review the event.
kalo datang review jer tak mencuba make over nya
tak guno ler yang oi…
macam meja makan panjang kau, padahal meja nak make up
YBhg Datin Paduka Chew Mei Fun merasmikan majlis, ai missed the launching session
so ok, since make up saya masih lagi kurang menarik, yelah katanya make over 15min, mestilah aku nak sambung balik buat make up cecantik. kang aku kuor blog muka make gitu, ramai lah pulak yang kondem dok kata make up sendiri lg cantik than the make up prof maybelline buat kan. huh mulut korang bukan aku tak tau…
so ai ment the big hot shot lady from Maybelline, yang beroren2 pagi ahad tu lah..she quickly gave a good spot, at the maybelline's corner, n dimintanya the make up artist yang stand by kat situ, do it for me.
good!
ai know they will treat me nicely. kalo depa x make up kan pun, aku sendiri akan berdiri kat situ, touch up muka aku balik. percayalah cakap saya yer. saya bisa buat begitu.
thank you thank thank you maybelline!
jengjengjeng….
sambil tunggu siap muka, the photographer buang masa amik gambo products of maybelline….
huh kalo lah kan setiap satu product Maybelline nih, aku dpt sebijik. yelah lipstick sebijik, mascara sebijik, eh mascara dah dpt. emm blusher sebijik, loose powder sebijik…ooo yer, they are sending a set for me. ai like! thanks maybelline ….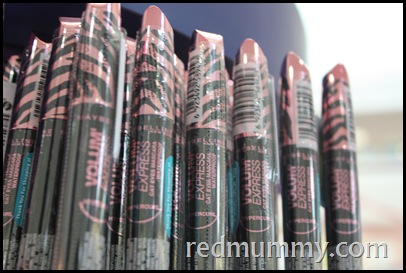 hah ni dah ado, kalo nak anto lagi sedozen ok gak
mau ini!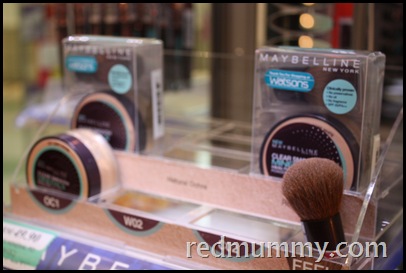 ai want ai want ai wanttt!
ai want all!
ni gak ni pun nakkk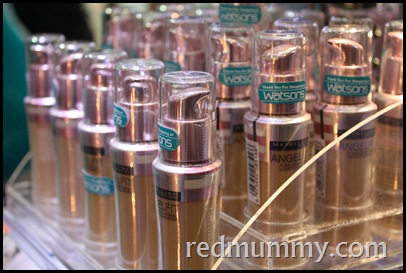 foundation pun nakkkkkkkkk!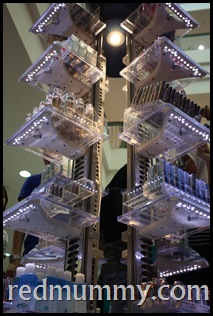 weih semuanya nak lah, kalah liyana jasmay ler pulakkan.
aik make up lagik, bilo le nak siapnya nih
for my make up process, ni antara product2 yang depa pakai kan…
aahah, udah siap!
close up one
close up two
apa bezanya for both eyes photos tuh, satu diambil gambarnya sejam selepas the make over, gambar bawah pulak, 4 jam selepas itu make over… korang suka yang mana? 🙂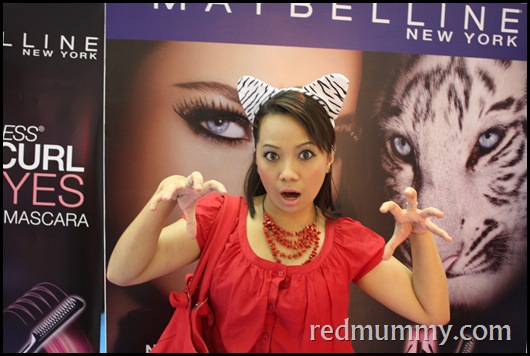 ngiauuuuuuuuuuu!
Behind the scene of maybelline's make over, do stay tune 🙂
Thank you Maybelline for inviting me from redmummy.com, the opportunity, the 2 free make overs, the product that ai m gonna get and everything 🙂
Satu lagi ilmu make up menarik sudah kujaja di sini ….
Now sapa lagik mau panggil gua for make over? jemput silakan, ai can use any make up, takdak conflict mar….
Comment:
20