Jun 12 2009 Friday, 3:30 pm
kita jumpa kat MV petang nih…we buy Lenovo
ha? tak penah dengo pun brand tuh
tu lah asik ngan brand lain, Lenovo tak nak amik tau
worth to buy?
yes, either lenovo or toshiba, then only kita amik HP
aku smpai pun sangat lambat, sirman dah buat tawaf kat most of the shop in MV nih, 2nd floor ye kowng kot hangpa nak carik sama gak. he dah buat study pasal the mini dell since korang bagi idea komen lam my mini lappy's entry arituh. thanks kat korang coz pasal korng sirman buat research gegila. nak suh aku buat research, haghammmmmmmmmm tak kuasa nak amik tau.
aku tak arif lah, lgpun ada laki yang datang from IT line, kenalah guna kuasa veto dia.
itam? merah mana?
merah takdak lah kak
iskk, bag dia merah ada tak?
pun tak de kak, the casing comes in pink and grey
pink pun pink lah…akan kutukar ganti casing tu lepas dah koyak rabak atau agak2 aku jemu nak pakai. abih satu floor tu satu2 kedai aku masuk carik casing merah, langsung tak dak! yg ado for 14″ nya size ajor. iskk, redha kan sajer.
part2 processor aku tak riuh, itu sirman punya hal. aku tu kibod ni sedap utk aku type. for 100wpm nya typing speed, kibod is so so important to me, aku tak bolehlah kalau dapat kibod yang macam mini dell dulu tuh. naik terlajak2 jari aku pi urup lain…
sambil sirman bincang wt Nick, aku jalan2 pusing dalam kedai, luor kedai pun aku jengah, tengok apo yang leh kugodam…itu external hard disc, dah lama nak amik, tp tak jugak amik2. kali nih sekali package sirman kaup sekali.
all these pun mini lappy gak, tp model lama…of cos sirman wants the new model. eh kalo model lam tuh dia jual 500hinggit, aku amikkk! tp harga beza ngan latest model hanya 100. we go for the best lah of cos.
wei Nick, ni ada merah!
itu model lama kak
ko nih, aku yang melayu pun pakai merah sana sini, kedai ko satu merah takdak, casing merah takdak, mouse merah tak dak
halohalooooo! makan ati ok tengok ini pc. bapak punya pc ni kau besor. idaman aku betullah nih. takpe kita target to buy that mbe di rumah CV pulak yer, and project2 akan datang. for the purpose of my blogging job, ini semua investments…
harganya jer RM4k. tak mahal kan tuh?
aku rasa lah tak mahal ngan capacity ke main bosar and macam-macam ado. nak buat tengk tv pun muleh sesajor.
letih tau kitorg masa nih…
udahlah kami nak cepat segera, baru dpt tu ada kematian…
gegas2 beli nih main tap tap tap campak, pilih..eh tu sirman yang bikin..
aku mengular sekitar tingkat 2 je.
the nice keyboard.
entry nih pun aku bikin dari mini Lenovo…
serious lah best than mini dell dulu…
mini dell tu agreement asal nak bg aku n the other bloggers, tp tak tau half way depa tarik balik. kalo bg percuma, aku amik je mini dell tuh, but udah katanya kena beli tp dpt discounted price kan, still aku enggak mau.
sirman ada buat upgrade on the RAM, asal was 1g, dia tambah jadi 2g. kasi kencang sket kan…standard lah kan apa barang pakai 1g kan…
segala mak nenek yang dibeli…
kat bawah kaki ko letak mini lenovo aku sirman wuiii…
panas hati je gue
balik umah dia buat le apa2 yang patut, kecik gilo kan, compared the laptop sblh tu…
tu ha kepala gegirl, dia sabar nunggu nak pakai harta mak nya. aku tak kuasalah nak belek lg, coz dia kena dload dulu apa2 yang patut wajib ada lam mini Lenovo tuh, kasik lagi kentang and kecang.
apa2 yang wajib kena ada tuh, harus didahulukan…
penting woo…
ni mini Lenovo, aku nya carik makan punya project mar…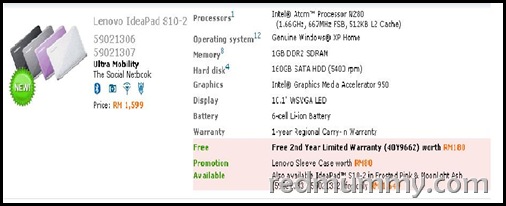 sampai ckp bulan nih, ada promotion utk Lenovo S10-2 nih yer…jemput2 pi kat link nih tengok apa ada…
link tu aku bukak pun masa nak buat entry ni ha
korang kalo nak beli apa2 pc ke laptop ke netbook, dapatkan pandangan dari yang mahir. aku kaco budak ICT aku 2 hari, mintak dia nya pendapat, n of cos lah sirman yang decide mana satu aku harus amik.
ikut aku asal merah jer tak kisah
ha kan
ai m so not interested to know lah
benak aku dah penuh ngan blogging project
the original price of the mini Lenovo is RM1599
termasuk casing, n mouse. warranty 2 years.
tp kami upgrdekan RAM for 2g dah RM120
pastu ada barang2 tambahan lagik
2 things yang ditambah, external hard disc nih size 320gb, dapat kurang jadik RM270 – good bargain kan?
pastuh wireless card for pc bilik abang yang rosak, is RM65
diskaun 4 hinggit. total jadiklah RM2050
aku rasa berbaloilah…lgpun mmg dah agak2 nak beli mende2 cenggitu sumer
so just nice…
the external hard disc is for my home pc, dell, gambar je dah beribu2, so kena ada back upppp!
next week aku ada chess tournament
jadik aku segera mahu Java didload, nak main yahoo chess kau. dah setaun aku tak ngadap chess nih. nak menang ke nak kalah..bolehlah main chess lelaju cipan dr bilik dr balkoni dr toilet wuii….
alhamdulillah, dari blogging dapat merasa beli nih lagik. dulu ingat cukup dengan pc dell tu jer, tp aku perlukan lagik the mini for my movement.
Alo alo MAS, ticket Paris and Bali ai mana? aku ada blogging event nak cover nih…
oh yek, aku bwk mini Lenovo, sumbat lam hbag jer…hiks. sonang baituh. the battery dia sume aku letak lam bag merah make up aku, so the kak merah.
Comment:
25