Jun 16 2009 Tuesday, 3:00 pm
Zoo Taiping! from hotel to zoo, lam sejam, tak sampai kot…tak berapa sesat hahahah tapi balik ada sesat sket! tettttttttttttt to sirman!
kami the girls memang sesopan, abang korang tak yah ckp lah, knowing him, dia excited over lebih sokmo the first jer nak redah explore tempat baru. sirman dah tentulah lelaju, dia x yah kepit anak, aku harus mengepit gegirl mar…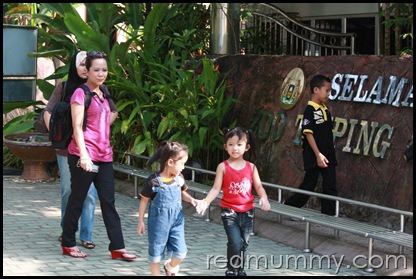 the entrance…
males tol aku nak menceceh lam entry nih weiii
lam entry ni gambo banyak weiii
tp kalo aku letak gambo binatang ternakan, lagilah panjangggggggggggggggggggggg!
nampak kan entrance fees? so jangan tanya banyak kali tau..purposely aku snap utk korang nih. agak2 gambo tak menarik tuh, dari camera canon ixus aku yer..yg cecantik dr canon godang sirman.
beaturlah kamu sbelum kamu diberaturkan 🙂
sini terus naik tram, takde nak berebut2 bagai. kalo tak silap aku, zoo negara pun wpun beratur tp tak sistematik, yang di sini siap dibagi kerusi and ada atap bumbung rumbia and kipas utk melindungi kamu dari panas hujan mentari
tak tunggu lama pun untuk dptkan the next tram…cukup untuk all  of us
me, SIL and dayana dok setempat di depan, kenit  2 orang ngan bapaknya dok belakang…sirman suka nau amik gambo binatang ternakan…
orang suh pandang camera, dia sibuk galid ngan benda lain eiiii
abih pusing naik tram, kita menapak lagi pulak jalan kaki, lagik puas katanya…
aku adalah maleh ahhahahahah tp sbb anak2 harus gak jalan. udahlah aku tak bwk selipar, pakai wedges merah wpun tak tinggi, kes lupa, coz kasut tu gak nak pakai for wedding…lam bonet sume kasut tetinggi woiiii
ha ngendap apa korang nihhhh
ni kompem aku yang ngamikkan gambo nih….
jalan2 petang jemaat, waktu ni lam kol 5 lebih, or 6 tp memang mencanak lg mentari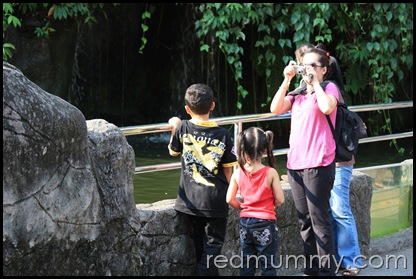 sirman bagi camera kocik tuh suh aku snap gak gambo…huiih, agak2 alang jer aku amik…malas tol!
kowang kalo nak tengok gambo binatang ternakan sila ke blog sirman, aku tak rajin yer nak menempek gambo2 tuh kat sini, or mbe lain minggu lain bulan if takdak modal aku letak jugak
half way…
berry aku nya battery dah kaput
ni koranglah budak2 GBM dok flooding email aku!
so aku terpaksa pinjam battery from sirman's berry, tp still dia pun x charge gakk grrrrrrrrrr!
the 3 yang kulu kilir sesama, ke mana abang pergi, ke situ lah the girls mengekor…
hahaha aku suka gambar nih, gegirl and dayana lari mencicit2 nak dptkan kami si tua bangka coz depan tuh ada beruk berkibaran sana sini….hikss, tengoklah dayana lari, pucat lesi korang kan…
ha tau lari mencicit2…
lain kali menonong lg ke depan tak nak tunggu orang tua…padan muka. sib baik beruk tak kejor
itu lah satu2nya gambar aku ngah tekejut beruk takut nak mampus! nak tau pasal apa…
aku memang bawak kacang rebus, dr RnR..so sambil jalan aku makan…but kulit aku simpan lam plastik ye, saya tidak buang merata2 kay…
pastu beruk, tau je lah kan kalo dah tau ko bwk makanan, udahlah aku pegang kat tangan, so aku ngah hegeh2 nak sorokkan lam bag, bila tetiba wana my SIL cakap
Acik, kat atas pala acik ada beruk mengendap, tu kat celah2 dahan pokok tuh
aaaa, sirmannnnnnn
acik kat kiri kanan acik pun ada beruk
huwaaaa
aku dah ready nak campak je kacang rebus tu tp sirman datang bila tengok bini dia dah kemaruk pucat ya rabbi. ye lah kau buatnya depa reramai kerumun aku eiiii
takuttttttttttttttttttttt!
adik nak main camera pls
ok adik tekan sini yer
mummy, smilee…..
aaa smile dah nihhhh
iyo ni gambo yang gegirl snapkan….
degil kan…dah nak kena serkup ngan beruk, masih lg kendong kacang rebus 🙂
budak nih dok leka amik gambo sana sini, so dia ketinggalan jauh dari makcik, dayana and abangnya….half way dia jalan situ dia benti, pasal dia tetiba teringat buatnya ada beruk pulak kan
so jadi dia lepaklah jap till makpak nya jalan datang samaa….oo penakut gak ko ek
do you know that ai was FF's contestant too?
ini makcik pakcik yang print kan gambo ko amik ngan ular, sekeping 10 inggit, anak pegang ular, bapaknya snapkan gambo, maknya printkan gambo. orang penang.
abang nak sangat amik gambo ngan snake, gegirl pucat2 giler..dia pegang sket jer….dayana leh berdiri sket jer, takut tol dia nak pegang.
aku, malehhhhhhhhhhhh! bukanlah takut, dulu kat bali pun ada gak aku amik gambo pegang ular gini lilit sorang2 lg, but maleh aaa, muka aku dah berminyak, so aku jadik photographer for them je lah
sikit tu jer lah dia pegang ular tuh…tu pun tang ekor
n  takutnya bila sirman pi unjuk plak kepalanya close to her…wuiii sirmannn!
abang pulak leh gatal tangan nak jugak usik kepala ular. was was je muka gegirlll!
ha udahlah ckp, ni gambo aku tak geti nak adjust, sbb sirman pakai lens yang zoom jauh tuh…ke main jauh aku kena pergi, kalo dak kang nampak muka jer….
abih round the zoo, kami melepek kat playground…aku mmg dah kemalasan tollah, ngan badan melekit…ngan kasut tak sesuai lagik….
bukan angkara manusia, tp angkara beruk2 jugak yer…semua tong sampah diselongkar dek mereka mencari sesuap nasi……
diorg enjoy main
tp aku, wana and dayana blah callo awal. pi masuk lam keter….amik ekonnnnnnnn!
sambil melepak lam keter…aku pi bagi kacang rebus to beruk. kat parking tuh memang byk beruk bersepah2 woiii! sekali wana yang lepak kat luor ngan anaknya jerit…
acikkkkkk, beruk keliling keter!
aaaaa….!! btul ko, aku intai dari tingkap, memang bersepah2 puluh beruk nunggu aku bagi kacang lagik 🙂
n wana pun joined kelab ekon aku, plus takut ngan beruk 🙂
abang adalah steady sungguh dia tak takut langsung, lagi dia baling2 kacang rebus bagi beruk makan
muka dak kecik yang terpinga takut tengok beruk kejar dia…
sudahnya penghabisan, aiskrim tu separuh je diorg makan, lagi separuh sedekah kat beruk2 yang kelaparan…
sian depa, plastik pun depa kunyah2 gak coz tak dak makanan nak dihadam…
atas keter pun ko bley landing….kalo boleh pecah tingkap tu, carik food, depa buat gak tuh oiii
kasihnya ibu…
kami adalah kesesatan waktu pulang…so pakcik yang naik motor tuh guided us to the main road, dari taiping, back to ipoh. terus amik dinner and balik hotel……..!
pengsan tidurrrr!
penutup gambo….
big black bear dok buat apa tuh? 🙂
Comment:
15