Jun 30 2009 Tuesday, 3:00 pm
3 kilog 10hinggit
rambutan dari Muor….
nengok ujung gambo tuh..ha 3 orng tuh ngah sedap makan doyan..
no no, 2 orang jer..sirman and gegirl. abang tak suka doyan.
gegirl adalah mengidam doyan sejak kat JJ, kan ada orang jual doyan. tp yang tu packaging, 3 pack RM45. rasa tak tau camner….
pulang petang ahad tuh…ado doyan jual kat tepi jalan, tepi masjid, depan2 ngan umah VA aku, terus singgah…
pencinta doyan adalah sirman and gegirl..
aku leh makan, tp gitu2 jer..
abang tu jangan haghap…
tapi abang adalah menyibuk jugak nak sibuk bukak the kulit doyan….
u can bungkus bawak balik
tp makan kat situ petang2 lagi sedap..ada meja kosi air basuh tangan pakcik tu sediakan
kami makan sebijik jer, RM12. pun doyan dari muor gak nih. pastu pakcik tuh bagi baby doyan, kecik tp isi dia perkhhhhhhhhhh lembut lembik sodappppppppp!!!
ari kamis ada pasar malam kat btr, tepi cimb mesti ada org jual doyan, usually sirman akan beli yg 3 packets 10 hinggit, by gegirl's request lah. tp tak selalu….
tp best tol kalo makan gini tepi2 jalan
kalo ada dusun, aku rasa leh berpinau perut dok makan santak doyan nih
kekecik dulu aku makan yang luarnya jer, yang dalam2 dah lekat ngan kulit aku pass kat pak aji..
this one pun sama, aku makan leluar and dalam pass kat sirman
abang plak leka makan rambutan
nak bukak rambutan pun kena bukak kelas kat abang
3 kali aku demo, 3 kali dia buat, baru geti
bekal makan sekolah for monday, aku bagi bekalan biasa tp top up ngan rambutan 4 bijik. sbb dia dah pandai bukak rambutan tuh…
wuiiii sodapnyaaa
sirman n gegirl jer yang beria makan nih…
aku mulalah rasa kebas je bila makan lebih 2,3 ulas. pastu mulut huiii berbauuu hebatttt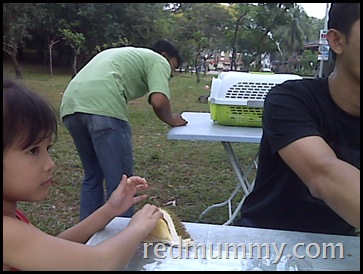 oh we also brought reddy….
hajat nak lepaskan dia bebas
tp ada pulak kucing subsidi warna itam jantan kemain garang dok usha jer Reddy, so we dont wantlah put her life a risk. ado pulak dia mencicit masuk ke hutan tasik permaisuri…
abang2 yang jual doyan rambutan nih sangat mesra….
kucing itam yang dok situ depa buat bela, asal datang niaga jer depa siap2 dah bwk makanan nasi putih n ikan kembung …..heheheheh
n depa sangat leka dengan Reddy yang kecik cinonit itu…
oh Reddy sudah naik 100grams, now her weight is already 500 grams 🙂
her 2nd visit to the vet, nanti kugosip yer..
Comment:
13