Jul 8 2009 Wednesday, 1:00 pm
gila kan, takdak flash cam gini gayanya matakuuu
tengok apa jadik ngan flash….dari atas nya zoomm
n amik depan2 with flash sket..ke sisir gitu hahahahhaha…
semua pakai Pigments PAC
eyeshadow and mascara je from Shu
ai went to Shu, to collect something from my belian yang kopak last week…sambil nunggu Didie layan customer, aku godam lagik make2 up dari Shu tuh….
aku adalah pengguna tetap Clinique and Shu, so basically kalo nak tadah muka, aku pi menadah jer kat Shu and Clinique, jangan pi masa sale lah, susah depa nak melayan…
n best part lagik aku suh dia do something with my eyebrows, calit2 ngan kaler pensel Shu tu lah…
seiii tebal weii bulu kening aku ko godam weiiiii
lipstick from PAC, tp aku tambah gak ngan gloss Shu…. 🙂
tangan aku kan gatal, datang2 pi usik eyeshadow merah dia, yang tak berapa best, pastu dah gelabah bila asalnya was purple colour ha camne ni pi gatai kan sangat nak letak merah..
so he rescued me, actually bley jer buat sendiri, ater dah jadi customer diaorg, wpun aku beli utk 2 orang kawan aku, RM1010 tuh…automatic bila ada masalah make up pi jer kat turun bawah.
tak yah nak pi jejauh to RedGlow 🙂
setelah ditouch up…
patut amik gambo masa aku kaler kan yang merah dia…merah dia tak best aaa, best lg merah PAC and merah Make Up Forever Professional…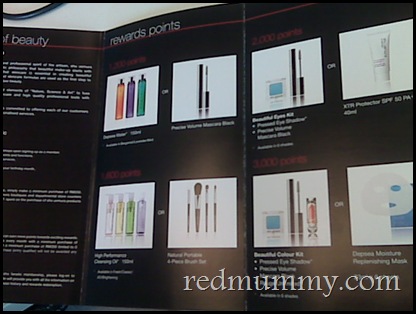 ai m also a member of Shu too
ada lagi satu card yang aku ngah tunggu, jinggut tol bila lah nak dptnya…
sapa mau menumpang kasih sayang di Shu, lai lorrrrrrrrrrr
calling calling lah ai 🙂
Comment:
7