Jul 13 2009 Monday, 10:30 pm
this was Friday nite, 10th July
dinner kat Bora Ombak…
there were 2 reasons aku kena dinner kat sini
1. ai need to cover one event
2. sirman dok insists suh dinner kat sini…eh, tanya aku nak dinner mana tp dia dok gigih suh makan kat sini semedanggggg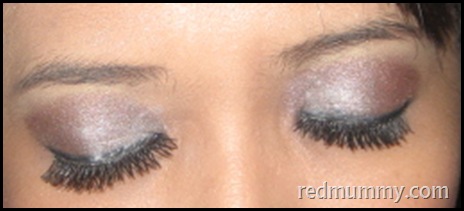 my make up tak pakai nice camera
capuk pulok…
aku pakai eyelashes,, tp sbb eyelashes tu melampo2 heavy, dah pakai kat mata nih aku pi gunting eyelashes tuh…sib baik tak tergunting bulu mata asal yang kontot nun….
so ai told the lady yang invited me for the event, aku akan celah2 pi tengok lah depa nya acara, coz aku makan kat dalam jer, event majlis esen tu kat luor. ai have actually declined the invite for esen tp since my dinner pun kat bora, bolehlah kot aku jengah2….
ai was forced by sirman to dok kat tpt aku dendiam
dia tak bagi gerak ke mana wpun aku dok nak kuor pi jumpa redglow, ina n najwa
katanya dia nak amik gambar aku sepanjang malam tuh
iskkk
suddenly ai heard something from the back..
aku dengar ada group nearer to me dok nyanyi Happy Birthday To youuuuuu
gilo hapo nyanyi ke main kuat
tapi  kemudian apabila yang kudengar ialah…
Happy Birthday to Kak Redddddddd!
brengset luuu!
no wonder ler kepala chief korang si sirman ke main sakan suh aku makan kat bora nih…
sirman sirman…
pandai mengencing aku rupanya
wpun aku dah smell something fishyyyy closer to the date
ai have warned everyone, PARM and GBM that aku tak nak ada special entries, tak nak ada dedication lam blog memasing. aku nak being alone jer gitu….
but bebudak gbm ni degil!!!
they have planned this surprise birthday dinner with sirman since a month ago! a month ok!!
frankly speaking, saya adalah sangat merajuk wt the girls nearer to the date. bih kurang 2 wks before aku dah menyentap2 jer ngan adik2 aka anak2 hangkat aku nih. they have teased my temper, they have kecikk2kan hati aku yang sememangnya cinonit ni ha, depa dok sakat2 aku, wuiii
real menangis punya yer….
n depa adalah buat tak tau jer
lg depa nak sentap2kan….
but kenapa aku rasa ada something fishy coz ai have sirman. sirman wont do organize things. he wont ask me any dinner kat mana aku nak bagai for bday ke mom's day ke…mom's day aritu pun, aritu nak makan, jam tu nak kuor baru jam tu dia google pi book tempat..
but for this, a week or 2 before sirman dok sibuk2 suh aku pilih nak makan kat mana…
oooo rupanya ini lah plannya.
but as ai said, aku kenal laki aku tuh…
tak penah dibuat heh dia tanya2 gitu, so ai tried to catch them few days before the 11th…
aku cakap kat gbm 'sirman dah pecah lobang'
yet belakang aku cakap kat sirman 'gbm dah pecah lobang'
masalahnya depa dah berkomplot, to check with each other if aku ada bau2 ngan project depa…
hangsui toll!! very cleaver lah pulok….
ayo pompuan ni tak abih2 lagi melalak ker…
napa saya menangis coz selama 2 minggu hatiku dicalar2, disagat2 dek the girls, they purposely bikin aku gundah gulana…sajer jer tauuu
but of course lah cite lam dalam umah, dalam jemaah email RM and GBM tu takdak aku jaja di sini…just that mmg saya sangat berkecil hati
ai like the cake so much
tp gilalah kalau aku nak calit 34 paku kat budak2 tu kan..sayang woooiiii! the gambar lam kek tuh was designed by Bojeng, bf Yan. n the photos were taken when we did our Potluck RM end of last year…
how sweet….
so ada satu part tuh takdak gambar, aku bg dep sumer merasa the cake…mestilah kan takkan kemut nak bwk balik sorang2…
mulut lelima dah menunggu nak merasa kek gakk hahahahhahaha
The Redglow team, ina n najwa pun join sekaki…
told ya depa pun ada sama coz involved with the event yang berlangsung di bora ombak gak, just next door jer…kami dalam covered area while them kat luor. so of cos for surelah depa sakan
ni korang nya birthday surprise nya pasal..
abih make up aku comot
abih aku nya eyelashes tercabut2 tau…
dpt lak semeja ngan redglow, geram je najwa ngan mata aku, abih dia lekat semula my eyelashes…
tp nak2 abih majlis makan nih, aku bukak jer terus eyelashes tu lgpun make up mata aku dah luluh dek air mata berjurai2
napa pulak aku menangis?
iskk….
cer korang disurprisekan macam nih
lainlah tetiap taun korang dpt surprise, aku ni lah kot first time, eh 2nd time ker  gitu…so sangatlah tak suka, sib baik lah pakai lelawa
kalo aku nya mood nak dinner atas katil park royal tu jer apa ko nak buat? ha kompem depa datang duyun2 to my hotel room jugak.
after redglow left the place, depa pun dah capek kedaung…
kami makan
borak
bukak rahsia
nak je aku cubit2 laki aku sendiri, grrrrr! amboi berpakat ngan gbm and bojeng nampak…bukan main lagi yek. so next year onwards dah takleh pakai dah idea nih, tak yah lagi lah buat surprise2 weiii
saya dah tua marrr
malu tauuu ai!
RM and GBM
ai hope this is not our last 6 meeting, biar pun yan dok kat johor, harap2 bila yan turun kl, adalah peluang kami ber'enam' cemolot dan cepipi….
paling sedih hiba dan pilu
bila yan had to leave us
she s gone a bit far….skang bermastautin di Johor, kalau ada yang di Kulai bolehlah tlg jenguk2 Yan…anak dara sorang ni gigih nak carik keje di sana yang sesuai dengan bidang kerjayanya…so ke Johor lah yer.
our jemaah email is like so empty, wpun ada kami semua tp yan adalah sunyi sepi, bila dah malambaru lah dia boleh layan jemaah2 email kami nih….
sedih jugak…mestilah sedih
tp yang bestnya leh kutuk yan kaw kaw di siang hari hehehehehe coz malam baru yan hegeh2 nak kejar speed trap 🙂
cop iklan inilah event esen. a magazine online yang aku patut hadhir tp aku decline awal2 coz clash with my dinner with sirman. dia tak bagi aku attend nih coz he had earlier booked me, tp sbb dia pun nak makan kat bora, after the dinner aku singgah jugak lah tengok light2…..
kalau aku datang all out aku tulih review pasal esen ni yer but since aku pun dok sibuk disurprisekan dek budak2 bertuah tu (yes dont keep your smiling girls, orang kata ubi kena berbatas) so aku mai jugak menghormati tuan rumah yang menjemput saya…
Huda dari esen.com.my, insyallah akak boleh attend for the October's launching
tp bagi notice kat akak merah awal2 sket yer dik… 🙂
to my husband aka sirman aka photographer, aka daddy to the kids, aka the kepala and chief to the surprise birthday dinner…emm jaga luh!
was told the dinner was 200% sponsored by yan and 100% lagik sponsored by sirman, coz lam kuota dinner gbm n rm kami, setiap bulan nya makan, semua kena take turn membayooo….
thanks girls, donno how to thank all of you
but rasanya cam nak membalas je skang nih…
to my loyal readers, my frens, my team..thanks for the well wishes. nak tengok adiah2 kan? ha itu aku mmg dah satukan lam one entry, takleh post skang kang benak aku nak catch up…u need to wait mar..
aku ada berdondon lg entries nak tempek nih…
happy birthday again to Cancerian 🙂
udah2lah wish bday kat aku wuiii
bukannya makin muda pun….doakan aku sihat sejahtera, rajin blogging pun dah cukup. ada family yang sihat bahagia sudah satu complete life utk saya.
Comment:
35