Jul 14 2009 Tuesday, 10:00 am
dulu pakai camera kecik
ada gak nak amik gambo lam bilik hotel
pakai timer set lah kan
tp la nih
ada camera
macam2 jenis plak tuh
tapi terpaksa gak amik gambo sendiri
iskkk
4 of us, untuk checked out. oh bedak aku bercapuk2….ni namanya 'biar buruk…'
he complaint bout the big luggage yang aku pakai utk bersakan dok lam Park Royal
sudahnya bag tu gak yang banyak jasa
sbb semua dpt disumbat….
itupun ada barang2 yang dah dianto balik dulu, coz they went back home on Saturday….
dalam tu lah 2 kain baju kotor
dalam tu lah mini lenovo
lam tu gak dell si batu bata yang berat
dalam tu gak segala mak nek barang sampai tak muat!
santak sangat kannnn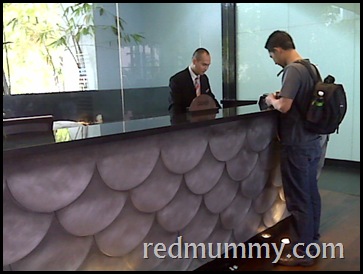 the only thing that he has to pay adalah bfast yang aku belasah di pagi sabtu…
yang lain sumer free
internet access lam package nih pun free, kalo dak kena bayau RM20 per hour. huiii mahalnya…..apa dah internet pun nak ketuk memahal…internet tu adalah asas utama di zaman skang. ko ketuk orang lari pi Sbucks jer….
check out pun leh extend to 3pm, tp kami balik awal sket lah coz nak jalan2, so campak luggage lu…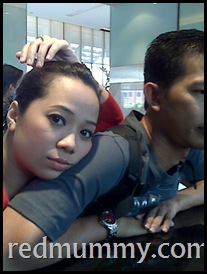 me has no make up
oh btw, pagi tu aku bangun awal
dahlah tidur lambat
bangun nya awal
kalo kat umah sure lena selenanya, so camne le eden tak ke main capek
tak cukup rehat giler
n yes morning tu kami berempat turun bfast, aku selamba jer turun ngan tak mandi. aspa kenal aku tau lah nak tengok aku tak mandi kuor umah, memmg agak sukarlah tp ni sbb katanya pun kat hotel…so bantaiiiiiiiiiiiiiii! eh sirmanpun heheheheh..dedua turun bfast tak mandi ahakssss
anak2 jer ke main wangi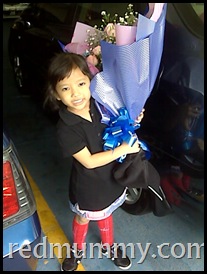 bunga tu mak rasa
lg berat besau bunga
dr ko gegirl….
eh ai tak dpt pun bouquet dr laki ai taun ni tau….. 🙂
sib baik yoyooh ada hati nak bagi gak….
nak pi pavillion pas check out adalah pemalas
nak pi jalan luor BB pun pemalas
so pi Lot 10 je lah yang sekangkang je ngan Park Royal…
pasnih aku nak dok kat MValley plak aa
tp dulu aku dah dok Cititel tuh…
so ke mana pasnih ek….
saya bertopi bagai ehhehe
ni anak2 aku lah
sibuk nak bwk topi yang dpt dari yoyooh's award ceremony tuh
pastuh bila tak nak pakai
campak kat makkkkkk
sume campakkkkkkkkk kat mak
tak nak makan campak kat mak, nak buang sampah pun campak kat mak, gatal bwk topi, tp tak nak pakai, mak gak jadik tukang pegang!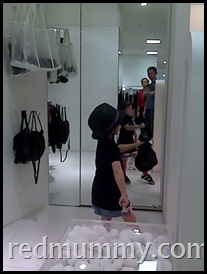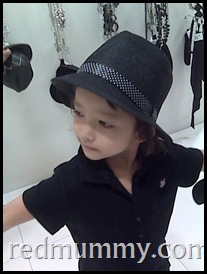 bawak anak2 aku pi soping mall
kalo semata2 nak carik barang aku kan
memang agak siksa lah
diorg buat kedai lam isetan tuh
macam kedai2 depa sendiri, amik barang letak amik letak amik letakkkkkk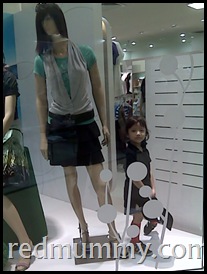 daddy, nak amik gambo ngan patung nih
oi keluarrrrrrrrrr
ko pi masuk celah patung tu napa, sempit lah
abang pun nak masuk jugokkkk
hamik!!!!!!!!!!!!!!
kan dah kena marah ngan SA tuh
degil kan dedua orang kata jangan masuk tepi celah bedah tuh
wuiii
anak2 sapa lah nihhh
hyperactive tak hengat
lgpun anak2 aku dok ligat sana sini
tu korang tak tengok lagi gambo aku berjegil2 mata masa atas stage Yoyooh.com, abang boleh buat aksi alam fauna depan mata aku, geramm je aku tgk.
nothing muchlah kat lot 10 nih
wpun 20 taun dulu inilah tempat aku rumbu ramba
the best pun layan isetan
tp isetan klcc pun sama gempak gak
but still…aku rendek gak lah dok beli 2,3 lai baju
katanya ada voucher isetan kan…tambah sikit jer lah
anw aku post ni dulu lah yer, coz ada 2 main events in between tp yoyooh.com aku dah posted so tunggu for the Nona Bodyshop pulak, itu event di petang Sabtu gak tuh…
aaaa
sorry yerr, entry macam makin kurang…tp entry aku panjang2 la nih, tu pasal saje aku kurangkan.
Comment:
5