Jul 14 2009 Tuesday, 2:00 pm
thari matari memacak wooiiii
tol2 atas pala haa
kena catwalk from Park Royal to Pavillion
sib baik lah kat pavi, kalo kat klcc, kena harung jem hangat plak ke sana
jauh tol aku tinggalkan sirman
bukan aku yang cepat
tp dia yang lambat jalan
camne gambo tak beribu2
abih segala jenis spesis dia amik gambo…..
pastu bini kena ngorat jalan sorang2, jeling2 plak
ops tetiba dah sampai ke puncak 🙂
banyak nau gambar ler, aku kena pilih2 jer, lain tuh dah derma2 kat anak2 hangkat
saya adalah mendapat jemputan dari Editor Nona, bukan nona tv, ni Nona, majalah besau Nona tu ha, skang dah medium size…ha gitu.
tapi being RM, always remember the frens…jemputan pulak boleh bawak anak2 hangkat, for sure.
so usai the surprise bday dinner malam tuh
thari jumpa lagi berkonsepkan merah jugak….
actually kalo invite tak extend to gbm pun takperr, kalo korang tak nak invite depa lah, nak invite RM jer. but kalo ada seat lelebih tuh, saya mesti extend to them or to my other loyal readers…
kasut2 kami…
lama gak tak kuor gambo kasut kan
kasut brown wedges saya tu dari Charles & Keith, nantilah aku close up yer coz ada 2,3 orang tanya mana aku beli kasut tuh….so now u know oredi….
taraaaaaaaaaaaaaaa
ada lam bape puluh orang yee lam bengkel kecantikan nih….
ramai gak lah
sonokkkkkkkkkkkkkk sangat!
me, Sid and Dila dok setempat….semeja
Ayu and Rose dok meja belakang
haruslah kita pisah2 kang semeja je kang, wuiii tak bercampur ngan orang pulakkan kan kan…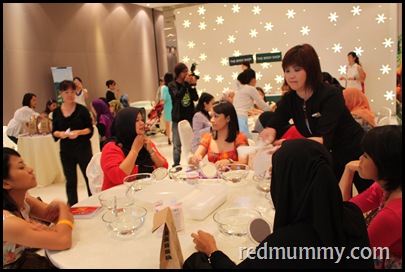 gebang sana gebang sini
the introduction was in charged by Kak Ida, Editor Nona, kemudian Cindy from Bodyshop took over….
Kak Ida cakap, datanglah pakai muka make up memolek…
iskk
aku tau muka kena basah2 cuci, tak yah aku taruk makee up huwaaaaaaaaaa
saya adalah macam emm
tak nak  lah pakai menda2 Bodyshop nih
coz mls nak padam make up mar…
gila ko aku pakai 5 pigments tuh
takdak eyeshadow kaler lain, sume 5 pigments aku taram
so macam bila kena basuh bagai, iskkk….
tapi akhirnya aku mengalahhhhhhhhhhhhh! ahhahaha
jeles sei tengok member2 satu meja dok naram muka
sume pun bermake up tebal kay
dan dan aku tak buat hapa2 haruslah nak join sekaki…
ai will not reveal lah apa yang dalam bengkel kecantikan ni ajar
apa yang depa buat kat kami ni kenalah aku reserve sket
so korang kalo nak haaaa kenalah attend the bengkel, ai think after raya
keep on reading Majalah Nona and carik info kat Bodyshop
percuma ma…tak yah bayau
jadik member Facebook Nona / Bodyshop pun afdal
ahah
syoknya bila Cindy berkata…
ooo you punya kulit firm lagi
you punya kulit takdak masalah
you punya kulit ni bukan merah2 apa ni is blusher
huhuuuuuuuu!
cindy…tqtqtqqq
so meh taram muka ngan make up lagik mehhh 🙂
ok ni mask muka bodyshop
ini aku kasi ajar sket lah yer
mask ni besttttttttttttt! sejuk cooling giler….
harganya lam RM75 kot, dok ingat heh…
so ini mask kan, calit2 sapu kat muka
biar kan 10 min
pastu leh lah wash up
tp bestnya kalo ko rasa nak stay overnite ngan mask tu pun boleh tauuuuuuuu
amik tisu
tampal kat muka
tak yah sapu, tekap2 kan sikit jer cam aku buat tuh (jangan ko buat tisu gitu kat muka anak dara ko cam gegirl tu ha, kang melompat dia mengigau pulak)
pastu biarkan
tidurlah semalaman
tak kisah pun
sedapppppppppppppp
aku recommend korang beli nih
coz aku beliiiiiiiiiiiiiiiiiiiiiiiiiiiiiiiiiiii mask nih hehehehhee
ini lak teman2 dari meja lain
gumbira yerr sumer
yang bertudung pun boleh lah attend, tak yah bukak tudung pun takper, lipat tudung depan tu kebelakang…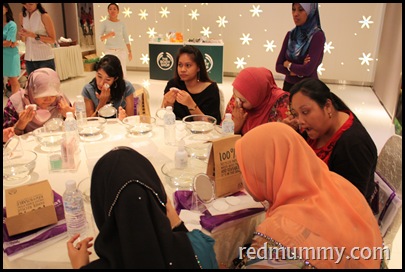 amboi ayu n rose
ke main sakan menadah mukaaaaaaaaaaaaaa
kita pi ni berlima except yan yang bertolak ke Johor pada waktu yang sama…
tp kita ada Sirman
kelas make up sirman
kelas bengkel skin care pun sirman
huiii
cer korang tanya camne nak lipat tisu tu
kompemmmmmmmmmmmmm sirman leh ajar…
yo kau
cara lipat tisu
ada style nya yer
while me and sid hegeh2 nak melipat tisu
sirman dari depan dok 'salah lah, lipat camni haa'
iskk wahhhhhhhhhhhhhh! tak sia2 ikut bini pi event 🙂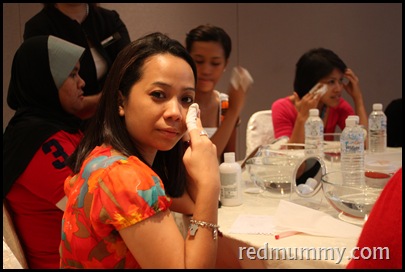 banyak tak magik muka aku letak
orang dah cakap tak leh lah nak reveal apa2 pun sangat
korang kena attend lah kalau berminat
n barang bodyshop punya skincare ni kan, ni lah pestime aku nerai….aku biasa ngan bshop nih suka dia nyer mandian jer….
tp dapat terai mmg syokkkkkkkkkkkk, ada gak free gift kami dpt.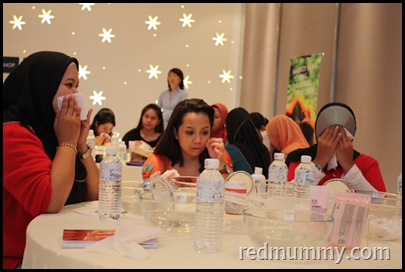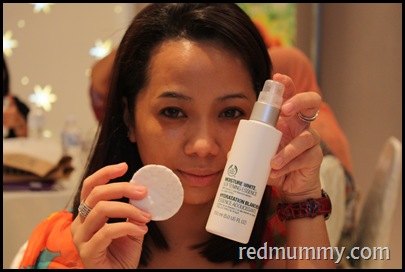 Platinum Room….cantikkan
sonok woiiiiiiiiiiiiii make up session nih. eh bukan lah sangat make up, it s more on the skincare application. cara pakai tisu lah, sapu mata sapu muka
sapu lotion
sapu toner
ha semua kita belajar lah
macamlah aku tak penah belajar kat tpt lain kan
ehh…cam aku cakap dulu, ko pi 10 beauty consultants, 11 orang akan ajar ilmu yang berlawanan dan berlainan
so kita korek je lah ilmu mana yang ado ni ha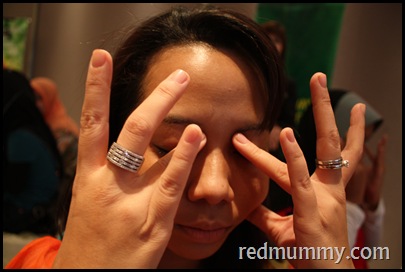 tau camne nak gosok tang mata
bukan main tonyoh jer yerrrrrr
ko tanya sirman, sirman pun pandai buat dah!
hi RM's readers 🙂
saya sudah tidak ada make uppppp ….
muka sudah kering kotak kuor segala susuk Yanok!
hiksss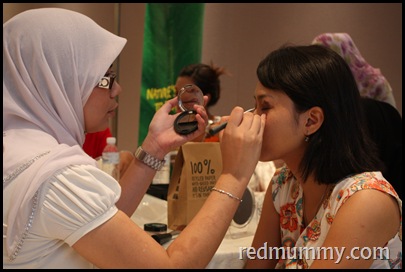 adik 2 orang ni lawak lah…
diorg dok kat meja ai
si baju putih ni dari Nona, dia pi kaler nya mata kawan dia tuh ngan eyebrows nya kaler hehehehhe
kemain Cindy tekejut tengok
hahahahaha marah je kawan dia tuh ngan si baju putih tu
gini dik
menatang eyebrows tu pakai di kening bukan di eyeshadow….
hikss
ko pi pakai depan depa, mau tak gelak aku dibuatnya
then kita ada buat kelas make up gak
tp very light one lah
takde le make up beria
pakai sket2 je barang bodyshop
lgpun we can do our own make up kat Bodyshop nya counter kat bawah lam Pavillion tuh
but aku idak le kuasa pun nak make up sangat pun
coz nak balik mandiiiiiiiiiiiiiiiiiiiii for another event gak
so kami suka betulllllllllllllllll lah attend this
aku kalau  pasal2 make up ni, meloncat je ke depan!
ini group untuk table ayu the sun and rose…
ingat tau..nanti muka2 ni sume kuor majalah Nona wuiiii!
ini plak group table yath, my fren…
yath – bila ek cite ni kuor majalah Nona?
yang tinggi kena depan yer
yang kecik2 tu sila tepi2 sket…
my group pulak…yang kami very the kecohness
the happy red gbm….
ayu the sun – terbongkok2 dari kiri (wuii minggu ni aku merasa makan free lagiiiiiiiiiiii) ayu akak nak nasi minyak kayyy..
dila – sentiasa rugged, eh dila sudah ada MINI LENOVO!!!
sid – ko napa sid post macam ala2 ganas je tauuuuuuuuuuuuuu….sapo nak amik Sid buat cewek? meh meh…pandai masak tauuu, dia nya masak nasi goreng perkhhh,sid nak ns goreng yang sedap tu nanti bley?
Rose – tahukah anda, di malam Yoyooh rose adalah berbaju baru, clutch baru…lepas je abih event Nona/Bodyshop nih, depa lari mencicit pi JJ kay….soping sakannnnnnn korang
wahahah dah abihhhhhhhhhhhhh
masa untuk pulangggggggg!
notice gbm tak cukup? kan dah bilang yan dah pindah johor, meh kita tengok bapa lama dia nak dok sana sorang ehehhehe
kak Ida, Editor majalah Nona yang bertanggungjawab menganalisa dan memeterikan kami pembaca majalah Nona untuk Bengkel kecantikan istimewa with Nona and The Body Shop…
Kak Ida, thanks a lot….
so  now kak ida dah tau mana nak carik saya kan
apa2 pasni, sila calling2 ye Kak Ida…aku akan sentiasa bersama muuuuuuuu
Yath my fren, my reader, my good golek2 nice lady…cantik hbag ko Yath!
ha pasan tak dedua muka bih kurang sama….of cos le, sorang kakak sorang adik………
Yath – sorry le aku dah pasak2 muka ko lam blog, cant help it lah girl
N to all of you marilah kita berlanggan Nona, beli jugak The Body Shop…oh aku adalah member B/Shop gak pung.. hiksss
ha sapa lagi pasni nak panggil aku tadah muka?
lai larrrrrrrrrrrrrrrrrrrrrrrrr….. kerna aku juga Nona Merah 🙂
carik saya di Contact Red pls… 🙂
iklan, suka ngan dress saya, itu dari Teluk Kemang Jakarta mar…..
Comment:
24