Aug 6 2009 Thursday, 8:00 pm
Our Challenging Spirit Honda is a sticky mode entry, bebawak lah racing ke bawah utk tengok new car hijack yeah 🙂
Its all started with the dream. Memang betul, semuanya bermula dari impian. Tapi untuk mencapai impian, cabaran mestilah diharungi, halangan mestilah dijangkaui, berani melangkah mengatasi onak duri, barulah impian dapat digenggami. Barulah dikatakan ada semangat melawan & tidak putus asa! Tetapi kadang kala cabaran dan halangan itu datang bukan sahaja dalam mengapai impian, tetapi sebagai salah satu liku-liku dalam kehidupan kita.
Cabaran paling besar dalam hidup kami adalah sewaktu awal-awal perkahwinan kami. Di mana kami merupakan suami isteri jarak jauh. Bertemu & bermadu kasih hanya di hujung minggu ;). Bayangkan dari hari pertama perkahwinan kami sudah berjauhan. Kebetulan pula aku bunting pelamin sehinggalah anak sulong kami, Abang berumur 6 bulan, barulah kami dapat tinggal bersama-sama satu keluarga. Bahagianya rasanya. Tapi selama 15 bulan beliau hidup seorang diri, mengandungkan Abang & menjaga Abang tanpa bantuan Sirman ya waduhh! Sabar dan komitmen tinggi di antara kami & kesefahaman adalah tunjang utama demi kesejahteraan rumahtangga. Nasib baik aku tak meroyan 😉
That s a little bit bout my first stage of marriage… move on, talking back bout my blog, this RM was nothing before… zero! kemudiannya slowly ai found out and realized, RM adalah satu platform for RM to be someone, somebody in the blogging line.
Yes RM is called as celebrity blogger, a top hit female blogger.. whatever name u wanna name it. Semua package ado… but in that package ada challenge yang payah dan beronar jugak lah nak naik. One of the challenge dulu was to get a full support from a husband.
Well betul, memula dulu Sirman adalah tidak berapa menyokong sangat…. tapi tepis nya tepis, bila dia tengok aku buat keje blogging bersungguh2, he was then be my good supporter. He is my challenging spirit!
N kerna itu, Sirman layan utk dinobatkan dan dicalonkan for the contest 'Honda Our Challenging Spirit'
From using a cheap camera phone, upgrade to small mini camera, n now he is carrying big bang camera for the sake of my blog. He has the refinement!
I m sure korang menyokong saya untuk nominate Sirman, kerna jatuh bangun saya di RM, adalah kerna berkat restu and sokongan padunya pada saya… pada blog merah ini jugak. Awalnya yang tidak berapa setuju tapi kemudian dia lah jugak yang terpaksa menapis kerja2 blog job yang saya harus jalankan…
You have been my 2million readers, the blog has been reading by thousands and millions of readers, n saya yakin kamu pasti bisa membantu saya untuk Sirman menang dalam tapisan2 yang ada di 'Honda Our Challenging Spirit'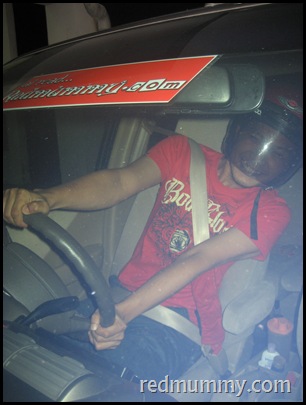 He s not only my husband, tapi dia juga bapa yang paling penyayang dan pengasih untuk Abang and Gegirl, juga manager RM yang paling gigih, he travels with me, domestic and international for my blog events, he travels with me via my Honda to the whole nation. He is my hand.
Should I elaborate more, dia lah paling layak menerima cabaran 'Honda Our Challenging Spirit'
Boleh tolong saya promote entry ini, nomination Sirman ini, dan kemahuan saya yang mahukan Sirman terlantik dalam 'Honda Our Challenging Spirit' supaya bisa Sirman melangkau ke phase2 tertinggi? You need to blog bout this entry, do your own creativity, sapa2 yang menyokong Sirman layak menang, dan buat entry in your blog, RM will acknowledge you with 'something'.
Remember to link back to this entry, and come back to this entry and tell me that you have done a nice posting bout Sirman's nomination 🙂 . In your blog, do link this important site www.honda.com.my/ourchallengingspirit coz without this link, Sirman is not getting any publicity towards your blog readers. Yes Gang Blog Merah, ai m calling a help from you now…
but why is he wearing helmet while driving the Honda then?
haven't i told you that…. he deserves to be nominated and win!
So meh tolong abang Sirman bley? Korang pun boleh nominate kawan2 sedara2 kamu dalam Challenge and Refinement Spirit nih weihh! Korang bley nominate ai, redmummy too 🙂 Tak kisahlah nak nominate diri sendiri pun bley dok, tak sapa pun tau hahahhaha… good luck Honda Motorsport 2009 !!
Khidmat pesanan masyarakat Honda Challenging Spirit is brought by redmummy.com
Comment:
22