Aug 23 2009 Sunday, 1:00 pm
abang puasa cemerlang dia bley tahan wpun meleseh2 gak mohon mintak air. last year abang tak pat penuhkan puasa 4 hari, salah satu harinya dia ponteng tuh coz kawan2 sekolah dia yang malay minum air paip, dia pun ikut sama. ya rabbi…
sib baik ko jujur nak cakap ko tak puasa. this year dia dah janji nak puasa penuh, hopefully.
gegirl pulak last year baru 3 taun lebih, skang ramadhan dia masih 4 taun lebih bulan depan baru naik 5 taun. but she oso wanna puasa. so pagi2 sahur, kejut depa macam taun lepas gak, bercinta sungguh.tang kejut lain, tang suh makan lagi lah rasa nak bergaduh.
gegirl leh majuk sentap rasa nak pecah pinggan tu dia tenung, ke main susah tol nak mujuk.
pagi ke tengahari ok lagi depa 2, abang kat Smart Reader attended tuition, tapi waktu kritikal bermula for Gegirl dari kol 4 ke atas. abih lah aku melekakan dia ngan macam2…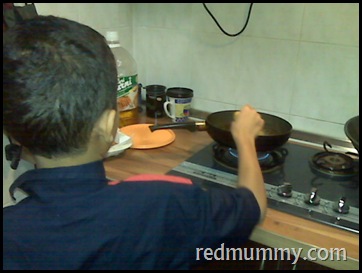 nak bagi depa leka lagi, terpaksa kol 5 ptg aku masuk dapur awal2, kalo kol 6 pun sempat lagi masak tp coz depa dok menceceh, depa tu more to gegirl lah. abang steady jer…
so aku ajak depa buat goreng2 nugget n sosej. menu yang depa nak wajib ada sama sangat….
abih menggoreng, abang sambung layan astro.
abih menggoreng, gegirl nak gak bertenggek tengok aku masak. katanya nak basuh pinggan. tp sampai sudah dia dok depan sinki melanguk tengok aku potong2 sayur potong2 ikan. aku suh dia buat lah apa yang patut kat dapur pun tak nak, melepek jer….
depan sinki pun jadik tuh.
kol 6 sirman and abang pi bazar ramadhan, gegirl tak berdaya nak ikut. dia merayu rengek2 mintak air mintak sosej…alahai syiannnya dia.
mummy, adik nak air, adik thirsty sangat
so nanti adik tak leh dapat full duit raya yer
takpe…adik tak tahan la mummy
sian, so dia baca doa, minum air suam makan sosej. waktu berbuka dia makan nasi,2 pinggan kol 9 dia mintak lagi nasi hahahaha…kuih2 sume dia makan sikit jer, yang penting nasi berpinggan2 woooooooo.
waktu kritikal untuk abang pulak….lagi seminit 2 nak azan, melepek lagi sorang hiks..
alah samo ler kita gak dedulu, korang ai tak tau lah, tp aku dulu camni lah. rasa nak bangun pi bukak puasa tu kalo boleh kena merangkak…wahahhahaha! makan takpe tak dpt tp tang minum air tu yang nak sesangat.
1 Ramadhan disambung ke tarawikh by the boys to the nearest masjid ngan VA….mummy is still on her red flag lah.
Gegirl janji untuk penuhkan puasa for the 2nd day of Ramadhan, tak dpt penuh pun aku tak nak paksalah, tp tiap kali dia merengek tiap kali tu lah aku pujuk2….
tp sirman tu lah, asal sket jer dok tanya anak 'adik lapar? adik tak tahan yer?' haioooo jangan ler ko tanya2 anak ko gitu, lagi lah budak tu melembik kang…
Anak-anakku sudah besar je rasanya hiks….
Abang is turning 8 years old this Oct, Gegirl is going to be 5 years old bulan depan. sorry lah gegirl, no party, bulan puasa mar… hahahahha macamlah kalau bulan puasa pun mak ko nak buat party kan.
Comment:
23