Aug 22 2009 Saturday, 7:00 pm
puasa puasa gak, takkan tak geti nak pi buat keje, baik keje permanent maupun side job. blog nih side job aku, side income aku, kalau dah committed dah berjanji and banner pun dah naik, mestilah aku kena turun padang sama…
put aside dengan mengantuk dengan letih tp kalau dah berjanji saya mesti hadhir. unless ada hidup dan matinya case tak leh nak elak tu memang aku mengalah lah.
puasa hari pertama for my daughter too, ok cite anak2 puasa tu lain kali aku singkap, now kita citer pasal my client Thelilcaliph.com.
nampak tak tuh Thelilcaliph.com kan? senang jer, korang pi midvalley tak yah gagau2 nak carik kat booth mana, korang masuk je kat entrance lepas buat temperature clearance terus turn left. booth Thelilcaliph betul2 number 2 lepas ko turn left tuh.
kalau risaukan H1N1, yes kat masuk entrance tuh depa akan check temperature setiap orang yang masuk. tak de fever, temperature ok boleh lepas masuk. but for the best pakai lah mask. aku tak pakai mask, ai left it in the car, but so kay. tawakal.
this is the booth, punyalah banyakkkkkkkkkkkkkkkkkkkkkkkkkkkk barang2nya, semua imported dari US. nak tu nak ni, hai alangkan aku sudah tidak beranak kecik. tp jangan silap, kalau tak kawin lagi pun boleh datang and beli the shopping bag yang aku ada promote previously arituh kan.
itu biru shopping bag yang aku cakap, range price from RM24.90 to RM34.90, ramai budak2 students yang datang beli bag tuh. budak2 U lah ramai….
ai oso bought one small utk sumbat mini lenovo aku hahahaha, tak udah2 nak memewahkan lenovo tu lah. oh btw, i m standing next to Molina, the tokey of Thelilcaliph. sibuk betul dia 3 ari nih….
hi kak red, saya liza, saya ada gak tumpang letak business saya kat booth Thelilcaliph nih, boleh tak saya nak tanya satu soalan, suami saya mintak tanyakan
ha bley bley gapo soalannya?
ada rumours mengatakan di Low Yatt forum ke hapa mana tah, yang kan masa akak menang LG TV utk costume red devil tu kan, betul ke akak spent 1 ribu ringgit malaysia utk costume tuh?
hahahah ya rabbi, mana punya rumours lah laki ko dengo tu. Costume ngan make up akak untuk LG party tu was only RM200 jer lah. mana datangnya 1 ribu pulak, woihaiii…bidaah lah sapa yang menghantar rumours tuh.
ok clear, nanti saya sampaikan pada suami saya
Liza's husband is my reader and she has an online web as well.
korang korang…..dapatkan fakta di RM bukan dengo rumors personally, sib baik Liza tanya aku personally.
hi, nak beli shopping bag merah ke?
ha ah lah kakakkkkkkkkk, kita lom ada anak nak beli2 barang baby, kita baru je bagi adiah pada kak net tp lupa nak beli dari Thelilcaliph lah kak.
nak berapa?
2 besau tu kak, kaler ijau satu kaler merah satu, nak pakai buat catwalk kat bazar ramadhan petang2 beli juadah
amboii, kelas ko, siap bershopping bag lah kan nak pi beli juadah plak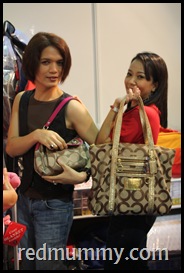 lawanya Coach ko
eh kakakkkkkkkk, kita beli through vshub lah kakak
ha, ko sapo?
saya Neo lah kakakkkkk!
(&*&*()___+(*** terkujat tong aku, inilah pertama kali saya temu mata ngan Neo, ha nak kenal kan sapa Neo, ini orangnya, yang dok anto2 komen, itulah Coach yang Neo beli via vshub.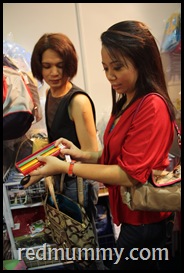 ni kakak, kita beli Coach ni aritu kan kakak, Coach US ada bagi kita satu box kotak pencel Coach jugak, kita nak bagi akak amiklah bape batang pun
aaa nak nak, takpe akak nak 2 batang merah ni jer, lain tak yah. , napa aku beli Coach kat KL tak dpt pun
memang kak, only Coach US jer, tp ini utk yang under Poppy, kalau sabrina ke ali hobo memang tak dapat sekotak pencel set Coach nih
wah aku ni nak cite Coach ke nak cite Thelilcaliph
itulah rahsianya bila korang datang menjenguk saya di booth Thelilcaliph. kalau ada masa lagi, jemput lagi datang Ahad esok, slot saya adalah pada jam 4-6 petang. lepas tuh saya takde dah nak jumpa2 kamu catwalk dah yer. Expo ni kalau ada lagi pasni tahun depan, kalau aku diengage lagi oleh Thelilcaliph, bolehlah aku contribute
ramai yang datang pergi under the flag of RM, bila beli kamu kan saya aritu bilang boleh dapat cop cop for any barang yang korang beli. The more you pay the more lagi lah chances untuk korang menang adiah 2 malam 3 hari tuh. mau enggak package tuh?
antara yang menjengah hadhir…yang sempat ditangkapi gambar mereka through petikan camera Sirman
Lyn Yusuf (baju putih)- she bought the towel set kaler merahhhhhhhhhhhhhhh you. lawa!!! Ada orang nak kenen2 ngan Lyn ek? sapa tuuu?? amboii….yes she s sweet and single 🙂 . boleh dia punya excited plak dapat jumpa Neo.
Alamfanacinta (tudung hitam) and boipren – shopping bag ijau merah, amboii, takpe, taun depan kawin taun satu lagi nanti dah berisi banak pinak boleh saja kamu shopping online kat Thelilcaliph.
Neo – Ko kena bukak blog la dikk…
si baju itam putih dah tentulah tokey Thelilcaliph, Molina. Thanks ye Molina jemput akak merah buat standing ovationa hahahha sempatttt lagi tuh!
saya sendiri ada gak beli adiah2 untuk frens yang baru beranak pinak di Thelilcaliph….sapa yang dapat tu rezeki koranglah, aku beli khas terus from Thelilcaliph yerrrr 🙂
Molina yang kulu kilir mencari rezeki, seorang wanita yang mindednya untuk Thelilcaliph. tahukah korang, dari business via online, dia bukak ke online yang lebih besarrrrrrrrrrrrr, kemudian membuka kedai, ok actual kedai belum siap, nanti dah siap aku boleh datang visit.
Ni kalau akak beranak satu lagi nih, so akak leh order saja dari Thelilcaliph kan Molina?
boleh kak…pastu saya anto quoation
amboiiiiiiiiiiiiiiii! aku ingatkan from top to toe dapat sponsor 🙂
dan kemudian saya meneruskan sedikit kerja2 yang tah hape nya kerja je lah aku bantu asal promotion untuk Thelilcaliph sampai ke bacaan readers aku, cam korang.
Korang, mai lah ke Thelilcaliph.com ke booth nya di Midvalley. Last day is on Sunday nih esok. Katalah korang datang masa aku takdakkan, pun takper, korang cakap jer korang readers RM, and nanti pastikan Molina or Tasha the assistant tuh tulih kat receipt tuh 'Kak Red or Readers RM' coz nanti Thelilcaliph.com nak pilih pemenang yang mendapat hadiah package 3 hari 2 malam tuh yer…
Jumpa kita di booth Thelilcaliph , Midvalley esok Ahad.
Comment:
20