Aug 25 2009 Tuesday, 5:00 am
Reddy ni
aku sayang dia sesangat…
oh..she drops my make up set
sibuk orang nak make up, dia gak sibuk sama, and sib baik jatuh atas karpet, n banyak nasib baik gak sume pigments aku bertutup. kira susah aku kena kutip balik jelah.
buat masa ni ai love Reddy more than Kemek, coz Reddy aku bela dah lama…Kemek pulak walaupun manja tp dia masih lagi 'jauh'. he doesnt know me personally yet, tp Reddy tu dah kenal all 4 of us, dah tau datang bila dipanggil.
tetiba sedih…
diorg ni
masih gaduh2 manja lah
abih langgar satu umah sepai barang sana sini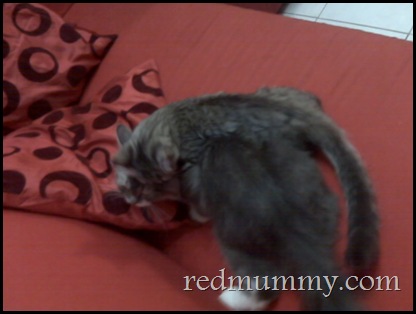 tapi ini macam terbalik plak
patut kemek yang panjat Reddy, tp ni reddy yang sibuk panjat atas badan kemek. ok logically kemek kena panjat reddy pasal dia jantan, reddy betina tp ni kira sorang abang sorang adik pomp so ala2 mengado lah si reddy ni nak bolai2 buatnya dia ngap belakang ko kangggggggggg!
aku kuorkan kemek jap jer utk clean up cage dia, pastu gesa2 masukkan balik, bulu dia macam dah kurang lah sket berterbangan, mbe pasal aku jaga makan dia betul2.
fyi doctor sendiri ckp ubat untuk bulu berterbangan ni mmg takdak jual, it does by the flow. kena jaga makan minum dia baru lah kembali pulih. jaga tu means korang kena stickkan satu jenis makanan, jaga kebersihan cage dia jugak. jangan le seminggu sekali plak baru nak bersihkan. aku kemas ari2, pagi and petang or malam 2 kali memang kompem aku kasi licinkan.
pasnih dah cuti sekolah so bolehlah abang kuor masukkan Kemek, trained him lagi bagi dia sebati ngan suasana di VA. dia kan adoption baru red family mar….
so itu tips penjagaan kucing, kalo korang ada tips sama2 meh kita kongsi. nxt wk kena bwk kemek for vacci, aritu dia dpt ubat jer…
oh entry ni aku buat dah lama, lupa nak post, nak bilang kat korang yer….bulu2 kemek dah berkurangan, dah tak berterbangan…syokk woooo..aku tak bg makan apa ubat pun cuma aku stick ngan Iams, and groom bulu2 dia tuh hehehehehe….yes, now dedua leh pusing satu umah bebas sebebasnya.
Comment:
13