Aug 25 2009 Tuesday, 10:00 am
ini anak sulong saya, namanya Abang. He is studying in chinese school, year 2. abang boleh cakap mandarin tp nanti korang tengok Project Alpha jangan terkejut tengok dia kemain payah nak cakap mandarin bila Jojo tanya.. siap kena ugut2 lagi kayy
anak sulong saya sangat hyperactive, susah dia nak dok setempat kalau tak berpegangan tangan, tp kerana Ramadhan, melembik lah si anak lelaki yang gagah perkasa kononnya.
aku dok depan dia tp kerana Ibu kan tempat bermanja, maka saya switch dengan sirman, sian abang…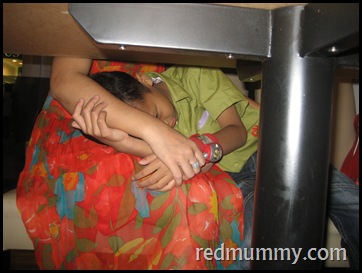 melentok merayu dia, udahlah kami berempat tak bersahur di 2 Ramadhan. hikss
aternya maknya lalok ngan ubat batuk, boleh aku bangun sahur masak nasi masak air, pastu aku num ubat batuk ingat nak lelap kejap jer tetiba sesedor aaa matahari dah naik. itu lah kalau sahur hanya dipertanggungjwbkan di bahu isteri 🙂 …sirman oo sirman.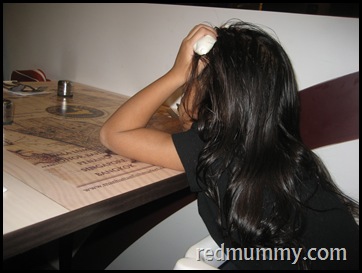 gegirl pun melentok sama, alah dia puasa sampai kol 230ptg jer. she pun sama lah tak sahur tapi sebab thari tu dia pi gymnastic class, balik2 jer dia mintak air. dari gym lagi dia dok mintak air suam gak, tp takada bekalan, so sirman suh lah aku bagi dia minum makan si kecil nih.
aku seludup nasi and air anto ke bilik dia, she makan sorang2 quietly takut abang dapat tau. abih makan bisik2 kat telinga aku 'mummy nak nasi lagiii, banyak2 tau'
amboi kalau bukan bulan puasa, ke main susah nak makan nasi, tiba bulan puasa hebat berpinggan2 hangpa makan yer…
abang yang masih melentok, menahan betul ngan lapar dahaga, some more pagi tu ada taekwando, sian anak2 aku, from now on mak kau takkan miss bangun sahur utk korang yer.
ai buat lawak sket lah utk anak2, itu gegirl punya hairband, ada butterfly lagi…adiah dari reader RM gak, sapa ek bagi hahahah lupa aa, kena bukak entry lelama…si butterfly tu dah patah satu, aku suh sirman patahkan lagi sblh supaya aku leh bergaya pakai
tp sempat bergaya seminit jer, bila gegirl yang ngah moody sentap aku pakai. dekutttttttttt!
budak ni tak puasa tp dok bising gak lapar lapar, sebab dia pretend konon puasa lah depan abang dia kan kan kan…
ahah kami makan di The Fish Manhattan atau kata lainnya yang suka aku panggil The Fisherman…
location kat lower ground of Midvalley, ingat nak pi Shah Alam for jemputan dari Intekma tapi tak mungkin selamat sampai untuk review the buka puasa menu coz kol 630 pun aku masih lagi bertapa di booth Thelilcaliph.com
Azan maghrib pun sampai, tak sonoklah coz makan kat sini takdak pun depa nak announce dah masuk buka puasa ke hapa, or sediakan kurma ke sebijik 2, tu pasal aku kureng suke makan luar waktu buka puasa coz the kick buka puasa tuh tak ada. unless ada certain tempat restaurant dia mmg pasang radio utk azan or dia akan buat announcement 'waktu berbuka dah tiba puan tuan' gituuu lah..
actually nak makan berbuka pun kena hati2 coz nak pi food court takut ada makanan depa yang dari pagi nya masak, dahlah aku ngan anak2, pastuh nak kena ada nasi since sirman suamiku nasi nasi nasiiii menu utamanya. lam menu fisherman aku nih ada set nasi for Ramadhan, utk 2 orang, anak2 kita top up with fish n chips, sudahnya semuaaaaaaaa bungkus bawak balik coz macam banyak le pulak.
korang aku suggest kalo berempat cam aku nih tak yah lah tambah2 utk anak2 korang nya menu
amik set RM63 tu jer udah, cukup utk 4 orang gak, wpun dia kata utk 2 orang, it comes with 2 ice lemon tea yang boleh refill n jugak dessert. aku siap dapat percuma starters, tak tau lah ada boss dia kenal aku yang sokmo makan kat KLCC so depa treat me very nicely.
for this restaurant you cant do phone reservation, korang kena datang bape jam awal sukatik ko ler, pastu buat payment and pi lah korang berjalan2 mana nak pi shopping, sampai2 je nanti meja ko dah siap ngan makanan….
abih makan calloo balik, no shopping no window shopping gak, yang penting balik umah lebih nikmat…
2 Ramadhan yang padat.
Comment:
19