Aug 26 2009 Wednesday, 8:30 pm
2 things aku nak announce kat sini…satu pasal ni promosi kuih raya.
as promised before, promosi puasa raya sudah bermula sejak 1 Ramadhan, it s on going till 10 Syawal. Promosi nih hanya melibatkan korang2 nya business jualan kuih raya baju raya apa yang related to perayaan Aidilfitri. kalau  nak buat promotion mengandam ke jual tudung ke jual computer pulak tu tak masuk lam promosi puasa raya, itu masuk lam package normal month kita lah. itu sila Contact Red.
You would notice ada promosi sticky mode 24jam belongs to Gina Manan, kemudian selepas 24jam, it has to be pushed down and for that ada short cut kat side bar.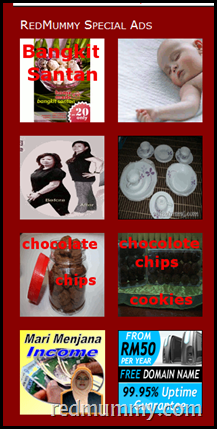 ni hah side bar dari kanan template blog aku nih, semua ni ada yang dari sticky mode, ada yang terus tempek kat side bar. siapa punya tuh, for Sham Bangkit Santan,  dia pun client aku taun lepas, kali ni dia dah tentu ada readers buyers tetap from last year, so dia tak heran dah nak letak sticky mode ke hapa, dia tepek kat side bar jer. wah eksyen ko sham….hahahahhahha
ok then ada conflakes Sid jugak. sodap…semua ni aku ada dpt tested kuih raya depa, tak sedap kat tekak ko tak mungkin tak sedap kat tekak aku kan. so far yang datang to RM depa tau quality kuih depa memang sedap malavasss, so tak yah lah ragu2 nak bising isu tak dap ke hapa. lagipun aku ni fussy gak, kalau ko anto kuih raya cam nak terbalik terlungkup aku sound balik ni nak promote ke nak bagi aku jual promo camne nih hah gitu…. ok itu satu package gak…side bar.

Macam Ayu Tart plak ha ni pun customer lama aku taun lepas jugak, dia amik yang 1 entry, takdak sticky post, so yang tuh aku akan kuorkan waktu2 sahur and push down bila entry kol 10pagi kuor lah usually, apart of that she s getting the click2 ads yang macam kat atas nih. ads tuh kuor kat bottom part of the 1st top entry. tak kira apa pun top entry tuh, tetap ada link tuh. macam contoh la nih ada Ayu Tart ada SIY and Shop@RM.
ok clear?
alright kalau masih berminatk nak promote kuih raya rendang kawah korang, carik aku. keje ko bagi aku points jer, tau je lah aku nak olah. oh tak lupa jugak pengeras…ha itu budi bahasa amalan mulia. ko pun buat business aku pun business gak, so win win situation. korang happy, aku happy. tp ai dont do hard sell lah, let s the promo take the place for u, so far alhamdulillah, everyone happy kalo dak takkan ramai kembali buat ads kat RM kan.
ok settle satu citer pasal promosi puasa raya di RM.
next nih pasal FB aku nih
baru bape hari launched je FB kau tu dah 300 orang jadi frens. yang aku ni main add je lah frens frens frens. sampai sudah, tak tahan, aku kena bukak jugak fan base satu. ada 3 orang hari hari ni terpaksa aku reject/ignore korang nya kemasukan ke Redmummy's FB coz aku nak korang add aku nya fan base not RM anymore.
so jadi pls add my new fan club lam FB yang telah diajar didik oleh Leen and Nadh hahahaha…tunggu sirman berjinggut tp sudahnya Sirman jugak took over coz aku dah hilang kawalan tak geti nak godam galom kat mano aa FB tu. giler buta FB tol aku.
Add Redmummy.com lam FB search lah banyak kali coz tadi ramai gak search tak jumpa. but so far dah kat 100 orang join, aku nak readers join RM.com bukan RM yer lam FB tuh. clear yek? so jangan cik ati pulak kalau aku ignore korang kat RM, coz aku nak hangkut korang ke RM.com. itu fan base. ceh macam ada fan jer…ater lam FB tu tak de column readers, aku panggil korang readers bukan fans.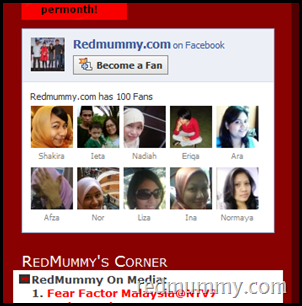 make it short, tu hah Sirman dah siapkan shortcut kat right bar aku lam blog nih, ada Redmummy.com's FB, korang click terus kat situ yer..join dari situ.
tp masalahnya ni hah yang 300 orang kat RM aku tuh camne aku nak campak automatically ke RM.com? ke aku kena invite korang sengsorang? perkhhh masak!!! tolong aku bley? tolong add n join balik Redmummy.com 's FB yer. tu unlimited sket.
so now sapa2 yang add RM's FB aku tak add dah yer, aku ignore terus, heh tak geti lah nak tfer korang terus ke RM.com nya FB. korang buat manually lah.
i m not addicted to FB yet
tapi aku tau korang ramai ada FB than blog
ehceh
baik korang ada blog gak
coz kang aku nak pilih sapa masuk Project Alpha for Season 2…..heheheheheh
ok 2 things settled. ada masalah?  Contact Red lah…
Comment:
15