Aug 27 2009 Thursday, 3:00 pm
Sticky mode for my Milo
next entries ada kat bawah2 ni yer u all sumer…
Happy reading in RM!
Last April 20, 2009, saya ada buka satu entry menceritakan bagaimana kita parents or the guardians should encourage our kids untuk bermain2 di luar rumah. Tidak kira bersama teammatenya bermain bola, netball, jogging or even berbasikal… Asal sahaja bermain dan bersama2 the frens or parents/adults itulah semangat outdoor yang kita mahukan.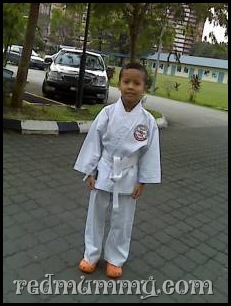 Today's entry is so special, I m calling all of you, my readers to join me for The theme MILO® Play More Learn More™ . Semangat membiarkan anak2 kita bermain di luar harus ada, that s why all of us should try to do the pledge! Pledge apa yang kita nak bisingkan lam nih… a pledge your playtime, main bersama anak2 kamu, monitor them, supervise them through sports to help MILO® mensasarkan target sebanyak 10,000,000 minutes.
Since my both kids are actively involve with taekwando and gymnastics, these 2 sports sangat sesuai untuk pledge yang MILO® promote la nih.Then bila dah mencapai 10juta minutes, apa yang telah kamu donatekan? Indirectly kamu telah menderma sports equipments to these 3 schools:
1.    Sek Keb Taman Gembira di Klang
2.    SJK (T) Bestari Jaya di Batang Berjuntai
3.    SJK © Puay Chai 2 di Bandar Utama
Mengapa tiga sekolah ini sahaja terpilih? MILO® has done their research, for the time being, ketiga2 sekolah tersebut amat memerlukan sports equipment sesangat. Probably di masa lain sekolah lain juga akan dapat peluang yang sama. Anw these 3 schools telah mendapat kelulusan Jabatan Pelajaran Selangor…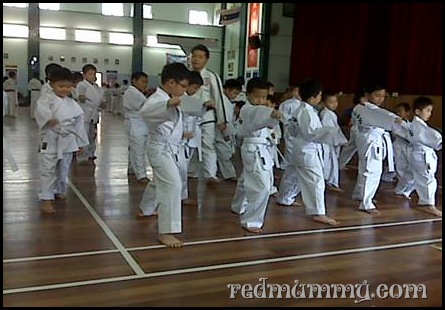 How to pledge?
2 ways you can help the schools, via sms and via web. Sekejap je nak pledge tapi yang penting hendaklah korang pun sama pi main outside with your kids. Do it for them, udahlah zaman skang zaman teknologi, abih kang sume anak beranak tak geti main bola dek makpak dok suh kurung anak lam umah mai PC or PSP semedangggg!
Tapi saya paham, ramai parents or adults yang takut nak bawak anak2 zaman skang keluar. Yelah jenayah culik makin berleluasa, kerana itulah kita kena sentiasa mengawasi mereka. Jangan biarkan mereka main begitu sahaja, pilih rakan2 sebaya mereka, monitor bagaimana mereka menghabiskan masa bermain.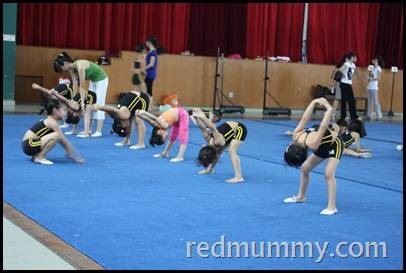 Kot ye pun main bola, betul ke pi main bola, so kita ikut serta, kalau boleh kita jadi keeper or goal picker. Wahhhhh! Bayangkan sirman jadik manager abang and gegirl lah pulok. Well you tak tau apa jadik 10 years later, mungkin anak2 ku jadi mereka yang ternama dalam arena sukan. N of cos I will definitely pledging for my kids to play outside!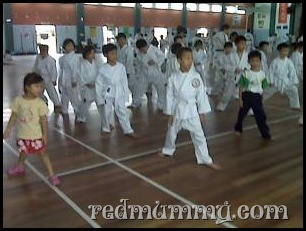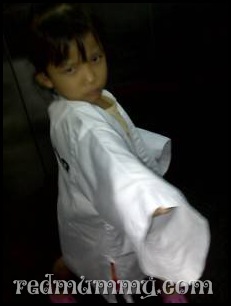 Abang is still wearing his white belt in his taekwando class tapi dek kerana kami anak beranak sokmo ikut abang pi training taekwando, Gegirl, his sister pun terjebak sama nak masuk taekwando. Itulah manisnya kalau kita sentiasa beri sokongan pada anak2…so anak2 tau apa yang elok molek dipakai dan diamalkan. I know one day one time Gegirl juga akan ikut sama jejak abang bertaekwando. We promised to enroll her to the taekwando class, when she turns 7 years old.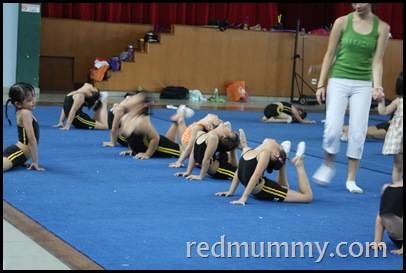 Apapun, waktu gegirl attends her gymnastic class, we the parents and Abang tidaklah duduk semata menonton. Kami juga turut sama spending our time, by playing badminton together. Kebetulan kat hall gymnastic Gegirl memang ada badminton court and we just bring our racket n the shuttlecock jer. Sambil2 tuh lagi bisa mengeluarkan peluh memercik…
Fun seiiiiiiiiiiiii!
Untuk aku yang dah lama tak beriadah, main badminton lam dewan ngan Abang pun boleh buat aku menitik2 peluh. Huh! Pastu kena lak smash ngan Sirman….aaaaaaaaa!!! asik kena kutip shuttlecock jer kayyy!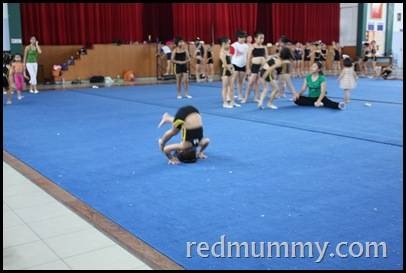 Motifnya sekarang janganlah sampai idup anak2 kita tertekan. Once upon a time dulu aku pun cam mak2 zaman moden yang terlalu sangat tak bagi anak keluar rumah sampai abang tu langsung tak geti nak bukak pintu grill. Sangat protective. Tp he became such a boring boy pulak, macam dia sampai komplen bosan, asik dok umah dok umah jer…kerna itulah dia kadang2 bih seronok dok umah neneknya, dahlah umah atas tanah, senang kuor masuk umah main basikal.
So bila kita cepat sedar diri, nak tak nak kita kena ikut kehendak kanak2 yang mahukan dunia mereka berkembang seiring dengan umur mereka yang mahukan exploration. Tapi betul korang, kalau korang biarkan anak2 bermain, grouping with their own frens, larikan mereka dari main PSP and computer games, pala benak depa takdaklah termangu stuck macam tu jer…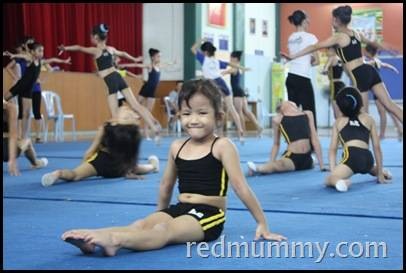 kang memberontak pulak depa kan…
that s why petang2 hujung minggu kami akan berjogging bersama, tukar2 activity lah, swimming oso can be a sports too. But for MILO® Play More Learn More™ the concept pun dah tepat kena kat batang idung aku sendiri gak lah, including korang yer. When you play more, main banyak, lagi banyak education yang budak2 ni belajar jugak.
One last story for you…
Yes anak2 ku suka swimming, tp if u remember few years back Gegirl hampir lemas di pool. Kerana ibunya yang terlalu leka membaca suratkhabar. So you wanna monitor your kids, betul2 awasi depa. She can swim but for her age, kita masih perlu sentiasa tengok ke mana padding kaki tangannya. Aku hanya baca paper at one glance sahaja, tapi waktu itulah Gegirl was struggling untuk naik ke udara. Saya campak handbag, and terus tolak kerusi meja makan di kedai makan VA and terjun ke dalam pool.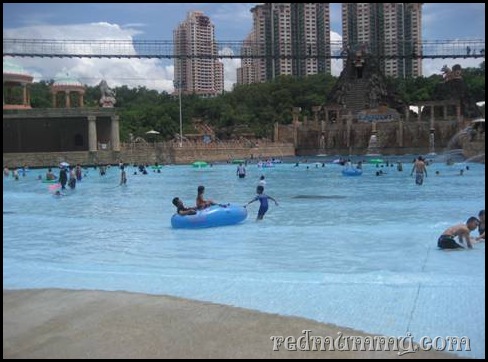 Itu hanyalah emonitional story yang saya mahu kamu imbas, yes they are happy with what they do outside, bermain outdoor tp kita makpak the parents kena monitor sesangat. Ai rescued my own daughter, everybody yang melihat camna lajunya seorang ibu merah terjun ke dalam air pool untuk selamatkan anaknya (at that time Gegirl berenang di bahagian orang dewasa)
Sehingga kini, Gegirl pun tak ingat kisah itu, tp she knows if she wants to swim di bahagian dewasa, her Daddy has to be with her, otherwise dia kena pakai pelampung tangan. Oh yes, for her, her stage tak gerek dah swim ngan kiddos lain lam pool bebudak. Lesson learnt to both of us.
So all, come join me redmummy and family to do the pledge for MILO® Play More Learn More™. Get your cursor to enter the official website for MILO® and do it now, so that with your pledge bisa membantu the 3 schools to get the sports equipment.
MILO® bukan sahaja untuk diminum sedap coklatnya, tapi MILO® memanggil and menyeru kamu untuk membuat sedikit bakti pada anak2 sekolah kita yang memerlukan bantuan. Parents!!!! start your engine 🙂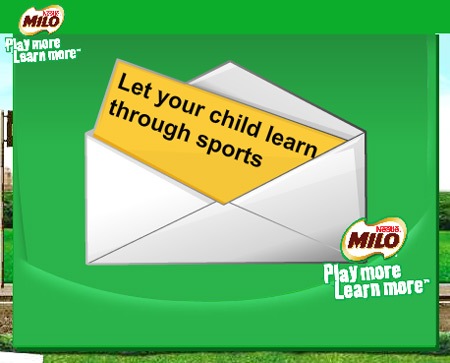 Khidmat pesanan masyarakat Milo Play More Learn More is brought to you by redmummy.com
Comment:
10