Sep 1 2009 Tuesday, 8:00 pm
memandangkan terlampau banyak permintaan on the Blueberry mobile nih, aku postkan balik entry nih as a sticky mode basis yer, 24 jam jer, but korang baca the latest entries kat bawah kay….

aku rasa korang semua tau ape tu hp with QWERTY keyboard kan. selalunya smart hp jer yg pakai QWERTY keyboard ni cthnya LG GW models, Samsung Omnia, Nokia E71/72, Blackberry dan macam2 lagi lahhh…
tapi nak tanya ni, apakah persamaan di antara hp2 di atas tu? dah tentu persamaannya ialah harganya yg mencanak2 mahalkan

oleh sebab itu CSL telah memperkenalkan model hp terbaru Blueberry-i dengan fungsi QWERTY keyboard yg jauh  lebih murah berbanding harga2 hp di atas. nak tau bape harga dia? bagi hint dulu la… less than RM400

sebelum tu meh kita tgk fungsi2 utama hp ni. antaranya ialah
- skrinnya yg agak luas 2.4inci dgn 262K Color QVGA. so puas la sket bila kita layan internet. ooo access internet menggunakan opera mini. juga ade facebook & eMSN application siap2 installed.

ha tgk sirman update status facebook pakai hp ni

ya rabbi…ha ah kan mesti korang tanya kak red napa nama sesedap jadi SIRMAN?? iskk…korang nih, tu lain kali citer, wpun aku dah citer byk kaliiiiiiiiiii

- beratnya hanya 103g & berukuran agak lebar sbb menggunakan QWERTY keyboard. ukurannya ialah 110x50x16mm
- of cos QWERTY keyboard la

once korang dah pakai QWERTY keyboard ni, mmg seriously tak mo pakai hp yg keyboard biasa tu.
- camera 0.3 megapixel di panel belakang.
- Dual SIM slots
- Memory Slot: MicroSD
- hp ini juga dilengkapi dengan ciri2 Islamic termasuklah Azan bila masuk waktu solat, senarai waktu solat & penunjuk arah kiblat ya. sempena bulan Ramadan ni aku sure semua tertunggu2 nak dengar Azan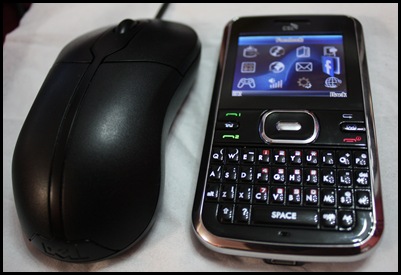 fungsi2 yg lain termasuk la sms, mms, email, radio FM, mp3/mp4 player, video recorder & player, gprs, bluetooth, java, ebook reader & wap.
and then 1 thing aku notis, hp ni punya sound louder than normal hp. kira sedap la kalo layan mp3 or video dari hp ni. jelas jer dengar.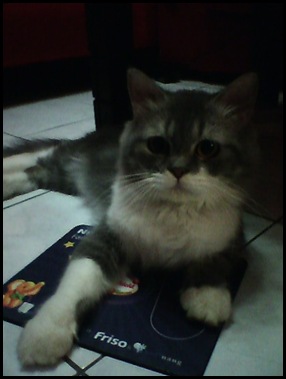 hasil gambar dari camera ni…garangnya ko Kemek

yg aku suka dia ada Dual SIM card slots, maknanya boleh "On" dua-dua sekaligus. Sim1 atau Sim2 call boleh masuk. Tapi if one active on call, the other one will not be able to receive call until the call is put down lor & the other thing yg aku suka ialah video recorder dia. sempat gak la record gegirl nyanyi lagu Mandarin pakai hp ni

hasil video recorder…congceng2 la ko gegirl

walaupun fungsi2 di atas agak menarik tp bagi saya ade beberapa benda yg patut di perbaiki lagi seperti tiada flash utk camera (tapi still mempunyai byk settings penggambaran yg boleh kita gunakan seperti white balance & scene mode), tiada 3G so tak leh la buat video call, radio FM yg hanya berfungsi hanya menggunakan headset sahaja. tapi fungsi radionya boleh menyimpan sebanyak 9 channel radio & mempunyai fungsi merakam siaran radio/lagu yg korang suka.
tapi apa2 pun dengan harga yg murah sebegini, tak boleh la komplen lebih2 kan. finally harga sebenarnya ialah hanya RM399 sahaja kalo beli Blueberry-i ni online dari vsHub ATAU boleh juga order dari kami di contact red

so kalo korang hanya ade bajet yg rendah tapi ingin memiliki hp yg mempunyai fungsi QWERTY keyboard dan ingin bergaya sempena Hari Raya ni, hp ini lah pilihan yg tepat. tapi seriously mmg betul hp with QWERTY keyboard mmg syok pakai

Comment:
26