Sep 1 2009 Tuesday, 3:00 pm
Our Press Conference for Project Alpha was sponsored and held at Ministry of Sound, betul2 kat Sunway Hotel/Sunway Lagoon tuh.
yo slowly lah aku kuorkan gambar event nih, coz kuor tetiap ari kang ramai yang muntah penat letih bosan lak baca kan…so kita kuor sket bit by bit kay.
Budiey datang sama isterinya, yang turut serta menjadi photographer buat suaminya sendiri. bayangkan yer kalau cam aku ngan sirman lah, aku n budiey adalah product Project Alpha, tapi utk ini Budiey terpaksa suh gak wife dia pegang camera godangnya hahahahaha
weii, ramai readers nak kena boifren you lah Jojo
Tak mauuuuuuu, jangan bilang sama readers kamu kay Red. jangan keluarkan gambar bf i pls………
Audrey and Ringgo dok terkusam sama rambut ku …
Redmummy you punya rambutttttttttttttttttt sangat cantik, who did your make up??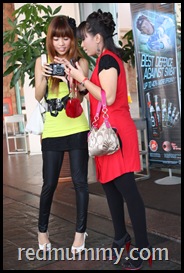 Ringgo and I adalah 2 bloggers yang menjadi model for Loreal haircolour, Ringgo is part of Project Alpha too, but she s gonna be appeared during the Season 2.
so korang nak masuk Season 2 Project Alpha tak?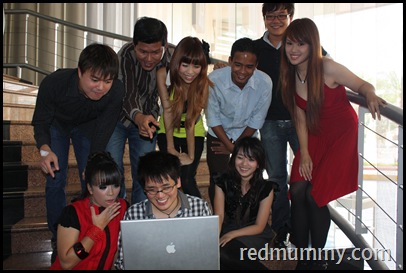 Let s model for Berita Harian's newspaper…
heheheheh
bagi 2 gambo bersuara jer lah yer..untuk Beautifulnara 🙂
**weii kahwin lah copekkkkkk!
Guys, meet Junior and Sam from the top level of Astro pls…
ai knew Redmummy for quite a long time….
Tim is the boss of Nuffnang lah kalau korang masih lom kenal2 lagik…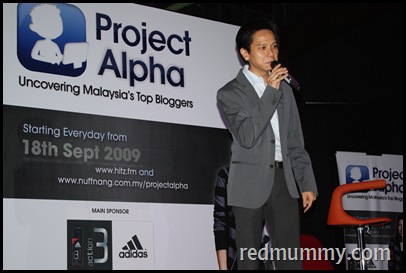 We believe Adidas Action 3 is the best product and sponsor for Project Alpha – Sam
Redmummy, i wanna be your red daughter la,  i m wearing red dress too
bolehlahhhhhhhhhhhhhh tu Nicole!
ahah! hensem aaa lenchai nih kan
Hi Michael 🙂
baru pasan dia pakai shirt merah you, and baru pasan inilah pertama kali aku nampak Michael ke main hensem lagi bersuit, kalo idakkkkkkkkkkkkkkkkkkkkkkkkk………

asal aku nak amik gambar jer
ada lah si Wan Beautifulnara ni menyelit sama…alangkan ko budak muda belia Wan oi..kalo idak ngan akak plak dpt gossip sama lam blog ko tuh
Thank you to all sponsors…
Adidas Action 3 ,  Rimmel London ,      Hitz.FM ,     Sunway Resort Hotel & Spa ,  Sunway Pyramid ,    Sunway Lagoon and Hosted by Jojo Struys for 49 episodes.

apapun kan
rambut ku itu sudah bertukar fesyen skang nih. huhuuuuuuuuuuu! sok2 lah ai reveal.
Comment:
17