Jun 8 2016 Wednesday, 8:00 am
our youngest kid is soooooooo superprinceking betullah.
He knows that he s the last, asyik nak membuli jer kitorg berempat nih. Bayangkan ler dari parking, dia nak suh kitorg berempat ni dokong dia. Mengada betul tak nak jalan sendiri tau. Masa tu ada abang kakak, memang diorag melayan ler dukung, takkan apaknya dukung, buat dek lagik adaler.
Stroller dah lama long gone ler, aku dah simpan kat attic (sok cucu leh pakai hahahaha), malas nak jual. So sampai atasnya, aku hantar abang kakak to their skate, depa nak main skate before Ramadhan lagipun tengah school break, so kita memang saja amik cuti Friday pun demi anak2 ler.
But pastuh bila kita dah settled kat skate tuh, kita jalan bertiga pun dia tak nak jalan. Dia suh aku ngan apaknya dukung dia. Homanghaik. Kalau ikut cakap dia sampai bilanya. Spoilt ler.
Sampai orang kiri kanan pepandang dia punya meraung melalak, but i had to hati batu ler, bapaknya pun sama, dia kena belajar gak jangan nak bermanja sangat. Ko bukan ringan dah besau pun tapi nak berdukung je, memang mak kau tiau ler gak.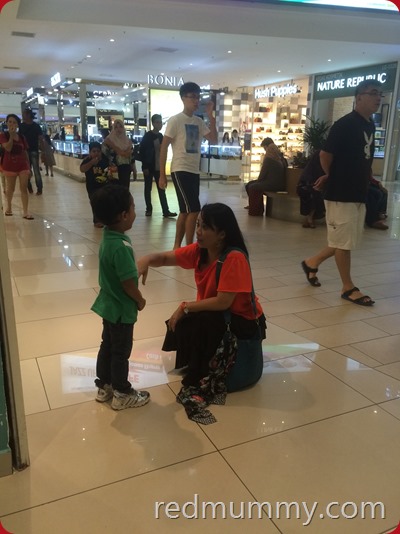 ni dia tengah meraung ler ni, kat sini aku terpaksa slow talk gak ngan dia. Ceramah tazkirah. Ko dik ko sib baik ler ni kat public, kalau kat rumah memang apak kau dah keluar gempita 7 dia dik oiiiii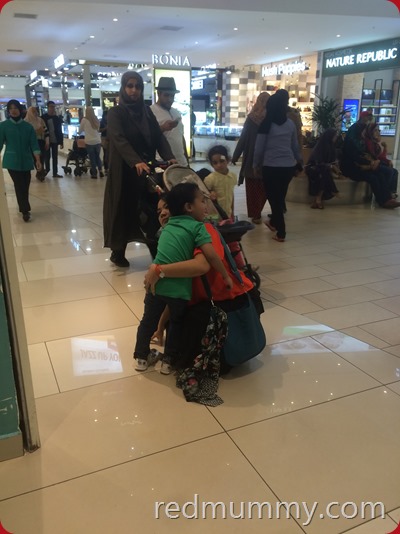 aku risaukan laki aku jer bila dia hilang sabar kang hah, dia geram je ngan dak kecik ni yang dok melalak meraung coz tak nak berjalan, so dari skate tu sampai ke Home Pro memang Zeeshan meraung melalak, sambil jalan. Siap tak nak kawan ngan aku pulak tu, dok pegang jalan tangan bapaknya jer. tak kira ler janji dia tak leh menang,macam aku cakap le kita hati parents kena kental betul bila nak mendidik anak2 ni. Kalau ikut je cakap dia, sampai bila dia tau dia akan perdayakan kita. Trust me, sampai hujung cerita about his perangai tak nak jalan asyik nak suruh berdukung jer.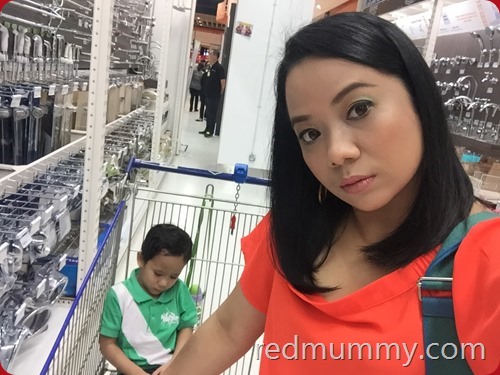 masuk dalam HomePro, terus laki aku amik trolley shopping tu, hah sumbat dia dalam tu. Tengok tu muka toya bengang dia hahahah…protest ngan aku lagi tuh, Aku tolong tolakkan trolley tu pun dia bengang, yelah tak nak fren mak nya, nak fren apaknya jer…
Lepas shopping segala, barulah dia ada mood sikit. Aku tanya pendapat dia macam2 on the stuff yang aku nak beli, konon he s the important man ler, idea dia kena pakai, hah masa tu barulah dia nak fren2 aku…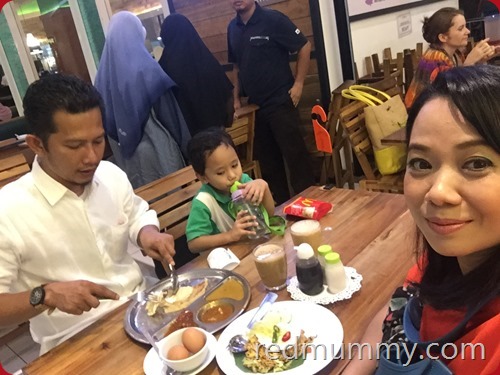 Singgah minum kejap, maklum ler lagi 2,3 hari nak Ramadhan so kita balun makan siang pepuas hahahaa…langgar semua diet. But Zeeshan wants some fries, so while laki aku beli kat kedai ni, aku pi ler McD, Zeeshan ikut sama, dengan trolley aku bawak sama gak. Tapi this time Zeeshan dah tak nak naik duduk dalam tuh, dia yang tolong tolak, Punyalah jauh McD tuh, menyesal aku yang pergi, baik suh laki aku jer hahahah…
Lagipun the reason aku nak gak pi kejarkan McD tu coz aku nak hantar food sikit kat anak2 aku yang 2 orang tengah skate tuh. Mak is always being mak, walaupun ada bekalan tapi aku rasa mesti depa nak menambah makan lagik.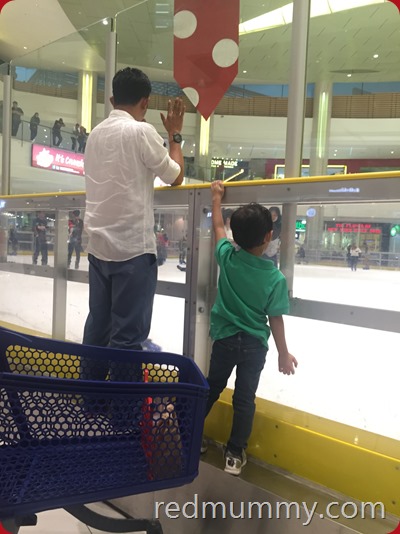 while laki aku and Zeeshan pergi hantar barang shopping HomePro ke kereta semula, aku tunggu kat skate, dok jenuh panggil depa tak gak memari. Diorang mementang dah terer betul skating. Sampai laki aku datang pun aku gagal gak dapatkan depa, tak cukup terang lagi ke kaler baju mak kau hishh…leka sangat, padahal dah cakap always keep looking for your parents.
Jadi bapaknya terpaksa le panjat nak melambaikan anak2nya tuh…
Zeeshan ni dah besar sikit pun aku akan hantar gak skate but abang kakak dok alah tak yah lah mammi. korang tau pasal apa, coz abang kakak malas nak jaga monitor adik bongsunya hahaha, kang depa tak bebas nak skating.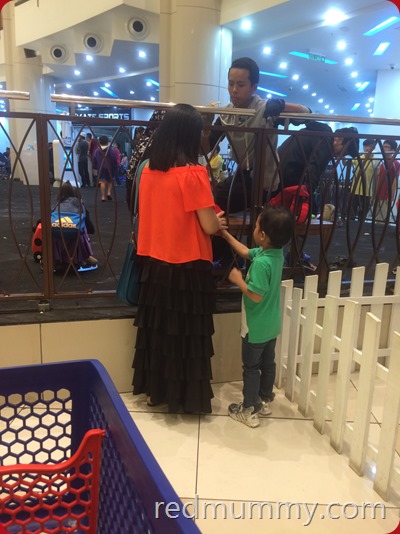 jadi dapat jer anak2 tu, aku pass their food, reminded them to do their solat etcs. Memangpun dalam apa hal, solat adalah tidak boleh diabaikan, dan depa tau tak perlu remind pun but we still have to ingatkan ler, kita yang tua pun kadang2 tersasau.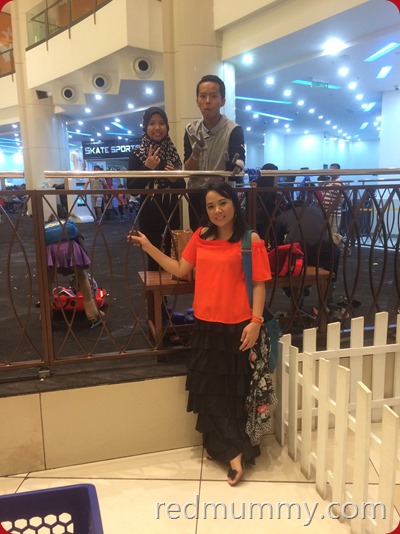 So i told them that we will come back again in an hour, to check on them.
 while us, me laki aku and Zeeshan pi sambung shopping ler, coz aku suka Nichii so beli 2,3 lai baju lagi kat situ. Masa ni Zeeshan dah memang good mood sangat and coz he behaved dah takde nak mengada2 meraung mintak dukung, jadi kita bagi dia pilih satu toy di toy shop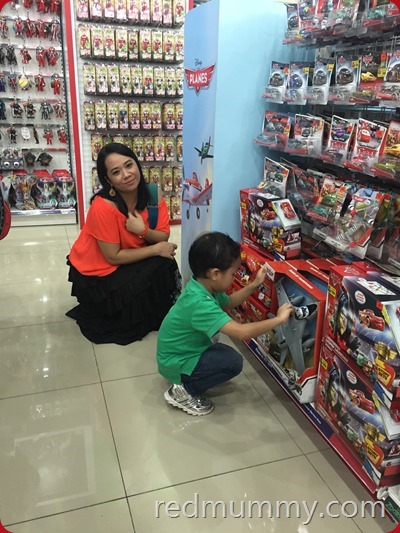 nak menunggu dia pilih pun as usual bercinta….
anyway coz nak tunggu abang kakak habis skate lagi 2 jam lebih so adalah mustahil kita nak melepak macam tu je kan, so terpaksa le laki aku pi beli tix Ninja Turtle.
Omanghai, mengantuk betul aku tengok cerita tu. Dengan drama lagi lam cinema, Zeeshan meraung again. Bisanya kalau tengok wayang memang akan amik 4 seats jer (if 5 of us), kalau bertiga pun akan amik 2 seats jer coz he usually akan duduk on my lap or apaknya. but hari tu sejak Angry Bird punya movie dia dah tak nak dok kekongsi, dia nak dok sorang2 kat kerusi, kadang2 ko bukan nampak sangat, some cinemas kan macam kerusi dia rendah bagai (specially Viva Mall, MBO). So sama jugak dengan yang ni lah, bapaknya beli 2 tix jer, but bapaknya masuk lambat (beli popcorn) aku masuk dulu ngan Zeeshan and he tak nak bangun dari kerusi bapaknya.
So his dad dah nak start berangin lagi, aku siap beralih dok tepi tangga kerusi tu coz tak nak ada lagi drama. But last2 laki aku bangun dok kat dedepan ada kosong (mendongak a bit lah) bagi bininya duduk sebelah Zeeshan. But dah 20min tengok dia beralih ke peha aku, ha kan dah cakap dia takkan dok sorang kat kerusi tu lelama, dia akan carik makpaknya peha gak. So aku suh laki aku naik balik ler dok kosi atas, but you know what, aku pulak getting sleepy ngan cerita tu. Rasa eh tak nak le aku tengok walaupun dah half way.
So aku keluar dulu hahahaha…baik ler aku panggil the big 2 kids tu from the skate bawak depa pi dinner. That s why aku tak tau apa terjadi kat Ninja Turtle tu, RD and Zeeshan jer yang habis tengok.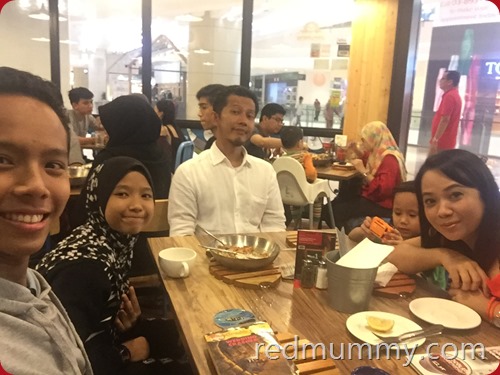 Bawak abang kakak makan kat sini, and habis je movie baru RD and Zeeshan joined. Aku nak mengejarkan balik cepat coz tak nak sangkut kat lift to parking lelama but gagal gak. Ramai betul orang nak turun ke parking so kita turun dengan escalator and till the end kita ikut tangga je untuk ke parking. lagi laju. Sempat jumpa Yanok and mak and kids lagik. heheheh…senang betul jodoh jumpa si Yan nih.
Masa ni laki aku pun dah tak sihat pulak, hidung dah merengus2, sebenarnya aku pun sama 2,3 hari sebelum tu but cecepat makan ubat, sakit payau tekak selsema bagai. The nex day pun kita seharian nak berjalan lagik, yelah nak pulun carik barang sebelum Ramadhan ni kan.
Apapun lepas dah kena slow talk yang kes Zeeshan tak nak jalan tu kan, sampai kemudiannya dia dah sedar diri sikit, he never asked for 'troy/berdukung' at all. Cuma bila kat parking tu, dia bedek abangnya, dan dapat ler, abangnya pun kesian gak kat adiknya, penat kot yelah IOI City Mall tu kan besar, lagipun aku dok citer pasal adiknya buat drama meraung from the skate to Home Pro, so they can imagine ler…
Oh for the skate punya fees ni, depa berdua bayar sendiri, depa kan ada gaji. Saja je gaji bulan May tu aku tunggu hari jalan2 ni, aku bagi masa dalam kereta so depa had no choice to pay the fees ler if not nanti dedua alasan tak bawak duit bagai hahaha…depa kalau boleh nak paku makpak depa but because depa pun skating every quaterly je pun kan, jadi belajar2 ler bayar sendiri skate nih. Sejak last year pun depa dok bayar sendiri, ada ler aku bayarkan but tak selalu. Itupun depa dok pepujuk nak beli the kasut skate tu, about RM500 gak, but memang tak ler…kumpul le duit sendiri. Ikut patutnya duit gaji memasing dah lebih dari cukup but macam biasa, semua nak makpaknya bayarkan ler kan….big no ler.
Comment:
2