Jul 13 2016 Wednesday, 8:00 am
Ha dah update le sikit blog akak nih, mood malas2 raya masih ada lagik, pastuh Kak Red tak berapa sihat pun ye gak. Jadi dihamparkan gambar2 pagi raya, batch by batch…
malam raya punya citer, ada dalam fb page and instagram. Food bagai pun cite kemudian2 ler, ketupat je berejam2 buat heh dek laki aku tuh. wuiii…kita siap by 11pm ler sume ngan baking segala. Rendang bagai pun siap petang raya gak, coz pagi raya memang akan bertangga di rumah, kemudian BTR and terus ke Kapar. Our routine.
Lepas depa solat Raya, kita bersiap2 ler…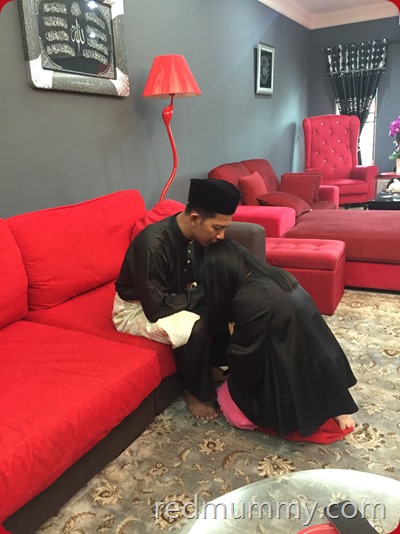 kemudian bermaafan. Bini pi ngadap suaminya dulu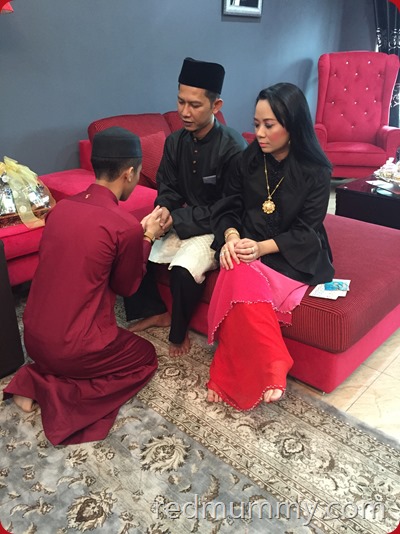 Followed by anak sulong, duit2 raya pun kita bagi gak, even aku pun dapat gak dari laki aku too.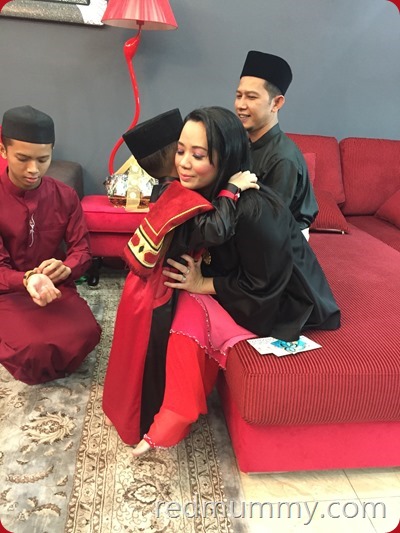 ahhaha dia ni lawak, belum turn dia lagi tapi dia dok sibuk nak langkau garisan beratur. Hang tengok sejadah kat bahu dia tu, he nampak abangnya pakai letak kat bahu but not sejadah ler, serban yang itam putih tu. Dia pi amik sejadah and lipat jadi gitu. Hiks ko ni dik, dahlah pagi tu dia bangun lambat giler, orang dah balik dari solat pun dia tak gak bebangun.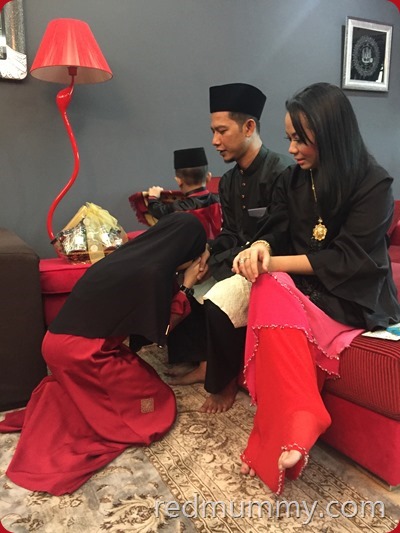 kakak pun sama, bermaafan…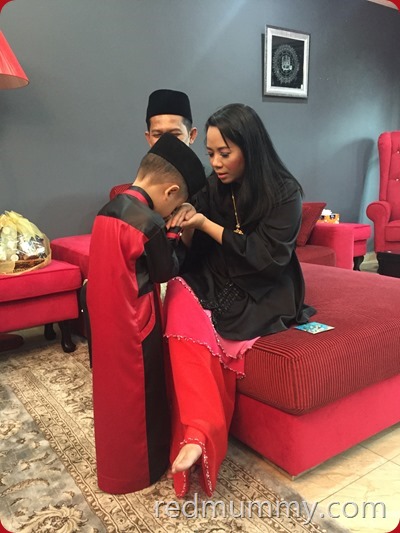 ha ni baru turn ko dik….dia dah ada ucapan hafalan siap2 lagik, Selamat hari Raya mummy, Zeeshan sorry ye mummy. Cute jeee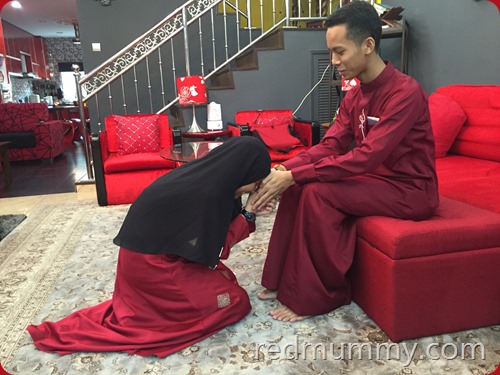 abang kakak pulak bermaafan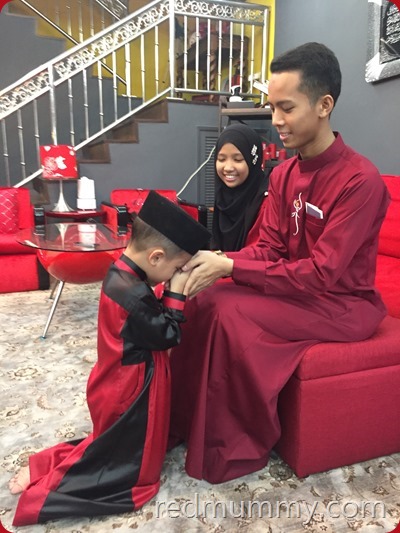 and Zeeshan too, kena gak ikut sama ler…tahun lepas dia moody langsung tak nak salam2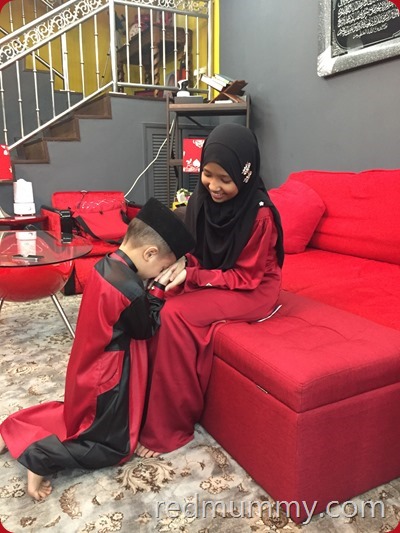 tahun nih dah ada rehearsal dari sekolah lagi ehhehe tu pasal dia dah terer sikit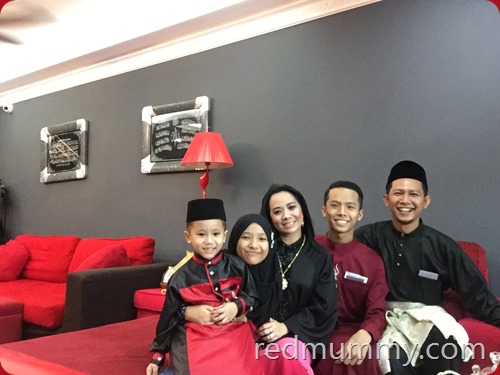 our family photo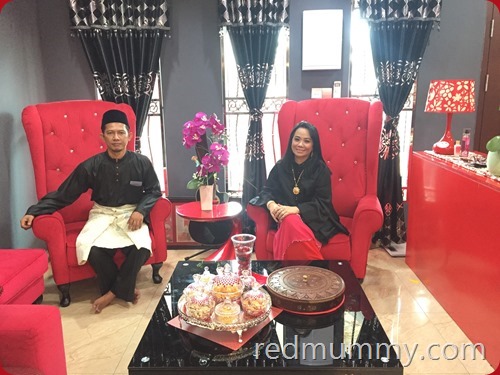 tak boleh le lelama nak bergambar sangat, coz nak kena balik rumah mak aku gak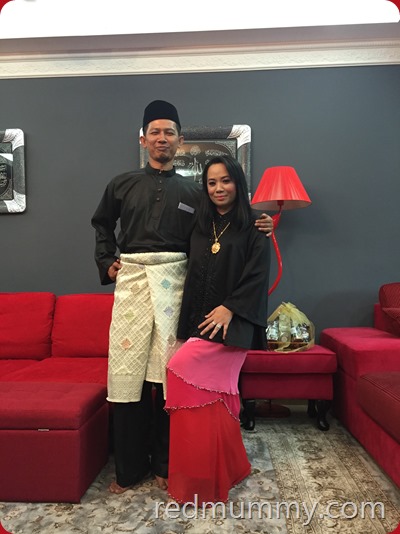 concept kitaorang punya baju raya aritu, kena ikut si bapak. Laki aku nya baju melayu dah bertahun2 dulu aku siapkan lagik, sekali hantar 3,4 pasang baju melayu so ini baju yang dia belum pakai lagi colournya, tu pasal kena le aku carik black gak, Apahal pulak aku nak beli satu set hitam (yet i memang ada beli 2 pasang lain baju hitam gak woh) so aku match ngan kain dari Amin Jauhary ni, baju pulak by Red Audra. Den ada satu lagi colour purple same design for the black one nih.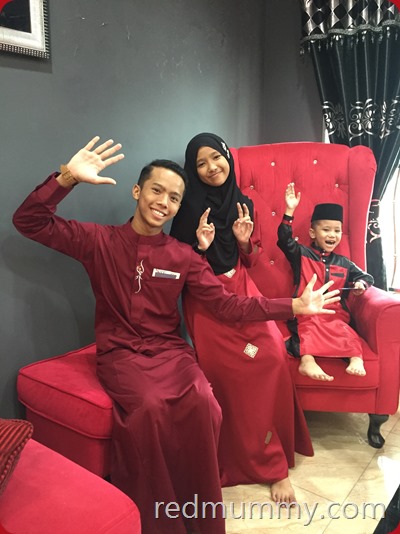 Jubah merah abang is from the Jubah Lima Waktu, kakak pulak dresss ni dia dok pilih suka sangat, she has colour merah lain gak, tudungnya semuanya mostly dari Naelofar (but the brand yang lekat kat tudung tu tak kuat le jahitannya, ada 1,2 tudung kakak dok tercabut, heh beli memahal), and jubah merah hitam Zeeshan ni pun aku beli dari awal sebelum puasa dulu, tak sangka pulak cantik and match with our black and red theme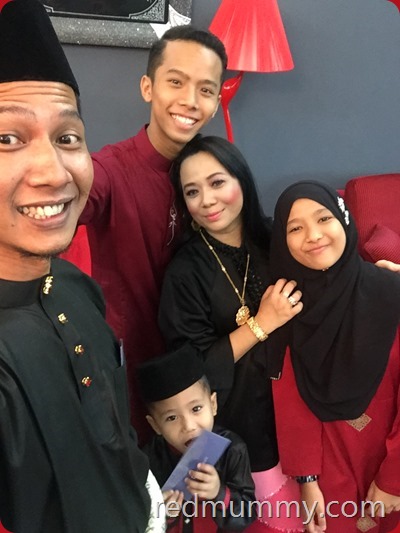 so jadilah our merah black theme le ni kan, butang baju melayu laki aku je sampai 3 sets aku beli coz macam biasa gak taun2 lepas punya butang baju melayu dia takkan jumpa (or malas mencarik, or dia akan pusing2 tanya aku gak mana lotaknya). Songkok Zeeshan tu pun tak beli baru, tahun lepas punya and dah ketat, he was supposed to pakai kopiah but dia tak nak (abangnya pakai but bila bergambar abangnya cabut), arghhh lantaklah janji complete raya ni.
Tahun depan entah2 raya lagi pun idok le tau, but memangler setiap kali raya memanjangnya merah je pun, ada gak match ngan colour lain, tapi base colour merah tu wajib ada. Aku teringin nak warna warni colourful but asal nyopping je mesti nak lebihkan merah. So anyway, nanti kita pergi ke hari2 lain pulak yek, leh peposing kain baju raya. Best tengok FB, the timeline orang beraya, macam2 kain baju raya memasing, cecantik, yang ikut2 theme tu comel je kan.
Speaking of that, no i m not planning for any raya open house, but please do invite me for your raya open houselah yeah. Last year akak buat sampai 3 kali open house, letihnya tak habis lagi and laki aku pun tak galakkan to do this year, hem…ada yang merajuk jauh hati la tu, laki aku ler, bukan dengan aku but dengan makhluk lain. Hiks…
Comment:
0