Aug 16 2016 Tuesday, 8:00 am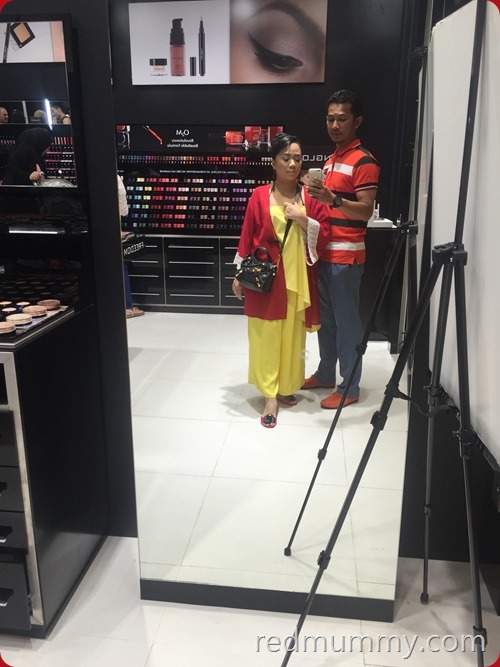 we took kids out to makan steak, yelah the major exams are coming tapi tu lah abang tak berapa gemor, he punya minded dok pikir exams jer. So this will be the last one punya keluar makan lah for them till habis exam.  But keluar ni pun tak lama, late petang and by 930pm macam tu dah cabut balik. Memang budget max 3-4jam jer. Makan je dah sejam lebih kan…pepusing lagik.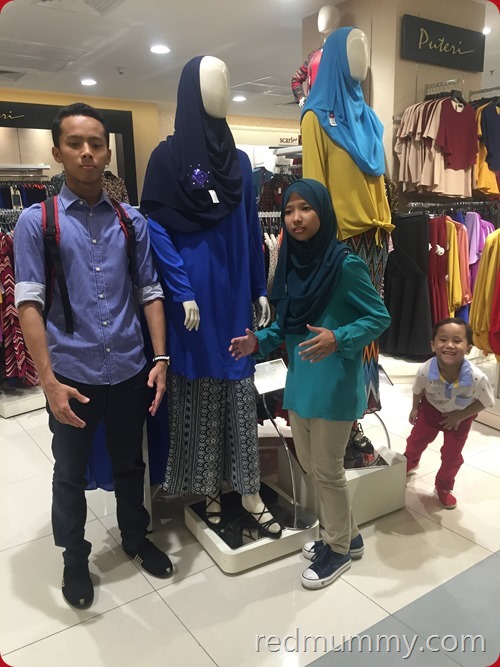 tak de plan nak beli apa but of cos le bila dah sampai mall nih, ada je benda yang nak dibelinya  kan….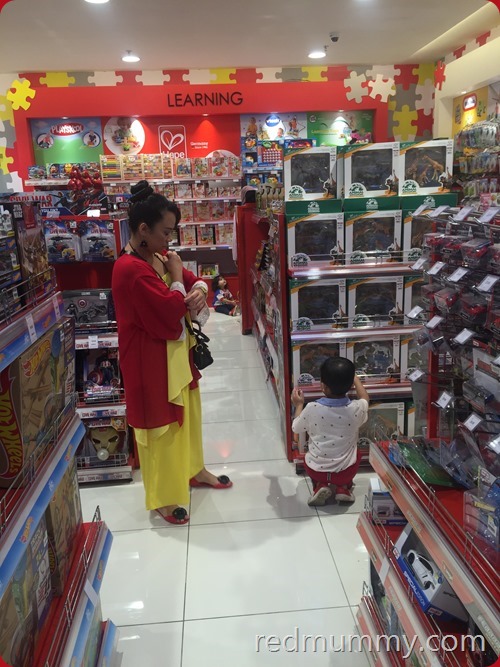 pertamanya pusing carik toys budak nih, 4 penjuru kita 4 beranak ikut dia, yelah dia punya pikir nak ngamik macam2 punya toys haih…nak tu tak jadi, letak balik. dah nak yang ni, tak jadi letak balik….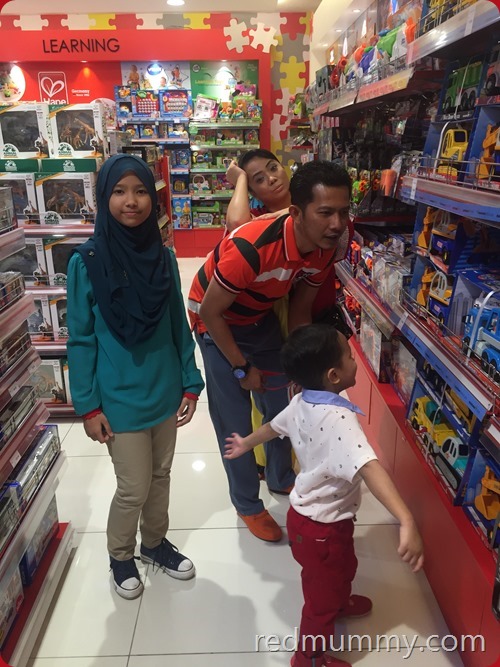 ada yang harga melampau setakat school bus jer pun…tak nak la aku bagi amik, kita racun oooo dia tak jual la ni Shan…amik lainlah. Kalau benda yang leh angkat timbang lambung ke bergerak sedap gak, ini setakat bus je. bape banyak bus dah ko ada pun, cuma yang ni not red, it s a classic yellow colour tuh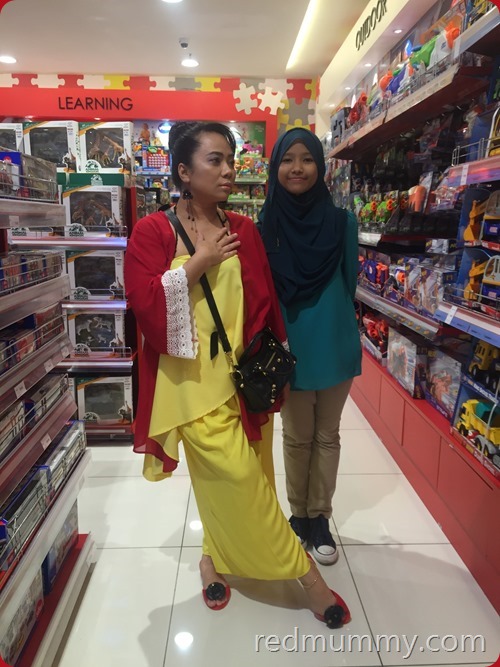 let s pose kakak….her green top tuh dulu belong to mak nya. In fact she dah start pun selongkar kain baju aku, ada 3 lai baju raya casual beli tak sempat pakai bila masa try ngam muat but bila nak pakai skang dah sendat…haiyahahaaaaa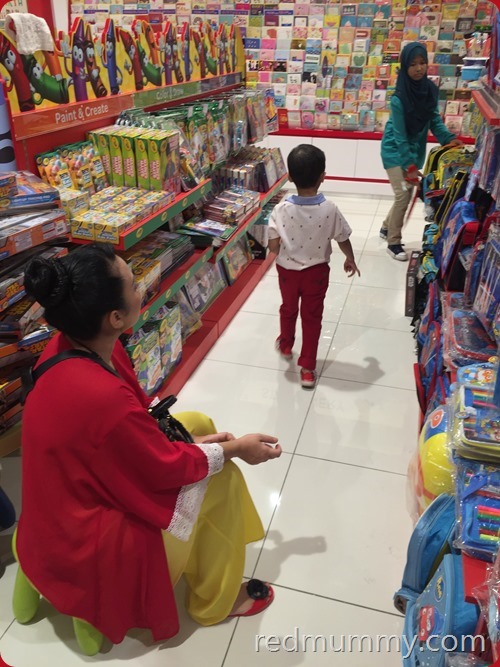 settled dengan toy, kita nak amik bag sekolah pulak. Zeeshan have been using the same school bag sejak setaun 8 bulan, almost 2 taun gak tuh. Dah barai zipnya, tali bag pun dah nak semput. So time to get a new one. Letak iqra je pun dalam tuh for kat 2 taun nih. Ada lah kain baju kotor gak…so memang utilised habis.
Jadi di sini pun dia kena tawaf gak, with his approval. Nak pulak bag tetarik tuh…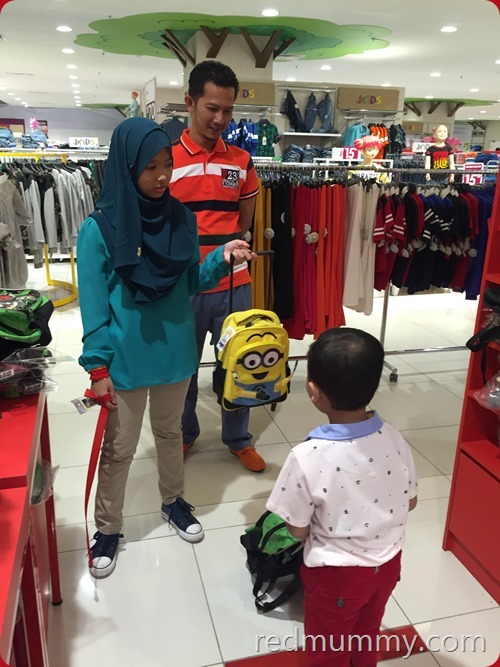 yang ni la dik, ni bag tarik gak. pasrah dah muka kakak ko
no i dont want
kejap tu abangnya pulak, ini ek Shan?
nooo i dont want….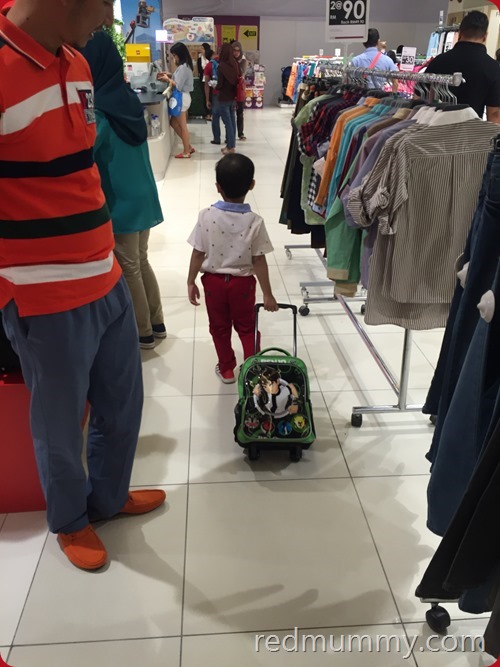 dan kita settled with this green bag, Ben 10. aku rasa macam bag lagi besau dari badan jer ahhahaa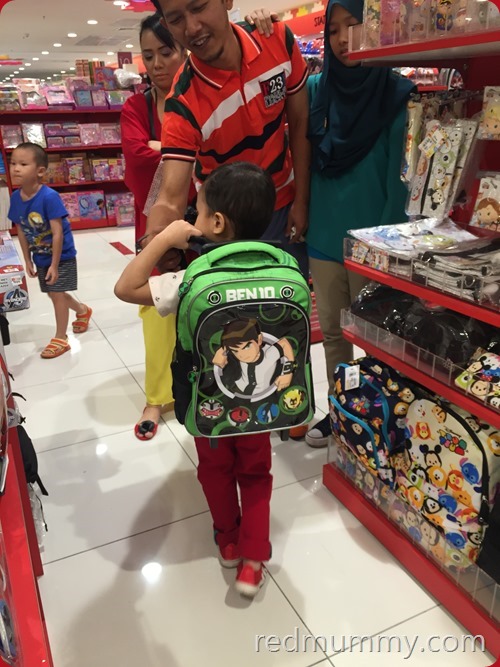 jam2 tu gak dia ngusung. Lepas bayar toys bag ni semua, ngan lori tu gak masuk dalam school bag ni hah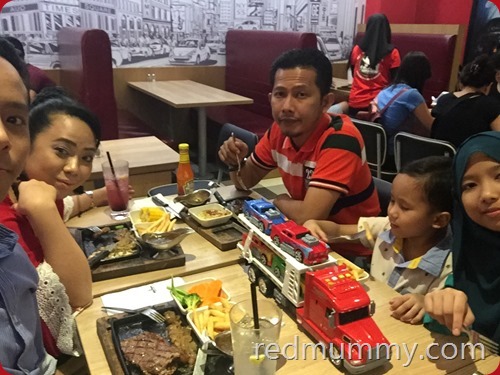 barulah semuanya lapar and kita bodal Steak our fav, same restaurant at MV…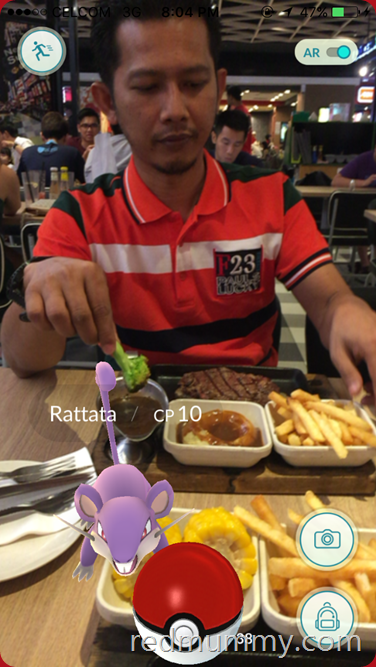 Abang dapat tangkap sekoq hah!
aku memang ler ada installed pokemon tu but idok le excited nak main sangat pun. After seminggu masih dengan level 2 jer, tapi kat sini depa 2 orang main, terus ke level 5! Banyak betul binatang2 poke tu kat sini yek…sampai habis battery mak korang depa kejarkan menatang2 nih…
bersambungan ke Inglot…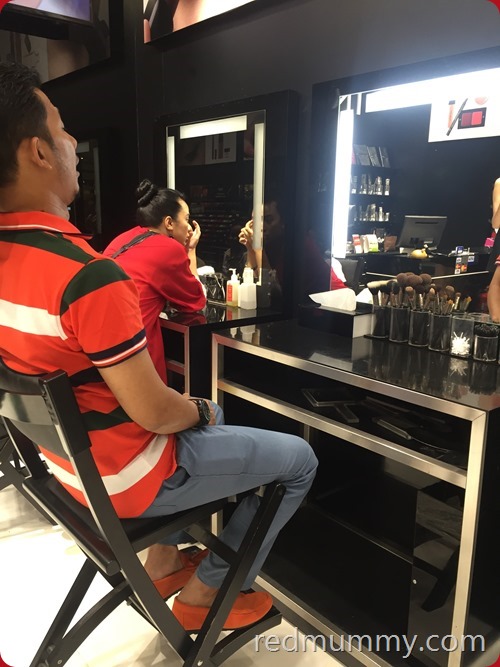 aku takde meja makeup kat rumah, percayakah? coz we have a bathroom yang ditransformed sebagai makeup area (similar to hotel style)  but now ai need one…geleng pala laki aku kalau btol aku nak beli gak meja make up, surely kena parking kat main bedroom kan…walaupun besar biliknya still….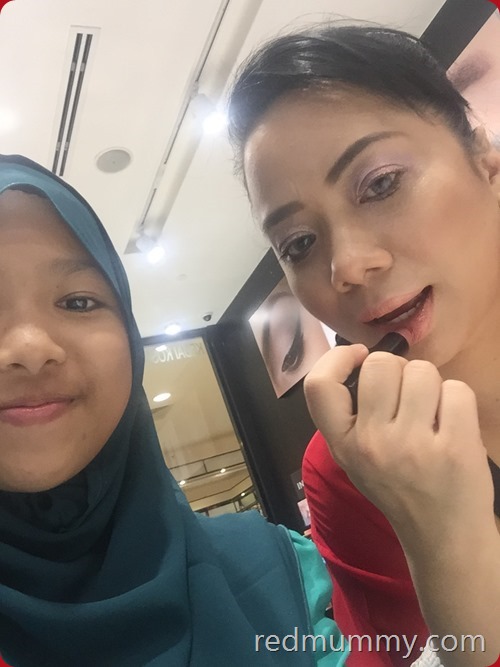 kalau bagi hp kat kakak, dia punya selfie je memang makan dalam je nak memadam, kalau transfer haih….samo la abang eh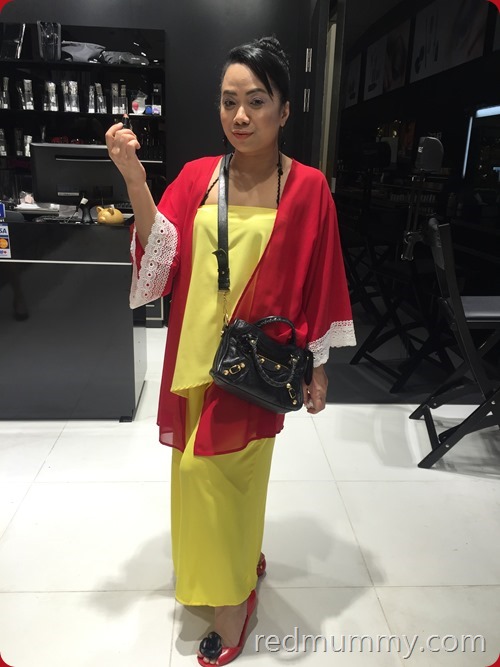 i bought 3 items kat sini, cinonit punya lah 3 bijik tu huh harga….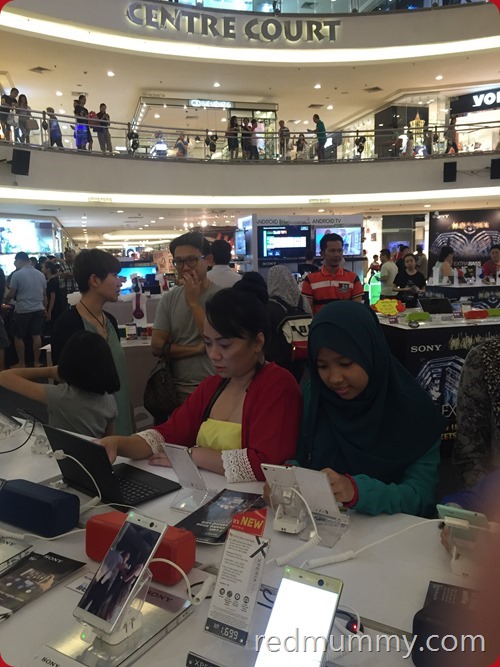 didnt buy anything here, saja gatei tangan main usik2 product Sony nih…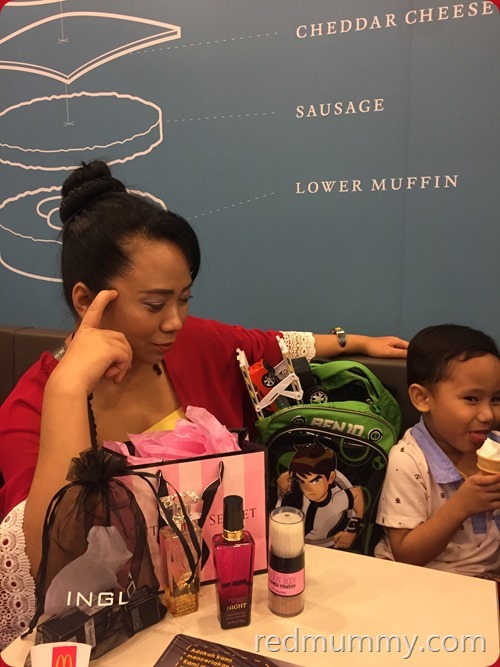 kat VS pun menyinggah, borong 3 ketui barang gak (well hajatnya nak beli satu je but dah dia cakap buy 2 free 1)…we lepak sini kejap bagi bebudak makan ice cream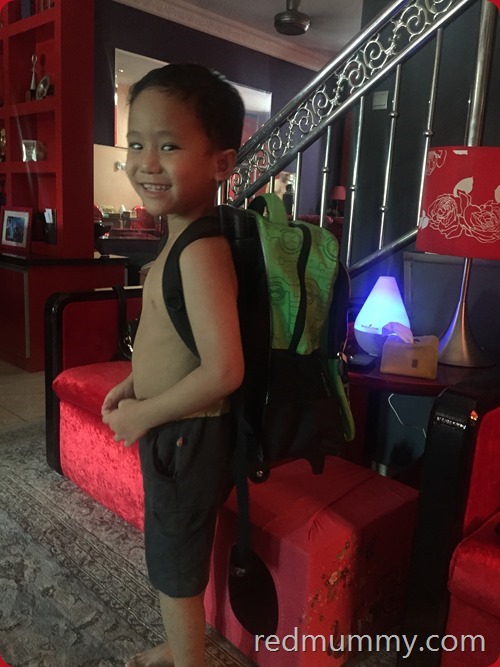 dan esoknya, siang malam berpusing2 satu rumah dia dok menarik ngan bag sekolah baru nih sampai pecah vase mak kau dik! Aku tau tetiba dah bunyik berderai (i was busy baking, buat choc chip cookies!). But apapun he s so excited lah ngan bag sekolah barunya, yelah budak2, bagi apapun, asal baru, tak kisah murah ke mahal, memang bahagia senyum sangat.
Ini dia pilih sendiri, kalau bag sekolah sebelum ni aku beli murah2 je pun harganya but kecik small size cukup ler untuk size badan ko pun, but yelah as they grow older memang dah pandai nak melaram ler kan..
well ok…skang aku ngah pikir nak beli idok meja make up nih hemm…
Comment:
3