Aug 18 2016 Thursday, 8:00 am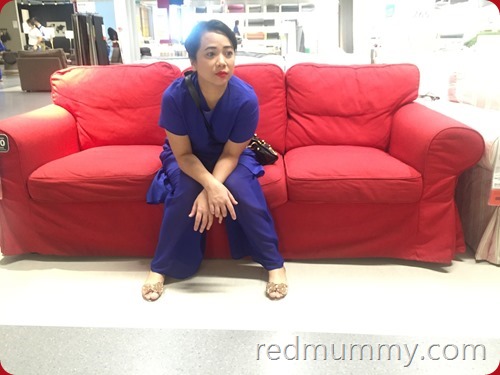 when u are wearing blue, u have to pose at the red sofa. Sungguhlah naik dedua colour ni. Tak kisahpun if not biru, asal contract dari merah, memang colour block sangat. No lah we are not looking for any sofas pun, but a must to take photo here.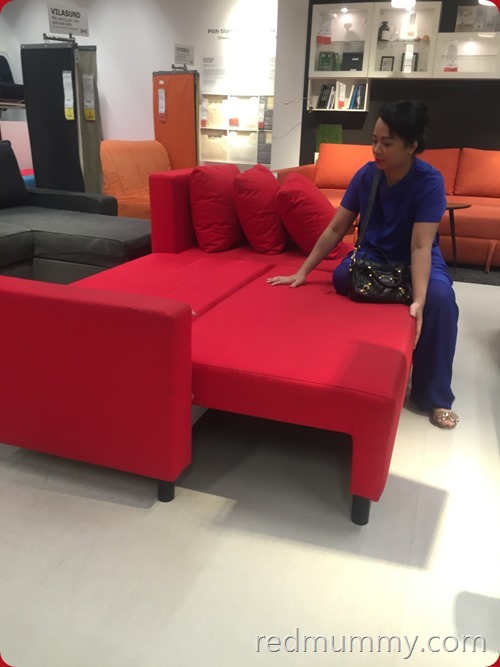 so i was on 4 days leave (dengan 2 hari weekend) so dapat 6 hari. Just to relax and rest. Kebetulan husband pun cuti public holiday Germany aku tak tau le for what jadi kita plan out pagi tu untuk keluar, asalnya to have our lunch at MO jer but tukar plan to Ikea since i really need a new thing in my house.
sofa yang aku duduk merah nih, agak kepelikan pulak design dia…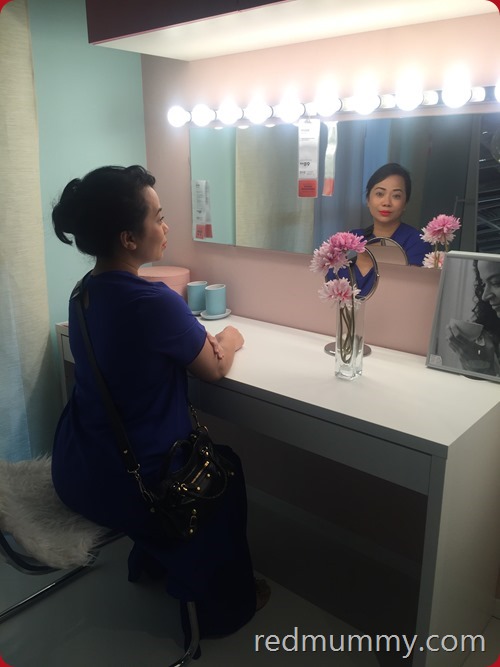 one of the missions ialah untuk beli my new makeup table. Since we move the Red House, akak tak penah ada meja make up coz we have transformed our dry area in the bathroom as the makeup room lah. But thing is, i m getting old and using the stool chair is not helping me some more dengan kerabunan mata yang tak berapa nak nampak if tak pakai lense while make up. So it was 1 year 2 months gak lah bila ai decided to get a new one.
Pastu lighting tak membantu though ada banyak lampu bagai, still aku kena amik the basic meja make up yang dengan cermin depan muka and ada kerusi relax for my body posture.
i nak macam meja make up simple yang atas tuh, cermin berlampu2 tu optional, tak yah pun tak perlu coz i dah tau nak buat camne bagi lighting molek.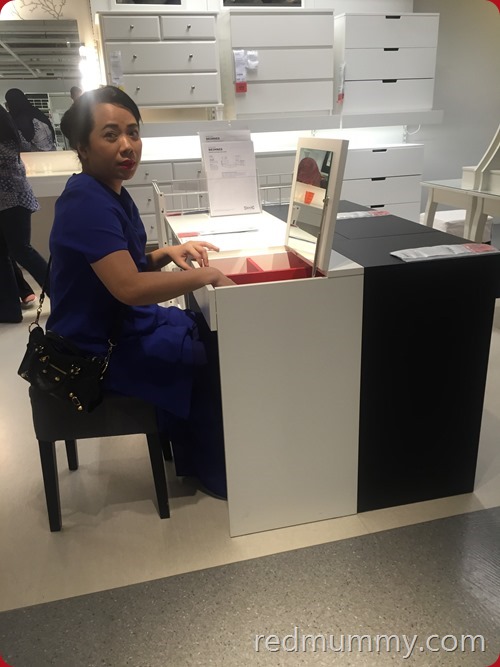 oh no way ler akak nak amik meja make up gini, so not meee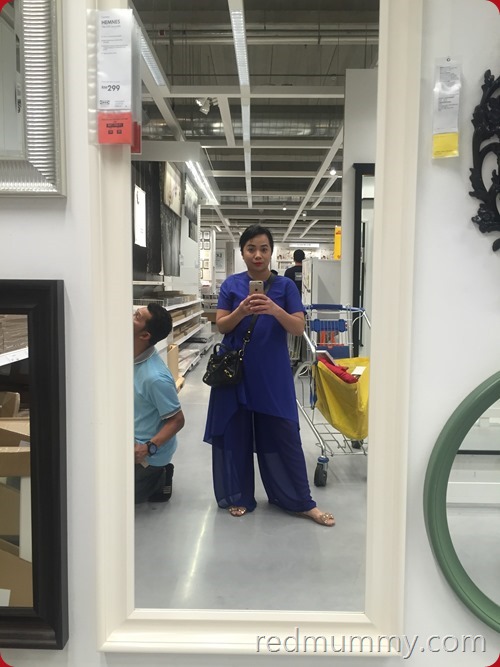 kita pusing satu round, aku rely kat husband amik the gambar with the code semua, so kat depan boleh sapu bersih le kan…rupanya dia hanya amik gambar tapi tak amik codeeeeeeeeeeeeeeee!!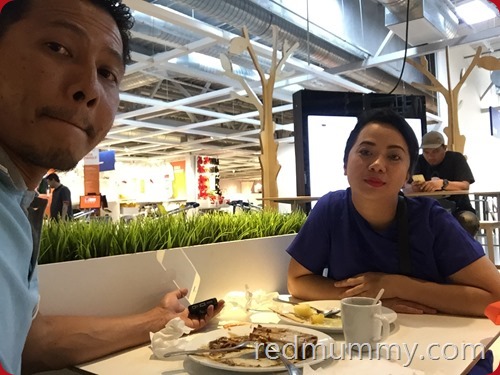 jadi kena lah pi bayau dulu, dah alang2 sampai ke cashier, he pergi hantar barang, and aku naik balik for lunch. Lagipun nak kena patah balik gakkan pi amik code untuk barang2 yang dia terlepas pandang codenya. Kat sini pun aku ada siap bawak tupperware untuk tapau the chicken wings, the kids love sangat. Dulu kat sini ada tupperware so leh bayau le sekali ngan tupperware tu, kemudian aku datang takde plak tupperware dia suh pi beli kat bawah naik balik, ke jadah apa. Tu yang aku siap2 bawak tupperware but dah ada pulak kembali the  tupperware lagik. Hish….
Jimat gak lah tak yah beli tupperware heh since dah bawak.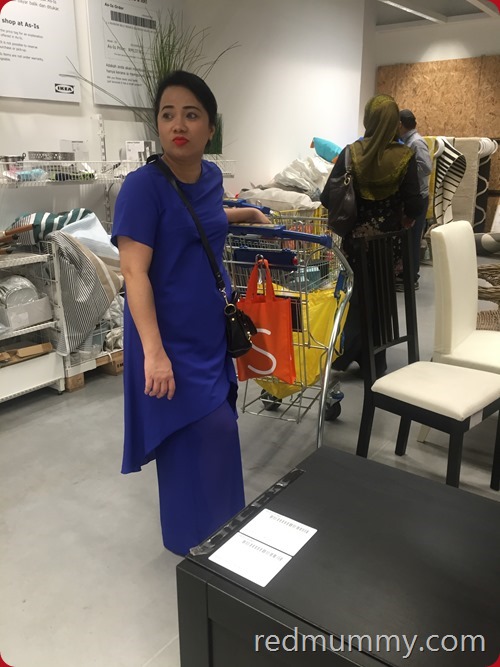 muka toncek pasal ada orang tu dah pegang something yang aku nakkan hehehee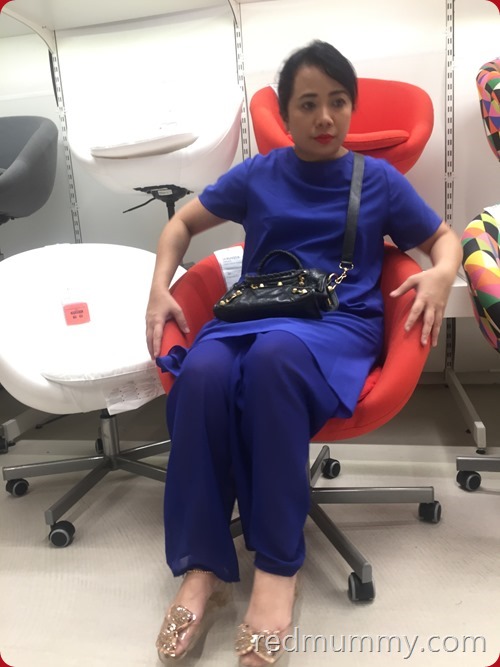 napa le ko tak merah menyalaaaaaaaaaa!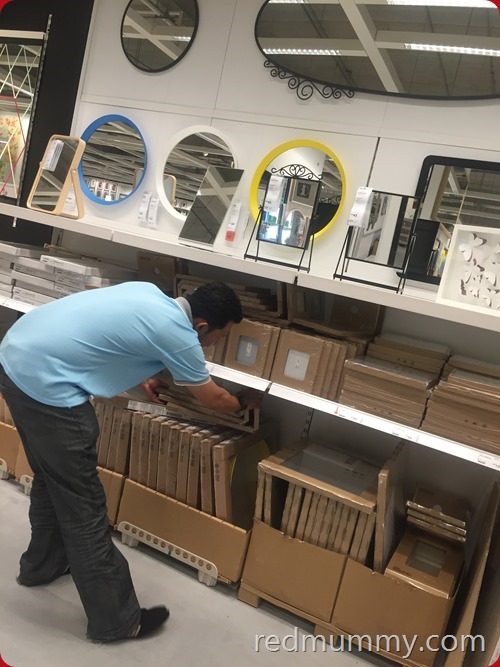 ini pun takde merah, ada white blue yellow and black. I go for yellow, kasi cheerful and colourful sket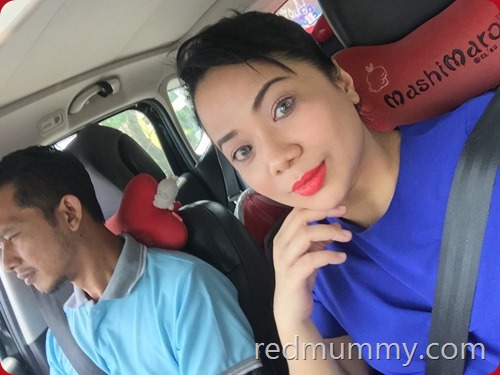 lari lelaju balik rumah, coz aku tak masak, jadi singgah beli soup untuk anak2 yang balik sekolah. Ada chicken wings to top up for their makan….petang tu gak laki aku bersingsing lengan pasang segala maknek benda. Ai is tengok je lah hahahaa…sapu2 kekemas, sambil tunggu dia bersilat.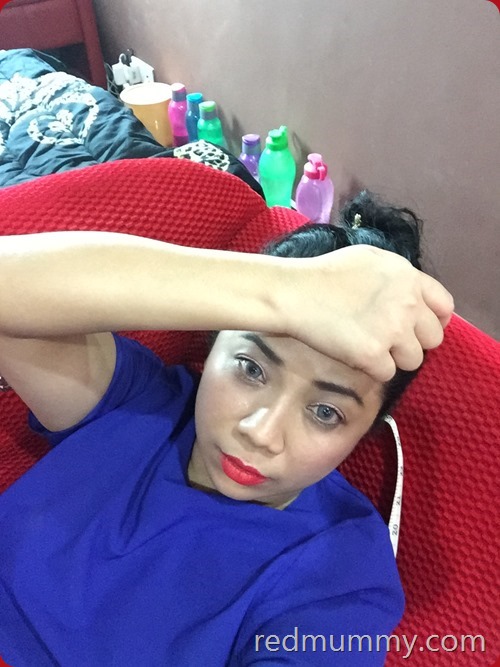 tips untuk orang yang suka minum air, hah belakang tu bersusun air botol untuk kami minum anak beranak. Setiap hari 2 botol akan kosong. Kami adalah peminum air kosong/air suam, the whole 5 of us yeah…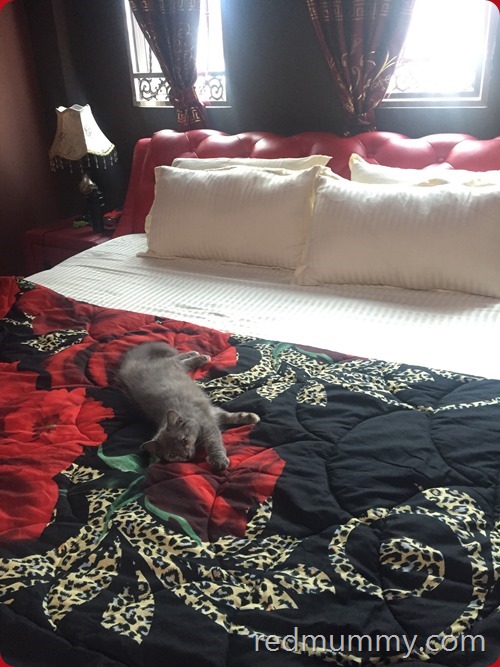 hamboihhh sedap ko tidur ye…dapat aircond nya pasal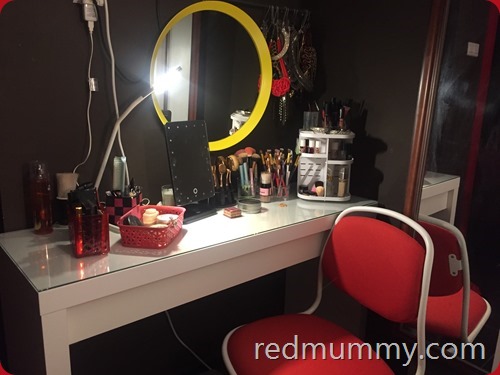 dan transformed sudah.I had to move husband's make up cabinet (alah barang make up dia 2,3 ketul je pun hahahah) to the main room untuk give way for my new make up table to be placed here.  So pueh hati, the one yang dari dry area of bathroom still for make up gak lah but aku suh laki aku do his things there, he tak yah nak duduk2 bagai, berdiri je pun, tak sampai 3min dah siap hensem hahahah. Bininya kena berejam…
For lighting memang le terang bilik ni, it s a walkin wardrobe area, itupun i have magic mirror yang ada lampu gak, also i beli satu lagi lampu IKEA yang leh adjust punat palanya ikut kiri kanan atas bawah. Went to kedai 2hinggit at near by my house and bought 2 liplap lampus to colourful my background and also at the dry area….(laki aku insist tak nak pi belikan so aku ajak dia pi antau aku ahhahah coz the parking hazab).
The rest of the videos, dah posted dalam my IG, check it out there specially at the My Story's page in IG.
Comment:
5