Nov 1 2016 Tuesday, 12:00 pm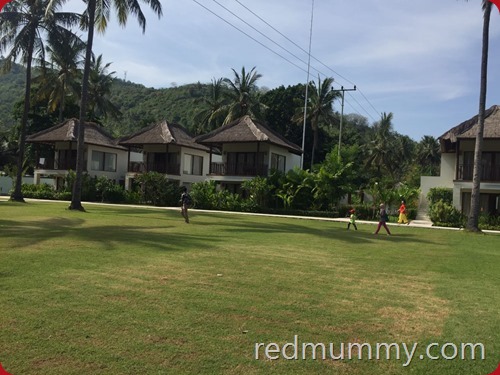 This is the view kat Living Asia Hotel. Pagi tu waktu kami nak keluar ler…so nice lah this place. Kalau ko datang berbatallion hah boleh main bola tengah2 nih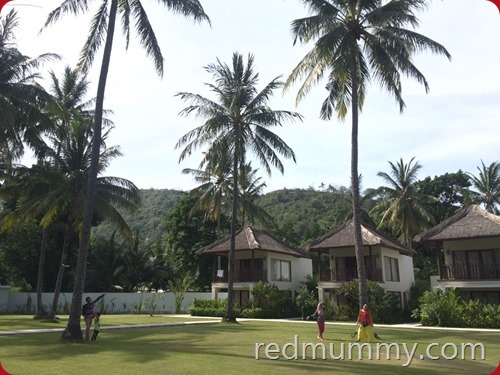 posing bawah pokok kelapa…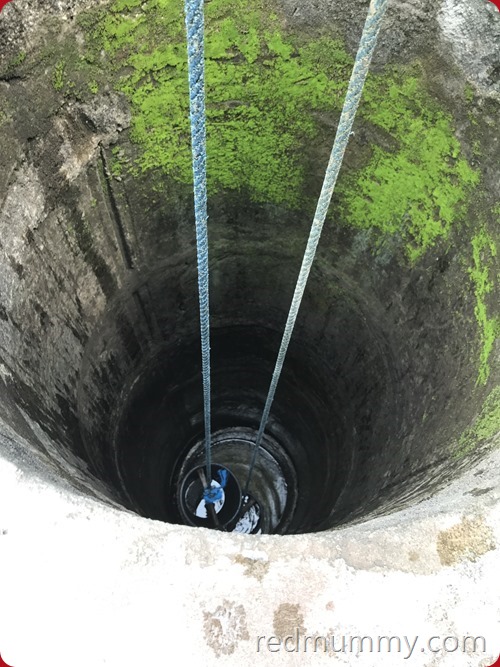 this is the surprised yang our t/guide dok bagik. Mandi air perigi kau! Ingatkan mandi shower normal tuh rupanya air perigi sejuk hah, fresh mik dari perigi plak tuh.
oh ni namanya Nipah Beach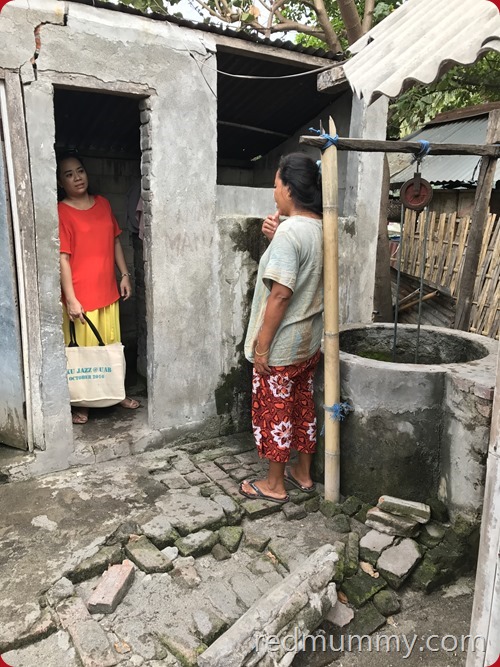 turun dari boat tu terus mandi kat sini, so aku berdiri tu tengah tunggu kain baju yang anak2 dok mandi pakai dalam tuh bersalin segala. Agak tak berapa selesa kat sini but coz t/guide sangka the tourists nak cuba mandi air perigi tu yang dia bawak ke sini. Frankly speaking, aku tak berapa 'ngeh' sangat ler ngan mandi di sini but never mind, once of a life time for them.
Wanita yang berdiri tu, she cannot see, buta sejak lahir dan membesar di sini and dia lah yang jaga tempat air perigi mandi ni. Dia yang angkatkan air and sambil borak2 gitu. Ada bayaran untuk mandi kat sini jugak, but tak tau plak berapa coz our t/g yang handled.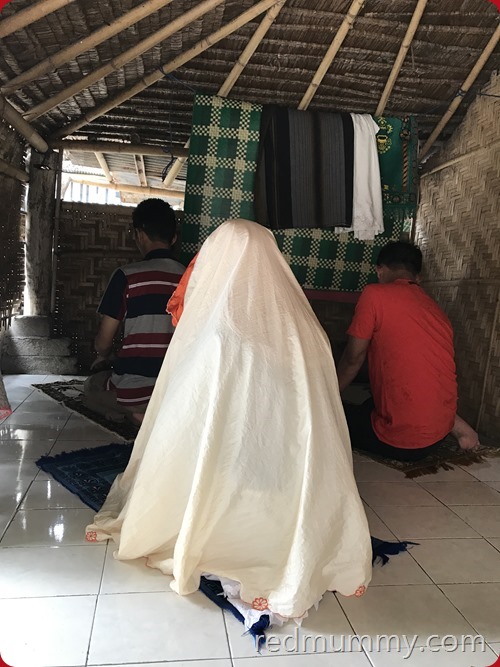 kat tempat air perigi tu ada tempat nak bersalinan and jugak surau kecik sini so we did our jamak.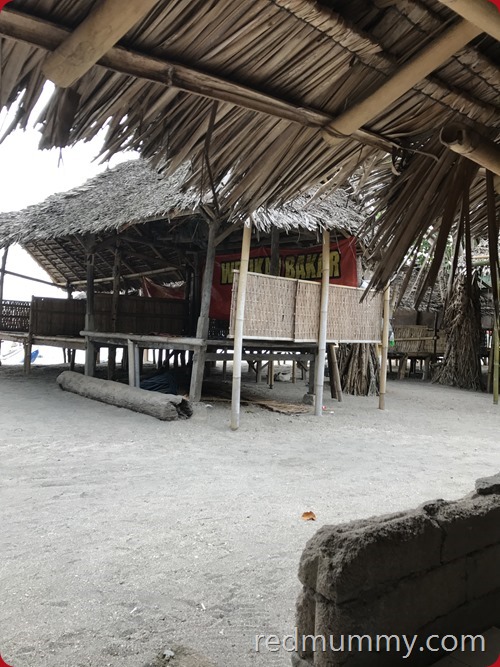 rumah2 rehat milik rakyat Lombok. Sambil duduk sini kejap for solat tu ada penjual2 yang datang berjualan. So aku malas nak geleng2 bagai ada le aku beli. Molek gak aku beli kat sini coz the next days nya aku tengok sellers lain jual lagi mahal dari stuff yang aku beli tuh.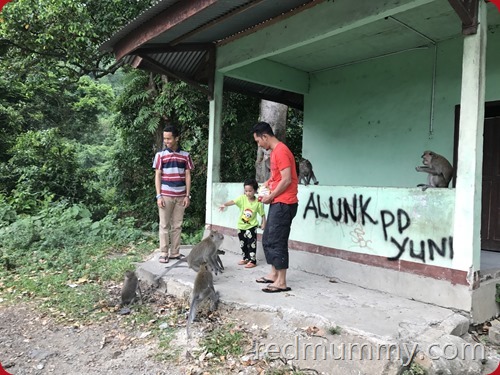 well so lepas mandi dah kemas bagai, kita pi Monkey Forest. Banyak le monyet2..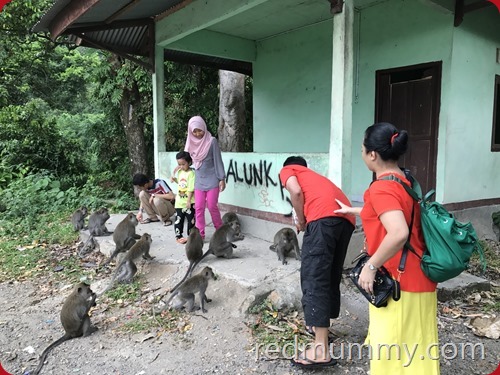 depa tak ganas cuma kalau yang datang dedekat tu memang aku lari sket gak kot. T/g ada bawak kacang sesiap so bagi je lah kat monkeys nih…berebut2 depa ngamik.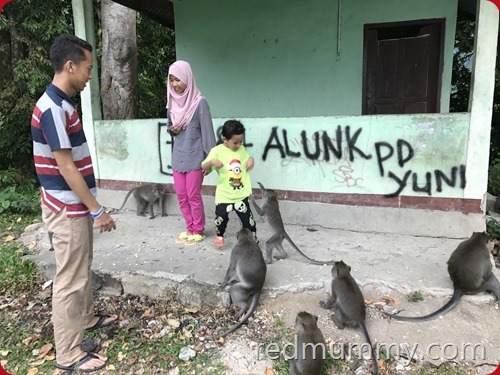 nampak tak ada contengan wall kat belakang depa tuh, kacau pemandangan betullah. Molek kalau dicat semula (or mungkin pemerintah dah cat but diconteng semula), who knows. If not lawa jer gambar2 di sini…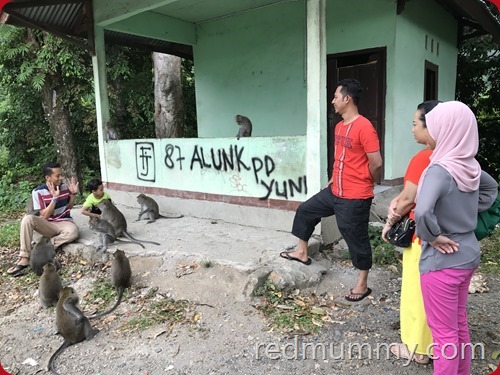 Zeeshan ngan abang berani ler ngan monyet2 nih..abang as usual pet lover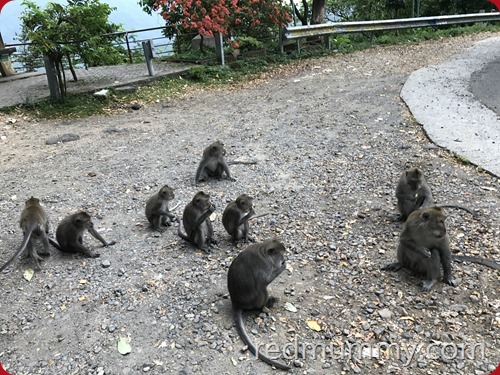 Kat Bali kot yang monyet depa sangat 'panjang tangan' asal apa kat badan kita, topi ke hapa sume dia nak amik. Sini sopan sikit, muka memasing garang betul hahahaha, takut aku nak dok lelama kat sini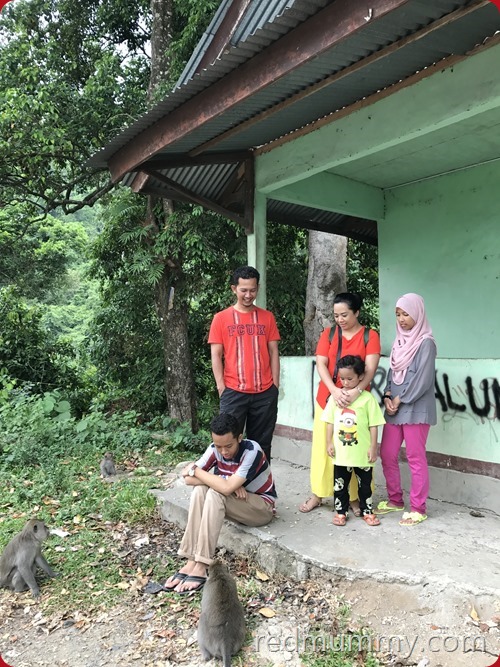 Think we spent 15min kat sini, idok perlu lelama….cos food yang kita bawak for the monkeys pun tak banyak and depa dok mengirai tunggu nakkan food jer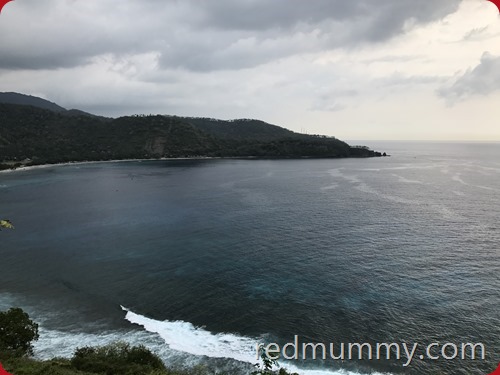 lawanyaa….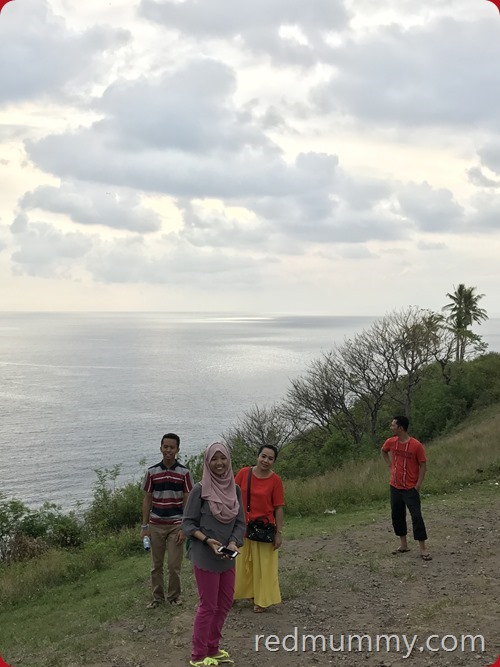 This is Bukit Malaka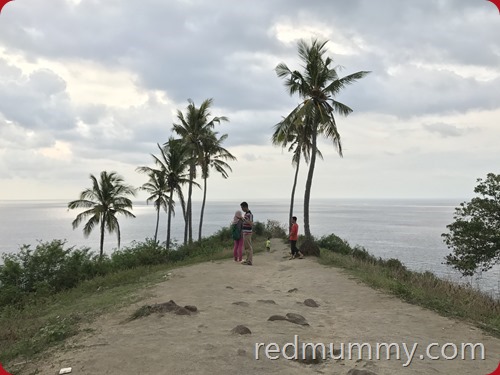 diorang berempat pergi sampai ujung Bukit Malaka but aku macam biasa, half way jer. Maleh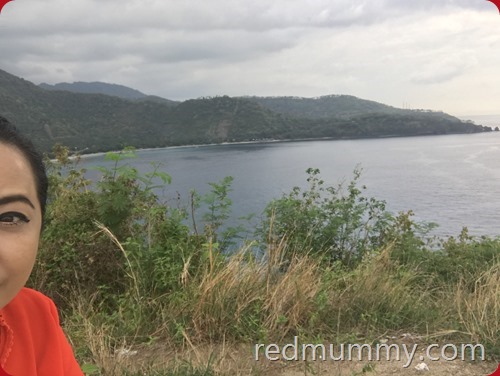 dok kat batu, lagi sodap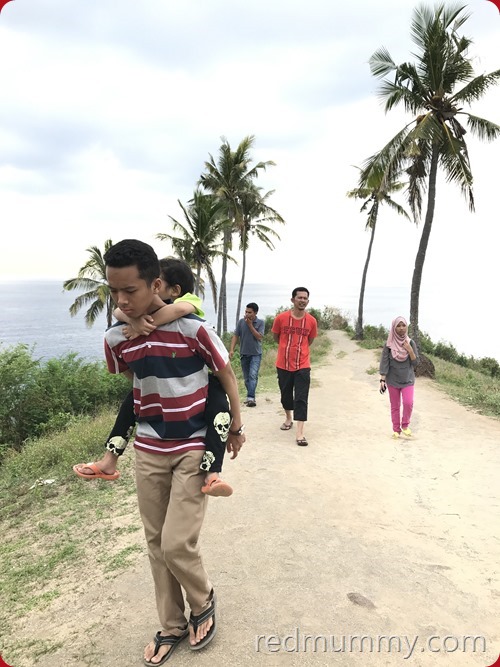 sudahnya bila naik dari Bukit tuh, abang kena dokong adiknya.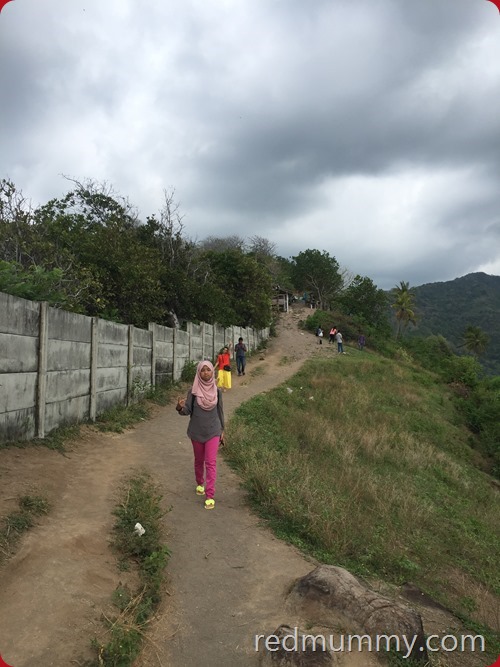 Bukit ni cantik untuk amik gambar lautan…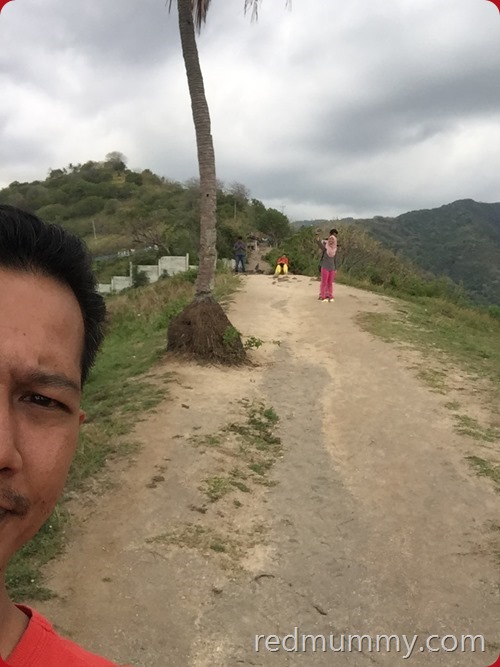 kan..bukti mak kau duduk separuh jalan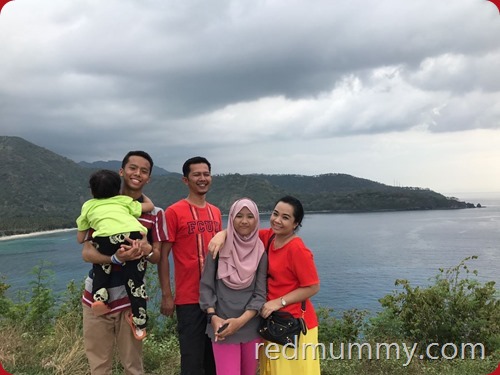 si kecik mengamuk bila suh pandang camera…haih ko nih Dik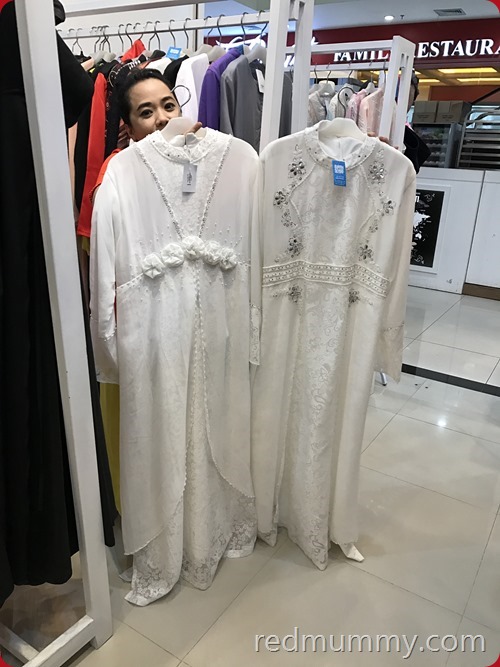 dan langsung kita ke Epicentrum Mall
mak nya kena carik 'ubat' kejap…jalan2 dalam mall pulak
Kedai ni kita masuk waktu tunggu the boys pi toilet, the girls yang done dulu so this is the first shop yang kita tengok and nice white jubah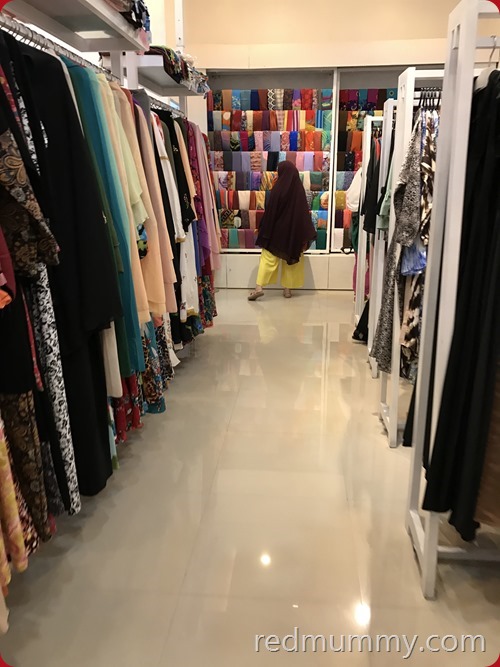 This  mall punya visit macam impromptu plan. coz nak pergi dinner macam awal lagi jadi singgah ler kat mall nih. Lagipun lagi aku nak makan roti ke kopi sikit dulu selepas the 2 trips and perjalanan depa asalnya dok mandi mandi kat Gili kan. Macam aku tak letih sangat coz ai didnt swim at all.
Kedai yang sama jugak, ada jual tudung yang 2 or 3 layers at the back yang macam Lopa and VieShanti pakai waktu depa buat Haj. Ini in dark purple.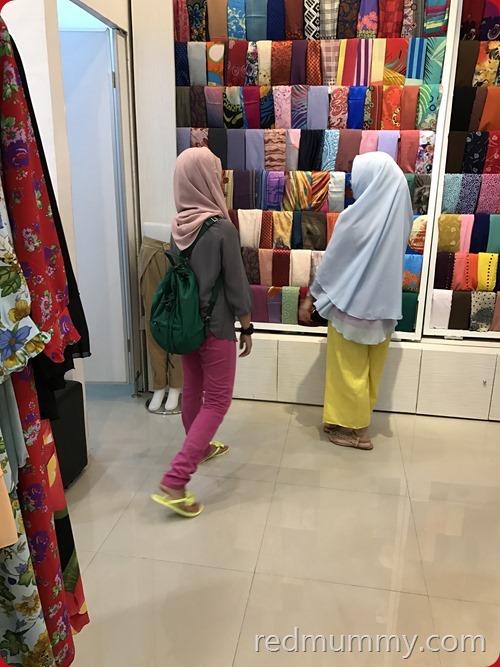 Light blue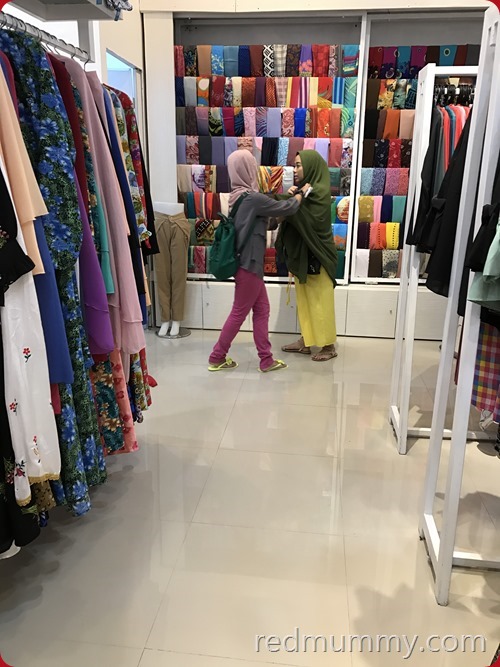 K's green
at this shop, ai bought 7 colours of the 2 layers tudung tu lah. 2 anak tudung for kakak pakai kat Lombok gak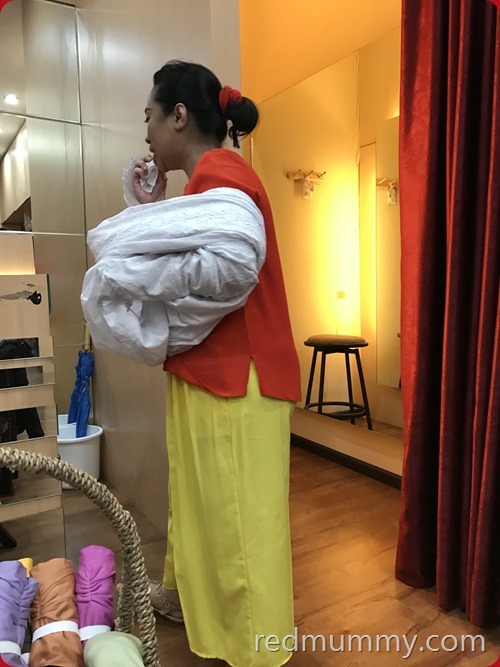 at another shop, buang dulu lipstick sebelum sarung this telekung, kang tercalit (kot ler mana taun pun but just berjaga ler).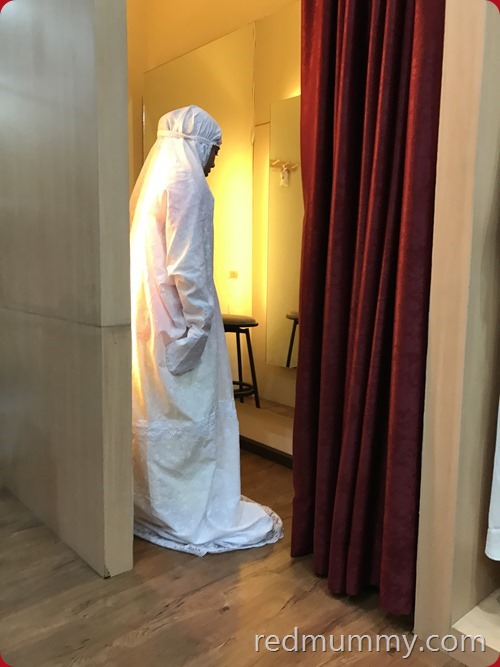 ini telekung yang sekali arung pakai tuh…i would like to buy but dalam masa yang sama Zeeshan tengah mengamuk2 buat hal. Dia nak naik train yang ada dalam mall tuh. Bapaknya tak nak melayan (told you laki akunak kena carik kopi dia bagai, so aku terpaksa tinggalkan kedai ni (ingatkan nak datang balik but terlupa sudah), and terus attended Zeeshan.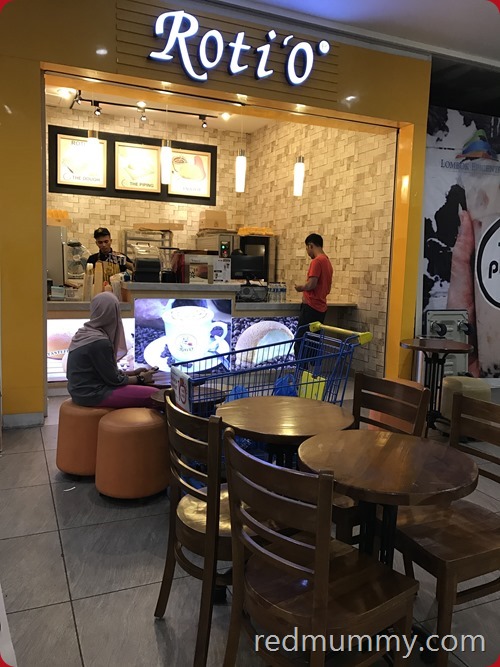 because kita dok jalan kat concourse floor dia, tak naik kat Ground floor so laki aku settled ngan roti and kopi. Roti ni macam rotiboy KLCC jer gak, dari 2 keping roti, sampai jadik 5 pcs of roti depa bedal. Memang rotinya sedap…
sesambil tu kita tunggu Zeeshan habis naik trainnya (abang teman) and aku naik ke 2,3 tingkat sorang2 and ada gak yang beremankan Kakak. Tetingkat atas for me more to international sikit (melambak macam kedai kat KL) but yang kat GF or concourse yang lebih Indo frenly.
Agak sejam lebih at sini kita chow untuk pergi dinner.
Jadi dalam list, Epicentrum Mall of Lombok, wajib visit gak if nak pergi one of the malls in Lombok.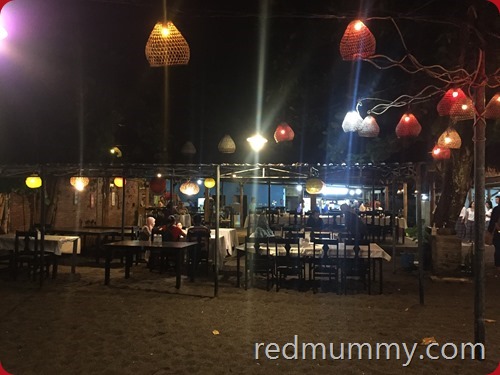 Ini Ocean Blue's Restaurant. Ini the bestnyaaaaaaaaaaaaaaaaa lahai dinner kat sini. lauk pauk sedappppppppppp.
actually kat Lombok 2 yang wajib kita makan dalam list pinggan kita ialah ayam taliwang dan jugak ikan nila. Mostly the ayam tu goreng2 but yang ikan ada yang goreng biasa, ada yang disambalkan, dan sambal pulak ada jenis yang pedas nak terbakar telinga or yang sedang2 jer. For me, ai m more to ikan nila. But for my kids they love ayam taliwang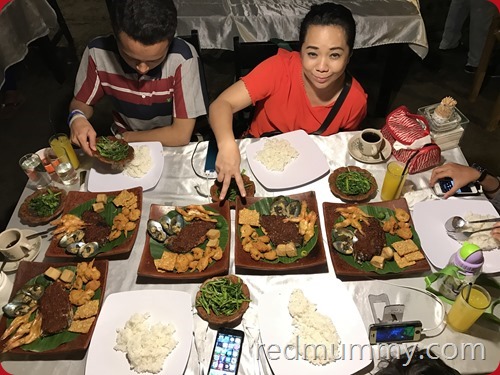 usually the food comes in set, coz ini yang dah siap t/g orderkan. My trip ni termasuk makan minum bagai so tu yang apa2 food kita tak order, semua handled by Azan. Cuma air kita ada tukar, coz aku and suami bukan cold drinker, kita more to black coffee (ater teh tarik mano ado sini). Dan sayurmayur tu semua biasanya kita tak habis pun. Macam for tonite's dinner sepinggan ikan tu dan lelain bagai kita bungkus untuk dibawa balik Azan.
But seriously the food here is soooooooooooooooooooooo delicious. Should have come back here on the 3rd nite (sebab bila compare ngan nih, sini lagi sedappppppppppppppppppppp) dan dimasak dengan penuh kasih sayang sangat.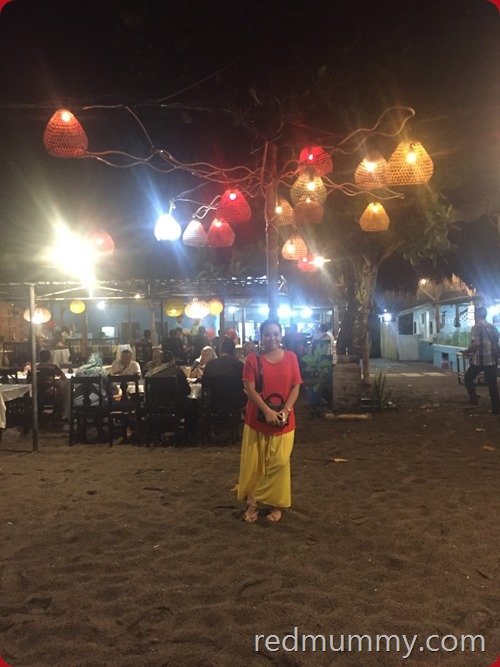 bila makan sini, kaki akan menginjak kena pasir tu kan, so best makan tuh cabut je selipar so boleh merasa sejuk pasir pantai. sedap yooo
ai love this Ocean Blue's restaurant, harus kamu datang. Nanti ada ler waitress nya sorang gadis manis dia letak kat depan entrance bawak ko ke meja, dan bila ko dah abis makan pun dia akan escort ko sampai ke pintu van.
bapak2 suka ler service camni… LOL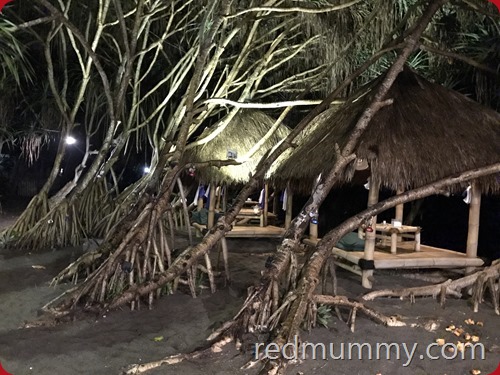 scacry betul aku tengok pokok nih. Boleh dok sini and makan dalam gazebo tu gak, facing the ocean (but gelap ler nak nampak apanya). Cuma akar2 kayu pokok ni menakutkan sangat….but kang makan kat sini kaki tak leh nak letak kat sejuk pasir lantai tu hehehe…
Jadi 2 entries for our Lombok day 2 selesai. Mungkin ada yang tertinggal but tu as and when kita ingat nanti, akak cite lah. yeah. I know you nak tau the harga2 package bagai, tu pun at the end of the Lombok's story. Cuma yang penting cuba elakkan pergi Lombok pada Nov and Dec coz masa ni tengah musim hujan nanti rugi tak dapat nak jalan banyak dek sebabkan hujan. Ada kawan akak pergi Dec last year so tak dapat nak enjoy dek hujan memanjang…
Comment:
2