Dec 1 2016 Thursday, 8:00 am
some of the photos dalam ni kena kekecik sizenya coz i have issue ngan WLW. semalaman aritu aku ngadap benda ni je, siap compared 2 laptops kenapa ke masalahnya gambar jadi pepecahlah, tak auto rotating bagai. So pasalnya gambar sini ada yg kekcik coz i tot by  kecikkan takde le nampak pecahnya, pun sama gak.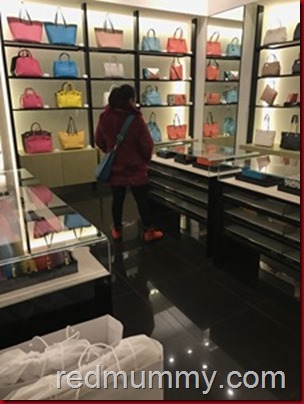 so back to the shopping life di factory outlet, Florintia Village selepas satu pusingan tuh, for me memang aku dah tau mana nak amik bagailah kan. Jadi kena pusing lagi satu round but kali ni terus ke the kedai tu teruslah. Eh dah citer kot nih hahaha but takper, kita pusing2 lagi carik bags.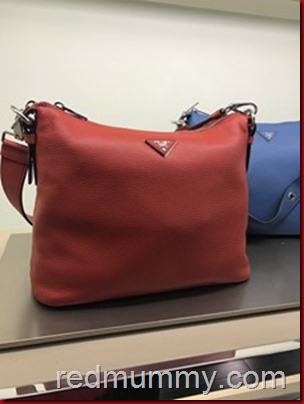 asalnya aku berkenan ngan leather Prada nih. I thot boleh sling, coz tried earlier tengok boleh adjust talinya, but pastuh bila datang balik, rupanya adjustable dia tuh hanya takat for shoulder jer pulak. aisay…so cancellah.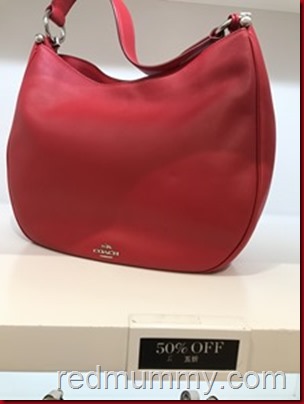 kau, 50% off. Ni Coach. on top of the discounts ni sume, ada lagi discounts depa bagi bila ko nak membayar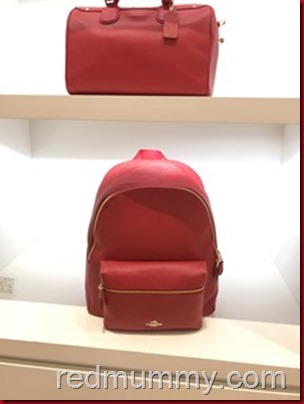 Coach gak, aku suka merahnya. Oh well, menatang apapun kalau dah merah, mmg aku takleh nak let go lah. Berkenan sangat.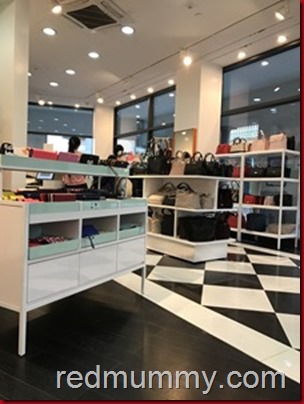 ini dalam emm…Kate Spade kot, aku dah memang nak membuta gak masa nih, penattttttttt. My bff is like shopaholic, same as mine. So aku ingat aku lagi teruk, dia pun sama teruk hiks…tp aku jenis yang berkenan try sekejap2 jer lah. But hers is like oh….ma. mintak nyawa. but pasrah je lah, bukan aku je yang kaki shopping gak pun.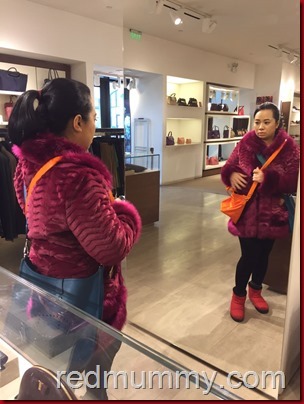 Ini Ferragamo kot, hah yelah. Asal nak grab, tak jadilah, tukar amik Prada. same orange. If Ferra ni ada colour merah ke lain colour, boleh gak consider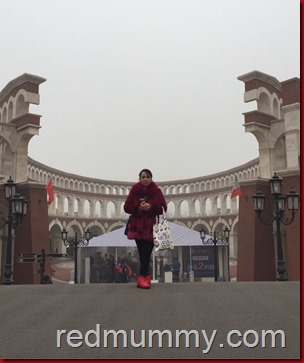 bridge ni pemisahan antara sections of boutiques. Nak kena turun naik bridge ni gak if u miss one boutique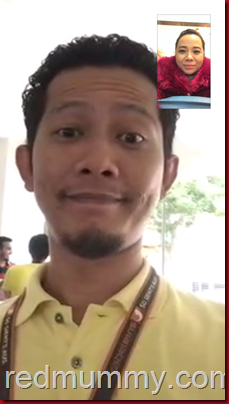 waktu dalam kedai spek ke hapa, aku faced time ngan cik abang ai. Line kat sana very signal, line was quite poor for me, local ppl tak rasalah. Siksanya lahai, semua my ig stories berejam2 baru dapat loading.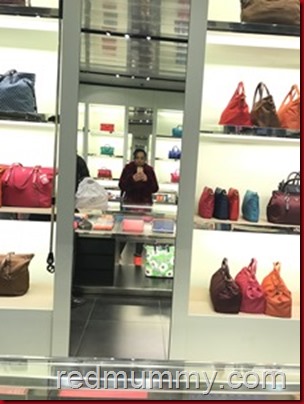 Prada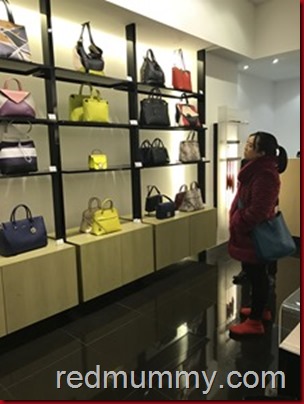 Furla
ini dah last round. dah last kopek sangat nak balik…baru nampak Furla, coz it s at another section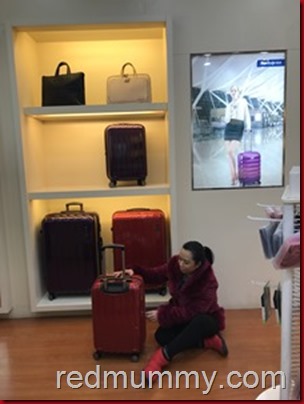 Samsonite. Pi Jepun dulu pun beli Samsonite gak, hok ni pun beli gak hahahaha, coz i need red luggage yang small one. yang stock ada, dah kena rembat ngan mak aku. Aku datang ni pun ada bawak hand luggage orange, but itu bukan my colour…
so beli terus nih and campak barang2 belian dalam nih. Sebenarnya dah sarat penat sangat heh, sehari ko kat sini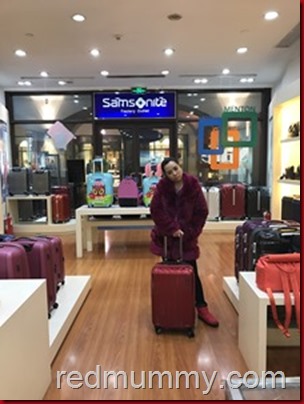 bih kurang je kaler ngan jacket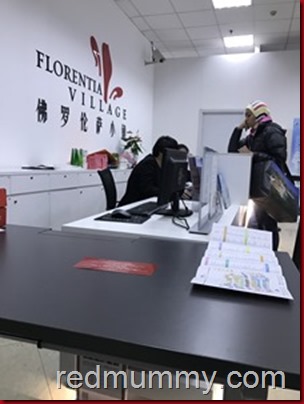 pastuh, gf aku gigih ajak buat tax refund. Dia tak yah buatlah, but untuk aku. At first kita gi awal nya customer service, dia suh datang sini, yang sangatlah jauh (memandangkan kami sangat sakit kaki, specially aku lah). So dia dok pujuk2 la aku buat gak, dah alang2 datang sini, jauh2, rugi tak buat. Jadi aku pun yelah ikutlah langkah pi jugak berjalan jauh buat TAX Refund.
Ya Allah lamanya kauuuuuuuuuuuuu kat sini. Aku je kot yang nak buat, tapi diaorg tak biasa lagik. Nanti special entry on the tax refund aku cite satu kat entry ye. Coz now pi China dah boleh buat tax refund since last year, jadi rugi ler kalau tak buat. Udahlah beli handbags berbijik2 nih…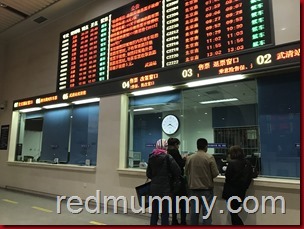 So to cut off citer, ngam2 kol 8pm, the outlet pun dah nak tutup, baru kita siap all VAT process. Jadi jalan lagi slow2 dengan kaki penat yelah 10 jam kat sini kan, banyak berjalan berdiri dari duduknya. So terus ke station. We missed one so kena amik yang jam 930pm punya train.  Ada satu  jam lebih gak kita nak menunggu, kedai kopinya tak menarik pulak. Toiletnya pun sib baik bersih, if not satu  hal aku nak kena carik kat Beijing. Lama lagi perjalanannya nih.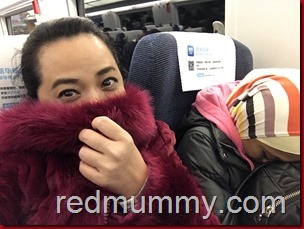 member sebelah bukan ngantuk, tapi lari dari camera, coz our face yang 10jam mereput dalam outlet ni dah macam kak yah sesangat. Penat. Lapar tu tak terasa le sangat…nak katil nak katilll sangat nih
so train sampai, masih lagi dengan bullet train and after 20min smapai dah Beijing. Tapi kat situ pun aku nak terkencing gak, yang tu le malangnya bila aku tertengok pompuan berak ke kencing tak tutup pintu. Langsung aku nak termuntah and kuor, tak jadi nak shishi. Noharem btollah ko, tutuplah pintu!!! Jadi lupakanlah kencing, lupakan dinner (coz kat sini depa served noodles, yet aku ngah pantang carbs), so tak yah makan hahahaha..balik baru pikir.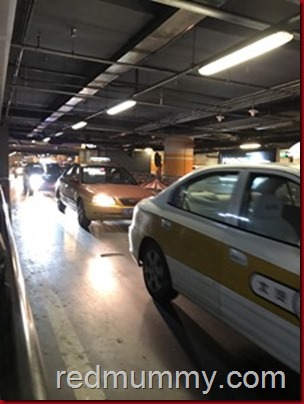 But, nak balik rumah, omanghaik orang beratur for taxi memang sangatlah panjang. Dalam sejarah aku tengok panjang q macam tu for cabs.  Jadi ulat pun banyaklah, nak mengetuk harga memahal. standard. but kita stick to the q. Memang panjang but laju movementnya, coz cabs dia sangatlah banyakkkkkk.
Melepek naik ke rumah coz kena gak singgah somewhere, hahhaa, banyak persinggahan sungguh.
Balik rumah kawan aku makan apa tah aku pun lupa, oh ye dia makan maggi. Tapi aku bedal roti cicah ngan tuna ala2 sandwich, langgar kejap the carbs coz need energy. Ni pun dah nak midnite bila debak debuk. Tidur pun sama gak,borak nya borak, till 3,4 pagi baru melepek.
Overall, yes mesti datang sini, Florentia Village but if ko memang ada budget lah. Kang datang jejauh tengok mahal pulak. But it s ranging of harga Prada Gucci Ferragamo segala lah. I beli pun tak banyak, buat janji ada jer coz some bags pun for me rasa macam mahal. Yang aku beli pun memang ai rasa affordable.
Huh…sejuk toksah cakaplah kan. Sesejuk pun 10 jam gak kitorg spent kat sini. My gf pun beli gak bags….kitorg memang sama hantu bags marr…yang bagusnya dapat jugak tax refund

yipppiiiiii.
Comment:
1