Dec 9 2016 Friday, 8:00 am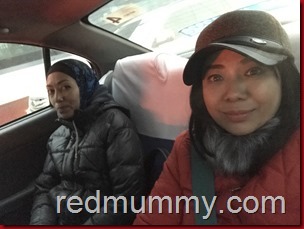 last day, muka ada senyum le sikit kan kawan aku nih, kalau hari2 biasa asyik le nak buat muka bila orang suh pose….
kita kembali jalan pulak ke looker looker. Ini tempat semalamnya yang we shopped FM bagai tuh lah. coz smlm tangan dah penuh jadi tak boleh nak explore the malls sangat kan
Depa kan cakap omputih Look Look tu sounds like looker looker, camtu lah, so anak2 aku yang 2 orang dulu tu kecik lagi. Sebab over 1 week dok pergi Looker Looker nih, jadi depa dok panggil – Mummy gi looker looker. Beijing tu pun depa cakap, looker looker. melekat ler looker looker tu sampai tua hah hahahaha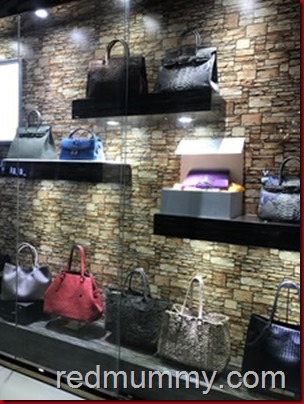 hah, replica, or gred AAA or fake bags apa saja hang nak sebut. Depa jual memang exclusive sangat. Kalau dulu tu main sangkut2 buruk santak jer kedai memasing. La nih, kalah boutique asal pun ada gak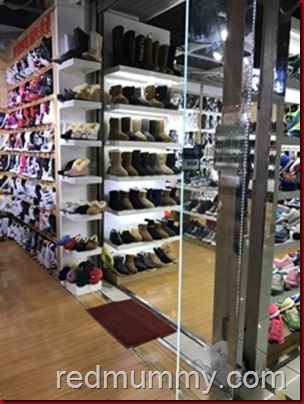 tengok winter boots, aku suka yg berbulu2 bagai tuh but ada je setompok brand hapa tah kat belakangnya, jadi no buying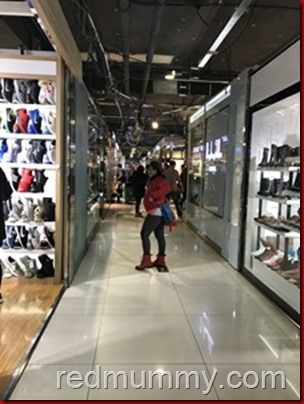 penat nih, pusing merata satu hapa tak jumpa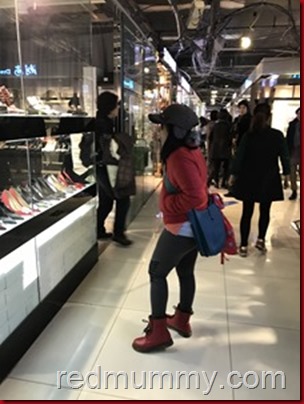 kasut lagik…depa tiru ferragamo tu sebijik2!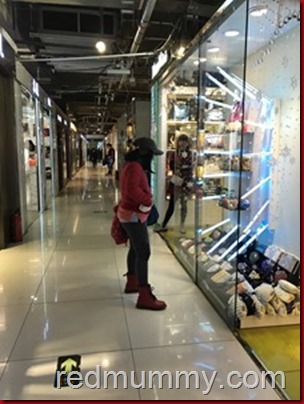 ai suka tengok clutch depa, mengelip2, bling2…tidak la tanya bape sen bagai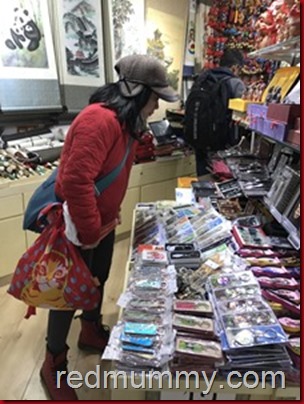 ada satu benda hapa tah aku tanya, dia nak letak harga beratus2, ko gilo hapooo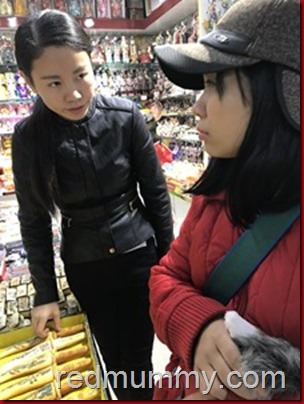 samo la ngan nih, hasilnya kosong jugak dari sini…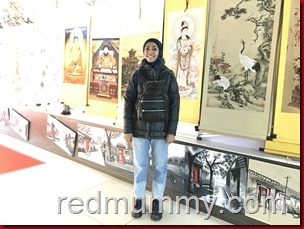 dok ngajar pompuan tersayang aku ni cara nak amik gambar correctly using the yellow button camera ipon hah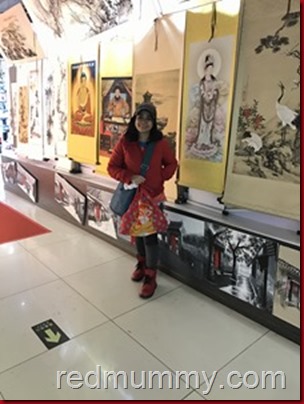 hah jadilah nih….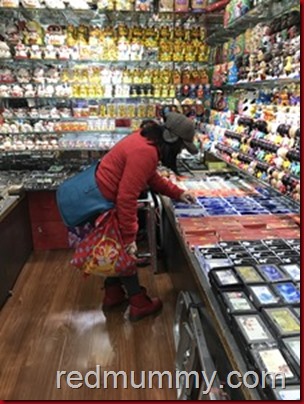 tengok2 tak kenan ler banyak sini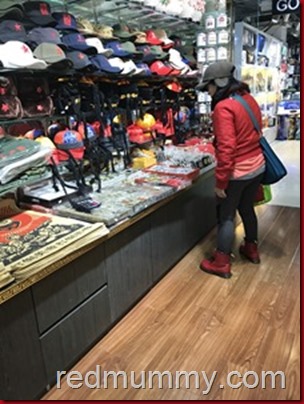 aku carik barang for men, untuk abah aku specially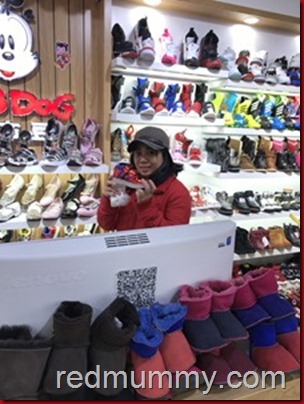 gila kasut budak sebijik lam 70hinggit! branded sedap Isetan tu pun sedap gak, ini biasa jeeeeeeee lah sangat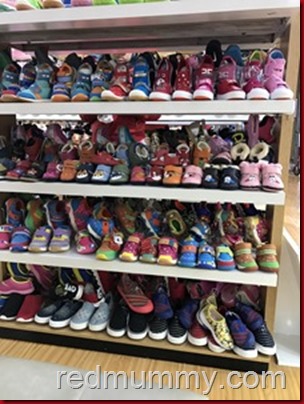 but one thing depa susun cantik jer shoes2 nak jualan hah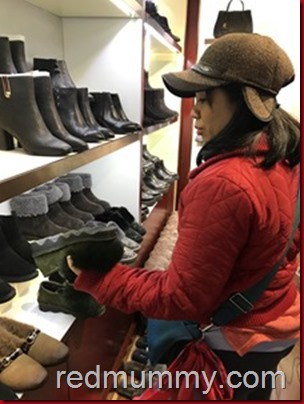 tapak kau tebalnyaaaaaaaaaaa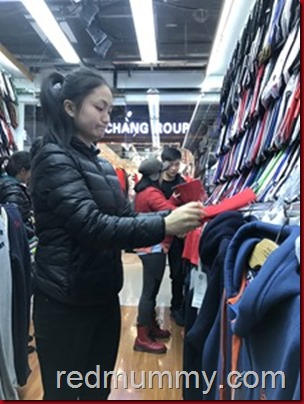 ye kat sini ada gak aku beli 4 lai Beijing shirts, pandai pompuan ni cakap melayu sesikit. 4 red shirts tu pun for my 4 beranak gak. Sume dah pakai buat basahan gak. Untuk bapak aku akhirnya last2 aku beli kan 2 pasang kemeja, pening pala dah. Choices untuk men kan limited.
kat kedai kemeja tu kan, ada omputih badan bagak like monster kena maki kau kau ngan cino seller tu. Yelah dia tried banyak baju kot, but tak beli. Maybe tak deal harga bargain ke hapa, pastu songeh banyak hallah that omputih, menjerit2 cino jual tu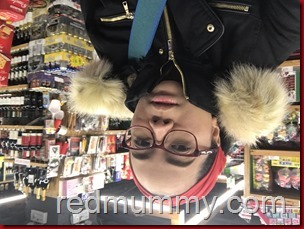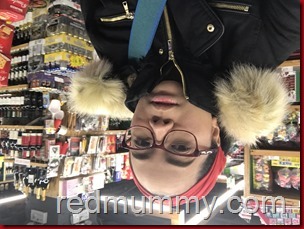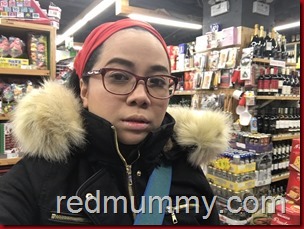 penyakit rotation WLW 🙂
kita balik rumah, dengan tak membeli sangatlah, pastuh rehat2 final packing. Turun bawah jap, gf aku nak beli barang  sket kat market bawah so aku pun menyauk muka jadi gini hah….semua winter jackets aku dah simpan, jadi pinjam anak nya jacket ni balik. contact lens pun dah bungkus, spek sudah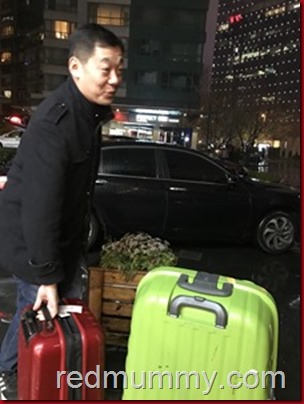 sebabnya aku nak kena uruskan VAT, dan member aku pun tak pernah buat or she pun tak tau camne VAT process kat China ni so aku kena pi awal to airport. Ini driver rent car ke uber ke yang hantar aku ke airportlah, sepatah omputih tak tau jadi kami berdua bisu je lam keter hahaha…..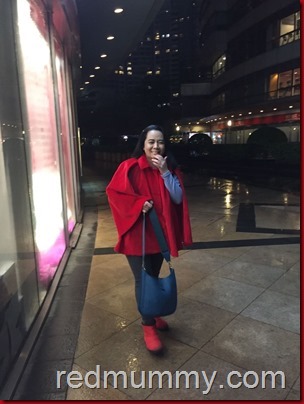 hang tak tau aku punya sejuk masa nih, coz turun pun pinjam winter jackets anak gf, and pastu bukak, so aku sarung ni jer. Selai je baju yek dalamnya, cape red ni tak thick sangat pun, buat lepaslah nak lalu dalam sejuk gini, jangan lelama ler….tulang aku dah sejuk hah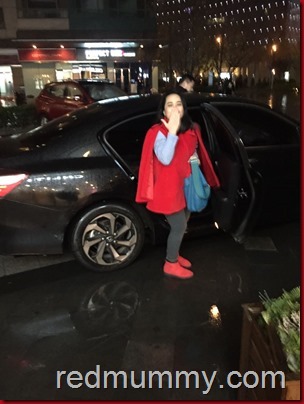 babai ima sayang….thanks for the hospitality.Thanks for melayaning me, makan pakai transport rumah –  jaga aku pagi petang siang malam. Jadi interpreter aku, everythingslah. Halal semua yek ma….Kisses for kiddos and Max yang sombong but at the same time very the kak yah.
23 years of friendship. To recall back camne kitorg mula bff, that was on our first day at ITM, sesama datang lambat, pakai tudung senget ITM yang masa orientation tuh, eii gegelak boleh ingat balik zaman2 ITM dulu.
Oh masa aku kat airport or was it esok pepagi butanya snow pun turun, rasanya awal pagi lah awal malam coz siang tu depa antau gambar snow kat aku hahahaa….Ko masa aku ada ko tak nak turun kan.
The next entry about my 2 hours yang 'memeritkan' by the Chinese Customs. Camne dia dingdong aku sana sini, dengan language barrier (yg tau omputih alahai basic sangat). Dan dalam masa yang sama gak, akak takde suara gak, bercakap bolehlah but suara aku macam garau giler babasssss….sangat parau.  So tu kita simpan buat penutup entry Beijing yek.
Comment:
2