Dec 13 2016 Tuesday, 8:00 am
gegambar dalam ni adalah sangat diwarning yang the heavy make up betul yeah. Ini untuk special event and so bukan untuk dipakai untuk majlis bebiasa bagailah. kang ada yang pitam plak…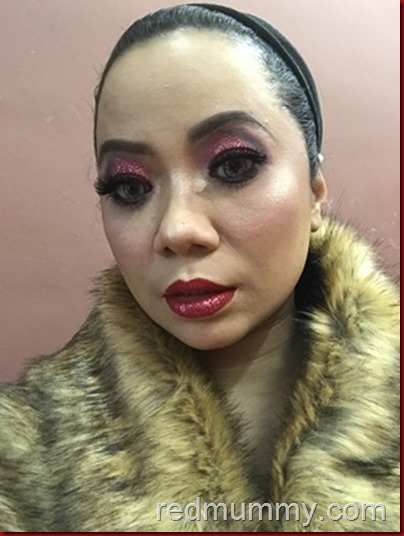 yeah…rambut tak yah siapkan, so the glitters.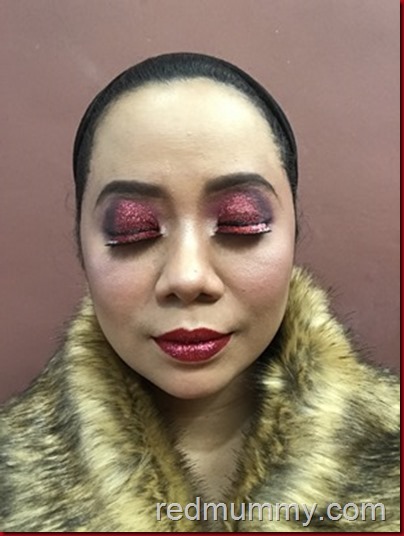 i told Shae yang ai nak the red glitters bagailah, so she looked around, coz susah kan nak carik the red one. Even the lipstick pun dapat glitters gak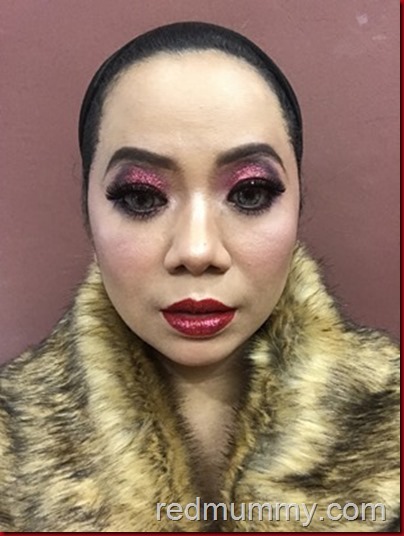 not just the glitters, but I love the eyeshadows too, of courselah dalam glitters tu ada berlapis2 colours eyeshadows nya kan, i did IG stories masa Shae did my face. My eye-bags yang tak pernah pun cukup tidur, dapat dicovered gak.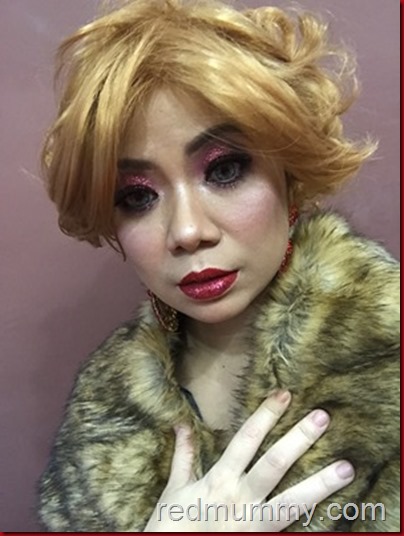 sudah berwig wig bagai. it s a Roaring Twenties theme
rasanya ini kali kedua tiga kot aku berwig2 bagai, i wanted to have the white wig yang lagi lekuk more to 20s but hilang waktu postal. Entah ler mana poiknya (but dapat refundlah). So wig nih, aku beli kat Beijing, murahlah and dedekat dengan 20s nya ladies dedulu gak…
Jenuh bff aku bargainedkan, dok aku ngadu2 sakit pala ngan wig nih, dia cakap ko tahankan gak…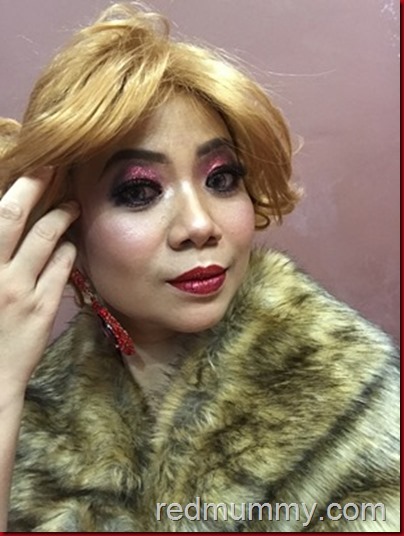 tapi wig ni, coz aku tak biasa pakai kot, ya allah rasa nak cabut2 jer. ketat. memanglah bagus ketat so takde le lelari terbukak hapa kan,but tu lah, abis je function, masuk lam keter terus hakak bukak hiks…beauty memang pain noq…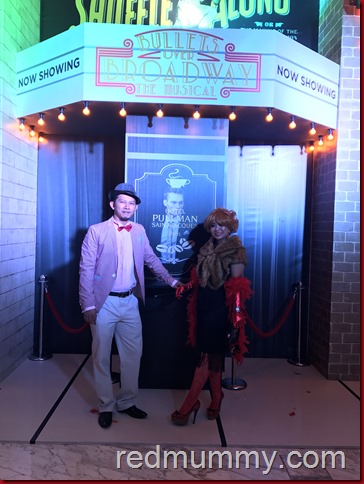 the full outfit, bagi ni jer lah cukuup walaupun ada berpuluh2 kot gambars, tak sesuai tepek sini, function tu leh letak satu gambar ni pun dah cukup afdal. So ada pantyhose merah , ada glove merah lah, ada bebulu leher tuh (20s kan pakai gini dulu) but leh pakai for winter, asalnya memang untuk winter pun hehehe…dan jugak hemm..bebulu merah yang chippo tapi quality hadooooooooo..hujung2 aku simpan tak pakai.  The black flapper tu, was my 2nd option. The first option was red, but it s too hem….too sexy. Jadi simpan kati, pakai flappers hitam ni. It s like rambu ramba la…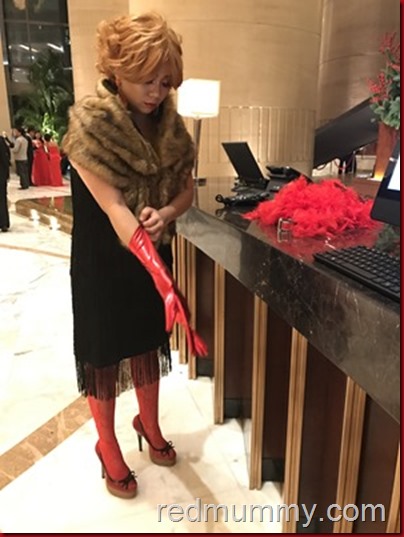 the flapper tu  tak leh nak nampak closer, but ada dalam IG story ai lah (too bad kot dah abis 24hours so takdak dah kot situ). hehegeh nak pakai glove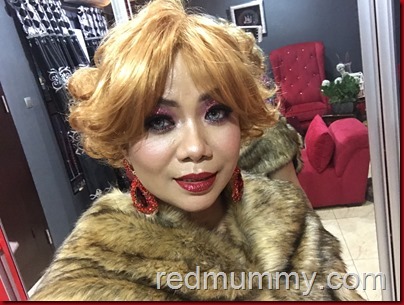 dah balik malam tu, demi nak tunjuk make up Shae, aku sarungkan balik wig nih hehehe…i loveeeeeeeeeeeeeeeeeeeeeeee this makeup so much. But perlu diingat, untuk event besau bolehlah pakai, hok untuk hari2 biasa or event standard tu, idok le aku nak pakai cenggini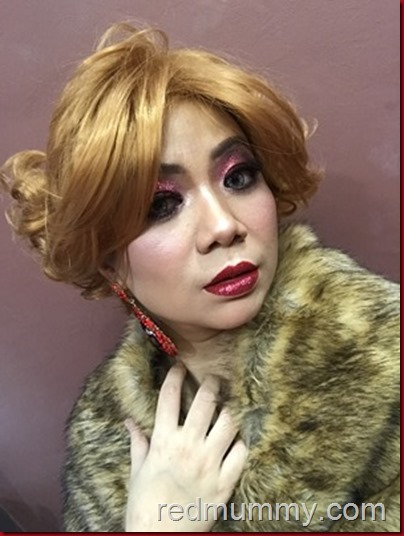 So, ai dah pakai service Shae sejak 3 taun lepaslah, dan ini kali ketiga Shae served me. I love her touch, actually ai ada 4 orang MUA yang aku suka sangat service depa, Bertukar2lah tetiap taun tengok sapa yang senang or sapa yang aku nak pakai. Mostly yang 4 orang ni jer lah ulang2 alik pakai. Coz ai suka sangat ngan hasil kerja depa.
Shae ni antara yang top paling akak suka, knowing me yang agak fussy gak. But if you rasa nak kening macam nih, nak kening macam tuh, bilang jer dia. Or nak gincu gini, nak mata hok gitu, hah….siap sedia Shae nanti usaha gak buat. Macam makeup 20s nih, memang aku demand nak gini, perlu heavy, ini bukan majlis kekecik

Selain makeup, hair bun pun Shae expert. Please call her, contact Shae di 012 214 1810. For annual dinner bley, for tunang, photoshoot nikah sanding ker, all in Shae leh amik booking, she dah famous gak kot lam RM nih.  Thank you Shae,  one thing for sure, ai sangat suka and 10 star for this red glitters makeup!!
Comment:
4