Jan 9 2017 Monday, 8:00 am
CAmna anak2 hangpa masuk sekolah, musim tahun baru nih? kalau yang darjah 1 or pres tu or even tadika baru, memang ada ler yang amik cuti bagai kan. Specially yang nak kena bertangga kat sekolah, primary standard 1 mostly. My zaman for tu semua dah berlalu….first year jer bertangga kat sekolah depa, about 3,4 hari gak lah. Eh for abang aku lepak lama, lebih seminggu gak kot coz yelah anak sulong.
For Zeeshan, ada lagi 1 year to go, pastuh tak nak ler sampai bertangga sangat, biasalah package anak dah no 3 tu tak sama ngan masa abangnya anak sulong 🙂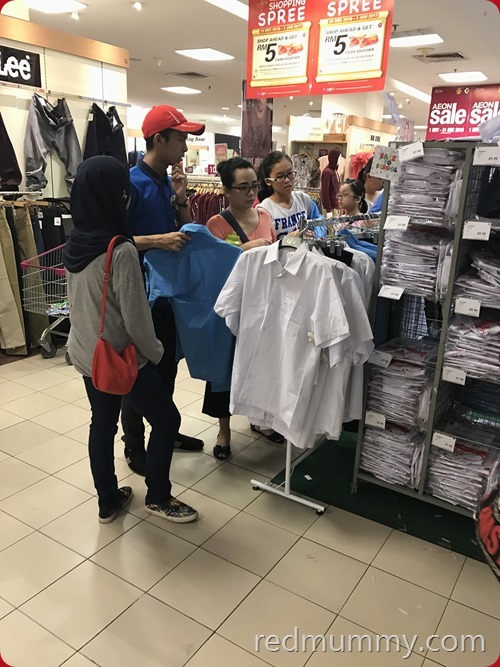 Year end, pun kami cam makpak lain ler, carik baju sekolah bebudak nih. One thing, kita dah bertahun2 beli baju kat kedai di BTR nun, but taun nih laki aku saja gateiiii sangat nak pi AEON. Duh…aku memang ler tak kuasa nak ke sana but dia dok jom lah jom lah. Hish…so sebab dah kena sindir2 jadi aku pun bersiap ler sama ikut pi Jusco nih.
Sesmpai, manusiaaaaaaaaaaaaaaaaaaaaaaaaaaaaa omanghaih. Ko tak tengok wajtu beratur tu lagik, siksa. Dan seperti dijangka, banyak stock takde, ai means size untuk anak2 aku 2 orang tu le. Depa 2 dah ada taste sendiri, nak jenis kain licin ler,  nak yang body hugging ler, tu abang ler tu. Hish…
Elok ler tak banyak sizes pun, stock takdak. Coz selai kain licin kakak tu pun dah RM50 kau, walaupun ada sales katanya. So dapatlah selai kat sini for kain licin kakak, tudung pun selai, baju tarak, anak2 baju ada ler. Baju seluar abang pun tarak coz yang dah cantik size ngan dia, dia tak berkenan, eiii ai tell you. Rasa nak cecubit jer abang nih, banyak demand betul.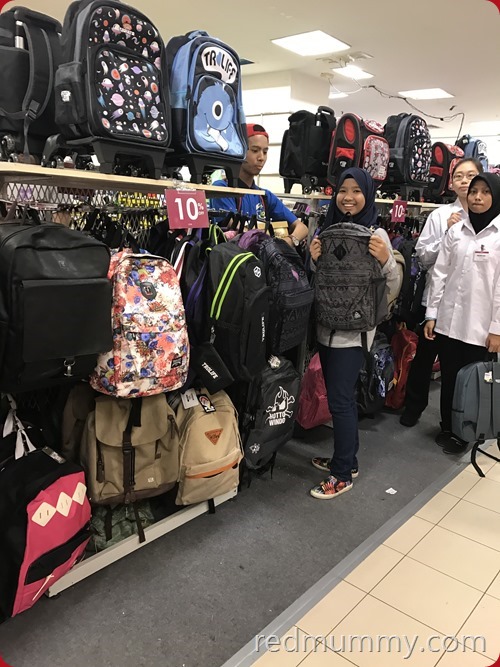 bag sekolah buruk ni (for me), dia nak…memang idok le mak ko berkenan. Udahlah mahal berdenting. So dia amik merah lain. Merah takper, asal bukan this one lah.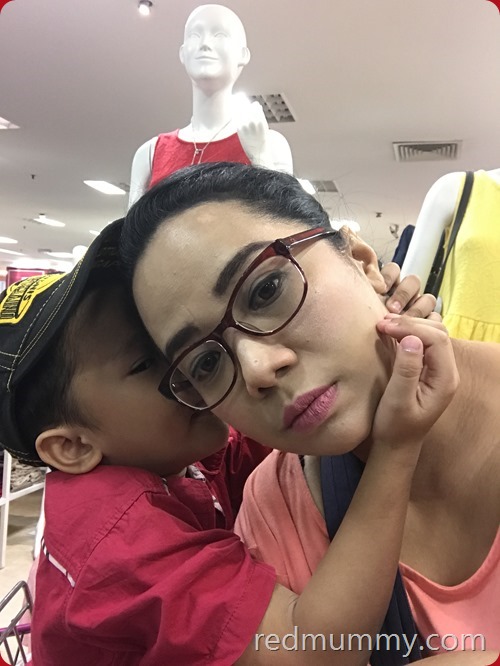 yang sorang ni pulak memang sangat magnet ngan aku. Itu dia bisik, dok nyanyikan aku lagu happy birthday mummy. Hehari heh birthday aku….dah tu dia bosan coz dok melapau (yet dah makan pun petang tu, but biasalah boring kan, so mencarik alasanlah). Bapaknya pi lari ler kejap beli McD pun baru dia senyap kejap.
Waktu kita beratur, bumped ngan our jiran lama di VA. Actually our eldest dulu bff, depa pun sesama sekolah cino gak before my fren's son ni pindah kuor masa Year 4.  Seronok abang dapat jumpa kawan lama dia.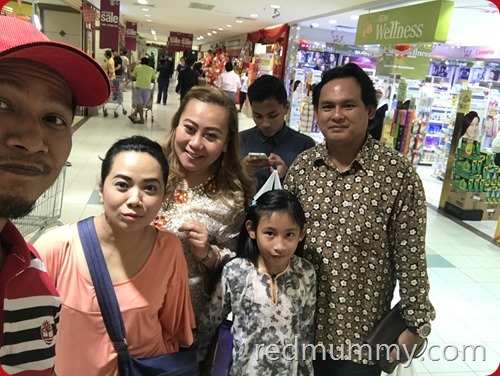 Pastuh my 3 kiddos pergi naik atas, games section. Terserempak lagi ngan depa kat sini, borak lagi….yang menungu beratur, tak rasa lama coz dok borak manjang. Well technically yang beratur pun laki aku.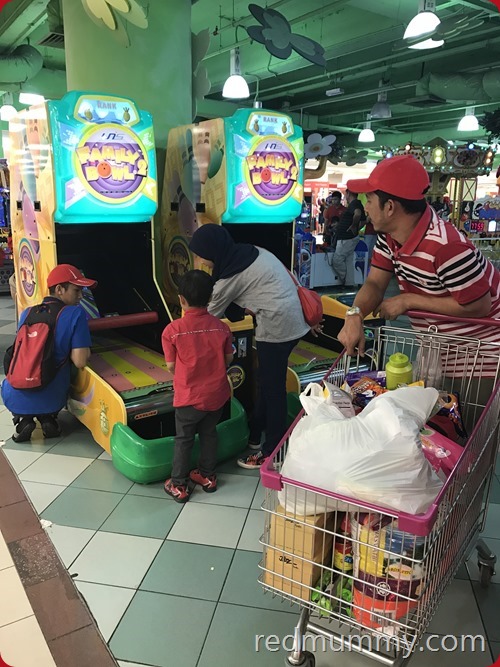 itu barang dalam trolly tu, asalnya aku nak beli fruits jer…laki aku ler yang nak pergi belinya waktu the kids kat games kan. Tapi dah aku mengekor, gila kau nak amik fruits jer, harus aku kaup kaup kaup sumbat lam trolley tuh, sudahnya dari 1-2 barang jer, jadik penuh 🙂
Zeeshan tu pulak taktiknya, masa kita beratur, dah abis makan McD tu kan, dia dok merengek lagi kata lapar lapar. Eii perut ko ni dik. So habis beratur tu lah kita tanya korang nak games ke nak makan? Laju je si kecik lapar tadi tu dok cakap nak games!! Hah ko tengok, pandai temberang dia, tadi ke mai lapar.
dah abis shopping sini, habis main (anak 3 bapaknya bagi sorang RM10 untuk spend kat sini ler), terus balik. Pun tak balik gak, gi dinner bagai, late dinner yang supper. Oh meng aku dah longlai2 hah….turning 40s ni memang tak rajin ler nak menyinggah lelepak luar tu lelama, ai m so not that old redmummy before.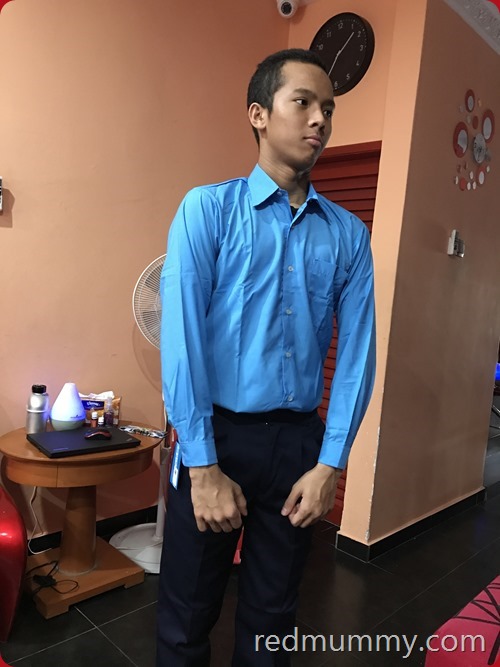 esok lusanya, depa berulang lagi pi sambung carik baju sekolah, kat kedai biasa kami di BTR. hah murah pun murah. Stock pun ada. Cuma untuk kakak ni kita beli 3 pairs lu lah cos aku masih lagi tunggu rayuan dari Kementerian for kakak's boarding school or even MAIWP, if by end Jan takde gak, kita akan beli lagi sepasang 2 lah. Coz sekolah baru skang pun, banyak hal gak, ada hari kena pakai kain songket ada hari baju sukan ada hari baju sekolah. Huh. Btw she got 3 offers but kita amik yang sekolah skang ni lah. Tu nanti kena sambung sembang lagi untuk cerita sekolah kakak lah.
For abang, dah beli memolek, kena pulak pergi hantar tailor untuk kecikkan baju nih. Aku tak paham betullah. Dia cakap nak kena nampak sado,  nak nampak macam ko tengok lam gambar ni lah. So all baju pi hantar tailor kecikkan bawah, lengan tangan tu semua costnya dah RM32. Ikut aku memang tak bagi ler, but apaknya bawak jer ikutkan rentak anak.  Kalau ikut nenek ko dulu, mak kau nak mintak hapa bagai pun jangan harap ler heh!
Oh for Zeeshan, orang ramai cuti coz hantar anak pi sekolah kan, tapi aku kena cuti coz jaga Zeeshan kat rumah hiks…dia nya skul starts on 5th Jan so 2 hari tu aku cuti ler. Memang jadik housewife ler, anak2 pun balik sekolah, penat je muka memasing, specially kakak lah. Her school tu consider jauh sket kot, and dari pagi sampai petang pulak tuh, penat jer. Longlai jer bila balik rumah.
Abang pulak, he dapat masuk Science Stream but he s the only Malay student in the science stream pulak tu (ada 4 classes of  science stream), and 8 lagi classes biasa. Budak ni suka science maths bagai, he scored those subjects dari kecik, so all the best anak2.
Anak2 korang pun, all the best gak 🙂
Comment:
Comments Off

on Back to school…